Who says you have to smoke traditional cannabis out of a pipe or bong anymore? Although that type of consumption can be fun (and is a rite of passage in most circles), some believe smoking plain marijuana is a thing of the past. Thus, prepare to meet the future — vaping THC-filled wax concentrates and oils.
Vaping concentrates can be an easier way to get your daily dose of THC.
Vaping concentrates can be an easier way to get your daily dose of THC. Plus, it provides the benefits of CBD and CBN oils in the convenient set-up of an almost odorless vape pen, allowing you to be discreet and take your vape pen on the go. The world will never know that you are actually smoking your cannabis when they see you hit this tiny device.
Of course, there are so many marijuana wax vape pens out there on the market it can give you an elephant-sized headache trying to figure out which one to invest in. So for what it's worth, here are a few of our favorite contenders for 2021 — the vaporizer pens we believe will give you the most bang for your buck.
Here Are the Top 5 Best Marijuana Wax Vaporizer Pens:
1. Linx Hypnos Zero
Etched with the company's iconic Linx logo, this vaporizer offers both style and substance. In case you needed evidence, this pen boasts not one but two titles for "Best Vaporizer" at the High Times awards.
The pen is crafted with a ceramic heating chamber for even and consistent vapor clouds every time. And its impressive battery life means you won't be scurrying around for a charger anytime soon. You can also expect plenty of accessories, including two glass mouthpieces, one Hypnos Zero carrying case, one atomizer, one Linx tool for cleaning, and of course, charging gear.
In addition, the pen offers plenty of customization with four different temperature settings, although most customers tend to use the two hottest for wax.
Measuring at 10.7cm, the discreet Hypnos Zero pen may be sleek, but it certainly packs a punch. It's a device ideal for everyday use, not only because of its size but the convenience of using and cleaning.
With a one-year warranty, Linx certainly shows confidence in their product. What do you think?
2.Firefly 2+
Outstanding taste, high functionality, and consistent performance are just a few reasons this device has attracted huge acclaim. Crafted for both extracts and flowers, this pen is on many vaper's wishlists. But does it justify the enormous price tag?
Well, in terms of performance, the Firefly 2+ device is challenging to beat. Its convection technology delivers smooth and instant vapors that help limit coughing and enhance the taste of your wax. Wastage is also limited with the instant cool-down function and even burning.
The device heats up in 3 seconds, giving you an almost instant vape. However, the really innovative function of this device is its dynamic heating. Over the course of a 10-second inhalation, the device gradually heats up to your set maximum heat (200F to 500F). And you can control this all from your phone.
In addition, it loses heat just as quickly. This feature has made it particularly popular for an on-the-go device. If you are looking for a vape pen with intelligent design, this is certainly it, but be warned, it comes at a high price.
3. Cloud V Platinum Vaporizer
The Cloud V Platinum Vaporizer is no stranger to being awarded for its excellence; in fact, it's a 7-time "Best Product" Award Winner by the gurus over at High Times Magazine (aka the news-centric "kings of cannabis").
The discreet device has been praised for its unique and reliable features that have been taking the wax vaping world by storm. It features a lifetime warranty, and Cloud V's new model of the Platinum Vaporizer has a slimmer design and a 40% improved heating capacity, so you never have to worry about losing the quality and potency of your THC-laden waxes.
One fun feature is that you can watch as vapor clouds build through the small glass window opening; sit in amazement as the vapor bellows up like a psychoactive tornado.
You can carry the device inside your purse or pocket. No doubt, this is one of the easiest ways to take your cannabis with you on the go. And you won't attract any unnecessary attention.
4. Dr. Dabber Ghost Vaporizer
Dr. Dabber's new Ghost Vaporizer is as discrete and hazy as a ghost. You can quickly produce THC vapor with this ultra-convenient device. It features a 5-click safety lock system, so your vape isn't accidentally letting off plumes in your purse or pocket and wasting precious cannabis wax without you knowing.
Also, with its sleek design and one-click activation system, the Ghost Vaporizer knows how to fulfill all your vaping dreams. With cutting-edge low-heat titanium coil technology, this vape guarantees a smooth and flavorful hit – every single time.
In addition, the new titanium technology increases the longevity of the vaping device, assuring that your vape will stay high performance and functional for many, many years to come.
Above all, the accessories included with this product will cover every single tool and item you might need. This consists of a dab tool, a wax container, a mouthpiece, a battery, a ghost wax atomizer, and even a user's manual.
Check out the full Dr. Dabber's new Ghost Vaporizer Review.
5. KandyPens Galaxy Vaporizer
This pen is one of the most revolutionary and truly innovative vaporizers on the market. The KandyPens Galaxy Vape will take you to the moon and back with its extraterrestrial features.
Plus it's available in a wide variety of colors, with new limited edition styles available and a star-like glossy enamel sparkle finish that'll wow your friends. Especially while blazing some absurdly potent 90% THC concentrate, you're bound to make a statement.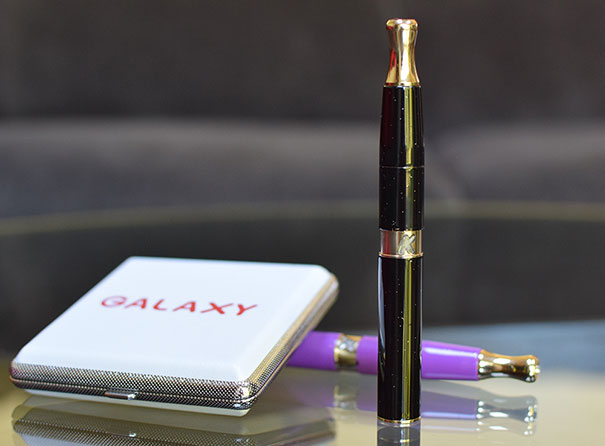 Also, this device is made with an advanced quartz crystal atomizer and dual titanium coils. In short, each hit you take is guaranteed to be the purest, tastiest, and cleanest vape you've ever had – no joke.
The unit is compatible with your favorite wax concentrates. KandyPen's flagship power-packed device will not disappoint, even among the greatest dab enthusiasts out there
Best of all, the Galaxy Vaporizer has a lifetime warranty and just a 5-second heat-up time. Furthermore, it has 5-star reviews from customers who love the perfect all-in-one wax concentrates vaporizer
Check out the complete KandyPen's Galaxy Review.
Conclusion on our Best Vape Pens
So, there you have it! Our top 5 picks for the best marijuana wax vaporizing pens on the market. We hope this article has informed and educated your decision on which vape you should purchase. Additionally, we hope it served as a specifically-tailored vaping guide that will meet your needs and individual requirements.
And of course, although marijuana has many known benefits, it is ultimately the user's responsibility to use discretion when consuming cannabis products. Be safe out there, and happy vaping!
Published on:
5 Mar, 2019