Here at WayofLeaf we know just how important 420 time is for stoners and weed enthusiasts alike. We completely agree and understand that sometimes carrying a plethora of cannabis paraphernalia is just plain inconvenient. Switch to more practical herb smoking methods by considering a portable, a hand-held ganja smoking device that allows you to vape your weed, creating less smell and added convenience.
Don't neglect your need for a smoke break and make the switch to something a little more simple
Here Are the Best 5 Marijuana Portables On the Market:
And trust us- our picks are unique!
1. Magic Flight Launch Box Vaporizer
A simple to use, discreet and uniquely designed herb vape, perfect for your everyday or casual stoner.
We absolutely love this vape! First of all, can we comment on the diversity of its design? It's nice to know that you can purchase an affordable box vape that not only makes 420 time a breeze, but one where you can choose your own specialized design. Choose from a number of carved earthy patterns, such as a celtic knot, a flower of life or Metatron's Cube. Best of all, if you desire a different type of wood finish, Magic Flight offers this vape in a cherry and walnut finish.
Only 2.5" x 1.25" x 0.9", Launch Box is small, discreet and takes less than 5 seconds to heat up. Feel comfortable and safe smoking from this convenient device. In addition to a unique and small design, the Launch Box has a lifetime warranty and is handmade in the USA. By purchasing this vaporizer you are supporting local businesses and making an affordable decision. Love the herb you smoke and truly get the full experience with this Magic Flight Launch Box Vaporizer!
2. Pulsar APX Vaporizer
Lightweight with customizable settings, APX Vape is brilliant for all your dry marijuana and cannabis wax desires.
With a sleek and digital design, this device produced by Pulsar offers a lightweight alternative to classic cannabis paraphernalia, in addition to customizable settings such as, temperature and whether or not you want to smoke dry pot or ganj wax out of this vape. Your options are unlimited with the APX Vaporizer!
Best of all, Pulsar offers a 6 month warranty for this product and its cost is extremely affordable. With a storage capacity of 0.35 grams, pack in a substantial amount of weed and low-key smoke throughout the day without having to worry about rolling joints, packing bowls, or the strong reek of classic weed smoking. Keep track of your battery life with a featured battery level indicator for the APX's energy source, a 1600mAh Lithium-Ion Battery.
This makes the perfect vape for new stoners especially, because APX Vape is affordable and simple to use!
3. Haze Vaporizer by Haze Technologies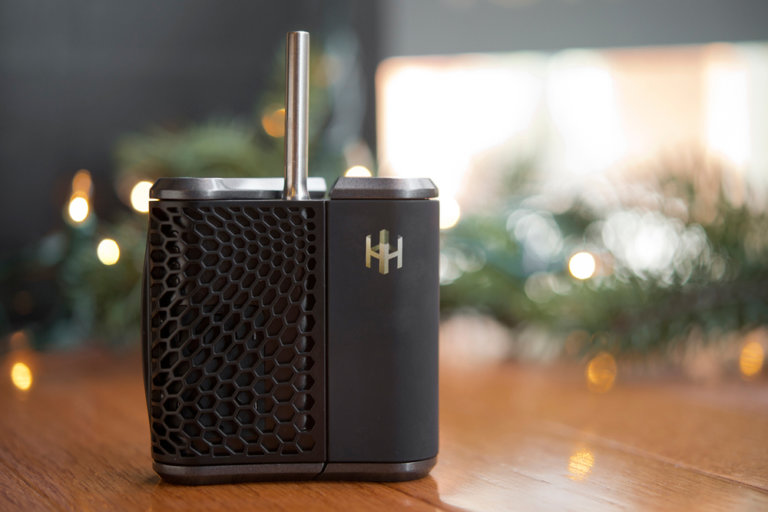 A revolutionary and one of a kind on-the-go vape for vapers or "vaporphiles" desiring a hi-tech rig that meets all their vaping needs!
Fall into a haze with one of the most advanced and hi-tech vapes currently on the market. We simply love this innovative technology!
Boasting a 90 second heat-up time, numerous heat settings, dual heating chambers and even specialized heat regulators, the Haze vaporizor makes vaping enjoyable and easy. Best of all, Haze features specific canisters for herb and wax, allowing you to choose how you want to get your daily dose of THC. Plus, you never have to worry about Haze breaking down, because the company offers a 10 year warranty assuring that you will be able to vape your favorite cannabis strains for many years to come.
4. DaVinci Vaporizer by DaVinci
The perfect pocket sized vape, packed with power, a sleek design and convenience. Vape your troubles away with DaVinci.
Enjoy the practicality and convenience of DaVinci, a vape with a flexible mouthpiece for comfort and ease, a durable design and an easy to use set-up.
With long lasting lithium rechargeable batteries, DaVinci can keep you blazin' all day without any added weed worries. This vaporizer supports dry bud as well as cannabis wax concentrates, and has a special temperature control system which keeps your vapor fresh and free of toxins and carcinogens.
Relax and inhale fresh weed, knowing that with DaVinci's 2 year warranty, your vaping needs will be covered for a long while. Plus, this device is extra difficult to drop and accidentally break while you're a little too baked due to its ergonomic grip.
Get your DaVinci Vaporizer on their Official Website
10% Coupon Code: CAN10
5. KandyPens K-Vape Vaporizer
A USB rechargeable, customizable and noncombustible sleek, pen-like device that is easy to smoke and even easier to carry.
With a lifetime warranty, trust in the quality of the K-Vape, one of our favorite portables that is so easy to throw into your purse or pocket. With dry herb vapes it can sometimes be scary imagining your delicious reefer combusting, but K-Vape features 3 specialized temperature settings to insure that your ganj has the cleanest burn possible. Hold up to 0.6 grams of your beloved strains in this device, so you can go throughout your day and not even need to repack once- unless you really are THAT much of a stoner! Vape confident and secure with a device made from high quality materials and a durable design.
Best of all K-Vape is BPA free and charges via USB, saving time and energy not having to switch out batteries and carry bulky lithium battery chargers. This device truly does provide a discreet and simple way to enjoy your pot and become a part of the reefer madness.
Best Marijuana Desktop Vaporizer: Conclusion
There you have it! Our favorite picks for the top 5 marijuana vaping portables currently on the market. We hope you enjoyed reading this list as much as we enjoyed writing it. Discover the clarity of having secure vape options to choose from without having the annoying hassle of choosing from numerous devices on the internet. Use cannabis responsibly and practice discretion when consuming marijuana products.