Top Product Overview
The SMOK Stick V8 has become a trendy internet vaporizer. And, its sleek and customisable design makes up for its lack of temperature control.
Battery
type/replaceable
3000mAh battery (micro USB charger) / No
Recharge time
180-240 minutes
Temp settings
Automatic temperature control
Vaping has become BIG business throughout the 2010s and 2020s, as people continue to move away from traditional tobacco cigarettes and joints. The trouble with 'normal' smoking is that the combustion process releases hundreds of chemicals including dozens of carcinogens. In contrast, vaporizing e-liquid, weed or concentrates produces significantly fewer harmful chemicals. Moreover, the vapor produced provides a cleaner, smoother, and more flavorful sensation with no reduction in the 'high' experienced.
Back in 2014, less than 4% of Americans used vaping devices such as e-cigarettes. However, a Reuters poll from the following year revealed that up to 10% of the nation had tried a vaping device, and this number is growing annually. It is now an enormous market with hundreds of manufacturers. Although the standard of vape devices has improved drastically, there are still a few low-grade brands out there. It is our mission to ensure that you only spend money on the best, so we provide unbiased, in-depth reviews of so-called leading brands. Today, it is the turn of SMOK Vapes.
Who Are SMOK Vapes?
SMOK is part of the Shenzhen IVPS Technology Co Limited organization, both founded in 2010. IVPS' leading brand to date, SMOK's products are enjoyed by approximately 80 million people around the world. IVPS is known for its innovation, and its SMOK products used dual coil tanks as early as 2011. By 2013, IVPS had applied cottonless technology to tanks and cartomizers in its Tumbler and Pyrex Aro tanks.
In 2015, SMOK launched the game-changing TFV4 tank which included a triple coil, newly designed atomizer and rotary top tank. It sold eight million units in six months and in 2016, the SMOK Alien kit sold millions of units in three months, a record-breaking feat. In 2017, IVPS released the TFV12 atomizer, which once again received critical acclaim. As the company's flagship brand, SMOK leads the way regarding innovation as it continues to release revolutionary products.
SMOK Vapes' Best Products
SMOK Alien 220W
The Alien was the big SMOK release of 2016 and broke all records. It is a more powerful mod than the SMOK X-Cube 2 and its maximum output of 220W guarantees some outstanding clouds. Although it includes two 18650 batteries, the Alien is fairly compact and feels comfortable to hold. We love the lateral firing bar because, when you press it, it fires every single time.
Features
When it was originally released, the Alien had a unique design which has been copied by several mods since. The buttons on the device are responsive but not overly so. As well as the firing button, there are left and right adjustment buttons. SMOK has clearly been listening to customers because the USB port is perfectly placed at the bottom of the screen. There are six battery venting holes on each side and you can fit in atomizers up to 24mm.
The large bright display on the screen is another highlight. It shows information such as the Ohms, Amps, Volts, Watts, Puffs, the duration of every puff and the Mode. Despite having so much information, it is laid out in a crisp and clear fashion. Press the firing bar three times and you reach the selection screen. Choose between Setting, Power, Mode, and Puffs; toggle through the options by pressing the firing bar. Here's a quick explanation of the options:
Wattage: Choose between soft, normal and hard preheat settings. Soft is best for power conservation, normal provides typical wattage output, while hard is best for low-ohm coils.
Temperature Control: Choose between stainless steel, titanium, or nickel as your coil material and pick your maximum wattage. A new screen pops up so that you can control the temperature.
Puffs: This tells you how many draws you have taken. If you want to control yourself, simply set a limit.
Setting: You can vape in private with Stealth Mode, auto-lock your mod when not in use, adjust the initial ohms manually or adjust screen brightness.
Power: Hold the firing button to turn the device on or off.
Performance
For most users, 100-120 watts is enough when vaping, but you can go all the way up to 220W with the alien. If you're a moderate user, you'll have to swap the batteries out at least once a day. You can check out your battery life on the screen in any case. To use, hold the Alien while facing the screen and press the firing button. It produces more power than you'll ever need which is clear in the quantity of vapor produced.
Overall
It's easy to see why the SMOK Alien was so popular when released. To be honest, the industry has probably moved on now, but it is still a worthwhile investment for a newbie. You can purchase the full kit for $99.99 and it includes the mod, TFV8 Baby Tank, and a host of extras.
SMOK Alien Pros
Dual 18650 batteries result in better battery life.
The side-firing button works beautifully.
The TFV8 baby beast sub-ohm tank is a welcome addition.
Large and easy to read screen filled with useful data.
SMOK Alien Cons
Atomizers larger than 24mm will have some overhang.
The Alien gets hot when you chain vape.
SMOK Stick V8 Review
This vape pen includes a TFV8 Big Baby tank and a powerful 3000mAh internal battery. The tank fills from the top, has two coil options and adjustable airflow for a better vaping experience. If you like a touch of fashion to go along with your vape device, SMOK has you covered with eight awesome design options.
Features
The V-8 is clearly a well-built device, although we were disappointed that it has an internal battery when there is room for a removable 18650. The Big Baby tank includes features such as adjustable airflow, and the top swivels for easy filling. The coils tend to last up to two weeks on average. We were a little disappointed to find that the tanks leak every so often, but you can fix the issue by replacing the coil.
The V8 has a basic design with no power flexibility, so it only delivers power based on the battery's charge state. Unlike the Alien, you can't choose the wattage, temperature, or voltage. As a result, the V8 performs at its best when fully charged, so keep an eye on the battery indicator to ensure it remains near 100%. Switch between the 0.15 ohm and 0.25-ohm coils to adjust the power.
There is one main button which you must press five times to switch the V8 on or off. Hold the button to engage the coils and you should be able to vape within moments. You can screw the tank on or off easily, which is excellent for loading purposes, as is the swivel top. You will find the micro-USB charge port at the back of the V8. It is extremely small and portable and the 3000mAh battery should keep you going for most of the day. On the downside, it takes several hours to charge from zero.
Performance
Despite its relatively small size, the V8 packs a punch and produces extremely flavorful and large clouds for a portable. This is the case even when you use the 0.15-ohm coil. Indeed, the performance of the 0.25-ohm coil is not as good, although it preserves battery life. The V8 goes through a lot of juice so bear this in mind when planning a session.
Overall
If you are new to the vaping world, the V8 Baby Kit is a good investment at $59.99. It provides a pleasant experience with good quality clouds and flavor. We wish it had a removable battery and charged faster, but even with these minor complaints, it is a vaporizer worth adding to your collection.
SMOK V8 Pros
Multiple design options to choose from.
Nicely priced for a starter kit.
Produces surprisingly large vapor clouds.
Easy to load and use.
SMOK V8 Cons
Lack of removable battery.
Takes too long to charge.
Only performs at its maximum level when nearly fully charged.
SMOK X-Priv Review
SMOK is known for producing an enormous number of products; some better than others. The X-Priv is one of its latest releases, but does it compare to its older offerings?
Features
It becomes clear pretty early on that the X-Priv is a superior device. From the gorgeous zinc alloy sides to the range of fashionable designs and color schemes, this is a mod that screams elegance and class. More importantly, the X-Priv is exceedingly durable and you don't have to worry about scratches, chips, or dings.
In terms of functional design, there is firing bar is on the side of the device which is ergonomically designed. The only other buttons on the mod are the up and down buttons, as standard. The 2-inch high-definition screen makes things easy to read and the USB port is ideally located underneath. The X-Priv is powered by two 18650 batteries and includes the famed TFV12 Prince tank.
The TFV12 is made from stainless steel and includes two coil heads, two glass tubes, and a resin drip tip. One of the tubes is shaped like a bulb and holds a reasonable 8ml of liquid while the second, straight tube holds 2ml. The X-Priv has a 0.4-ohm coil head pre-installed, but there is an extra 0.12-ohm head so you can swap.
We love how easy it is to fill up the tank. There is a button on the upper part and when you press it, the top lid is released. Then, slide it open to fill up the tank with your e-liquid. As the O-rings are impeccably placed, there is no possibility of leakage. SMOK has even coated the USB cable with tough material to ensure longevity.
When it comes to power, the 225-watt max power setting is enough even for the most experienced user. You can use any kind of coil head to set the power to your preference. For instance, choose a low wattage for smooth vaping or a high wattage for dense clouds. If you like to change flavors, use the 2ml tank. Otherwise, fill up the 8ml tank to give you enough juice to last a long time. The temperature mode option enables you to use temperature-compatible coils for better flavor.
Performance
While it is awesome to have so many options, it is all about performance. Fortunately, the X-Priv performs just as well here as it does everywhere else. The 0.4-ohm coil head is ideal for 60-80 watts. When we used it, the flavor produced was wonderful; we couldn't get enough. When we used the 0.12-ohm coil head, best for wattages of 80–110 watts, we enjoyed the vast vapor clouds. You can go as high as 225 watts, but there is no need. The dual adjustable airflow means you can opt for a tight drag that goes to the lungs or an open drag for larger clouds.
Overall
The X-Priv is quite simply one of the finest mods on the market. Although it is not the most portable mod at six inches high, it can still fit into most purses or bags. Most importantly, it offers you all the options you could ever need: choose between tank sizes for long sessions or different flavors; swap coils according to whether you prefer flavor or vapor; and play with the wattage settings to determine the best range for your needs.
Even the X-Priv's battery life is something to behold – you can easily go a full day of heavy use on a single charge. It is perfect for newcomers or users looking for an upgrade on their first vape device. It is high-powered, versatile and easy to use.
X-Priv Pros
Elegant and classy design.
Amazing versatility.
Good battery life.
The tank doesn't leak and is easy to fill.
X-Priv Cons
You'll leave lots of fingerprints so clean it often.
No holes for battery venting.
SMOK Vape Pen 22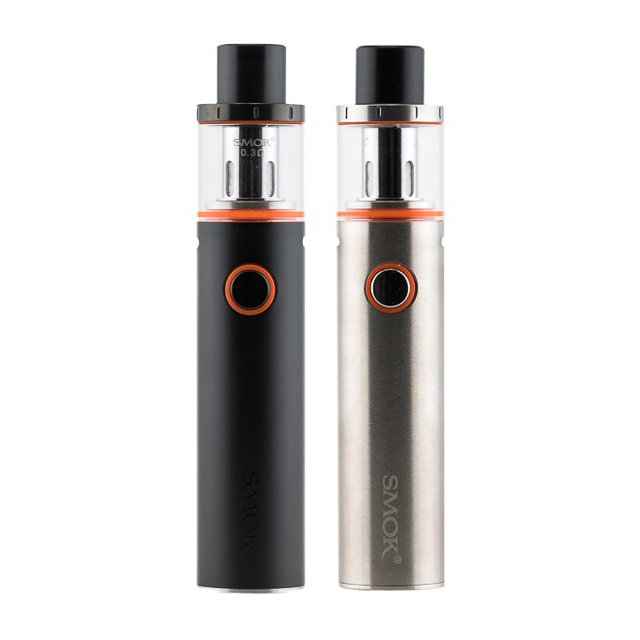 The Vape Pen 22 is a starter kit which includes a pre-installed 0.3-ohm coil, an extra 0.3-ohm coil head, and a 1650mAh battery.
Features
The most noticeable thing about the Vape Pen 22 is how simple it is to use. There is no removable atomizer or tank, adjustment buttons or display screen. To operate, simply screw the atomizer head onto the battery tube, add the glass tank over the head and fill it with e-liquid. Then, screw on the cap and press the power button five times to switch it on. Hold the button and you'll be able to start vaping.
The Vape Pen 22 is the epitome of no-frills vaping as there is only one button to worry about. However, there is nothing 'cheap' about this device whatsoever. It is made from premium quality stainless steel and can take a few bangs before it even chips. The battery is built-in and stays securely in place; we shook the pen vigorously without the merest hint of a rattle, so you know its construction is solid. The firing button protrudes just enough to be easy to use. Plus, there is also no need to worry about the tank leaking.
Both of the device's coil heads are rated for 20-50 watts, but this is irrelevant since there is no way to control wattage. The pen works at full capacity when fully charged and dwindles as the battery drains. The 1650mAh battery is a powerful addition to such a small device. You can get a full day's worth of vaping on a single charge and receive a recharge alert when it hits 3.3V. It takes two hours to recharge from 0%.
Performance
Even though it is a starter device, the Vape Pen 22 produces very strong vapor clouds, surprisingly so. In fact, first timers may find it to be a little bit too powerful. And if the vapor is impressive, the flavor is downright amazing. We were genuinely astonished that such a small and inexpensive device could produce such overwhelmingly awesome flavor.
Overall
This may be a starter kit, but we believe the Vape Pen 22 is actually an ideal option for someone looking to upgrade. The vapor is powerful, the flavor is fantastic, and it is remarkably easy to use. The battery life is great, it charges reasonably fast, and maintenance is a breeze for the most part.
Just remember: the first time you fill the tank, allow it to remain still for several minutes so the liquid absorbs into the coil head. In summation, we find it hard to recommend the Vape Pen 22 for complete newbies but would advise intermediate users to give it a try.
SMOK Vape Pen 22 Pros
Compact design and extremely easy to use.
Outstanding vapor and flavor production.
The pen is almost leak proof.
SMOK Vape Pen 22 Cons
Be careful with the coilhead as it comes off with the top cap – the result is spilled juice.
No temperature controls.
Arguably not for starters.
SMOK Stick Prince Review
In 2018, it is all about streamlined, portable vaporizers, and SMOK is certainly giving vapers what they want. The SMOK Stick Prince is yet another beautifully designed device which is powered by a 3000mAh battery and includes the brand's Prince tank. The kit retails at $79.99 and comes with two M4 0.17-ohm quadruple coils, a bag of spare parts, a USB charging cable, and an instruction manual.
Features
As is becoming the norm with new vaporizers, the Stick Prince is controlled by a single firing button located near the top of the battery. It includes an LED indicator light which acts as a battery indicator, and a red light flashes when you have to recharge. The Stick Prince also has a 510 connector which enables you to attach another atomizer to the battery if you wish. The bubble tank is another great feature as it increases your tank capacity to 8ml. The USB port is located on the right-hand side of the device.
To use the device, attach the tank to the battery and fill it with e-liquid. Wait a few minutes and press the firing button five times to power the Stick Prince on. All you have to do to operate the device at this point is press and hold the button. You should be ready to vape within a few seconds. The 3000mAh battery is powerful but we were disappointed to find that you can't alter wattage or temperature control settings.
However, at least the onboard chip enables you to use the Stick Prince at just 0.1 ohms resistance. Therefore, you can purchase an RDA which allows custom coil builds. If you go down this route, you can change the resistance and power output as you see fit.
Performance
It may be a small device, but the Stick Prince produces powerful vapor clouds. The first few puffs in every refill are weak, but once it reaches full strength, vapor production is consistent. The flavors are also strong and rival anything produced by more expensive and powerful box mods.
You can expect each coil to last around nine days, after which point the flavor goes downhill. Please note that if your juice contains sweeteners, it degrades the coil much faster to the point where you'll need to replace it within four days.
Overall
The Stick Prince is a run of the mill vape device in many ways. It has the usual single firing button and reasonable battery power, but the strength and consistency of flavor and vapor set it apart from many of its rivals. The tank is easy to refill, and the battery is powerful enough to keep you going for most of the day, depending on your frequency of use.
SMOK Stick Prince Pros
Single power button makes it easy to use.
Flavor and vapor are consistently good.
Good tank capacity.
SMOK Strick Prince Cons
No temperature or power controls.
Lack of standout features
Final Thoughts on SMOK Vapes

It is hard to believe that when SMOK first started out, it was derided as a budget brand that imitated other companies. Within a few years however, it became known for its uniquely designed mods and vape pens that look great and perform even better. It has come a very long way since its first foray into the marketplace, and the five devices reviewed above are just a glimpse of what the brand has to offer. Check out its official website for yourself and marvel at the range of options and the beautiful designs.