Those suffering from arthritis can have their pain reach a point where it becomes debilitating. For individuals going through this sometimes never-ending pain, a 24-hour period with slightly improved relief can make all the difference in the world.
Conventional pharmaceutical medications (anti-inflammatories, painkillers, etc) are often paired with negative side effects. Many times, these drugs can be just as difficult to live with as arthritis itself.
Thinking about using CBD oil for arthritis? The first thing you should know is not all oils are made the same…
For those with arthritis, CBD oil has emerged as a potential all-natural alternative to conventional medication. Many arthritis patients have discussed the relief in which CBD oil has brought into their lives. In turn, this has encouraged other patients with arthritis to make the switch.
A closer look at CBD and arthritis…
Unfortunately, what takes place among the general public does not always mirror what takes place in the professional medical landscape. To date, epilepsy is the only medical condition in which CBD oil is an FDA-approved drug. In short, for medically-backed information regarding CBD oil and the effects it can have on arthritis and joint pain, continue reading.
Below you will find our personal selections for the 10 Best CBD Oils for Arthritis. Each CBD brand was thoroughly tested according to efficiency, potency, transparency, and price.
Benefits of CBD Oil for Arthritis Patients
For arthritis patients specifically, the benefits of CBD oil stem from the compound's anti-inflammatory properties. Patients with arthritis can administer CBD (cannabidiol) in a number of ways, including oral consumption (tincture drops), capsules, and topical CBD-based gels and creams. However, for sufferers of arthritis, rubbing a topical CBD formula on inflamed joint areas is one of the most popular forms of application.
Again, people of all ages have reported success stories, but it's important to point out that CBD is not an FDA-approved treatment for arthritis. As such, be wary of companies selling CBD oil that claim to treat or cure any form of arthritis or joint pain – the claims are unfounded and not supported by clinical data.
That said, the World Health Organization (WHO) has deemed CBD oil safe for consumption, and many folks prefer it due to its apparent absence of side effects. Furthermore, due to its lack of THC content and non-psychoactive nature, CBD oil can be consumed without altering functionality, productivity, or state of mind.
Independent Reviews of CBD Consumers
"I am 62 years old and have suffered from painful, and sometimes even immobilizing arthritis, specifically in my wrists and elbows. I tried many conventional medications that the doctor prescribed to me, and began experiencing horrible side effects. About a year ago I decided to switch to CBD oil. I began ingesting drops orally, as well as rubbing the gel into my joints. The results have been miraculous and I am now able to function better than I have in years."
-Summer Andrews
"I have been able to mostly cut out my use of opioid painkillers and anti-inflammatory drugs thanks to CBD oil extracts. It feels great to be relying more on nature than on pharmaceuticals to assist my knees and ankles, the regions of my body that seem to be taking the most damage from the arthritis."
-Gerry Burlington
Aside from independent reviews like the ones mentioned above, you may have read about the use of CBD oil for arthritis in various media publications online. There have also been several academic research articles published on the subject, mostly dealing with the anti-inflammatory properties of CBD.
PremiumJane and PureKana are examples of CBD oil brands that have been featured by various global media outlets. These companies' hemp extract products are largely regarded as the highest quality available in the US, and have been praised for their potency and effectiveness. From a medical perspective, more clinical data needs to be gathered on the use of CBD oil for arthritis in order for it to be accepted as a valid form of treatment.
Medical Research on CBD Oil for Arthritis
A variety of studies have been released expressing the potential medicinal capabilities of CBD for joint pain and inflammation. Still, further research needs to be conducted in order for healthcare providers to understand cannabidiol's therapeutic potential for arthritis.
Topical CBD has therapeutic potential for relief of arthritis pain-related behaviors and inflammation.
One study, in particular, shows promising results. The European Journal of Pain published it in 2016. Lab rats with arthritis were analyzed after being treated with CBD-based gel, and end results showed a decrease in pain levels, an increase in activity and mobility, and decreased inflammation. In other words, it appeared that the CBD application had positive effects on two key arthritis problems: pain and inflammation.
In fact, after the study completed researchers concluded that "…topical CBD application has therapeutic potential for relief of arthritis pain-related behaviors and inflammation, without evident side-effects."
FAQ About CBD Oil (And Its Use for Arthritis Relief)
Other scientific investigations also point to potential benefits in terms of using CBD oil for arthritis. However, little is understood among the general public – and among the population who are already using CBD for joint pain – in terms of the compound itself. Let's take a closer look at the physiology of cannabidiol in the following FAQ:
How is CBD extracted from the Cannabis sativa plant?
There are a variety of methods that can be used to produce CBD oil. Most companies with trustworthy products use either CO2 or solvent-based extraction. During CO2 extraction, high-pressure carbon dioxide is applied at low temperatures in a closed-loop system. The process requires a level of expertise, and preserves the quality and purity of the CBD.
Is it legal to purchase CBD oil in all 50 states?
CBD oil products are sold and shipped to all 50 states, so long as they are sourced from industrial hemp and have a THC percentage under 0.3%. CBD products with a THC content greater than 0.3% are only legal in states that have legalized cannabis either recreational or medically.
If I want to buy CBD oil for arthritis, do I need a doctor's prescription or recommendation?
To buy CBD hemp oil for arthritis, you do not need a prescription or doctor's recommendation. There are dozens of USA-based manufacturers that produce CBD oil from hemp and ship to all 50 states. See below for our recommendations on top brands.
How long until the CBD begins to work?
Each CBD product and each human body is different from the next. Some people who take CBD oil for arthritis notice positive effects within 20-30 minutes. Of course, this can vary depending on things like oil strength, dosage, metabolism, and a number of other factors.
How does CBD work on a chemical level?
When one consumes CBD, it interacts with receptors throughout the body and brain. These receptors, known as cannabinoid receptors, belong to a vast network of neurotransmitters called the endocannabinoid system, or ECS. Unlike THC, which binds directly to receptors, CBD appears to stimulate pathways involved in the production of naturally-occurring endocannabinoids like anandamide and 2-AG.
What are the general benefits of CBD oil?
CBD is an FDA-approved medication for two forms of pediatric epilepsy: Dravet syndrome and Lennox-Gastaut syndrome. Currently, there are no other clinical applications for the compound. That said, CBD is recognized by the National Institute of Health as having "analgesic (pain-relieving), anti-inflammatory, antineoplastic, and chemopreventive activities." Based on these properties, CBD may be useful in the treatment of dozens of different medical ailments (see below). Of course, advanced clinical data will need to be acquired in order for CBD to be recognized as a medication for any additional medical conditions.
Alzheimer's disease
Anxiety
Arthritis
Arthritis
Chronic pain
Depression
Epilepsy (seizures)
Inflammation (stemming from various conditions)
Insomnia
Obesity
Don't want to read our #1 CBD brand for this year? Check out the video summary below on the best CBD oil for Arthritis!
10 Best CBD Oils for Arthritis
The following consist of our top-10 selections for the best CBD oils for arthritis. All in all, we feel these products are the highest quality that are currently available on the market. Of course, remember that none of these products are FDA-approved treatments for arthritis. As such, they should not be considered a cure or treatment for the condition.
Above all, be sure to speak with your doctor before making any changes to your health or dietary routine. While CBD oil is recognized as being safe and largely void of adverse side effects, it is always good practice to speak with a healthcare professional before implementing any new products into your day-to-day regimen.
1. PureKana
First, we have PureKana; and they are a leading CBD oil manufacturer that has been featured by major sites such as Herb.co and High Times. As on of the best pure CBD oil producers on the market, their products are very trustworthy. And by utilizing state of the art CO2 extraction techniques, PureKana is able to achieve one of the purest CBD oils on the market.
BENEFITS OF PUREKANA CBD OIL
Non-psychoactive
Organic and non-GMO
Fast delivery with free shipping
Products ranging from $48.00-$390.00
Potencies ranging from 300mg – 5,000mg
Visit the official online store at www.purekana.com
Also, don't forget to use our coupon to get 20% off your order: 20KANA
2. Charlotte's Web CBD Oil
Charlotte's Web is one of the best-selling CBD oils in the USA. To clarify, their quality has kept them ranked among top consumer lists for several years. CW Hemp offers a complete range of high-quality CBD oils, as well as hemp-infused CBD creams and balms. Most importantly, these creams contain pure, potent CBD extract and you can administer them directly at the site of discomfort and inflammation.
BENEFITS OF CW HEMP CBD OIL
Full-spectrum extract includes terpenes and other active phytocannabinoids (CBC, CBG, CBN)
Various potencies available
One of the best-selling CBD oils in the U.S.
For more information on the complete range of CW Hemp products, be sure to visit their official website at charlottesweb.com
Or feel free to read our comprehensive Charlotte's Web Review to learn more about their products.
3. Premium Jane CBD
Premium Jane sells four different products, each one crafted with care and expertise. For example, they source their hemp from research farms in Oregon, with every batch tested via an analytics laboratory. Premium Jane currently offers full-spectrum CBD oil tinctures (300, 600, and 1000mg potencies), CBD gel capsules, topical CBD cream, and CBD gummies.
BENEFITS OF PREMIUM JANE CBD OIL
Sourced from genetically-selected CBD hemp plants
Harvested from organic USA farms
Three flavors available: Natural, Citrus, and Vanilla bean extract
Full-spectrum CBD oil includes terpenes and phytocannabinoids
Prices range from $48-$125
If you're suffering from arthritis, browse the selection of Premium Jane CBD oils and topical creams at www.premiumjane.com
Also, be sure to use our 20% Coupon Code: 20JANE
4. HempBombs
HempBombs is a unique CBD brand out of Tampa, Florida. They offer a large selection of products for a variety of uses, including CBD edibles, CBD vape additives, and more. HempBombs also formulates potent full-spectrum tinctures. Their 4,000 mg bottle offers a 60 mg dose of CBD per serving.
BENEFITS OF HEMPBOMBS CBD OIL
Large range of products and potencies to choose from
Consistent engagement with their client base
Frequent discounts and online promotions
Products available in retail locations across the U.S.
Offers compliance labels and lab reports on every one of their products
Shop the entire selection of over at www.hempbombs.com
5. CBD Essence
CBD Essence offers a wide array of CBD-based products ranging from vape juices to hemp oil pastes. Easily accessible CBD items include hemp oil capsules, isolated powder concentrates, and pet care specific hemp oil products. The level of diversity that CBD Essence provides makes them one of the top producers on our list.
BENEFITS OF CBD ESSENCE CBD OILS
Safe for both human and pet consumption
Bio-absorptive cannabis-infused hemp oils
Products sourced from EU-certified industrial hemp
 Legally delivered to any address in all 50 states
To discover the benefits of each product, visit our CBD Essence online review
6. Fab CBD
Next, there's Fab CBD. They offer a variety of flavorful CBD tinctures. All Fab CBD products are sourced from hemp that has a THC content of less than 0.3%. This potent, high-quality range offers a robust full-spectrum extract of plant phytocannabinoids. They also offer other CBD options, such as chews and topicals, for those who have trouble with the oil drops under the tongue.
BENEFITS OF FAB CBD OIL
FABCBD isolate options that are 100% THC-free
Lab-certified to be free of any chemical solvents
Made in the USA
Entry-level CBD options for all budgets
Learn more about the complete range of Fab CBD products at www.fabCBD.com
7. Joy Organics
Joy Organics CBD – another team favorite here at WayofLeaf. This long-standing brand offers a variety of quality CBD oil products that are trustworthy and safe for oral consumption. The products are versatile and widely applicable, regardless of what your specific reasons are for consuming CBD tincture. In fact, Joy Organics has become a leader in the CBD industry largely due to its rock-solid reputation and effective, reliable hemp extract products.
BENEFITS OF JOY ORGANICS CBD OIL
Farm Bill compliant
Money-back guarantee
Broad-spectrum (zero THC) formulas
Sourced from USA-grown hemp
Access Joy Organics CBD products online at www.JoyOrganics.com or feel free to read our JoyOrganics Review
8. CBD Pure
In keeping their product line simple and unadulterated, CBD Pure focuses on quality. Because of this, the hemp they use is certified organic and originates from Denmark, and all products are analyzed via an independent third-party laboratory. Also, lab results can be viewed with transparency on their website.
BENEFITS OF CBD PURE CBD OILS
Satisfaction guarantee and 90-day return policy
Produced with certified organic hemp
Free of solvents, heavy metals, and other contaminants
Independent third-party lab testing for quality
Full-spectrum of plant-based cannabinoids and phytochemicals
To discover more about CBD Pure visit their website at www.cbdpure.com
9. CBDistillery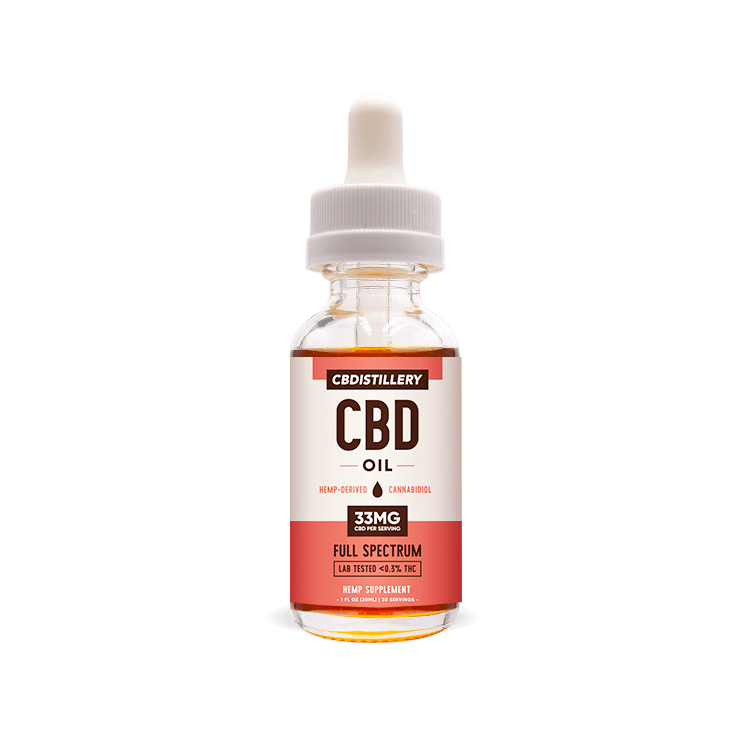 While most people recommend an oral CBD oil or a topical CBD cream for arthritis, CBDistillery specializes in high potency isolates that can be used as dabs or with a portable vape pen. Their low-potency 150 mg tincture starts at just $20, and prices run up to $240 for stronger options.
BENEFITS OF CBDISTILLERY CBD OILS
Lab reports with CBD content posted on each product page
Full-spectrum tinctures
Frequently mixed with juice or coffee for easy ingestion
Check out the Full Review of CBDistillery  and learn why they are listed on our top 10 list.
10. Elixinol
A variety of media sources, including Men's Health, The Wall Street Journal, and CNN recognize and feature Elixinol. Most importantly, these outlets all awarded the CBD oil company praise for its top quality products, purity, and potency.
BENEFITS OF ELIXINOL CBD OIL
Organic hemp extract tinctures
Variety and versatility of products
Praised for purity, potency, and clarity
Affordable pricing ranging from $39.00-$249.00
And make sure to use our 10% off coupon if you order online: 10off591
CBD OIL FOR ARTHRITIS – WHERE TO START?
As you can see, there are a number of top-quality CBD oil producers on the market. After conducting hands-on research and carefully reviewing a number of these products, we have decided on one that we believe surpasses the others in regards to quality, accessibility, and purity. All in all, from what we've seen, PureKana brings an impeccable line of CBD products to the market.
Even if you do not choose to go with PureKana, know that all of the companies listed above have top-notch products and most offer a 100% money-back guarantee, so you can rest assured knowing that you will be happy with your product — these caring companies want to make sure of it.
Final Thoughts on the Best CBD Oils for Arthritis
In conclusion, there are numerous reputable CBD products that may offer anti-inflammatory properties. These properties may provide beneficial effects for various medical conditions, including arthritis and also, an antioxidant CBD may be able to reduce stressors that exacerbate inflammation. Properly-dosed CBD improves general well-being, and has little to no adverse side effects.
In summary, if you are an individual suffering from the debilitating pain of arthritis and are searching for an alternative option to relieve pain and discomfort, CBD oil could be an option. As we said, however, don't expect any of the products listed above to "cure" your arthritis. Moreover, thousands of people have found effective relief for their joint pain, but at the end of the day, CBD oil has a unique effect on every individual.
We hope you have enjoyed reading about the 10 Best CBD Oils for Arthritis, and that you have found this article to be educational and informative. Here is our final roundup:
Brand Name
Features
Our Score
Full-spectrum Hemp extract
No pesticides, solvents or chemical fertilizers
3rd party laboratory tested
Price Range ($48.00 – $390.00)
Full-Spectrum Extract (Made in USA)
100% Natural and Organic
Contain no artificial flavors or preservatives
Prices range ($48-$125)
High-grade CBD formula
All products are lab tested
Made from organically grown hemp
Price Range ($39-$139)
CBDPure uses a chemical-free CO2 extraction process
3rd party laboratory tested
Certified hemp grown in Colorado
Price Range ($29.99 – $79.99)
Huge selection of CBD products
Implement natural hemp practices
Lab tested potency and purity
Price Range ($29 - $99)
Free shipping on orders over $99
Certificate of analysis for all products
Seed-to-sale hemp-based CBD products
Price Range ($19.99-$124.00)
All CBD products follow Good Manufacturing Protocols
Made from all-natural, non-GMO Colorado hemp
Community-minded brand
Local sourcing where possible
Price Range ($29.99-$199.99)
Published on:
11 Jul, 2019