Overview
Charlotte's Web CBD oil started with seven Colorado-based brothers (the Stanley Brothers) who wanted to help a young girl and her family. It went on to become the gold standard for CBD oil in the United States.
Ingredients
Charlotte's Web premium hemp extract, Carrier oil, Flavor
Recommended use
Fill the dropper to the 1 mL mark, squeeze oil out below tongue, hold for ~60 seconds, and swallow.
Extraction process
Alcohol Extraction
Medical benefits
Charlotte's Web is not a medication - it's a hemp-based dietary supplement. Their product range is known to help with supporting and maintaining healthy sleep cycles, calming users down, and improving focus.
*All the data provided is for oil products only
Charlotte's Web CBD Quick Summary
Don't want to read the full review? Here's a quick summary of some things that stood out the most when we were doing our Charlotte's Web CBD Review:
Pros
Undeniable quality from a highly reputable brand
Fantastic taste and flavor
USA-grown, USA-made products
10ml sampler options so you can try the oils first without spending a lot of money
Its product range is much more affordable after the recent pricing structure update
Free ground shipping on orders of over $74
Cons
The smaller CBD oil concentrations remain relatively expensive
The brand received an FDA warning letter in the past
Ready to shop authentic Charlotte's Web CBD products? Visit the official online store and browse current discounts:

15% Discount Code: 15OFFCW
Full Charlotte's Web CBD Review
Before we get into this Charlotte's Web CBD review, let us remind you all of one thing. Hemp is a type of cannabis, and all forms of cannabis should at least have an underlying cannabis taste and aroma. Here at WayofLeaf, we have reviewed many "CBD" products devoid of any cannabis taste or smell.
Charlotte's Web by the Stanley Brothers is certainly not a brand that falls into this category. It's obvious that its entire range of products, from its CBD oils to its gummies, comes from the cannabis plant (Colorado-grown hemp, to be exact).
CW meets the highest standards of verified social and environmental performance, legal accountability, and public transparency.
CW is now a B Corp Certified organization. This means it meets the highest standards of verified social and environmental performance, legal accountability, and public transparency. It also means that this company aims to balance profit and purpose.
In our Charlotte's Web CBD review, we analyze several of the brand's best-known products and briefly look at the rest of its collection. However, let's first look into the famous tale surrounding this storied brand.
Who Is Charlotte's Web CBD?
Charlotte's Web CBD oil has a unique backstory. The brand started with seven Colorado-based brothers (the Stanleys) who wanted to help a young girl named Charlotte Figi and her family.
With experience in hemp cultivation, the Stanley Brothers developed genetics for a unique hemp plant that was high in CBD. The plant would not cause intoxication but could still provide users with the opportunity to achieve the potential wellness benefits of cannabis.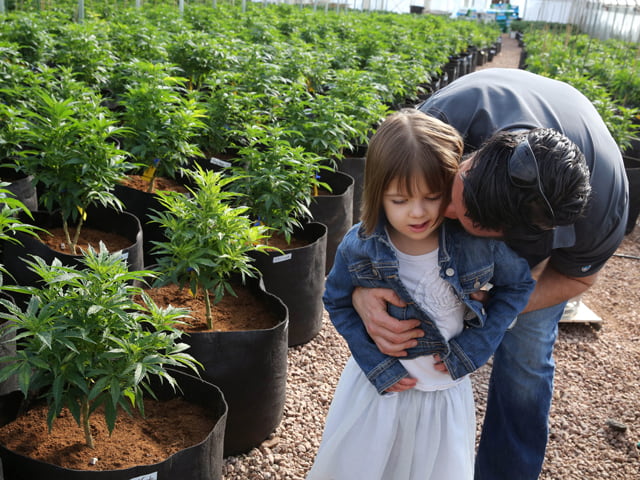 The brothers' assumptions were correct, and in 2012, the 'Charlotte's Web' CBD brand was born. The 'CW Hemp' brand created by the Boulder-based brothers became the gold standard for CBD oil in the United States. The brand was regarded as the 'World's Most Trusted Hemp Extract' company for a long time.
From there, the story surrounding Charlotte escalated, and it featured in various TV shows, including a pair of CNN documentaries. In 2019, Charlotte became the first child to be featured on the cover of High Times magazine.
Although Charlotte's Web helped bring joy to the Figi family, the story had a sad ending. Charlotte was hospitalized with pneumonia in April 2020 and passed away at the age of 13. Today, the Charlotte's Web brand does its best to honor the memory of the brave young girl who inspired it.
Charlotte's Web – Controversy & Expansion
There is little doubt that Charlotte's Web helped make CBD a high-profile product. Even when the Stanley brothers were helping the Figi family, the legality of hemp in the United States was murky at best. However, they helped inspire action amongst the nation's lawmakers.
In March 2014, the Budget Committee of the Florida House of Representatives passed Charlotte's Web measure. It was designed to reduce the ability of prosecutors to prosecute individuals in possession of high CBD/low THC cannabis, namely cannabis with 15+% of CBD and less than 0.5% THC. The law came into effect in July 2014.
Throughout this time, the Stanleys helped other families in Colorado who were seeking CBD for their children. Eventually, the Farm Bill of 2018 included a stipulation legalizing the cultivation of industrial hemp in the United States with a maximum THC content of 0.3%. Although the legislation didn't federally legalize CBD, it was nonetheless a major victory for the industry.
It hasn't always been smooth sailing for CW, however. The FDA sent a warning letter to Stanley Brothers Social Enterprises a few years ago. The FDA warned the brand "against making medical claims about cannabidiol (CBD). The company also faces two class-action suits relating to overstating the amount of hemp extract in their CBD creams and mislabeling CBD products.
These issues, coupled with the global pandemic, proved disastrous for the brand's share price after it went public. In August 2019, a share in Charlotte's Web Holdings was worth over 28 CAD (Canadian dollars). By January 2020, it dipped below 10 CAD and steadily fell until it was worth 3 CAD. Despite all these issues, Charlotte's Web is showing no signs of giving up the fight.
Charlotte's Web – Extraction & Lab Reports
Although the brand hasn't hit the sales figures it hoped for, it is still regarded as the #1 company in the American CBD market in terms of awareness, sales, and brand loyalty. Charlotte's Web is attempting to expand, as seen in its acquisition of Abacus Health Products, the maker of CBDMEDIC products, in 2020.
DID YOU KNOW? The Stanley Brothers created a genetic lineage of hemp in Colorado that was specifically bred for its high CBD content.
The brand offers full-spectrum and broad-spectrum CBD products; the latter contains less than 0.01% THC.
While most CBD companies stick with one form of extraction, Charlotte's Web uses two. It utilizes ethanol extraction for its Original Formula CBD oil. It removes all alcohol residue from the formula, so you receive a clean product. CW says this is a labor-intensive small-batch process that provides a rich mixture of hemp's cannabinoids.
For most other products, Charlotte's Web uses supercritical CO2 extraction, widely regarded as the industry "gold-standard" for creating top-quality CBD.
Its Certificates of Analysis (COAs) are located in the 'Explore' section of the official website. The brand performs in-house testing rather than using a third-party lab. However, its products are reviewed by Quality Assurance. While most of the COAs are up to date, the 15mg CBD liquid capsule (90-count) report was approved in December 2019, making it outdated.
Charlotte's Web CBD Reviews: What Products Did We Look At?
This review focuses on the brand's CBD oil, capsules, and gummies, before briefly looking at the rest of the Charlotte's Web collection.
Charlotte's Web CBD Oil Review
The CBD oil sold by Charlotte's Web comes in several flavors, concentrations, and even product types. The brand claims that its Original Formula full-spectrum CBD oil 'started an industry.' It is available in Mint Chocolate and Olive Oil (Natural) flavors. There is an impressive 50mg of CBD per ml, and you can select the 30ml (1500mg) or 100ml (5000mg) options.
This oil contains nothing but 86mg of hemp extract (aerial parts) per ml, fractionated coconut oil, organic sunflower oil, and natural flavors (for the mint chocolate). Please note that the color of the oil can vary according to the batch. A full dropper contains 1ml of liquid, though Charlotte's Web recommends a serving size of 0.5ml. Interestingly, CW uses ethanol extraction for its Original Formula but CO2 extraction for the Max Strength oil.
Speaking of which, this relatively new offering contains 60mg of CBD per ml. You can get it in 30ml (1800mg) and 100ml (6000mg) concentrations. Unlike the Original Formula, you get Lemon Twist and Orange Blossom flavors to go along with the Mint Chocolate. However, there is no unflavored Max Strength option.
If these CBD offerings are too large for your liking, you can try the 17mg per ml or 7mg per ml oils. Both are available in all four CW flavors, and once again, you can get 30ml or 100ml bottles. There are also 1ml 'starter' sizes in the 17mg, 50mg, and 60mg per ml range.
CW has also created a broad-spectrum oil. It contains 750mg of CBD in a 30ml bottle but less than 0.01% THC.
Charlotte's Web CBD Capsules Review
The brand once offered CBD capsules filled with powder. However, it made a big change, and its capsules now contain liquid. Charlotte's Web says the new version is plant-based, vegan, and contains a higher CBD concentration. It also asserts that the liquid-filled capsules have cleaner ingredients than CBD softgels. Moreover, CW's capsules disintegrate faster than most softgels.
You can choose between 30-count, 60-count, or 90-count containers and CBD concentrations of 15mg or 25mg per capsule. As a result, you can benefit from a 90 x 25mg product containing an impressive 2250mg of CBD in total. The brand uses organic extra virgin olive oil and hemp extract inside a vegetable capsule.
Charlotte's Web CBD Gummies Review
At first glance, it seems as if Charlotte's Web has an overwhelming range of CBD gummies with almost two dozen options. While there is an impressive array of gummies to choose from, you can distill it into the following types:
Daily Wellness: Raspberry Lime-flavored gummies designed to help improve mood and lower anxiety. Contains 60 x 12.5mg or 60 x 7.5mg CBD gummies for a total of 750mg or 450mg.
Immunity: Lemon Berry flavored gummies that include astragalus and various vitamins. This product could help your immune system. Contains 60 x 10mg CBD gummies for a total of 600mg.
Sleep: Raspberry flavored gummies with 1.5mg of melatonin to help support a healthier sleep cycle. Contains 30, 60, or 90 x 5mg CBD gummies for a total of 150mg, 300mg, or 450mg.
Recovery: Ginger flavored gummies containing turmeric and ginger to help you recover from the inflammation caused by exercise. Again, you can buy 30, 60, or 90 x 5mg CBD gummies for a total of 150mg, 300mg, or 450mg.
Calm: Lemon Lime flavored gummies containing lemon balm. As with the Sleep and Recovery options, you can purchase 30, 60, or 90 x 5mg CBD gummies for a total of 150mg, 300mg, or 450mg.
THC-Free: Mango Peach flavored gummies that contain various cannabinoids and terpenes but less than 0.01% THC. Contains 60 x 7.5mg or 60 x 12.5mg CBD gummies, so you receive 450mg or 750mg of cannabidiol per pack.
Please note that Charlotte's Web recommends a serving size of two gummies. There are bundle packs that can save you money. Finally, you can buy Overstock gummies at a reasonable discount.
Does Charlotte's Web CBD Sell Any Other Products?
It certainly does! Charlotte's Web didn't rest on its laurels even when it achieved international stardom. It has continued to expand its range of products to help people with different needs.
Now, CW has added CBDMEDIC topicals to its already impressive range. Overall, the biggest problem customers have is deciding which topical to choose. Some of the most popular products include:
Hemp-Infused Cream With CBD
CBDMEDIC Arthritis Aches and Pain Relief Cream
Lavender Hemp-Infused Roll-On With CBD
CBDMEDIC Muscle and Joint Pain Relief Spray
CBDMEDIC Massage Therapy Pain Relief Oil
The CBDMEDIC range is primarily for athletes, though you can use it for general pain relief.
There is also a CBD for Dogs collection. It features the standard full-spectrum hemp extract and chews pet owners have come to expect from CBD brands. You even have the option to buy Calming CBD gummies for yourself and Calming Chews for your pet!
Where Can I Buy Charlotte's Web CBD Products?
It is best to stick with the official Charlotte's Web site. Customers receive free ground shipping and handling for orders worth over $74. Otherwise, you can expect to pay $8.99. Typically, it takes seven business days to receive an order from the day you place it. You can speed things up by paying extra for second day or next day air shipping.
Each Charlotte's Web product comes with a 30-day customer satisfaction guarantee.
Each Charlotte's Web product comes with a 30-day customer satisfaction guarantee. While lots of brands only accept unopened products, CW allows you to give back the unused portion only. It then issues a full refund. This is a clear sign that the brand believes in its products. However, please note that Charlotte's Web offers no returns or exchanges on its Final Sale items. If you receive a damaged product, return it within 48 hours to get your money back.
Charlotte's Web also has a loyalty program that turns points earned into savings. Apart from getting a point for every dollar you spend, you can earn 200 points for referring a friend and 100 points for your first purchase from the capsules or topicals collection. Overall, there is a $10 discount for every 200 points you earn. Please note that points expire after 365 days.
Final Thoughts on Charlotte's Web CBD Oil
Overall, it is clear that Charlotte's Web remains one of the world's most respected CBD brands. It continues to expand in a bid to spread the message about hemp and cannabidiol as far as it can. CW continues in memory of Charlotte Figi, the young girl who inspired a company and helped bring cannabidiol to international attention.
Although she has sadly passed away, Charlotte's Web is determined to continue its mission to provide some of the world's best CBD products. It combines premium-quality cannabidiol with innovation, and we feel that it has not finished launching new products.
The main downside is that some of CW's products are relatively expensive compared to other leaders in the CBD industry, although its prices have fallen in recent times. Even so, its loyal supporters will tell you that Charlotte's Web is worth every penny. If nothing else, you know it is a reputable brand that seems to genuinely care about helping people through the use of CBD.
Overall Rating: 9/10
Visit the following link to browse ALL products in the official Charlotte's Web online store:
The following reviews are made by consumers. Charlotte's Web has not evaluated (and therefore does not endorse, support, or approve) the reviews or recommendations made by consumers. These statements have not been evaluated by the Food and Drug Administration. Charlotte's Web products are not intended to diagnose, treat, cure or prevent any disease.
Other Recommended CBD Oils