Overview
CBDPure sources its line of CBD oils from organic industrial hemp grown in Colorado and Washington. Famous for its industry-leading 90-day Money Back Guarantee, the company will refund your money if you do not experience the benefits you want or are unhappy with the results.
Ingredients
FULL-SPECTRUM HEMP OIL
Recommended use
1/2 DROPPER TWICE DAILY (OR AS NEEDED). HOLD UNDER THE TONGUE FOR 60 SECONDS BEFORE SWALLOWING.
Extraction process
CO2 EXTRACTION
Medical benefits
Not disclosed. Products are not evaluated by the Food and Drug Administration.
*All the data provided is for oil products only
CBDPure Brand Overview
Pros
Made from organic, non-GMO, Colorado-grown hemp
Free from pesticides, herbicides, and fertilizers
All products tested by third-party laboratories
Uses state-of-the-art CO2 extraction technology
Generous 90-day refund policy
Full-spectrum CBD
Cons
The company has a very limited product range
No flavored CBD oil option
1000mg is its highest CBD concentration
The 300mg version only contains 5mg of CBD per ml
To skip the full review and check out CBDPure's complete product range, follow the link to their official website now. Don't forget to use your 15% coupon code below for some great savings.

15% Coupon Code: CBDPure15
Full CBDPure Brand Review
It's no secret that CBD hemp oil sales have been shooting through the roof over the last few years. In terms of popularity, few U.S. products have seen more recent success across the retail market than cannabis oil; both non-intoxicating (CBD) and recreational/medicinal (THC) varieties.
Given the legislative "gray area" surrounding most of the commercial marketplace, however, customers were swarmed with literally hundreds of different brand names and products to choose from. Everyone from Amazon and Wal-Mart to local mom and pop health food stores are trying to get in on the "hemp oil craze."
However, relatively few brands manufacture legitimate, high-CBD products capable of providing therapeutic results. CBDPure is a brand with a reputation as both a customer and an industry favorite. This is based upon the quality of the hemp used to make the oils and the methods of extraction used to finalize the end product.
In this complete CBDPure review, we look at the people behind the company, the products available, and whether you should consider using this brand.
Who is CBDPure?
The CBDPure brand was formed in 2016 and is part of NutraPure LLC, which was created in 2012. Finding information on the main people involved in the company is a little tricky. However, we found a warning letter from the FDA addressed to CJ Montgomery in 2019.
The FDA said NutraPure's website claimed CBD was intended for use in the diagnosis, cure, mitigation, treatment, or prevention of disease. It was a lesson learned for the brand, which now makes no health claims relating to CBD.
Meanwhile, the CBDPure website says it is a family-owned company based in Vancouver, Washington. It cultivates the hemp used in its products in Washington and Colorado. The brand uses organic farming techniques and utilizes CO2 extraction. Furthermore, it only includes an unprocessed natural hemp oil base and high-potency CBD in all of its products.
Like all other top-quality hemp oil companies, CBDPure conducts third-party testing on all of its CBD oil products.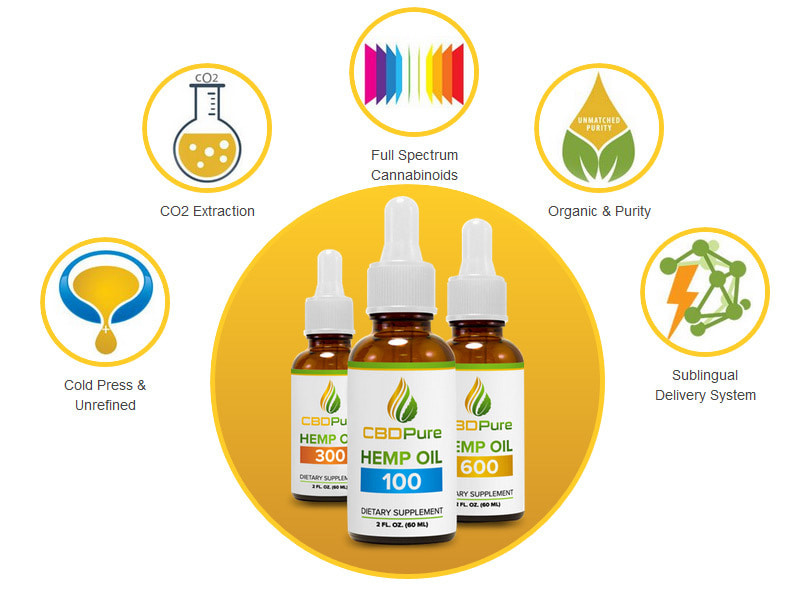 You can view the COAs under the 'Lab Test Results' section of the website. All of the tests were conducted by Columbia Laboratories and occurred within the last few months. The report is extremely detailed with information on the cannabinoid content, not to mention an overview of solvent content. This level of detail only helps the brand's cause. Now, let's check out the CBDPure product range.
CBDPure Hemp Oil Review
As with the rest of the brand's offerings, CBDPure keeps things simple with its tincture. There are three CBDPure oil drops concentrations:
Each bottle contains 60ml of oil. This results in a reasonable 16.66mg of CBD per ml in the strongest concentration, the CBDPure hemp oil 1000. Meanwhile, the CBDPure hemp oil 600mg version contains 10mg per ml. However, the CBDPure hemp oil 300 option has just 5mg of CBD per ml. This is significantly weaker than the majority of oils on the market. On the plus side, the tincture contains nothing but full-spectrum hemp oil.
You can also save money by ordering a 3-month or 6-month supply. Each bottle comes with a 2ml dropper, and the brand suggests using half a dropper each day to start with. It is full-spectrum oil with no added flavors, carrier oils, or preservatives. It is 'pure' in every sense.
CBDPure Oil Softgels Review
There is even less choice in the brand's softgels section than in the CBDPure oil drops category. You have just one option: CBDPure Softgels 750. As the name suggests, there is a total of 750mg of CBD in each container. Overall, you receive 30 x 25mg easy-to-swallow capsules.
Once again, purity is the word of the day. Apart from the full-spectrum hemp extract, the shell is made from distilled water, gelatin, and vegetable glycerin. These softgels represent a quick and easy method of using CBD.
Does CBDPure Sell Any Other Products?
Yes, there are two other products in the brand's range. The Muscle & Joint Cream contains 500mg of CBD in a 90mg tub. Added ingredients include White Willow Bark and Menthol, which CBDPure claims increase the cream's effectiveness. The company also says that its proprietary formula provides targeted comfort within three minutes of application. All you need is a pea-sized amount to get started.
Finally, there is CBDPet 100 oil. It contains 100mg of CBD in 60ml of oil. It is created to the same standards as the other CBD oil. Given its price, it's probably a better idea to buy one of the other tinctures and use a tiny amount for your pet to save money!
Why Choose CBDPure Tinctures & Where to Buy?
Without a doubt, the easiest and fastest way to buy CBDPure CBD oil is on the official website. The brand has created an appealing site that places user-friendliness at the very top of its list of priorities. The entire buying process shouldn't take you more than a few minutes.
As most CBD tincture reviews should point out, the brand's 90-day guarantee is one of the best in the industry. Unlike many companies that only accept unopened packages, CBDPure allows customers to return unused portions. Furthermore, it offers a full refund, which means you don't have to pay any restocking fees. Few CBD brands come close to this level of guarantee.
In general, orders take 1-2 business days to process and ship. Domestic deliveries take a total of 3-7 business days. CBDPure ships across the United States, United Kingdom, and Canada only.
What's interesting is that while the brand's contact address is in Vancouver, Washington, you must mail returns to Tucson, Arizona.
Final Thoughts About CBDPure
CBDPure sells a high-quality product that is simple and understated. With nothing but hemp oil and CBD included, you can be sure that you receive pure cannabidiol. Moreover, the brand has updated lab reports to prove it. Its products are reasonably priced, and the website is easy to navigate. There is also the option to buy 3-month and 6-month bulk orders to further reduce the cost.
One major downside is the relative lack of products. There are just six total items across four categories. As a result, you'll need to look elsewhere if you want CBD vape oils, CBD edible gummies, etc. Also, the CBD oil is unflavored, and not everyone enjoys the bitter taste of hemp. That being said, the brand's filtering process means its oil doesn't have the standard tart aftertaste associated with unflavored CBD oil.
Nonetheless, if you're looking for a trustworthy brand that provides premium grade CBD oil in a moderate concentration, CBDPure is worth investigating.
Final Verdict – 8.5/10
To learn more and place your order, check out the official CBDPure website: