Overview
Medterra specializes in the manufacturing of high-grade CBD that people can trust. It is dedicated to quality and has an extensive array of CBD options. Its philosophy includes scientifically-backed craftsmanship, along with unrivaled customer service and care.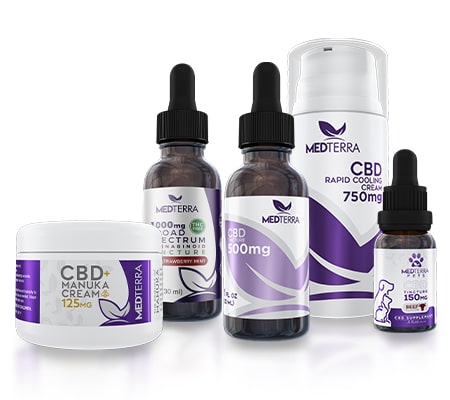 Ingredients
MEDIUM-CHAIN TRIGLYCERIDE MCT OIL (COCONUT DERIVED), HEMP EXTRACT
Recommended use
CONSUMERS SHOULD PLACE THE OIL UNDER THE TONGUE. HOLD FOR 30-60 SECONDS, AND THEN SWALLOW. REPEAT AS NEEDED THROUGHOUT THE DAY.
Extraction process
CO2 extraction
Medical benefits
● Encourages relaxation and stress relief
● Mitigates aches and pain
● Promotes overall wellbeing
● Assists in daily maintenance and fitness

*All the data provided is for oil products only
Medterra CBD: Quick Summary
Pros
Sells full-spectrum, broad-spectrum, and CBD isolate products
Some Medterra products include a unique proprietary wellness blend
Excellent value for money
High CBD concentrations in the tinctures
Kentucky grown hemp & CO2 extraction
Cons
The range does not include vaping supplies
The site is a little confusing to navigate

20% Coupon Code: CBD20LIFE
Full Medterra CBD Review
Unfortunately, the cannabidiol industry remains rife with imposters. The fact that the FDA doesn't necessarily approve the cannabinoid itself, despite the legality of growing hemp, means that low-quality CBD products are still commonplace. As a result, consumers need to perform detailed research to ensure they don't purchase a harmful product.
Thankfully, there are a growing number of reputable businesses, including Medterra CBD. It is a brand with a positive reputation in the CBD sector and has recently revamped its products. One of its most recent innovations is in the Medterra CBD oil range. You can now buy CBD isolate, full-spectrum and broad-spectrum tinctures.
This is positive news for anyone seeking variety in their CBD regime. Let's investigate Medterra a little more thoroughly to see if it is as good a brand as its reputation suggests.
Who Is the Medterra CBD Oil Brand?
Jay Hartenbach and JP Larsen founded Medterra, and the brand claims it is on a mission to innovate. It is determined to keep researching and experimenting until it sells a CBD product for everyone's needs. Recently, Medterra announced the appointment of Gregory Reeder as CEO as part of its expansion into the health and wellness industry.
CBD oil from Medterra, and indeed its entire range of products, is non-GMO and free from pesticides and insecticides. The company uses Kentucky-grown hemp for its products, along with CO2 extraction. Medterra also provides Certificates of Analysis for each product on the official website, which is always reassuring.
Unlike some brands, Medterra ensures that its third-party lab reports are up to date. We checked a handful of its products and found COAs from less than two months ago. It seems as if the brand gets Santé Laboratories of Austin, Texas, to perform the testing.
Now, let's check out Medterra CBD oil and the rest of its product range.
Medterra CBD Tincture Review
The main offering in this section is the brand's CBD isolate drops, which contain up to 99.6% CBD. This particular Medterra CBD tincture contains nothing but hemp-derived CBD and MCT oil. It is an excellent option if you only want to sample cannabidiol with no chance of intoxication. This CBD isolate product comes in the following concentrations:
The 6000mg bottle comes in 60ml of liquid, while the rest are in 30ml bottles. As such, you receive 100mg of CBD per ml in the strongest concentrations.
The brand recently launched what it calls a 'True Full Spectrum' CBD range. It consists of a 5:1 ratio of CBD to other hemp compounds. Unlike its unflavored CBD isolate option, you can sample full-spectrum CBD in Citrus and Chocolate Mint. It is also available in the following concentrations:
The first two concentrations contain 50mg of CBD per ml and 2mg of THC. The 3000mg version has 100mg of CBD and 2mg of THC per ml. Please note the THC content in case you are subject to an employment drug screening. If you consume 2ml of oil a day, for instance, the 4mg of THC you ingest potentially puts you at risk of detection, so bear this in mind.
The brand's Ultra Broad Spectrum CBD oil tincture contains numerous cannabinoids and terpenes but no THC. It is available in Citrus, Strawberry Mint, and Unflavored options with CBD concentrations of 1000mg and 2000mg.
Medterra CBD Capsules Review
Regarding the Medterra CBD capsules range, you once again have the choice of CBD isolate, broad-spectrum, and full-spectrum formulas. The standard version includes over 99% CBD, MCT oil, and bovine gelatin for the casing. You can buy a 30-count container with 25mg or 50mg CBD capsules. The latter provides an impressive amount of cannabidiol that you can swallow with water easily.
If you want to benefit from the entourage effect, however, you still have two other options. Medterra's Ultra Broad-Spectrum capsules contain a 10:1 ratio of CBD to other cannabinoids but have no THC. You benefit from CBG, CBN, CBC, and various terpenes, with no possibility of getting high. Each bottle contains 30 x 50mg of cannabidiol.
Finally, the new full-spectrum option contains 60 x 50mg CBD capsules for a massive 3000mg of cannabidiol per bottle. However, please note that there is 2mg of THC per capsule, along with 8mg of other hemp plant compounds.
Medterra CBD Topicals Review
Medterra also has a reasonable topical range though it is smaller than many of its rivals. It offers a 50ml Pain Cream with CBD that combines the power of cannabidiol with menthol, arnica, and hydrating jojoba oil. Consumers can purchase 500mg and 1000mg concentrations.
Medterra also sells a Relief + Recovery Cream that was once known as CBD Rapid Cooling Cream. Interestingly, you can buy two bottles containing 50ml of cream with concentrations of either 250mg or 500mg. Therefore, the 500mg option is 2 x 250mg, while the 1000mg package is 2 x 500mg. You can also purchase a 750mg single bottle with 100ml of cream. You may feel a pleasant cooling sensation once you apply this product to the site of your pain.
Other topicals include CBD Cream with Manuka. This product features either 125mg or 250mg of CBD in 30ml or 60ml tubs. The addition of manuka honey hydrates dry skin and helps to ease minor irritation.
There is also a Relief + Recovery Roll-On that was once called a CBD roll-on. It has either 250mg or 500mg of CBD in a 60ml bottle. Medterra's roll-on supports healthy muscle function, hydrates skin, and is suitable for an active lifestyle.
Does Medterra CBD Sell Any Other Products?
It certainly does! The Medterra CBD gummies range is extensive compared to many other brands. It is possible to purchase the following:
Sleep Tight (Strawberry flavor with melatonin)
Keep Calm (Tropical flavor with L-Theanine)
Stay Alert (Citrus Punch flavor with green tea and ginkgo biloba)
Immune Boost (Elderberry with zinc and vitamin C)
Each option is a 30 x 25mg CBD isolate formula that is designed for a specific purpose. The Immune Boost version, for instance, helps support a healthy immune system.
Medterra now sells full-spectrum CBD gummies in Original Citrus and Deep Sleep Berry flavors. Each container has 30 gummies with 25mg of CBD and 2mg of THC apiece. The Deep Sleep Berry gummies also have 3mg of melatonin each.
The brand provides various CBD supplements, including liposomal CBD+ capsules for morning or night. The claim is that liposomal products provide a higher rate of bioavailability than average. Medterra even sells CBD gum!
There is even a range of CBD products for our furry friends. Pet owners can buy CBD pet tinctures in beef, chicken, and unflavored options, along with CBD bacon-flavored chews and CBD peanut butter.
Finally, you can save some money through a Medterra CBD bundle package. Combine products such as the Immune Boost CBD Gummies and Tincture to make savings.
Where to Buy Medterra CBD Products?
Apart from the official Medterra website, it is also possible to purchase products in various physical stores. Check out the 'Store Locator' section to see if there is a CBD seller near you. However, you're more likely to find a greater selection of products on the official site.
Medterra has a Rewards Program where customers earn two points for every dollar they spend. You also earn points for referring friends, following the brand on Instagram, and leaving a review. It seems as if you receive a $10 discount for 250 points and a $25 discount for 500 points, though the site hasn't updated this information in a while.
Medterra's official site offers excellent customer service, thanks to rapid shipping and a Rewards Program.
This CBD company aims to ship orders ASAP. Orders placed before noon Pacific Standard Time are sent out on the same business day, or the following day if the order is done later. That said, the general delivery timeframe is usually 3-7 business days.
Lastly, Medterra provides a full refund if you're unhappy with your purchase. In this case, you have 30 days to return the product. Please note that customers are responsible for return shipping, though, including the cost.
Final Thoughts on Medterra CBD
In summary, Medterra offers a significant variety of CBD products. It sells isolate, full-spectrum, and broad-spectrum tinctures, capsules, and gummies. There are also different 'categories' such as Immune Boost, Relax, and Recovery. In terms of value for money, Medterra is certainly up there with the best brands in the industry. Its 6000mg CBD isolate oil is great if you use a significant amount of the cannabinoid each day.
Everything it sells is laboratory tested, and its COAs are detailed and up to date. These reports show that Medterra products are free from harmful chemicals such as pesticides, solvents, and metals.
With a 30-day money-back policy, you can try Medterra's CBD products with confidence. In general, the company provides reliable shipping and delivers its products to all 50 states. Apart from buying products on the official site, you can also find them in a growing number of physical stores.
While we wish the website's product pages were easier to navigate, Overall, Medterra is a reputable brand that deserves mention amongst the best in the industry.
Rating: 9/10