Overview
Binoid CBD is a US-based company that specializes in both CBD and THC product varieties. As well as being committed to high-quality manufacturing and lab testing, the brand offers a refreshing and fun community for its customers.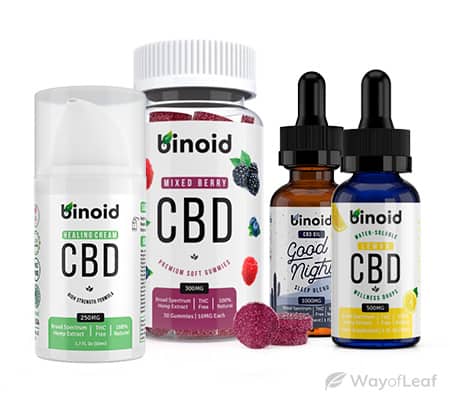 Ingredients
Fractionated coconut oil (MCT oil), Hibiscus, Ginseng, Gingko Biloba, Ginger Root, Maca Root, Broad Spectrum CBD + CBG (Hemp Extract), Lemon Essential Oil, Peppermint Essential Oil.
Recommended use
First, shake the bottle well. Take 1 or 2 dropper servings, and hold underneath the tongue for 30-60 seconds. After, swallow the remaining oil.

Medical benefits
May boost energy throughout the day and encourage a relaxed and calm attitude.
*All the data provided is for oil products only
Binoid CBD: Quick Summary
PROS
Sells CBD, delta-9, and HHC products
Extensive range of brands on site
Full lab reports are available
Great discounts
Fast, free shipping
CONS
Extensive range may confuse new customers
Limited information on extraction
Product availability might vary depending on the state
Who Is Binoid CBD?
Based in LA, the wellness capital of the world, it's no surprise that Binoid embodies a culture of lemongrass smoothies, goat yoga, and hemp-infused goodies.
However, this hemp brand has a little bite.
Binoid's range is largely composed of THC products such as delta-8, delta-9, THC-O Acetate, and more.
Aside from selling traditional CBD products, Binoid's range is largely composed of THC products such as delta-8, delta-9, THC-O Acetate, and many more substances that have had THC-enthusiasts talking recently.
Our full Binoid CBD review will explore how accessible these products are, how the brand ensures consistency, and most importantly if the products are worth purchasing.

How Does Binoid Stand Out in a Busy Industry?
Binoid was first established in 2018, arguably the peak of global hemp interest. However, the industry has become turbulent over the years, with analyst company Brightfield Group predicting a "significant extinction event" for thousands of CBD brands in 2020.
Despite this, Binoid has remained reasonably steadfast, delivering consistent quality to their customers. We think this success is primarily down to their flexibility and approachable image.
The company has always managed to stay ahead of the trends by producing ranges that satisfy existing customers, like their CBD oils and exciting new ones, like their delta-10 vape liquids
Additionally, Binoid's ethos echoes the cultural shift towards a more natural and eco-focused way of life. Their online mantra of "Live More, Naturally" is a clever interpretation of this.
But is this simply a marketing ploy, or do they really deliver?
Binoid Is Exceeding Industry Standards & Expectations
Binoid's official site is colorful, organized, and very customer-friendly. Visitors can find plenty of product reviews, and we were very impressed to see free shipping too. Take a look at how else we investigated Binoid below.
1. Social Media Supremes
If you enjoy hemp-based memes and festive-themed CBD photo ops, Binoid's Instagram page won't disappoint. We suggest giving them a follow if you're interested in product discounts, general information, and even clever ideas on how to use their products. CBD brownies, anyone?
2. Positive Customer Reviews
We've been scouring the web for customer reviews for an objective and honest reflection of Binoid CBD. The company has a fairly average Trustpilot score of 3.4 stars out of 5. However, it's worth pointing out that there are only four reviews in total, strange for a 3-year old company. Binoid's Google reviews fare a little better, with many customers praising product quality and customer service.
3. Growing and Manufacturing Standards
Binoid claims to source their hemp from growers in Oregon, choosing hemp strains rich in CBD, CBG, and other cannabinoids and terpenes. Additionally, the brand uses a cGMP-certified manufacturing facility before each product is lab-tested for consistent formulation. All in all, Binoid implement many processes that monitor product quality.
Are There Any Negative Aspects to the Brand?
Of course, the risk of selling contentious products, like delta-8, is legal complications. While the brand claims that all products are derived from hemp, regulations for new substances remain murky. For instance, we know that delta-8 is prohibited in a handful of states, including Montana and Kentucky.
After digging through their FAQs, we found that most information was directed towards their CBD range, giving us little light on the THC ranges.
Some of Binoid's products produce intense highs, such as THC-P. Overall the company talks very little about these potencies. However, they do caution potential customers in their product descriptions and provide a detailed account of their FDA stance.
The Binoid Product Range (CBD + THC)
As we mentioned above, variety and choice remain Binoid's strengths. Not only do they sell their own products but other brands like CBDistillery and MedTerra, creating a vast selection.
Their extensive range means that they can cater to many different lifestyles. However, this can lead to confusion, and new customers may feel overwhelmed by choice. To help, we'll briefly explore each of Binoid's product ranges.
Binoid CBD and CBG Range
No matter how you prefer to use CBD, Binoid is sure to have a solution. Their range includes but is not limited to:
CBD oils
CBG oils
Pet oils
Gummies
Creams
Softgels
Wax dabs
Vape cartridges
Most of the range is entirely THC-free, and of course, this can be confirmed on each lab report.
Products like CBD gummies are especially popular. Not only because they come in three delicious flavors, but they are gluten-free, kosher, and crafted using natural flavorings and colorings. For customers who enjoy flavored products, a variety of vape liquids are also available.
High-strength options, like CBDistillery's 2500mg oil, are advertised on the site but remain "Sold Out," as do quite a few products.
Binoid Delta-8 Range
While the delta-8 range is slightly more compact, the brand still offers a decent variety of products. Customers can choose from:
Vape liquids
Gummies
Tinctures
Dabs
Capsules
These products are crafted from various brands, including Koi, 3Chi, Delta Effex, and Binoid.
Binoid's own delta-8 products are primarily vape liquids. They offer a huge range of classic flavor profiles, including Sour Diesel, Tangie, and Grand Daddy Purp. What we love about the range is that Binoid explains in detail what effects customers can expect from each variety.
In terms of potency, their 1000mg tinctures and dabs tend to offer the most robust strength.
Additional Products
Other products that Bionoid utilize on their site are:
Delta-10
HHC
THC-O
THC-P
THCv
Many of these compounds are considered relatively niche in the industry. Because of this, we believe these products are tailored to more experienced hemp users, especially as they are considered to be very potent.
Again, most of these compounds tend to be crafted as vape liquids and disposable pens. Customers have the choice between indica and sativa strain flavors.
Where to Buy Binoid CBD Products
Binoid's site is easy to use, and most customers will find it the easiest way to purchase products. If you live near or are familiar with Northridge, California, you can also visit their physical store to browse products.
In terms of shipping, Binoid aims to process orders within 24 hours. However, the speed of delivery depends on location. For instance, California residents may receive orders within two days, while East coast residents may have to wait longer.
Binoid does offer returns and exchanges, but products cannot be opened or used. Simply email their customer service team for more information.
Final Thoughts on Binoid CBD
Binoid exists within a convoluted industry. Over 3,000 brands are currently jostling for dominance in the market, with plenty more waiting in the wings.
However, the brand has managed to carve out a well-deserved spot by supplying niche and high-quality products. While it would be great to see a more detailed FAQ section, we realize that the sheer number of products can make that difficult.
The brand has managed to carve out a well-deserved spot by supplying niche and high-quality products.
Also be aware, that we've mainly reviewed Binoid's own products rather than any third-party brands on the site. Although, we hope the brand would only sell products that they trusted.
As mentioned above, the legal status of many of these products is contentious. It's always recommended to research your state's regulations and laws before purchasing a product.
Visit Official Site: binoidcbd.com
Final Verdict – 8.5/10