CBD users looking for a tasty way to consume cannabidiol have often found themselves looking at vaping. CBD oil vapes are convenient and delicious, providing a treat that you can look forward to. There are lots of advantages to CBD vaping, but there is also the small issue of getting started.
Experienced vapers often possess high-tech equipment, which can be expensive and complicated. Those new to vaping have to start somewhere, and this means purchasing a vaporizer as well as an e-liquid. Typically, newbies begin with a simple CBD vape pen, which resembles a cigar in shape.
In this in-depth review, we will compare three of the top CBD vape pens on the market, including both disposable and refillable options. We will also explain more about vape pens, so don't worry if you're completely lost. Let's find out what the best CBD vape pen is once and for all.
What Is a CBD Vape Pen?
A CBD vape oil pen is quite self-explanatory. It's a vaporizing device that resembles a pen because it is long and thin. It's an electronic piece of equipment filled with CBD e-liquid; when switched on, the vape pen heats up the CBD liquid and turns it into a vapor that you inhale.
There are lots of vaping devices on the market that are slightly different, including desktop vaporizers and dry herb vapes. A vape pen, however, tends to be simpler and more user-friendly.
Typically, there are two types of vape pens: Disposable pens and refillable ones. We go into more detail on these types in the section below. Whichever you choose, they work in a pretty similar way. In the end, you inhale the CBD.
Proponents of vaping believe that inhaled CBD offers much higher efficiency than other forms of ingestion. When eating an edible, for instance, much of the CBD is lost to the digestive system. However, with vaping, your body can make use of the majority of the cannabidiol, and it reaches the endocannabinoid system rapidly.
The best CBD vape pens allow you to control the temperature settings, making for a customizable experience that provides you with the most benefit. There are lots of reasons to love CBD vapes, so let's check out some of the pros and cons.
Pros and Cons of Using a CBD Vape Pen
CBD vape pens tend to be very user-friendly and easy to use.
For those new to vaping, vape pen starter kits provide a cost-efficient way to get started.
The e-liquids in vape pens are often very tasty.
Vaping CBD is quick, convenient, and discreet.
Proponents believe that vaping provides higher bioavailability and faster effects.
There are some health concerns about the long-term safety of vaping.
Depending on the model, some vape pens can be quite expensive.
Disposable vape pens are not very environmentally friendly.
EDITOR'S CHOICE – CBDFX
In a bit of a hurry? If you don't have time to read the full review, then you should know that we chose CBDfx as our winning CBD vape pen. We chose this brand due to the range of products on offer and their affordability, as well as battery life in the CBD Vape Kit.
Should You Choose a Disposable Vape Pen or a Refillable Version?
One of the first choices you have to make is choosing between a disposable vape pen or a refillable one. The difference is that disposable vape pens offer one cartridge filled with e-liquid; once it runs out, you throw the entire pen away.
Refillable pens, on the other hand, usually come in starter kits. You receive a pen, a charger, and typically one e-liquid cartridge to try. When the cartridge runs out, you throw that away and replace it with a fresh one.
Each one has its respective advantages and disadvantages, which we explore in the table below.
Vape Pen

Pros

Cons

Disposable Vape Pen

They usually cost less.
You don't need to charge them.

Not environmentally friendly.
Often weaker than refillable pens.
Works out more costly in the long-term.

Refillable Vape Pen

Better for the environment.
You can swap out cartridges for new flavors and strengths.
They tend to be more powerful.

They have a higher initial cost.
You have to remember to charge them.
It's up to you whether you choose a particular pen over the other. Disposable vape pens tend to be better for those who have never tried vaping, offering a low-cost option to try it out. Refillable pens, on the other hand, are a better option for those who enjoy vaping and do it on a regular basis.
How Do CBD Vape Pens Work?
Vape pens are actually quite simple. Many of them have a one-button system, where all you need to do is press the 'on' button. Others may offer temperature control settings.
All you need to do is click a CBD cartridge into the pen or drip in the e-liquid. When the pen is switched on, it heats the e-liquid and turns it into a vapor, which the user then inhales. It's best to buy a CBD vape pen designed for cannabinoids, as it is guaranteed to reach the right temperature to vaporize the CBD.
If you can change the temperature settings, you might want to take a look at the boiling points of different terpenes. As long as your cartridge is full-spectrum, you can benefit from the effects of specific terpenes contained within the e-liquid by vaporizing it at different temperatures.
Harmful CBD Vaping Products – Spotting the Warning Signs
There have been some concerns recently about the potential risks of vaping. Some users have fallen ill, but this is usually the result of black-market cannabis oil that is unsafe. That said, some supposedly reputable companies are selling CBD vape pens that may contain unsafe ingredients.
In 2017, The Journal of Alternative and Complementary Medicine published a study on several common ingredients in CBD e-liquids. These include:
Propylene glycol (PG)
Polyethylene glycol 400 (PEG400)
Vegetable glycerin (VG)
Medium-chain triglycerides (MCT)
The researchers found that PG and PEG400 are more likely to be harmful than natural ingredients like MCT and VG. Out of the two, PEG400 was the worst offender; the researchers discovered that it can expose vapers to harmful levels of formaldehyde when it is broken down in a vape pen.
The best vape pens will typically use a blend of PG and VG to create a safe and smooth vaping experience. Some brands also use MCT. Generally, it is best to avoid a company that uses PEG400 in its products. Always look for third-party lab reports to verify the safety of the oils, and make sure you check the ingredients.
Which Brand Offers the Best CBD Vape Pen?
There are hundreds of CBD oil vape pens on the market, but we selected three of the top brands to compare. We chose:
CBDfx
Gentlemans
Social CBD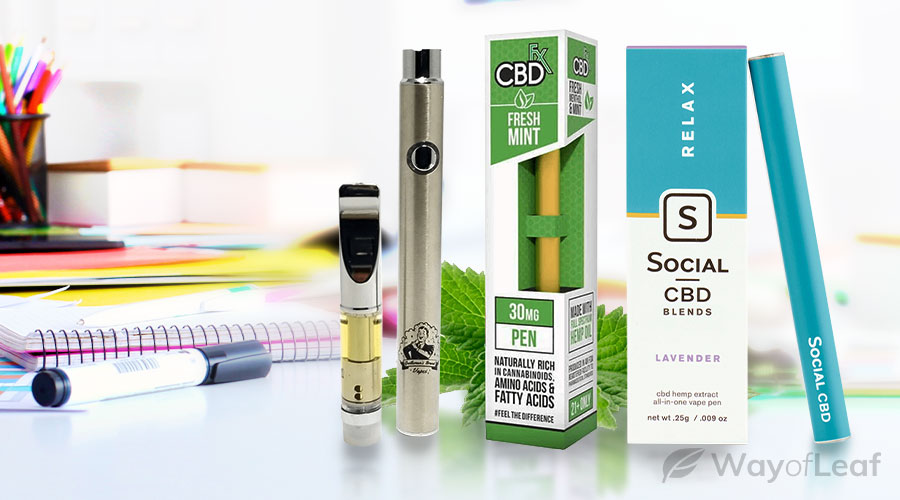 We compared them according to several features, including battery life, airflow, and cost; we also choose the best refillable option and the best disposable pen.
1
Best Refillable CBD Vape Pen
Although refillable vape pens are more powerful, some of our best picks are actually disposable vapes. Social CBD doesn't sell a refillable pen, so this category comes down to the other two brands.
Gentlemans specializes in refillable vape cartridges. There are two options: The Liaison Pen and the Double Agent Deluxe. Both are sleek, silver vape pens compatible with any 510-thread cartridge, which is the standard. They're pretty stylish, but the Liaison Pen is very basic because it's essentially just a battery. The Double Agent pen, meanwhile, has adjustable settings, so it wins for us out of the two.
CBDfx offers both refillable vape pens and disposable options. We also think that CBDfx offers the best CBD oil vape pen starter kit. The CBD Vape Kit offers a battery, cartridge, charger, instructions, and a connector. It's a bit heavier than the Gentleman's option because it's less of a pen and more a proper vaporizer.
The CBDfx vaporizer is compatible with any of the CBD e-liquids sold on the site. CBDfx has an amazing range of flavors, making this pen more adaptable than the Gentleman's brand option. In the end, it depends whether you want a sleek design or better customization. We settled on the better flavor options and the best starter kit.
WINNER BY EFFICIENCY – CBDFX
2
Best Disposable CBD Vape Pen
As far as disposable vape pens go, the Gentlemans brand offers one option. Each pen contains 40mg of CBD and lasts for 50-75 puffs. It's a steel, buttonless option available in six flavors. At $14.99, it's also decently priced.
Social CBD has an excellent range of disposable vape pens. They fall into the categories of Relax, Focus, and Revive, in six flavors. In several of the flavors, you can also choose between 125mg and 250mg. All of the pens are sleek and small, making them super portable. They all come in Social CBD's signature colorway, and we think it's a beautiful design. By the way, Social CBD uses MCT oil, so you know the ingredients are safe.
CBDfx has the largest range. There are six flavors, and also six 'terpenes' options which are flavored like particular cannabis strains. Don't worry – they all contain less than 0.3% THC. Each CBDfx vape pen contains 30mg of CBD and comes in a cute yellow color. The terpene options contain 50mg and are white.
Judging based on the ingredients and the potency, we liked Social CBD the best.
3
Best Airflow (Adjustable)
Out of the three brands reviewed here, only Gentlemans offers adjustable airflow on its disposable vape pen. The Double Agent 2.0 pen offers three voltage pre-sets. They're also color-coded, making the pen easy to use.
WINNER BY BETS AIRFLOW – GENTLEMANS
Obviously, the two refillable vapes will keep you going the longest because they're rechargeable. For Gentlemans, the Double Agent pen has the largest battery. It's a 350mAh lithium-ion battery.
CBDfx, meanwhile, offers a 1000mAh lithium battery, which is obviously much stronger. Bear in mind that the CBDfx vaporizer is larger and less portable, but this does allow it longer battery life.
As for the disposable pens, they have similar battery lives. Given that Social CBD's is the strongest option, you get more bang for your buck.
WINNER BY BATTERY LIFE – CBDFX
Out of the refillable vape pens, the Gentlemans Double Agent pen is the best value for money once you factor in the cartridges and e-liquids. Both of these options are much more expensive than disposables, however.
Here is the price per milligram of the strongest options from each brand:
CBDfx (50mg): $0.4 per milligram
Gentlemans (40mg): $0.4 per milligram
Social CBD (250mg): $0.2 per milligram
Although the Gentlemans Vape is the cheapest overall, Social CBD offers the best value for money by far. If you're looking for CBD on a budget, then Social CBD saves you money long-term by offering a stronger potency.
To throw a spanner in the works, CBDfx also offers bundles. A 3-pack of mix and match terpene pens is 15% off the usual price, working out at $0.3 per milligram. As a result, our best budget CBD vape pen is the CBDfx Build Your Own Terpene Pens Bundle.
Conclusion
Choosing the best overall CBD vape pen was difficult, not least because of the different types! In the end, we had to choose CBDfx. This is a brand that offers multiple types of vape pens, including refillable and disposable options. With such a variety of flavors to choose from, you'll never get bored.
Make sure you visit the CBDfx website to view the full CBD vape range.
Published on:
20 May, 2020