LivWell Enlightened Health is one of the fastest growing recreational and medical marijuana dispensaries in the United States. They have grown exponentially over the past ten years, and don't show any signs of slowing down. They are located all throughout Colorado – where their first dispensary was opened – and now in Oregon as well.
LivWell Overview
LivWell Enlightened Health is the "umbrella" company of the LivWell brand, and throughout the rest of this article, we will be referring to it simply as LivWell. LivWell is associated with several dispensaries that are scattered all the way from Colorado Springs up to Boulder, and even now a dispensary in Oregon. These include PostModern Health and Denver Patients Group, which can be found in Denver. LivWell on Broadway is one of the most popular dispensaries associated with the LivWell brand.
LivWell on Broadway is one of the largest Colorado dispensary chains, and is conveniently located two blocks south of the Alameda/Broadway intersection in Denver's famous "Broadsterdam" neighborhood – an area dotted with cannabis dispensaries.
The LivWell company strives to be the industry's premier medical marijuana brand by offering industry leading prices, along with compassionate customer service. They show a great deal of care to all their patients and fully believe in their right to have easy access to high-quality medication.
Founded in 2009, LivWell is a seed-to-seal dispensary with the purpose of providing cannabis products for the betterment of their customers. The company supports five specialty brands, and there are more than 36 strains of flower to choose from in each and every Livwell dispensary.
The main focus of LivWell is on responsible use through education, right to access, and also assisting with making the negative stigma that is associated with marijuana a thing of the past.
About LivWell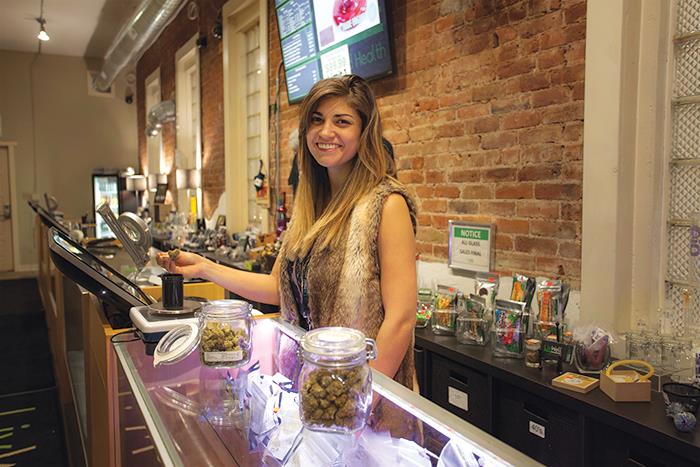 As stated on the LivWell Enlightened Health website; through hard work and careful tending, the company has grown from a single location to the nation's leading cannabis company. Today, they have multiple locations, hundreds of employees, and are dedicated to treating them as well as the marijuana business has treated them. LivWell truly values their employees, and along with offering great wages and benefits, they also offer in-depth training and opportunities for professional growth.
When buying your cannabis products through LivWell, customers can use their products with the peace of mind knowing that every employee has undergone training through LivWell University. Because LivWell is committed to providing customers with the best possible products, they're devoted to equipping their employees with the necessary knowledge to bring these products to fruition.
LivWell claims to be more than just farmers. As stated on their website, they're inventors, scientists, farmers, pioneers, and experts in the development of the cannabis industry. They know exactly how powerful cannabis can be, and they want to use that power for good.
With over 15 dispensaries that can be found throughout Colorado and Oregon, LivWell ensures that they have 19 top rated marijuana strains that are in rotation at all times. There are more than 40 strains of marijuana that are rotated in and out of this rotation to ensure that there is a wide variety of tastes and preferences on offer for customers.
As one of the leading dispensaries in Colorado, each of the LivWell on Broadway registers is manned by a friendly, highly-educated budtender that works to match each customer to their preferred marijuana product while ensuring wait times stay to a minimum. LivWell on Broadway has a beautiful high-tech cannabis show grow that incorporates some of the most current cutting edge growing technology, which includes LED light fixtures. The space is comfortable and roomy with a nice modern touch.
LivWell Speciality Brands
One of the great things about LivWell is the trust that they have in other products through the wide variety of brands that are available at their dispensaries. LivWell stocks products from 36 different brands.
There are five primary "specialty" brands, as shown below.
Enlightened Water: Founded in 2017, this one was made from Rocky Mountain spring water and is infused with 50mg of CBD along with 2mg of THC. Due to the THC and CBD ratio, it's a great drink for overall health. THC hasn't been added to produce a high, but rather to activate the body's ECS to make the CBD work more efficiently. Enlightened Water is perfect for those who suffer from migraines, stress, and even hangovers.
Hash: Hash was also founded in 2017 and primarily produces concentrates, including waxes, live resins, distillates, and shatter. They make only the highest grade elite products and use a highly refined extraction process. They analyze the specific characteristics of the plant to find what the best extraction approach is for each strain.
5 Leaf: Founded in 2016, 5 Leaf produces topical products for marijuana enthusiasts. They grow their cannabis on LivWell's farms and use it to make three product variations; bath soak, salves, and lotions. There are traces of THC in all of the products. The lotion contains 200mg of THC to provide fast-acting and long-lasting results. The salve is ideal for minor cuts or itchy and dry skin. Bath soaks contain 150mg of THC and 50mg of CBD.
Tonic drops: The tonic drops come in four varieties; 500mg CBD and 10mg THC, 200mg CBD and 10mg THC, 50mg CBD and 50mg THC, and 100mg THC only. The flavor is neutral, and they can be mixed evenly in almost all drink options.
CBD Pet Tincture: LivWell also offers a collection of products for man's best friend. Infusiasm produces CBD products for pets containing 50mg of CBD and 1mg of THC. Salmon and bacon are just two of the various flavors available in pet tinctures.
Final Thoughts on LivWell
Every customer who purchases their cannabis products through LivWell is treated like a close friend. LivWell strives to provide customers with the highest-quality products and make the process of obtaining these products as easy as possible.
LivWell wants to protect its customers right to have access to high-quality medicine. They also strive to encourage education and responsible use. Lastly, they want to help cannabis to shed the negative stigma that it has been associated with for years, and give it the credit that it deserves. Responsibility, education, and enlightenment are the ethos of LivWell.
Published on:
18 Jun, 2019