Plenty of hype surrounds CBD oil, with some companies claiming their products work as miracle sleeping potions. Indeed, there is scientific evidence suggesting that CBD can positively impact healthy sleep patterns. This is good news for people living with insomnia, but how accurate are some of the claims being made by CBD oil companies?
Is CBD the ultimate cure for insomnia, or is much of what you read exaggerated?
This article will review what we believe are some of the best CBD oil brands for sleep. We'll also shed some light on accurate, research-backed information regarding the potential effects of CBD oil for sleep.
Will CBD put you into a deep and reinvigorating sleep so you can wake up feeling refreshed? Continue reading to learn all you need to know about CBD for sleep.
PROS AND CONS OF USING CBD OIL FOR SLEEP
Hemp-derived CBD oils are widely available across the U.S. without a medical cannabis card.
CBD oils produce very few negative/adverse effects.
Reputable brands now create potent CBD oils for sleep using supplementary ingredients and formulations.
CBD oils for sleep can be used with other CBD products.
The best CBD oils for sleep on the market can get quite expensive.
Some users can develop a tolerance to CBD, meaning more has to be taken over time to achieve the same effects.
EDITOR'S CHOICE – PureKana 1500mg Sleep Aid Tincture
The review team at WoL unanimously chose PureKana's 1500mg Sleep Aid Tincture as the best CBD oil for sleep for 2022. This formulation includes melatonin as an active supplementary ingredient and a potent Sleep Terpene Rich Extract for nightly use. There is no better CBD sleep product on the market currently, in our opinion.
Medical Research on CBD Oil for Sleep
It is estimated that approximately 1 in 3 adults in the USA does not get enough sleep. Often, insomnia and sleeping problems are directly related to stress and anxiety. When this happens, insomnia can become a chronic issue that needs to be treated as an actual medical condition.
Over the last few years, several important studies have been published within the scientific and academic communities suggesting that CBD may have the potential to help with irregular sleep patterns.
One of these studies, for instance, highlighted the fact that CBD lowered anxiety in 79% of test subjects and also had a positive short-term impact on sleep. Another study claimed that CBD holds the potential to improve hyperactivity and sleep activity among children with autism spectrum disorder (ASD).
With that said, it still would be irresponsible to conclude whether or not CBD really can act like a "miracle" sleeping pill. All we can do is look at the available research and make informed decisions. Here are several of the most important studies that have been conducted over the last few decades that relate to the use of cannabis and sleep.
KEY RESEARCH ON THE EFFECTS OF CBD ON INSOMNIA AND SLEEP ISSUES
STUDY
PUBLICATION
DATE
GENERAL TAKEAWAY
"The nonpsychoactive Cannabis constituent cannabidiol is a wake-inducing agent"
2008
Administration of CBD may have an impact on the sleep mechanism (including sleep-wake cycles) of rats
"Effects of acute systemic administration of cannabidiol on sleep-wake cycle in rats"
2013
Routine administration of CBD in rats increased alpha brain waves and suppressed delta waves, appearing to increase total sleep time
"Cannabis, Cannabinoids, and Sleep: A Review of the Literature"
2017
Preliminary research into cannabis and insomnia suggests that cannabidiol (CBD) may have therapeutic potential for the treatment of insomnia. CBD may also hold promise for REM sleep behavior disorder, as well as excessive daytime sleepiness
"Endocannabinoid Signaling Regulates Sleep Stability"
2016
Due to its anxiolytic properties and the fact that CBD may help fight off anxiety, the compound may be effective in regulating sleep stability
How CBD Affects Sleep
If you've already researched CBD for sleep, you won't be surprised to learn that it does not work as typical sleep medications do. Some studies have suggested it may be mildly alerting. So, how could CBD possibly work to promote a healthy night's sleep?
To understand how CBD for insomnia works on a physiological level, we must understand some of the basic chemical mechanisms that define it as an active compound.
CBD is known to produce wake-inducing properties. How could it work to promote a healthy night's sleep if this is true?
CBD is a 100% natural chemical found in the cannabis plant. It is what's referred to as a "phytocannabinoid." This means it belongs to a class of plant-based molecules that interact with endocannabinoid receptors in the human body. These receptors belong to the body's endocannabinoid system, or ECS, which is responsible for many internal homeostatic functions.
As humans, each of us produces endocannabinoids – even if we've never consumed cannabis before. Among other things, ECS receptors can influence things like mood, depression, anxiety, appetite, and even pain and inflammation.
When there is a deficiency of natural endocannabinoids in the body, one might suspect that any (or all) of these systems may be thrown out of sync.
CBD as a "Sleep-Promoting Agent?"
CBD oil appears to work by interacting with a network of receptors, proteins, and other chemicals in the brain and peripheral tissue. This network is involved in many internal systems and plays a role in anxiety and sleep-wake cycles.
So, in terms of functioning as a specific sleep-promoting agent, there is evidence that CBD could involve physiological action inherent to obtaining a quality and healthy night's sleep.
Speaking of anxiety specifically, we know this is one of the most common causes of insomnia and sleep deprivation. According to the Anxiety and Depression Association of America (ADAA), anxiety disorders are a routine cause of sleep abnormalities and disorders – including those that may lead to insomnia.
Furthermore, we know through common anecdotes that the calming effects of CBD may:
Increase overall sleep amounts
Reduce sleep difficulties (trouble falling asleep)
Improve sleep quality
Reduce insomnia
The Importance of Multi-Stage Sleep Cycles
As of now, researchers understand that sleep is divided into multiple cycles with different phases. It is generally regarded that the most productive sleep occurs in the third phase, which is the "deep sleep" phase. REM sleep (a phase of light sleep which is also the phase where dreams occur) is also an influential element in obtaining a healthy night's rest.
If REM sleep is reduced, it may result in people dreaming less, meaning better quality sleep. One's memory may be improved, and symptoms of depression may even be decreased. These factors can potentially lead to a natural, much-improved state of quality sleep.
Of course, you may recall earlier that, depending on the dose, CBD is known as a wake-promoting agent. It appears to promote alertness, and some research has even suggested it may "be of therapeutic value" for sleep disorders like somnolence. How in the world, then, can a compound that promotes alertness also promote healthy sleeping patterns?
As it turns out, healthy sleep-wake cycles are dependent on our state of alertness during the day. If you have insomnia, you know the feeling of being drowsy, fatigued, and generally "out-of-sorts" during the afternoon.
As you might imagine, this wreaks havoc on your sleep-wake cycles. It makes it nearly impossible to enter into and maintain the non-REM sleep you need at night.
What Exactly Does This Mean for Me?
When appropriate doses of CBD are taken during the day (which should be determined in consultation with your doctor), daytime alertness could be improved. This may affect both the strength and consistency of a healthy sleep-wake cycle. If true, this would enhance the ability of the body to enter the all-important non-REM sleep cycle at night.
Of course, much more evidence (and even clinical trials) would be needed to better understand the precise mechanisms of CBD at various stages of the sleep cycle. While it might help, no one should claim that CBD is a cure for insomnia or another sleep disorder. However, it is no stretch of the imagination to suggest that CBD may influence chronic sleep patterns in a healthy, positive way.
How to Determine a Good CBD Oil
Given the CBD market's loosely regulated (to put it nicely) nature, knowing how to tell the difference between good and bad CBD oil can change your life.
First of all, it is essential to understand that CBD oil can be made from marijuana and hemp. Regulated marijuana dispensaries in states where cannabis is legal often sell both varieties. That is, CBD oils that are derived from higher THC cannabis strains and also CBD oils that are derived from hemp.
In the U.S., hemp CBD oil is derived from legally-grown industrial hemp under the 2018 U.S. Farm Bill. This is the kind of CBD oil widely available in both regular and online stores. Unlike CBD oils from cannabis, hemp-based CBD oils should never have a THC content above 0.3%.
SEARCHING FOR CBD OIL FOR INSOMNIA? HERE'S HOW TO SELECT A HIGH-QUALITY PRODUCT
| Question | Answer |
| --- | --- |
| How was the CBD extracted? | One of the most common CBD extraction processes today is CO2 extraction. This is the process of using supercritical carbon dioxide to pull cannabinoids and other phytochemicals from the hemp plant material and into a raw CBD oil. Always check to see if a company utilizes CO2 CBD oil extraction before purchasing. Other quality methods include cold ethanol extraction. |
| What is the cost? | If a CBD oil is cheap, it probably means the hemp used was sourced from India or China, where there are limited agricultural regulations. Hemp is a bio-accumulator, meaning it can easily suck up toxins from soil. In other words, try not to buy cheap CBD oil if at all possible. Instead, look for CBD oil sourced from an authentic USA-grown hemp supply. It may cost a little extra, but it is well worth it. |
| Was the CBD oil lab-tested? | If a CBD oil is not tested by third-party labs, stay away. A company confident in its product will have no problem allowing third-party labs to examine – and publish – a verified report of the contents. |
| Is the CBD content verified? | As stated above, look for a product where the CBD content has been verified. Studies have indicated that the CBD content in as much as 70% of retail products is inaccurate. Therefore, finding oil with a lab-verified CBD content is crucial. |
Now that you know how to tell the difference between the good and the bad, let's look at some of our personal favorite CBD brands here at WayofLeaf.
Remember, though, that even though these are, in our opinion, the best CBD oils for sleep and insomnia, no clinical data supports their use for these types of issues. Everyone will have a unique experience when using CBD oil and other CBD products, so keep this in mind no matter which product you end up using.
CBD Oil for Sleep Reviews
When looking online for the best CBD oil for sleep, it can be beneficial to visit the CBD brand's website to read customer reviews. While CBD does not affect everyone the same way, reading about other people's experiences with different CBD sleep products can help you make a more informed decision.
While the evidence contained in reviews is purely anecdotal, it may still be highly pertinent. Customer reviews reveal whether consuming CBD helped that person with their sleep disorder. The reviewers may even include information about how often they consumed CBD for sleep improvement, how many mg of CBD were in the CBD sleep products, etc.
From there, you can discuss this information with your doctor, and they can advise whether CBD for sleep is a viable option for you.
Best CBD Oil for Sleep
In all industries, there are market leaders, and the CBD marketplace is no different. CBD brands like PureKana and Premium Jane stand out for their impressive array of top-quality CBD products. Still, though, the question remains, which CBD brand offers the best CBD for sleep? We will answer that question momentarily, but first, it's essential to differentiate between different types of CBD oil.
Full-Spectrum CBD Oil
Full-spectrum CBD oil is derived from hemp via a process known as full-plant extraction. Apart from CBD, full-spectrum CBD oils contain trace amounts of THC (0.3% or less) and various terpenes, flavonoids, vitamins, minerals, and plant proteins. These compounds work synergistically in a process known as the entourage effect.
Broad-Spectrum CBD Oil
A broad-spectrum CBD oil is a full-spectrum CBD oil that has been further processed to remove any trace amounts of THC. Therefore, it contains the same compounds, vitamins, minerals, and proteins, as a full-spectrum CBD oil, minus the THC.
CBD Isolate
Finally, a CBD isolate is a CBD oil that has been processed so that all other hemp plant compounds have been completely removed. A fine, white powder remains, containing 99% CBD and 0% THC when the process is complete.
When choosing CBD for sleep, it is a good idea to opt for a THC-free product. THC is the intoxicating cannabinoid that provides users with the classic cannabis high, leaving consumers invigorated and more alert.
Of course, the minimal THC content (less than 0.3%) in a full-spectrum CBD oil will not cause users to experience intoxicating effects. However, if you are looking for a restful night, then you may want to choose a CBD oil for sleep without THC, such as broad-spectrum CBD oil or CBD isolate.
CBD Sleep Products
When you visit various CBD brand websites, you'll see that some offer separate tinctures for specific requirements, such as CBD oil for sleep, relaxation, or pain. However, not all CBD brands differentiate their CBD products this way. Therefore, when choosing CBD oils for sleep, you will need to read the information on the product page if you are looking for a THC-free tincture.
Many people dislike the earthy, almost grass-like taste of natural CBD oil. However, the good news is that most CBD brands provide CBD oils that come in various flavors. You will notice, too, that some CBD oils contain higher levels of cannabidiol per mg than others. While finding the best CBD for sleep may seem like a daunting task, never fear; WayofLeaf has got you covered.
The next section will rate and discuss the best CBD oils for sleep and insomnia.
Our Picks for the Best CBD Oils for Sleep and Insomnia
Before we reveal our selections for the best CBD oils for sleep, we must again clarify that CBD is not scientifically proven to aid in sleep promotion, insomnia, or any other sleep-related condition.
Many patients have sworn by CBD, and thousands claim that it has changed their lives. Still, these claims are not yet backed by concrete academic evidence or clinical trials. Try and consult with your doctor before using CBD for sleep or any other health issue whenever possible.
Here are our picks for the best CBD oils for sleep:
1
Best Pick for Overall Effectiveness
PureKana CBD 1500mg Sleep Aid Tincture
As one of the most popular and reputable labels on the U.S. market, PureKana was an easy pick when selecting the best hemp-derived CBD oil products for helping with sleep. The company boasts a range of milligram formulations (see below), but as far as help with sleep goes, its 1500mg Sleep-Aid Tincture is the product you'll want to use to help achieve a healthy, natural night's rest.
In addition to the potent 1,500mg hemp-derived CBD content, the PureKana Sleep-Aid formula features a unique CBD/CBN mix specifically engineered for nighttime use. The tincture also includes roughly 1mg of melatonin per serving. If you're unfamiliar with it, melatonin is a natural supplement used for generations in natural holistic approaches to sleep therapy.
As far as taste and flavor, the PureKana blend is also one of our team's favorites, boasting a Sleep Terpene Rich Extract blend that consists of (among other things) lavender, chamomile, lemongrass, ho wood, and jasmine.
The complete range of PureKana oral CBD tinctures includes:
300mg-1000mg CBD oils (available in several flavors)
2500mg-5000mg high-potency CBD oils
1500mg Sleep Aid tincture
1000mg Immune Boost CBD oil
CBD Essence
CBD Essence may be the solution if you have certain issues that prevent you from getting a good night's sleep. The brand employs a unique extraction process that involves state-of-the-art technology and high-grade hemp that goes through some of the most rigorous testing. This allows the company to manufacture a product that is rich in hemp extract and contains several key phytochemicals found in the cannabis plant.
Moreover, its CBD & Terpene Rich Hemp Oil Tincture comes in various sizes, including 300mg, 600mg, and 1000mg. However, the PureKana label was selected here as the best overall CBD oil for sleep.
BEST OVERALL EFFECTIVENESS PICK: PUREKANA 1500MG SLEEP AID TINCTURE
CBDPure Hemp Oil 300
Next on our list is the CBDPure range of hemp extract tinctures. There are currently three available concentrations on its site (300, 600, and 1,000mg). One of our favorite things about this particular manufacturer is its overall transparency, which, in our opinion, is second-to-none in the industry.
The brand also publishes its third-party lab results on the official website, which is something that customers love.
Moreover, CBDPure products are specifically tested for organic cultivation and purity. In addition, the CBD in them is extracted from raw hemp using a combination of CO2 technology and unrefined cold-pressing, similar to how the finest olive oils in the world are made.
Hemp Bombs CBD Oil
Hemp Bombs is a popular CBD company based in Florida. It is potentially a good brand to try if you've used other CBD products with no effect, as it offers some of the most potent products on the market at some of the lowest prices.
It also offers a complete range of other hemp-infused products, including its popular CBD "Sleep" gummies containing 15mg of cannabidiol and 5 mg of melatonin each. These gummies are designed to help you "fall asleep faster and stay asleep longer."
Check out our complete Hemp Bombs Review, where we go over each of the brand's top products.
However, few products can beat the CBDPure range when combining cost AND quality. Yes, there are cheaper CBD oils, but few can match the high standards set by CBDPure.
BEST PICK FOR PRICE: CBDPURE HEMP OIL 300
Premium Jane Broad Spectrum Range
It didn't take long for us to realize that Premium Jane offers a level of quality that's up there with PureKana and some of the other top names in the industry.
In particular, its 3000 mg and 5000 mg broad-spectrum tinctures seem to help ease daily stress and promote relaxation. In our experience, these are some of the most common underlying causes of insomnia and other sleep issues. The brand also offers lower milligram formulations, and these are, of course, less expensive and more accessible for individuals with smaller budgets.
In addition to the oral tinctures, Premium Jane also offers capsules, 25 mg CBD gummies, and a wide range of world-class CBD topical and hygiene products. Its CBD gummies were voted among the best available in 2022.
CBDistillery CBD Oil
What to say about CBDistillery? This brand has become iconic over the years. At one time, it was famous for the quality of its CBD vape products, but it no longer stocks such items.
Of course, CBDistillery was never a "vape-only" brand. Its range of CBD oil tinctures was a team favorite here at WayofLeaf, and it's no secret why. The company sources all of its oils from non-GMO industrial hemp cultivated using natural farming practices. The brand's products are also lab-tested for purity, an absolute must in today's hit-or-miss market.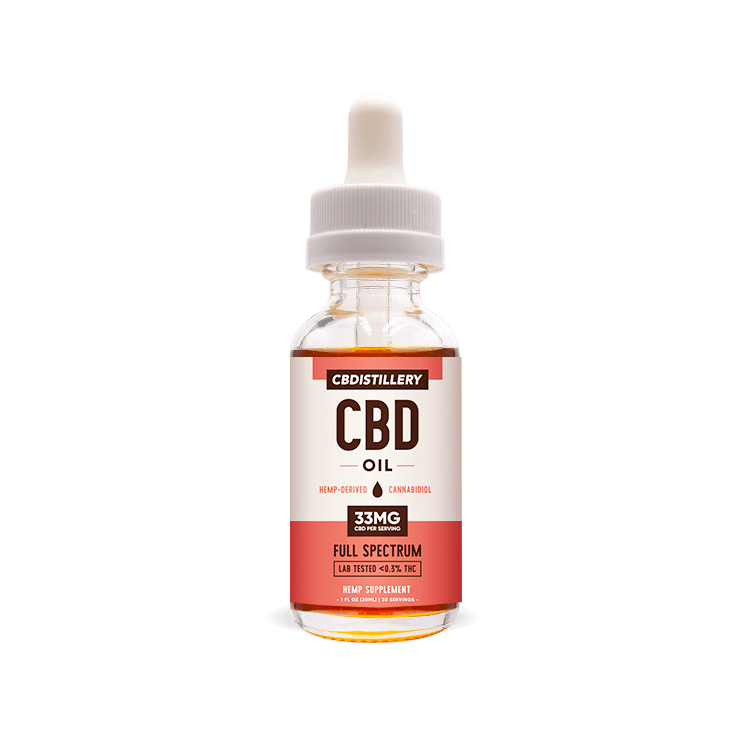 One of our favorite things about CBDistillery oils is its high-potency options. Milligram amounts (and prices) peak with the 5,000mg (30 mL) full-spectrum oil.
Another good option for folks interested in a great night's sleep is CBDistillery's range of Broad-Spectrum CBD Sleep Gummies. These come infused with a robust 30mg of CBD and 2mg of melatonin for optimized, healthy sleep patterns. The gummies come in 30-count jars.
For more information on the CBDistillery brand, check out our full-length CBDistillery review. This category was a bit tougher to decide on an overall winner, but in the end, the Premium Jane 5,000mg broad-spectrum range took home top honors.
BEST PICK FOR POTENCY: PREMIUM JANE 5000MG BROAD-SPECTRUM
4
Best Pick for Organic Formula
Joy Organics Premium CBD Oil
Similar to most CBD oils, the Joy Organics Broad Spectrum Formula won't knock you out for the count. It may, however, provide you with a feeling of relaxation. Joy Organics CBD products are known worldwide and consistently rank as top sellers on consumer review websites.
The brand offers a wide range of organic CBD hemp oil-based products, including a 2250mg formulation, the highest concentration available at 75mg of CBD per ml. Some say this is the ideal formula for relaxation and to help combat anxiety, two factors that often cause sleep disorders and insomnia.
Joy Organics is entirely transparent regarding the four essential factors we outline above for selecting a quality CBD product. Its lab testing results are shown on its website, and the brand offers a fantastic 30-day money-back satisfaction guarantee.
Its products aren't exactly cheap, but they are available for a competitive price. You can try the 450mg CBD oil option if you're on a budget, as it is the least expensive one available.
Another major advantage of Joy Organics is that customers have repeatedly stated how quickly the products arrive after ordering online. To understand the exact product you need, it's best to browse through the official Joy Organics website.
Want to learn more? Feel free to read our Joy Organics Comprehensive Review
Elixinol Natural Hemp Oil Drops
We couldn't discuss a list of quality organic CBD oils without listing Elixinol. This company has been a pioneer in the CBD oil industry and paved the way for many others. For years, it has sold CBD oil products to folks all across the globe and has been featured on numerous leading media outlets and industry websites.
Concerning its products, Elixinol offers a variety of CBD oils, tinctures, and balms. If you dislike the taste of CBD oil, this brand rides to your rescue with a wide range of CBD capsules. Its CBD for Sleep capsules contains 15mg of cannabidiol and 2mg of melatonin apiece in a 60-count bottle.
Nevertheless, the company's tinctures remain some of our favorite products. Available in Cinnamint and Natural flavors, many of Elixinol's CBD oils contain a full spectrum of hemp extract. This includes phytocompounds like flavonoids, cannabinoids, and terpenes. Like PureKana, Elixinol has nailed the extraction process, which is understandable given the brand's vast experience.
However, despite its many plus points, we placed Elixinol just behind Joy Organics in our Best Organic Formula" category.
BEST ORGANIC FORMULA: JOY ORGANICS PREMIUM CBD OIL
CBD Oil for Sleep: Our Final Thoughts
Generally speaking, CBD oil is, of course, relatively new compared to traditional medicine. Therefore, a patient with sleep trouble should always discuss CBD with a qualified healthcare professional before using it. Also, it's important to remember that CBD is not a clinically-verified form of treatment for insomnia.
If you're skipping to the bottom of the article, we compiled our rankings of the best CBD oils for sleep according to quality, the company's customer support platform, the extraction process, and overall customer reviews.
Once again, here is the pick that was voted by our team as offering the best CBD oils for insomnia and sleep:
OVERALL WINNER: PUREKANA SLEEP-AID CBD OIL
FAQs
When to take CBD oil for sleep?
Traditional CBD oils can take anywhere from 30-120 minutes to begin to affect. Therefore, many folks opt to take CBD oil about an hour to 90 minutes before heading to bed, as most of the effects are likely to kick in around that time.
How much CBD oil for sleep should I use?
CBD is interesting in that taking different amounts can lead to vastly different effects. Sleep is a great example of that phenomenon. Whereas smaller amounts of CBD may lead to one feeling energized and focused, larger amounts (higher doses) may result in feelings of lethargy.
What happens if you take too much?
Taking too much CBD can often cause drowsiness. This is probably not an issue, considering that individuals with insomnia WANT to feel drowsy! However, everyone metabolizes CBD differently, so you may need more (or less) to achieve the effects you are looking for.
How to take CBD oil for sleep?
One common way to take CBD oil for sleep is to consume a dose about 1-1.5 hours before going to bed. It's best to take a full dose (read the label on the bottle to figure out exactly how much this is), as microdosing may not have much of an effect. Also, listen to your body and adjust the milligram amount according to your own needs, as everyone responds differently.
Will taking CBD oil for sleep make me groggy when I wake up?
The sedating effects of CBD oil, when taken before falling asleep, are often no longer detectable at the time of waking. It is still crucial to try to get at least seven hours of sleep to feel healthy and rested. That said, many people report a feeling of grogginess after taking CBD oil the night before. Again, everyone will experience slightly different results when taking CBD oil and other CBD products.
Can I be sure that taking CBD oil will affect my sleep?
Nothing is for sure when it comes to CBD oil for sleep. We know that CBD has the potential to provide calming and relaxing properties, and this can, of course, go a long way in terms of promoting a healthy night's sleep with minimal interruptions. Regarding a more scientific explanation of the effects of CBD on sleep, read the above section of the article 'Medical Research on CBD Oil for Sleep.'