Apart from the day-to-day "anxiety" that most of us suffer with, anxiety is actually a very complex disorder. At times, it can be paralyzing and debilitating. According to recent data published by the National Institute of Mental Health, anxiety disorders affect 19.1% of adults in the USA in any given year. Furthermore, roughly 31% of American adults will experience an anxiety disorder at some point in their lives.
Over 30% of American adults will experience an anxiety disorder at some point in their lives.
That said, anxiety has traditionally been a very misunderstood medical condition. When you encounter most people and say that you're having a bad anxiety day, they'll probably look at you, nod their heads and say something like, "tough day at work?" In reality, the true medical implications of anxiety run much deeper than this.
Aren't There Already a Lot of Treatment Options Available?
There are certainly no shortage of treatment options when it comes to dealing with anxiety. Unfortunately, few of these treatments appear to be 100% effective over the long term. And of course, many of them involve debilitating (and often dangerous) side effects. For these reasons, millions have opened their eyes and ears to the use of cannabis as a possible alternative. Before we jump to our picks on the best CBD oil for anxiety, however, let's talk a little more about this complex disorder.
Anxiety: What Is It?
As we mentioned, anxiety is far too often mistaken for those "anxious" emotions we feel during moments of high stress. Taking an exam or driving too far with the red gas light on in our car, for example. However, anxiety disorder – an umbrella term that includes various conditions – is a different beast.
True anxiety disorders are serious, and can prevent you from maintaining a normal life. Some have said that anxiety is not a disease or an illness, but rather a psychological/emotional state that occurs when we behave apprehensively. It turns into a "disorder" when the worry creates interference within our lives. If not dealt with, ongoing anxiety can lead to numerous medical illnesses, as well as advanced psychological issues.
The term 'Anxiety Disorder' can describe:
Social anxiety: A situation where you become apprehensive and scared of different social situations.
Panic disorder: Random panic attacks that suddenly come on. This includes symptoms associated with chest pain, sweating, and even heart attacks.
General Anxiety Disorder (GAD): When you feel constantly worried about normal day-to-day situations.
Symptoms of an Anxiety Disorder
Those who suffer from day to day anxiety, or even chronic anxiety disorders, may experience some of the following symptoms:
Panic attacks
Cold or sweaty outbreaks
Dry mouth
Nausea
Tense muscles
While anxiety disorders can develop at any age, most are treatable. Conventional treatments usually include medication, or specific therapy techniques including:
Medication Management/Monitoring
Cognitive Behavior Therapy
Dialectical Behavior Therapy
Eye Movement Desensitization and Reprocessing (EMDR)
Exposure Therapy
Consider lifestyle adjustments prior to beginning prescription medication for anxiety.
In terms of medication, there are many antidepressants that can have positive effects on anxiety disorders. These include drugs like Prozac, Lexapro, Xanax, and Klonopin. Of course, these medications are by no means considered a "quick cure for anxiety."  Often, one should consider lifestyle adaptations prior to beginning medication. This can help maintain a healthy and stress-free lifestyle, and can prevent anxiety outbreaks. Lifestyle adaptations include:
Eating a healthy diet. This includes lowering sugar intake and cutting down on drinks and food that contain caffeine.
Exercising regularly. Exercises like fast walking, jogging, and biking help release chemicals that reduce stress and anxiety. Other useful activities include things like yoga, swimming, and meditation.
Having a good night's sleep. Inadequate sleep directly connects to stress and anxiety. Therefore, it is crucial to develop healthy nightly sleep patterns.
Anxiety and Depression: Is CBD Oil an Option?
Over the years, cannabis oil has been used as an effective treatment for anxiety and depression. In fact, CBD effects on anxiety is one of the most intriguing areas of modern cannabis research. However, more clinical data must be collected in order to develop effective protocols in which oils for anxiety (and depression) can be used as a practical form of therapy.
Simple online search data shows that CBD oil and anxiety is one of the most frequently-searched topics (at least in terms of cannabis-related therapy and medical treatment). In fact, specific searches on "CBD oil anxiety" have increased tremendously over the last decade. This suggests more and more people are seeking natural cannabis treatment in place of prescription drugs. We certainly hope these trends continue, and that they are indicative of future widespread use. Of course, however, countless thousands of individuals are already reaping the benefits of the hemp-based compound.
Unfortunately, this accounts for little in the professional medical world. What physicians and healthcare providers need to see is tangible clinical data, and little of this exists. However, several promising studies have been conducted in the laboratory setting.
Contemporary Research on Cannabis, CBD, and Anxiety
In terms of recent scientific investigations, in 2011 a group of researchers conducted one of the only studies that observed CBD and anxiety in humans. Ten people with social anxiety (none of whom had any prior treatment for their disorder) were divided into two groups. One group was given 400mg of cannabidiol (CBD), and the other a placebo. Results showed that the cannabidiol effectively lowered "anxiety induced by simulated public speaking."
In a separate publication, Brazilian researchers conducted a large-scale study on contemporary academic data involving the use of CBD as an anxiolytic (anxiety reducer). After reviewing dozens of global published studies in English, Spanish, and Portuguese, it was determined that a "clear anxiolytic-like effect of CBD [exists]," and that CBD was "shown to reduce anxiety in patients with social anxiety disorder."
Cannabis and Anxiety: CBD Is Not the Same as Marijuana
Though they are both extracted from the cannabis plant, CBD oil and high-THC marijuana share few similarities. In order to extract CBD, solvents are used to "pull" active compounds from within the plant. These solvents create highly concentrated, phytochemical-rich raw oils, which exist in three basic forms:
Pure CBD Oil – The cannabidiol (CBD) has been isolated and exists by itself as a compound.
CBD Oil with THC – This type of oil, most often referred to as 'cannabis oil,' is illegal in some states due to its THC content. As you might guess, the effects of this type of oil are different than that of a pure CBD oil. THC of course is an active component in marijuana that can help with various medical conditions. When CBD and THC are combined, it has been suggested that the psychoactive properties of the THC are diminished. Tremendous medical benefits have been anecdotally reported from cannabis oils that contain a 1:1 THC-to-CBD ratio.
CBD Hemp Oil – Often referred to as "full-spectrum CBD oil" or "full-spectrum hemp extract," these oils are produced by extracting phytochemicals and phytocannabinoids from industrial hemp – a variety of cannabis that contains less than 0.3% THC by weight. Due to its low THC content, these types of oils are widely available in all 50 US states.
Best CBD Oil Dosage for Anxiety
Few doctors will be able to willfully answer the question of 'what's the best CBD dose for anxiety.' There is just too little clinical evidence available. That said, it is still imperative to consult with a physician (preferably a cannabis expert or '420 doctor') when it comes to dosing CBD oil for anxiety. Since CBD oil is not yet approved by the U.S. Food and Drug Administration (FDA), there is little reliable dosing data available online.
CBD oil is NOT an approved form of treatment by the FDA, and thus there is little reliable dosing data available.
That said, finding an effective CBD dose for anxiety will depend on a variety of factors, including things like weight, age, medical condition, genetics, and what you are trying to achieve. With that in mind, there are a few things that are important to take into consideration when first starting off with CBD oil.
What to Do When First Starting Out…
#1) Start with small doses. CBD oil, whether in its pure form or as a full-spectrum extract from hemp, will affect each person differently.
#2) Be consistent with your dosing. Don't start small and then make a drastic jump to a higher dose. It's important that your body gets accustomed to the CBD, so gradually increase the amount you consume over time. Also, don't get discouraged if you do not notice effects immediately. Many people have said mentioned it takes of weeks of daily use before noticing positive results.
It goes without saying that it's important to find a CBD dose that will help you and your specific situation. By increasing your intake gradually, you should be able to find the perfect combination that provides you with a sense of relaxation, while at the same time alleviating the onset of anxiety.
Things to Consider Before Buying CBD Oil for Anxiety
Since there are many different types and brands to pick from, it's important to understand your personal needs and how you plan to utilize CBD. If possible, it is advisable to speak with a physician before consuming CBD oil for any medical condition – including anxiety. In any regard, some of the questions you'll want to ask yourself before settling on a particular product are:
Do I have an actual anxiety disorder, or is it simply day-to-day stress?
Do I want to combine THC with CBD (and is this legal/available in my location)?
Will I be using CBD oil at home, on the go, or both?
What's my main consideration – price or strength?
Are there any legal restrictions in my state?
Also, it can be helpful to understand the basic differences between hemp-based CBD oils and marijuana-based CBD oils, as we discussed above. Marijuana-based oils are only available at medical dispensaries in states where marijuana has been legalized under state law.
Hemp-Derived CBD Oil: Understanding the Difference
Hemp-based CBD, on the other hand, is sourced from industrial hemp plants that contain very small amounts of THC. With the proper licensure, these types of plants can be legally grown under the 2018 U.S. Farm Bill in all 50 states. If you are going to be buying oils for anxiety from an online seller, for example, you will likely be purchasing a product that has been sourced from hemp rather than marijuana.
In any form, hemp oil for anxiety can be effective in terms of therapy. However, there is virtually zero data comparing the effectiveness of CBD hemp oils to other marijuana-based oils for anxiety.
One thing you'll want to consider is where – and how – the hemp oil was made. Few restrictions currently exist in the CBD hemp market, so do plenty of research, read reviews, and understand the product before you buy. To help guide you along and set you in the right direction, we've selected what we think are the 7 Best CBD Oils for Anxiety. These oils are sourced and manufactured from legal industrial hemp, and thus should be available to you without a medical marijuana card – no matter which state you live in.
CBD Oil for Anxiety: Our Top 7 Picks
#1 – Pure Kana
(Rated the Best for 2021)
PureKana seems to understand CBD oils. They have developed a clean full-spectrum formula that is, among other things, aimed at reducing feelings of stress and anxiety. Their premium tinctures come in Vanilla and Mint flavors, as well as Natural (unflavored), which is our favorite.
When reading through the company's terminology, you'll see that PureKana Natural CBD oil is a dietary supplement for "increased health and vitality." Due to its full-spectrum infusion of hemp phytochemicals, it seems to have a relatively quick effect. All products go through laboratory testing to ensure safety and potency, and of course, PureKana CBD oils will always be non-psychoactive. They provide some of the best customer support on the market and also have a free shipping policy. One of the key features of this brand is that the people over at PureKana actually believe in their product and therefore offer a 30 day money-back-guarantee policy.
Depending on potency (300mg – 5000mg), prices range from $48 all the way up to $390 for a single bottle.
To view their full list of products go to www.purekana.com
20% Coupon Code: 20KANA
#2  – Premium Jane CBD Oil
Premium Jane is another brand that has made an undeniable impact on the contemporary CBD industry. By focusing on just a small handful of products (tinctures, capsules, topicals, and gummies), Premium Jane has been able to maintain small-batch manufacturing from a pure, US-grown hemp supply.
They also seem to prioritize transparency, which is crucial in today's unregulated market. You can view their up-to-date lab analysis reports on the official website for each individual product. Here are a few additional reasons why Premium Jane CBD Oil ranked second on our list:
High quality flavors (Mint and Citrus formulas are infused from actual herbal extract)
Plant material is sourced from regulated Hemp Pilot Research farms
Oils are non-drowsy for daytime stress relief
Verified lab analyzes confirming plant-based cannabinoid content
Unlike other brands on this list, Premium Jane CBD oils can only be found by visiting the brand's online store. They currently offer their tinctures in three different potencies (300, 600, 1000mg), as well as three different flavors (Natural Hemp, Citrus, and Mint).
Visit their official store for best prices: www.premiumjane.com
#3 – Fab CBD
Fab CBD products are a far cry from the market's standard "cut-&-dry" options. If you decide to do a little online homework, you'll see that they consistently rank among the nation's "top CBD lists for anxiety" due to their high-quality products. Also, Fab is the only brand we're aware of that offers such specific formulations for the various products they sell. They have truly done amazing things for the CBD market in terms of improving overall product quality and transparency.
Fab CBD offers a limited range of products, but what it lacks in variety it definitely makes up in quality. Simply look around the internet and you'll see that FabCBD gets quite positive reviews on most websites.
The CBD oil prices range from $39 to $129, depending on the specific product and milligram content.
For more details about the range of Fab CBD products, be sure to visit their official site at www.fabcbd.com
#4 – Hemp Bombs
Hemp Bombs offers perhaps the most "potent" CBD oils on this list. In fact, some of their sublingual tinctures provide over 60mg in a single dose. In addition to their oils, the brand offers many other CBD products. However, one of their best seller seems to be their 600mg CBD oil, which reads "pain and anxiety relief" right on the bottle.
Hemp Bombs is a U.S based company with their main offices located in Tampa, Florida. They have earned a loyal reputation over the years due to their customer service, and their staff is knowledgable and will be more than happy to speak with you and answer any non-medically oriented questions you may have. Potencies range from 125mg to 4,000mg, and prices vary between $24.99-$299.99 for their top of the range CBD oils. Want to learn more about HempBombs CBD? Read our professional HempBombs Review

Alternatively, jump to their official site to see their variety of products: www.hempbombs.com
#5 – CBDistillery
If you've been around the CBD market for long enough, you've no doubt heard about CBDistillery. In many circles, this is regarded as one of the most iconic and time-tested brands out there.
Of course, CBDistillery is largely known for its line of CBD vape products. They offer a variety of market-leading flavors and formulations, as well as varying milligram amounts and an accessible range of prices. All of these products have the potential for working wonders in terms of help with anxiety and stress reduction.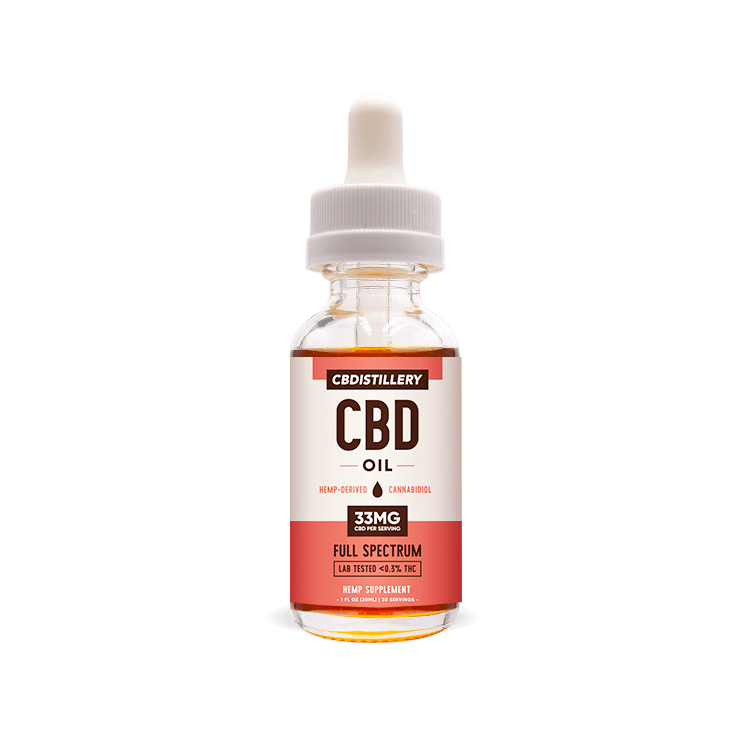 Our favorite CBDistillery products here at the WayofLeaf team, however, are their CBD oils and infused CBD gummies. One of the things we love most about the oils is how accessible they are. Their lowest milligram option, for example, comes in at a very affordable $19. Additionally, their gummies are (in our experience at least) some of the most calming out there. This is particularly true for their CBD Nighttime gummies, which include an infusion of melatonin for a wonderfully relaxing night's sleep.
Check out our complete brand review here for more information on CBDistillery products.
Alternatively, simply jump to their official store over at www.thecbdistillery.com
#6 – CBD Pure
CBD Pure is an extremely popular brand here in the US> Their online store sells a variety of CBD oils and sprays, and they can also be found in retail locations across the country. Apart from providing an outstanding customer service, the management team genuinely knows and understands cannabidiol, and cares about the needs of their customer base. They specialize specifically in full-spectrum formulas, incorporating a blend of cannabinoids, terpenes, and beneficial Omega acids in their end product.
Benefits of CBD Pure include:
The use of certified organic hemp grown in the U.S
Optimum CO2 extraction
Quality testing done via independent third party labs
Affordable pricing
Product prices range from $24 to $64
Want to learn more about CBD Pure? Go to www.cbdpure.com
#7 – CBD Essence
Similar to other brands on this list, CBD Essence has been around for quite a few years, and they know a thing or two about hemp oil. The owner Don has experience in the pharmaceutical industry, and knows how to deliver a quality and effective product. CBD essence oils are made using CO2 extraction methods. This is important as this method is typically safer and more effective than solvent-based extraction. CBD Essence also avoids the use of CBD isolates, preferring the richness of full-spectrum phytochemicals.
Product prices range from $62 to $204.
Want to learn more about CBD Essence? Visit them at www.cbdessence.net
Feel free to also use our 5% coupon code: 5OFFCBD1
Final Thoughts About CBD Oil for Anxiety
Many are claiming CBD oil to be the potential "next big thing" in terms of anxiety treatment. Before going down the CBD oil route, though, it is always best to consult with your primary care doctor to understand whether CBD oil might work for your needs, and which specific products might work the best for you. And remember, CBD is not intended to diagnose, treat, cure or prevent any disease — no matter what some people might tell you.
With regard to CBD companies that sell their products online, it's clear that there are an endless amount of options to choose from. Based on quality and service, however, we would recommend checking out PureKana or PremiumJane for the best experience.
After reviewing the brands above, our team believes that these two companies are manufacturing some of the highest quality hemp-based CBD oils on the market. Further, they contain some of the strongest and purest formulas outside of the MMJ market. PureKana, in particular, seems to have perfected the full-spectrum extraction process (as you can see in their lab sheets).
And lastly, you'll find that the customer reviews and general feedback for these two brands are outstanding. Their range of products have helped countless thousands with a variety of issues, including stress, anxiety, depression and more. If you want to test the products for yourself and see how they work for you, be sure to visit the official online stores (shipping available to all 50 states):
Ranked #1 – Continue to PureKana here
Ranked #2 – Continue to Premium Jane here
A Word on Using CBD Oil for Anxiety: By Daniel J. Isaacman, M.D.
"The use of CBD Oil for anxiety has received a lot of attention over recent years, and data is now accumulating to suggest efficacy in that regard. While, as the authors note, CBD oil has not received FDA indication for this use, "off label" use of the product is becoming widespread.
In regards to the use of CBD, one must be careful to choose a product that has little to no quantity of THC, especially if one lives in a state where it is illegal. Still, many high-quality products meet this criterion and are thus legal for usage. Please also note, there are not many studies on the use of each of these individual products, and therefore, users should start at lower doses and increase slowly. The idea is to arrive at the lowest dose that appears to exert a therapeutic benefit.
Evidence exists that CBD oil can be a useful adjunct for those suffering from anxiety.

Dr. Daniel J. Isaacman
Additionally, as external stressors often trigger anxiety states, one must weigh the therapeutic effect relative to the unique stress the individual is going through. For specific stressors, (like loss of a loved one) no medication will be sufficient enough to ease the anxiety. For steady-state situations, however, it is reasonable to expect an impact.  Still, the evidence exists that CBD oil can be a useful adjunct for those suffering from anxiety, and those numbers are currently not a small segment of our population."
Frequently Asked CBD for Anxiety Questions
FAQs
Can CBD oil make your anxiety worse?
Studies have overwhelmingly shown CBD to have a positive effect on anxiety. However, that presupposes that the CBD being taken is actually a CBD product with little to no THC in it and not the CBD that is in a THC-dominant strain of cannabis, for example. THC is known to have the potential to cause anxiety (often referred to as 'paranoia' in the setting of cannabis). But CBD in its isolate and low-THC forms is not likely to cause anxiety.
There is some thought that those rare few who do experience increased anxiety when taking CBD may be having an allergic reaction to something in the CBD, so it's best if you have a history of having histamine reactions or allergies to take a form of CBD that has the fewest added ingredients and a carrier oil that is not going to trigger your allergies.
The importance of milligram intake
Also, it has been shown that CBD is less effective for anxiety at very low and significantly higher doses, so if the CBD you've taken has had no effect on your anxiety (as opposed to increasing it), it may be that you haven't yet taken enough, or that the dose is too high.
There is one commonly-cited study that did find CBD to increase anxiety in rats who had not previously been exposed to stress. Yet at the same time it decreased anxiety in stressed rats. Another study showed that chronic CBD administration also had anxiety-producing effects in rats, as opposed to the findings of most studies that had examined acute administration.
No equivalent findings in humans have been reported.
Does CBD help with anxiety attacks?
Research has shown CBD to be effective in panic disorder in both human and animal models. Anxiety attacks may refer to an attack of regular anxiety in a patient with generalized anxiety disorder, as opposed to panic attacks, which are acute episodes where a person experiences physical symptoms such as shortness of breath and chest pain.
Does CBD help with one or the other?
CBD has been shown to help with both. Studies on CBD showed decreased subjective feelings of anxiety, a decrease in anxiety-like behaviors, and decreased social anxiety.
How soon does CBD oil work for anxiety?
The time it takes for CBD oil to take effect depends on how you take it. Oils take longer to work than inhaled CBD and topicals. CBD oils take about the same time to have an effect as CBD edibles do because most of the oil ends up being metabolized through the same pathways as edibles. Both of them can be felt to start working at somewhere between 30 and 90 minutes after ingestion.
How long should you hold an oil under your tongue?
Many advise that if when consuming a CBD oil, you should put it under your tongue for 30-90 seconds to help absorption; however, only a small fraction of the product in a traditional oil gets absorbed sublingually even when using this method. Therefore, while the amount that does get absorbed sublingually may be noticeable sooner, the majority of the effects will still be felt in that 30 to 90-minute range.
Does CBD help with social anxiety?
CBD has not only been shown to subjectively improve social anxiety in those who suffer from SAD (social anxiety disorder), but neuroimaging studies supported the findings by noting that cerebral blood flow after administration of CBD was decreased in the brain regions associated with anxiety symptoms.
Are there any side effects from CBD to help with my anxiety?
Side effects with CBD are rare but possible. The most common side effect is dry mouth. Significantly less common is diarrhea. At high doses, it can cause some drowsiness, as those levels of CBD are often used to help people sleep.
One thing to be aware of is that even if one doesn't experience side effects, CBD could be interacting with any other medications they may be taking and leading to altered levels of those substances, as CBD uses many of the same enzymatic pathways in its metabolism as many other medications, so be sure to check with your physician before trying CBD, especially if you are on any medications.
Published on:
4 Jun, 2019