Apart from the day-to-day "anxiety" that most of us suffer from, anxiety is a complex disorder. At times, it is paralyzing and debilitating. According to recent data published by the Anxiety & Depression Association of America (ADAA), anxiety disorders affect approximately 40 million adults. This equates to over 18% of the population annually.
That said, anxiety has traditionally been a very misunderstood medical condition. Indeed, less than 37% of people with an anxiety disorder receive treatment despite the growing array of options. Furthermore, certain medications prescribed for anxiety carry potentially harmful side effects. This is why a growing number of people are seeking alternatives such as CBD oil.
This detailed guide outlines what anxiety is, how CBD could help, and also provides scientific research into cannabidiol for anxiety. We conclude by providing a list of who we feel are the seven best brands if you're seeking CBD oil for anxiety.
Anxiety: What Is It?
Anxiety is often mistaken for those "anxious" emotions we feel during moments of high stress. For example, taking an exam or driving too far with the red gas light on in our car. However, an anxiety disorder – an umbrella term that includes various conditions – is a different beast.
True anxiety disorders are serious and can prevent you from maintaining a normal life. Some have said that anxiety is not a disease or an illness but a psychological/emotional state that occurs when we behave apprehensively. It turns into a "disorder" when the worry interferes with our lives. If it isn't dealt with, ongoing anxiety can lead to numerous medical illnesses and advanced psychological issues.
The term "anxiety disorder" can describe:
Social anxiety: A situation where individuals become apprehensive and scared of different social situations.
Panic disorder: Random panic attacks that suddenly come on. This includes symptoms such as chest pain, sweating, and even heart attacks.
General anxiety disorder (GAD): When someone feels constantly worried about normal day-to-day situations.
 Symptoms of an Anxiety Disorder
Those who suffer from day-to-day anxiety, or even chronic anxiety disorders, may experience some of the following symptoms:
Panic attacks
Sleep issues
Cold or sweaty outbreaks
Dry mouth
Nausea
Tense muscles
While anxiety disorders can develop at any age, most are treatable. Conventional treatments usually include medication or specific therapy techniques, including:
Medication management/monitoring
Cognitive behavior therapy
Dialectical behavior therapy
Eye movement desensitization and reprocessing (EMDR)
Exposure therapy
In terms of medication, many antidepressants can positively effect anxiety disorders. These include drugs like Prozac, Lexapro, Xanax, and Klonopin. Of course, these medications are by no means considered a "quick cure for anxiety."  Often, one should consider lifestyle adaptations before beginning medication. This can help maintain a healthy and stress-free lifestyle and potentially prevent anxiety outbreaks. Lifestyle adaptations include:
Eating a healthy diet: This includes lowering sugar intake and cutting down on drinks and food that contain caffeine.
Exercising regularly: Exercises like fast walking, jogging, and biking help release chemicals that reduce stress and anxiety. Other useful activities include things like yoga, swimming, and meditation.
Having a good night's sleep: Inadequate sleep directly connects to stress and anxiety. Therefore, it is crucial to develop healthy nightly sleep patterns.
Is CBD Oil an Option for Anxiety?
Over the years, cannabis oil has been used to help with anxiety and depression symptoms. CBD's effects on anxiety are among the most intriguing areas of modern cannabis research. However, more clinical data must be collected to develop effective protocols for CBD oil as a therapy.
Online searches suggest that more people are considering cannabis in place of prescription drugs.
Online search data shows that 'CBD oil and anxiety' is one of the most frequently searched topics (at least in terms of cannabis-related therapy and medical treatment). Specific searches on "CBD oil anxiety" have increased tremendously over the last decade. This suggests that a greater number of people are considering cannabis in place of prescription drugs.
Physicians and healthcare providers need to see tangible clinical data, and little of this exists. However, several promising studies have been conducted in a laboratory setting.
Contemporary Research on CBD and Anxiety
A 2011 study published in Neuropsychopharmacology observed CBD and anxiety in humans. Ten people with social anxiety (none of whom had any prior treatment for their disorder) were divided into two groups. One group received 600mg of cannabidiol (CBD), and the other a placebo. Results showed that the cannabidiol effectively lowered "anxiety induced by simulated public speaking."
A review of studies published in Neurotherapeutics in 2015 looked at CBD as a potential treatment for anxiety disorders. The researchers found that cannabidiol had "considerable potential" for helping patients with anxiety disorders such as:
Panic disorder
OCD
GAD
PTSD
Social anxiety disorder
A study published in the Brazilian Journal of Psychiatry in 2019 analyzed the effects of CBD on 57 males who performed a simulated public speaking test. They received either a dose of CBD (150mg, 300mg, or 600mg) or a placebo.
The researchers found that the volunteers who consumed 300mg had significantly reduced feelings of anxiety during the speech compared to placebo users. Interestingly, there were no significant differences amongst the men who used the 150mg or 600mg doses.
While CBD has shown some potential as an anti-anxiety option, we still need more evidence. Also, to date, it has had the greatest effect in relatively large doses of 300mg+ per day. Given the cost of cannabidiol, it may represent too high an expense for many potential users.
Best CBD for Anxiety – Things to Consider
Before considering CBD as an addition or alternative to anxiety medications, you need to navigate the crowded marketplace safely.
Unfortunately, since cannabidiol isn't federally legal, the CBD industry is poorly regulated for the most part. Therefore, you must be extremely careful when choosing a brand. Please ensure that the cannabidiol products you use:
Come from American or EU-grown hemp
Contain a maximum THC content of 0.3% by dry weight
Have up to date Certificates of Analysis (COAs) that show the cannabinoid content and proof that the items contain no heavy metals, molds, pesticides, or other chemicals
Come from a reputable brand with a significant number of positive customer reviews
Contain a full list of ingredients on the label
It is also great if the brand is known for excellent customer service, fast shipping, and has a site that's easy to navigate. If possible, stick to products where the brand uses CO2 extraction, although some well-known brands use ethanol extraction. The problem with the latter form of extraction is that some residual solvents can remain. This could lead to doses of CBD that contain harmful ingredients.
All of the brands we've included on our list tick all of the above boxes. You're free to explore other CBD companies, but we're confident that the following represent the cream of the crop.
CBD Oil for Anxiety: Our Top 7 Picks
#1 – Pure Kana (Rated the Best for 2023)
PureKana seems to understand CBD oils. It has developed a clean full-spectrum formula that is, among other things, aimed at reducing feelings of stress and anxiety. Its premium oils come in the following flavors:
Vanilla
Mint
Natural
Fruity
Citrus
Moreover, there is something for all budgets as PureKana's oils have a CBD concentration ranging from 300mg to 2500mg.
PureKana's Natural CBD oil could help you enjoy increased health and vitality. Due to its full-spectrum infusion of hemp phytochemicals, it seems to have a relatively quick effect. All products go through laboratory testing to ensure safety and potency. Also, PureKana CBD oils are non-intoxicating with minuscule levels of THC.
It provides some of the best customer support on the market and has a free shipping policy. One of the key features of this brand is that PureKana believes in its products and offers a 30-day money-back guarantee policy.
To view its full list of products, go to www.purekana.com
20% Coupon Code: 20KANA
#2  – Premium Jane CBD Oil
Premium Jane is another brand that has undeniably impacted the contemporary CBD industry. Premium Jane has maintained small-batch manufacturing from a pure, US-grown hemp supply by focusing on a handful of products.
It also prioritizes transparency, which is crucial in today's unregulated market. You can view up-to-date lab analysis reports on the official website for each product. Here are a few additional reasons why Premium Jane CBD Oil ranked second on our list:
High-quality flavors: Citrus, Mint, Natural, Chocolate, Peach Nectar, and Lemon-Lime
Plant material is sourced from regulated hemp farms
Verified lab reports confirming plant-based cannabinoid content
You can find Premium Jane CBD oils by visiting the brand's online store. It currently offers its oils in the following CBD concentrations:
300mg
600mg
1000mg
3000mg
5000mg
Visit their official store for the best prices: www.premiumjane.com
#3 – FAB CBD
FAB CBD products are far from the market's standard "cut-&-dry" options. If you decide to do a little homework online, you'll see that the brand consistently ranks among the nation's top CBD for anxiety lists due to its high-quality products.
It has done amazing things for the CBD market in terms of improving overall product quality and transparency.
The brand has slowly but surely increased its product range, but it remains focused on producing top-notch CBD oil. You can purchase it in the following concentrations:
There are also five delicious flavor options:
Citrus
Mint
Berry
Vanilla
Natural
For more details about the range of FAB CBD products, visit its official site at www.fabcbd.com.
#4 – Hemp Bombs
Hemp Bombs offers among the most highly concentrated CBD oils on this list. Some of its sublingual tinctures provide over 166mg of cannabidiol per ml. In addition to its oils, the brand offers many other CBD products. However, its CBD oil range remains its biggest attraction for many consumers.
Hemp Bombs is a U.S.-based company with its main offices in Tampa, Florida. It has earned a positive reputation over the years due to its high standard of customer service. Also, the brand's staff is knowledgeable and is more than happy to speak with you and answer any non-medically oriented questions you may have.
Its CBD oil range is available in the following concentrations:
300mg
750mg
1500mg
3000mg
5000mg
If that's not enough, you also benefit from a wide range of gorgeous flavors:
Acai Berry
Peppermint
Watermelon
Orange Creamsicle
Natural Hemp
Chocolate Mint
Want to learn more about HempBombs CBD? Read our detailed Hemp Bombs Review.
Alternatively, jump to its official site to see the variety of products: www.hempbombs.com.
#5 – CBDistillery
If you've been around the CBD market for long enough, you've undoubtedly heard about CBDistillery. In many circles, this is regarded as one of the most iconic and time-tested brands.
CBDistillery is largely known for its line of CBD vape products. It offers a variety of market-leading flavors and formulations for reasonable prices. These products have the potential to help with anxiety and stress reduction.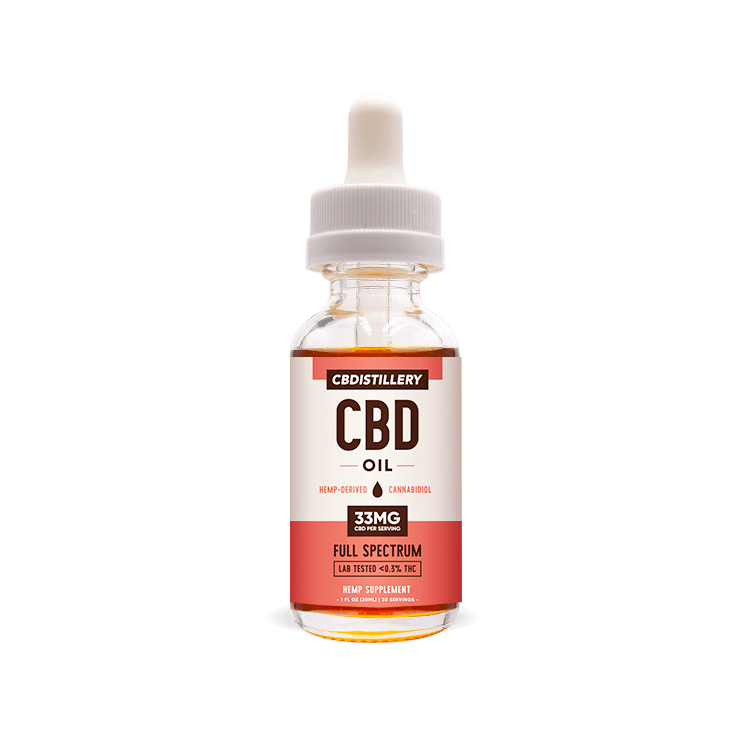 The CBDistillery website isn't the easiest to navigate, but it is worth the extra effort. You'll quickly find that it sells full-spectrum, broad-spectrum, and isolate CBD oils. Many customers prefer the full-spectrum option in the belief that the 'entourage effect' could help. Broad-spectrum contains various cannabinoids but no THC, while isolate contains nothing but CBD.
The CBD concentrations range from 500mg to 5000mg, and the latter is referred to as 'Max Plus' strength.
Check out our complete brand review here for more information on CBDistillery products.
Alternatively, jump to its official store over at www.thecbdistillery.com.
#6 – CBDPure
CBDPure is an extremely popular brand in the United States. Its online store sells a variety of CBD oils and sprays, and its products are also found in retail locations across the country.
Apart from providing outstanding customer service, the management team genuinely knows and understands cannabidiol and cares about the needs of its customer base. CBDPure specializes in full-spectrum formulas, incorporating a blend of cannabinoids and terpenes in its products.
Benefits of CBDPure include:
The use of certified organic hemp grown in the U.S
Optimum CO2 extraction
Quality testing performed via independent third-party labs
Affordable pricing
90-day money-back guarantee
One downside is the lack of available flavors; all you get is a natural hemp taste. Indeed, CBDPure believes in keeping things simple and sells only 300mg, 600mg, and 1000mg CBD concentrations.
Want to learn more about CBDPure? Go to www.cbdpure.com.
#7 – CBD Essence
Like other brands on this list, CBD Essence has been around for a few years and knows a thing or two about hemp oil. The company's founder, Don Ballou, has experience in the pharmaceutical industry. He knows how to deliver a quality and effective product.
CBD Essence oils are made using CO2 extraction methods. This is important as this method is typically safer and more effective than solvent-based extraction. CBD Essence also avoids CBD isolates, preferring the richness of full-spectrum phytochemicals.
It doesn't offer any special flavors, but you can buy CBD Essence's oils in the following concentrations:
300mg
600mg
1000mg
2100mg
2400mg
The 2100mg version contains 70mg of CBD per ml, more than the 2400mg bottle, containing 240ml of liquid.
Want to learn more about CBD Essence? Visit www.cbdessence.net
Feel free also to use our 10% coupon code: TOPQUALITY10
How to Use CBD Oil for Anxiety?
Before you try any CBD product, please note that it isn't designed to treat anxiety. Indeed, it is illegal for brands to claim it treats, cures, diagnoses, or prevents ANY medical condition. Even so, the scientific evidence we've included above is already compelling, and there are many more studies on the way.
There is no 'standard' CBD dose, so the amount you use depends on various factors, including your anxiety levels. Go online, and you'll find recommended doses of anywhere from 5mg to 600mg of CBD a day! The majority of studies on humans involved using between 20mg and 1500mg daily.
CBD impacts everyone differently due to factors like metabolism, body weight, and even gender.
The reality is that CBD impacts everyone differently due to factors like metabolism, body weight, and even gender. We've heard all kinds of baseline dosages relating to a person's body weight. One of the most popular suggests using 0.25mg per pound of bodyweight daily. Therefore, a 160-pound person would consume 40mg a day (160 x 0.25).
However, if you've never used CBD before, it is best to begin with a small amount to see how it affects you. Continue increasing your intake gradually until you're satisfied with the effects. At this stage, you've reached the minimum effective dose, and there's no need to consume more.
Most people use CBD oil sublingually. This means placing the drops beneath the tongue and holding them there for 30-60 seconds. The suggestion is that users benefit from faster effects and a greater level of bioavailability. However, only a relatively small level of CBD gets into the system via the capillaries beneath the tongue. The rest is orally consumed as a user swallows the oil. This means a longer time to take effect and perhaps a lower absorption rate than anticipated.
Can CBD Oil Potentially Reduce Symptoms of Different Forms of Anxiety?
As you discovered earlier, just under 20% of people in the United States will experience an anxiety disorder during any given calendar year. Apart from general anxiety disorder (GAD), social anxiety, and panic disorder, you could also have a phobia, PTSD, or OCD. Here are a few things potentially experienced by individuals with one of the above:
Panic attack: May result in nausea, vomiting, or dizziness.
PTSD: This happens to individuals who have experienced severe trauma, and they could become violent or erratic when reminded of it.
Phobias: Exposure to the thing that causes the phobia, or even a reminder, could lead to an anxiety attack.
GAD: Individuals with a general anxiety disorder could spend their days worrying about various things in a spell that could last for months.
Social anxiety: In this instance, the patient becomes fearful when forced to enter social situations.
OCD: People with obsessive-compulsive disorder feel they have to do a specific thing and become anxious and fearful if they don't get to do it.
Many people who try CBD for anxiety claim it helps them create a calmer mood. The cannabinoid could ensure they feel relaxed in stressful situations and even sleep better and for longer. Whether someone is briefly exposed to a phobia or has to participate in an unwanted social situation, CBD could help them stay calm and avoid anxiety attacks.
It is non-intoxicating, so there's little risk of addiction or an increase in anxiety, two possible issues attached to THC consumption.
Final Thoughts About CBD Oil for Anxiety
CBD has shown promise in reducing the symptoms of anxiety disorder. However, we recommend consulting with your primary care doctor before using CBD for anxiety. Also, please note that the FDA has not approved the cannabinoid, which is one of the reasons for the lack of industry regulation.
Regarding the best CBD brands, we feel that PureKana and Premium Jane lead the league, ahead of a handful of other excellent companies. Both brands have received rave reviews for the quality of their products, not to mention the value for money and customer service. Their range of products has helped countless individuals to manage everyday stress symptoms.
If you want to test the products for yourself and see how they work for you, visit the official online stores of PureKana and Premium Jane.
Ranked #1 – Continue to PureKana here
Ranked #2 – Continue to Premium Jane here
A Word on Using CBD Oil for Anxiety: By Daniel J. Isaacman, M.D.
"The use of CBD Oil for anxiety has received a lot of attention over recent years, and data is now accumulating to suggest efficacy in that regard. While, as the authors note, CBD oil has not received FDA indication for this use, "off label" use of the product is becoming widespread.
Regarding the use of CBD, one must be careful to choose a product that has little to no quantity of THC, especially if one lives in a state where it is illegal. Still, many high-quality products meet this criterion and are thus legal for usage. Please also note, there are not many studies on the use of each of these individual products, and therefore, users should start at lower doses and increase slowly. The idea is to arrive at the lowest dose that appears to exert a therapeutic benefit.
Evidence exists that CBD oil can be a useful adjunct for those suffering from anxiety.

Dr. Daniel J. Isaacman
Additionally, as external stressors often trigger anxiety states, one must weigh the therapeutic effect relative to the unique stress the individual is going through. For specific stressors (like losing a loved one), no medication will be sufficient to ease the anxiety. For steady-state situations, however, it is reasonable to expect an impact. Still, the evidence exists that CBD oil can be a useful adjunct for those suffering from anxiety, and those numbers are currently not a small segment of our population."
FAQs
Can CBD oil make your anxiety worse?
Studies suggest CBD has a positive effect on anxiety. However, that presupposes that the CBD being taken is a CBD product with little to no THC in it and not the CBD in a THC-dominant strain of cannabis, for example. THC could cause anxiety (often referred to as 'paranoia' in the setting of cannabis). However, CBD in its isolate and low-THC forms is not likely to cause anxiety.
In rare cases, a CBD user may experience increased anxiety. However, this could be due to an allergic reaction. Therefore, if you have a history of histamine reactions or allergies, it's best to take a form of CBD with the fewest added ingredients and a carrier oil that will not trigger your allergies.
The importance of milligram intake
Also, research suggests that CBD is less effective for anxiety at very low and significantly higher doses. Therefore, if the CBD you've taken has not affected your anxiety (as opposed to increasing it), it may be that you haven't yet taken enough or that the dose is too high.
One commonly-cited study found CBD to increase anxiety in rats who had not previously been exposed to stress. Yet, at the same time, it decreased anxiety in stressed rats. Another study showed that chronic CBD administration also had anxiety-producing effects in rats, as opposed to the findings of most studies that had examined acute administration.
No equivalent findings in humans have been reported.
Does CBD help with anxiety attacks?
Research has shown that CBD could help reduce the impact of panic disorder in both human and animal models. Anxiety attacks may refer to an attack of regular anxiety in a patient with generalized anxiety disorder instead of panic attacks. Panic attacks are acute episodes where a person experiences physical symptoms such as shortness of breath and chest pain.
Does CBD help with one or the other?
CBD could help with both. Various studies on CBD have shown decreased subjective anxiety, decreased anxiety-like behaviors, and decreased social anxiety.
How soon does CBD oil work for anxiety?
The time it takes for CBD oil to take effect depends on how you take it. Oils take longer to work than inhaled CBD and topicals, though some users claim they feel an effect in 15-30 minutes. This is potentially the case with a certain percentage of the oil, but not all of it. CBD edibles take even longer, potentially up to two hours.
How long should you hold CBD oil under your tongue?
When consuming a CBD oil, many advise putting it under your tongue for 30-90 seconds to help absorption. However, only a small fraction of the product in a traditional oil gets absorbed sublingually even when using this method. Therefore, while the amount absorbed sublingually may be noticeable sooner (15+ minutes), most effects are felt in the same timeframe as edibles.
Does CBD help with social anxiety?
CBD could improve social anxiety in those who suffer from SAD (social anxiety disorder). Also, neuroimaging studies supported the findings by noting that cerebral blood flow after administration of CBD was decreased in the brain regions associated with anxiety symptoms.
Are there any side effects from using CBD?
Side effects with CBD are rare but possible. The most common side effect is dry mouth. Significantly less common is diarrhea. It can cause some drowsiness at high doses, as those levels of CBD are often used to help people sleep.
Even if one doesn't experience side effects, CBD could interact with any other medications they're taking, leading to altered levels of those substances. This is because CBD uses many of the same enzymatic pathways in its metabolism as many other medications. Therefore, check with your physician before trying CBD, especially when using OTC or prescription medications.