Overview
Industrial Hemp Farms is one of the nation's largest wholesalers of CBD products. It specializes in CBD hemp flower and has dozens of varieties. However, it also sells CBD, CBN, and CBG oil, CBD gummies, and isolate products. Though you can purchase 'regular' amounts, IHF encourages customers to buy in bulk and make enormous savings. It has operations in five states at present, but its central lab is in Colorado.
Ingredients
The CBD hemp flower is pure hemp. The CBD oil is CBD isolate with MCT oil.

Recommended use
IHF recommends eating its CBD hemp flower, although you can smoke or vaporize it.
Extraction process
IHF seems to use both CO2 and ethanol extraction. It insists that the latter adheres to FDA 'safe' standards with less than 0.5% residual solvent.
Medical benefits
According to the brand, its products could help manage symptoms of everyday stresses and perhaps promote a healthy sleep cycle.
*All the data provided is for oil products only
Industrial Hemp Farms Pros & Cons
In case you don't have time to go through the full article, here are a few pros and cons:
Pros
An enormous range of hemp products.
Different CBD hemp flower grades.
You are unlikely to find lower-cost CBD or hemp on the market.
The option to purchase products in bulk – ideal for CBD sellers.
Certificate of Analysis with each product.
A growing brand, so likely to continue offering low-cost products.
Lots of useful hemp information on a well-designed website.
Cons
Relatively little information is available about the brand's founders.
There isn't much information about Industrial Hemp Farms in general online, unusual for a company of its size.
It doesn't offer much in the way of 'typical' CBD products like oils or edibles. These seem to come from third-parties.
Industrial Hemp Farms – About the Brand
While most CBD brands focus on oils, edibles, and capsules, Industrial Hemp Farms does things its way. It specializes in wholesale CBD hemp biomass and different cultivars of seeds and clones. It also offers wholesale CBD distillate and a variety of other cannabinoids. That's not to say it doesn't cater to everyone. You can also purchase CBD hemp oil and CBD gummies.
Known as IHF, LLC, the brand had its first hemp grow back in 2015. It says it is 'vertically integrated in all aspects of the hemp industry.' It expanded in 2018 with the creation of a state-of-the-art extraction facility. Then, in 2019, its production acreage doubled. Today, Industrial Hemp Farms claims it is the "largest raw hemp flower distribution network in the U.S." Its management team apparently leveraged the initial investment received to good effect. The company claims annual growth of over 1000%!
The brand has a warehouse and extraction facility in Colorado Springs. However, it now has a presence in five states, for a total of over 1,000 acres. If everything the brand says is true, IHF is a far beyond the vast majority of hemp sellers. Incidentally, a man named Gus Hanger is seemingly the owner of the company.

20% Coupon Code: HEMP20
What Is Hemp Biomass?
In a business-to-business sense, hemp biomass is the dried plant matter used to produce refined hemp products like CBD oil and textiles. It's possible to refine raw hemp to make an incredible array of materials. Industrial Hemp Farms has used the growing popularity of the CBD industry to its considerable advantage. It uses hemp biomass to sell its impressive range of cannabinoid products.
Incidentally, IHF is still looking for farmers with high-quality hemp biomass for sale. The brand claims it is popular amongst growers because it makes the selling process quick and easy. It also suggests it offers compliant and tested hemp biomass in Colorado.
What IHF doesn't make clear is the type of CBD extraction it uses. It vaguely says it has the best extraction machines, processes, and equipment. The company also grows hemp and sells hemp seeds & clones. It references both CO2 and ethanol extraction methods and says it is up to the client to decide. The likely scenario is that Industrial Hemp Farms has the capacity for both techniques.
What Could Industrial Hemp Farm's Products Help With?
According to Industrial Hemp Farm, its CBD hemp flower could aid with relaxation and improved cognition. Best of all, you can attain the benefits without falling prey to an intoxicating high. You have the option of smoking, vaping, or eating the flower. IHF promotes eating because the CBD molecule metabolizes over a longer period. In theory, it means you benefit from extended effects.
The CBD isolate sold by IHF could help encourage a restful night's sleep. The brand says that some customers claimed it helped them sleep soundly. You have the option to add CBD isolate to food or drink. You can even increase the concentration of existing CBD oil. It has no taste or smell, so it shouldn't cause issues with aroma or flavor.
Where IHF differs from many other brands is its sale of additional cannabinoids such as CBN and CBG. Cannabinol (CBN) forms as a byproduct of THC. You can increase the rate by harvesting later in the season. There is some research to suggest that CBN may help aid sleep as it has a slightly sedating effect.
In its acidic state (CBG-A), CBG (cannabigerol) turns into various other cannabinoids. Its properties are unknown, but as the supposed 'building block' of cannabinoids, it is interesting to see what research will tell us.
The Industrial Hemp Farm Lineup (Product-by-Product Reviews)
IHF sells an enormous array of products, so we won't be able to provide more than a brief mention of many of them.
CBD Hemp Flower
The brand's primary offering is its rich array of CBD hemp flowers. All of it contains less than 0.3% THC. Aside from a high CBD content, IHF's hemp flower has no seeds with crystals visible on the flower. You can purchase hemp grown indoors, outdoors, or in greenhouses. All flowers are packaged in insulated stand-up pouches or glass jars. It even includes 3-way 62% humidity packs in orders up to an ounce!
Industrial Hemp Farm divides its CBD hemp flower into three categories:
Top-Shelf Flower (Top Grade)
Fire Flower (Middle Grade)
House Flower (Lowest Grade)
It provides a third-party lab report for each offering, which is excellent news.
Top-Shelf Flower
According to IHF, the process of growing premium-grade hemp flowers differs from producing hemp biomass. The goal is to concentrate on extracting a large number of cannabinoids and terpenes. There are 15 varieties to choose from at the time of writing, including:
In each case, there are seven size options:
1 Gram
5 Grams
7 Grams
14 Grams
28 Grams
112 Grams
225 Grams
Most users would agree that half a pound of high-quality CBD flower for $480 represents a good deal. The price ranges from $5.99 per gram of some strains to $750 for 225 grams.
Fire Flower
Given the brand's commitment to excellence, it is hardly a surprise that it only has six mid-grade options:
The top three strains have the same size options as the top-shelf CBD flower, plus an additional 'full pound' option. For the latter three strains, the size options top out at 28 grams for $69.99. The price ranges from $4.99 per gram to $499.99 for a pound (454 grams) overall.
House Flower
There are 11 options for the lowest grade CBD hemp flower, including:
Birthday Cake – 23.6% cannabinoids
Outdoor Russian CBD – 11.59%
Outdoor Cherry Blossom – 20.7%
Outdoor Little Miss Sunshine – 10.44%
Outdoor Hulk – 20.35%
Some of these strains have a considerable level of cannabinoids. However, you can only buy the smallest measure (a gram) in Birthday Cake and Outdoor Cherry Blossom. For the rest, you must purchase at least half an ounce and a full ounce in some cases. The price ranges from $3.99 for a gram to $324.99 for 16 ounces.
In general, IHF's strains are of the highest quality, even the lower grade ones. They offer a smooth smoke if you're the kind of person that insists on going old-school. If you add it to food or a drink, get ready for that splendid 'bitter' hemp taste. Make sure you decarboxylate it first!
CBD Products
The brand's list of CBD products is primarily third-party offerings. For example, it sells CBD, CBG, and CBN oil from a brand called New Dawn Hemp. There isn't a great deal of information on the company online. Indeed, IWF doesn't make it clear whether it is associated with this brand.
What's clear is that the price of this CBD oil is the lowest we've ever seen:
1000mg: $9.99
2500mg: $19.99
5000mg: $29.99
It is a CBD isolate oil, which is perhaps why the cost is so low. Even so, this is significantly lower than anything we've seen. It probably falls into the 'too good to be true' category, and there are no reviews of the item on the website. What's also interesting is the lack of a 'description' for this product. IHF is very diligent in adding extra details to its other products, why is this one different?
The CBN and CBG oils are also inexpensive. The latter is available as a 500mg isolate for just $19.99. Industrial Hemp Farms recently slashed the price from $59.99. You can buy the same amount of CBN for the same price.
Other Products
If you are in the market for CBD gummies but are on a budget, IHF has you covered. They are available in assorted fruit flavors and are broad-spectrum. Once again, the price point is unbelievable, even when you don't buy in bulk. For example, you can buy 50 x 25mg CBD gummies for just $32.49! Most other brands will charge at least double that price, if not triple.
If you run a CBD store, you can buy 10,000 x 25mg CBD gummies for $2799.99. That is the equivalent of $0.28 per gummy! A 50-pack would cost just $14 using these prices. The brand's other CBD products are:
LuckyLeaf CBD Hemp Cigarettes: $8.99 – $599.99
Premium Caviar CBD Hemp Flower Pre-Rolls: $11.99 – Contains 250mg CBD, 50mg CBC, and 20mg CBG
Hemp Flower Pre-Rolls: $60-$425
CBD-Infused Gourmet Popcorn: $7.99 – 125mg of CBD per bag
Thingymajiggy Pre-Roll Joint Tubes: $2.99 – $239.99
CBD Oil for Pets: $14.99 – $142.50
CBD Lip Balm: $4.99 – $22.49
Industrial Hemp Farms CBD Isolate
Industrial Hemp Farms claims it is one of the biggest producers of CBD isolate in the United States. Their product contains 99.59% CBD and no other cannabinoids. IHF extracts the isolate via a four-part system beginning with winterization. Through this process, it removes all waxes, fats, lipids, and other unwanted elements. The next step is to refine the resulting oil.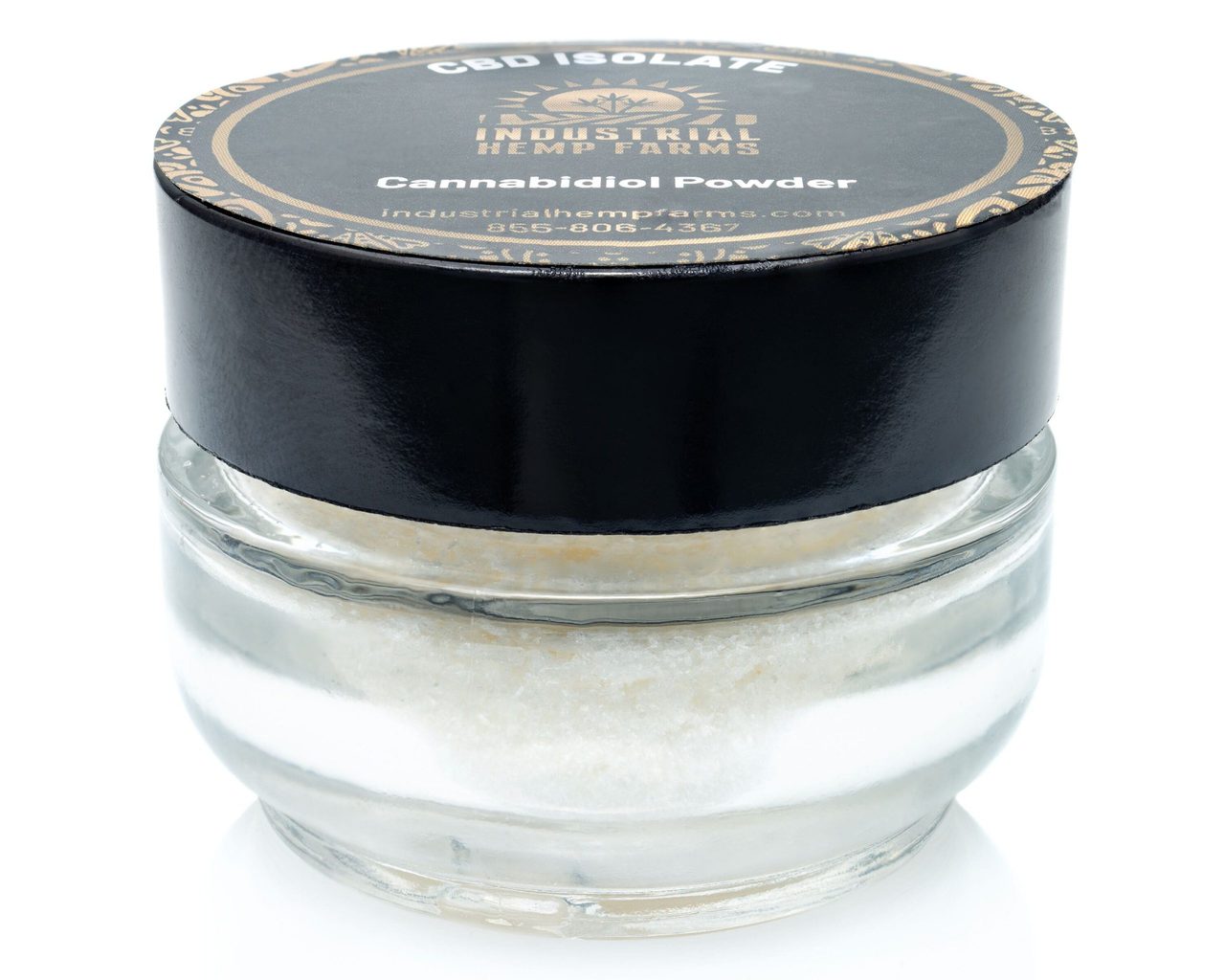 Then, IHF utilizes a powerful mixing machine to get the CBD ready for deep freezing. The product remains in the freezer for at least 12 hours. Then, it gets put through a filtration device and is placed into an extraction device. The final part of the process involves rigorous testing to ensure there is nothing but pure CBD remaining.
Once again, the cost is extraordinarily low. You have the option of buying in one of nine sizes. IHF claims it offers the best pricing in the country; it is hard to see any company beating these figures:
1 Gram: $8.50
5 Grams: $37.50
10 Grams: $70
25 Grams: $150
50 Grams: $250
150 Grams: $600
250 Grams: $937.50
500 Grams: $1,750
1000 Grams: $3,000
All of the CBD isolate is produced and shipped from the brand's Colorado lab. It also includes testing documents and Certificates of Analysis. Moreover, it suggests that it has thousands of kilograms of isolate in stock.
Cannabinoids & Concentrates
Once again, the range of cannabinoids and concentrates sold by Industrial Hemp Farms comes from hand-shucked industrial hemp biomass. Given the large amount of hemp material involved, IHF prefers to use ethanol extraction. It guarantees that residue levels in its wholesale CBD will remain under the FDA 'safe' limit of 0.5%. There is a total of eight products to choose from:
CBN Isolate Powder: $19.99 – $3,000
CBD Isolate Powder: $8.50 – $3,000
Broad-Spectrum CBD Distillate (83% cannabinoids): $9 – $4,000
Broad-Spectrum CBD Distillate (91+% cannabinoids): $9.99 – $4,000
Bulk CBD Isolate Crystal: $8.50 – $3,000
CBD Slab: $20 – $6,500
CBD Isolate Powder: $9.99 – $850
CBG Distillate: $14.99 – $1,500
You can purchase just one gram, or buy in bulk and order a kilogram or more.
Hemp Trim
Industrial Hemp Farm's CBD hemp trim comes from leftover parts of CBD hemp flower. It may consist of shake, fine cuttings, and undersized nugs. It's 'cast-off' hemp, but IHF refuses to allow its standards to drop. It collects the trim immediately after harvest and stores it to ensure it retains its trichomes, cannabinoids, and terpenes.
You can buy CBD hemp kief in bulk if you choose. A gram costs $9.99, while a kilogram is $1,485. There are a total of eight size options. Furthermore, there is CBD trim from a total of seven strains, including Hulk, Purple Paralysis, and Forbidden Fruit. There are three size options:
1/2 Ounce: $15
1 Ounce: $25
4 Ounces: $75
Despite being leftover hemp, the trim's CBD content is as high as 15%.
Terpenes
There is a school of thought that says terpenes are just as crucial as cannabinoids. Certainly, they play an important role in the entourage effect. These volatile chemicals are responsible for the aroma and flavor of cannabis strains. Most estimates suggest that the marijuana plant contains at least 200 terpenes. However, you will generally only see a dozen or so marketed.
Industrial Hemp Farm has extracted five of the best-known terpenes, and placed them in bottles as isolates:
The price ranges from $15 for 60ml for some terpenes, to $60 per 120ml of terpinolene, which is the most expensive. IHF guarantees a minimum purity of 78.5%.
Industrial Hemp Farms: A Hint of Controversy
Given the size of the organization, we find it odd that there are relatively few mentions of it online. There are a handful of short reviews, and that's about it. There are plenty of customer reviews on the site itself, and the overwhelming majority are positive. It was also extremely challenging to find any information on IHF outside of what you see on the website.
We came across a troubling article written by a hemp farm owner. He claimed to have visited the Colorado Springs farm and cast doubt on some of the brand's claims. For example, this source wrote that IWF doesn't pay farmers nearly enough for their flower and biomass. The claimant also made a few other comments which we will not publish here.
We felt it was necessary to mention this issue. However, the source wrote anonymously. Also, there is little or no information online or offline to corroborate these claims.
Final Words About Industrial Hemp Farm's CBD Products
Ultimately, there is a lot to like about Industrial Hemp Farm. It seems to provide extremely high-quality CBD hemp flower. You can use it in a variety of ways. It is possible to smoke, vape, or even eat it! However, please note that you need to 'decarboxylate' it if you intend to eat it. The process happens automatically when smoking or vaping because both methods heat the hemp.
There is also a sophisticated array of other cannabinoids and terpenes. You can purchase CBD, CBN and CBG isolate, too. The main downside is the lack of 'typical' CBD products such as CBD oil or CBD gummies. Industrial Hemp Farm has both, but seemingly stock third-party brands. You are likely better off trying a well-known CBD brand such as PureKana or Premium Jane if you want CBD oil.
The prices of IHF's products are among the lowest we've ever come across. Some of them are actually preposterous! Paying less than $30 for 5000mg of CBD oil (even an isolate) is extraordinary. However, the lack of reviews for this particular product is a concern. As is the relative lack of information about the brand.
Overall, if you are in the market for wholesale products or CBD hemp flower, you could consider Industrial Hemp Farm. Otherwise, it pays to stick to tried and trusted industry leaders.