Overview
Leef Organics is at the forefront of the CBD industry. They believe that "feeling good is beautiful," and this philosophy rings true in how they manufacture and process their high-grade CBD. They offer a selection of top-notch CBD-infused items.
Ingredients
CBD-rich whole plant extract, Propanediol, MCT oil
Recommended use
Consumers should take two droppers per day with food.
Extraction process
Whole plant cold-pressed fermentation
Medical benefits
Promotes rest and relaxation, relieves stress, quells body aches and pain, and assists with daily health maintenance.
*All the data provided is for oil products only
Leef Organics: Quick Summary
PROS
All plant materials are grown in rich, organic soil.
Products provide whole plant terpenes, flavonoids, and phytochemicals.
Free domestic shipping on orders over $75.
All products are third-party lab-tested.
Tinctures have a shelf-life of up to 2 years.
CONS
Some items are a bit expensive.
There is a limited selection of tinctures.
Leef Organics Review
Leef Organics is a company determined to sell more than just CBD. They seem intent on creating a holistic experience. The products come from quality, high-grade materials, and they offer a diverse selection of items. Many of these items include paleo-friendly ingredients and can become part and parcel of a healthy lifestyle.
They don't use artificial flavorings, additives, or coloring. Instead, they concentrate on raw materials that make a difference. Each product is crafted with naturally-occurring compounds and derived from California grown hemp.
While some companies may claim that their products are of superior quality, Leef Organics suspends any disbelief with their adherence to third-party testing. They analyze each batch and make Certificates of Analysis (COA's) available for consumers to see. They also utilize the best parts of their premium hemp plants by employing a cold-press technique.
What Products Did We Review?
Leef Organics sells a wide selection of products. Their CBD oil, "Thrival," contains a proprietary blend of whole plant extract and propanediol. Each bottle contains 375mg of premium CBD and 15ml. They also have a host of essential compounds, such as amino acids, antioxidants, vitamins, and minerals.
Their other products include CBD-infused body balms, soaps, roll-ons, skin oils, steeping bath teas, and hand sanitizer. We'll highlight the essential aspects of each product below.
Leef Organics: Complete Product Highlights
Leef Organics offers an array of CBD-infused items. They manufacture all of their products with an eye to health and wellness. Their high-grade hemp is a vital component of all their products. Their lineup offers something for many different CBD and lifestyle needs.
They also ship to many areas of the country. Individuals have the option to have any number of their products delivered right to their door. Their site is easy to use and navigate. They also have a blog dedicated to giving CBD fans and enthusiasts important information and tips.
Their current product lineup includes:
CBD Tincture
The Leef Organics line of tinctures includes the Thrival Superfood tincture. This tincture contains 375mg of CBD and a host of amino acids, vitamins, minerals, and phytochemicals. Each bottle comes with a convenient dropper for a no-hassle dose. Individuals can place the drops under the tongue or add it to food or drinks.
They also offer a CBD tincture for pets. The Daily Wellness brand contains 250mg of CBD per bottle. Each bottle contains the same quality ingredients as the Thrival line with MCT oil, propanediol, and premium whole flower hemp extract.
CBD Topicals
For those who have body aches and pain, Leef Organics offers topicals. Their topicals include a daily balm that has 135mg of their top-shelf CBD. Each 2-ounce tub also has rich emollients for hydration, such as grapeseed oil, lavender, and calendula. They also offer a roll-on that is packed with 200mg of CBD and cooling menthol and camphor.
Their topicals are an excellent way to address sore, tense muscles. Consumers can also use their topical products for relaxation and tension release. Each item is safe for daily use.
CBD Soap
Getting a daily CBD dose doesn't have to begin and end with Leef's topicals or tinctures. They also have a CBD soap for cleansing and nourishing skin and providing a healthy boost of CBD. Each soap comes with 20mg per bar. There are several varieties consumers can choose from: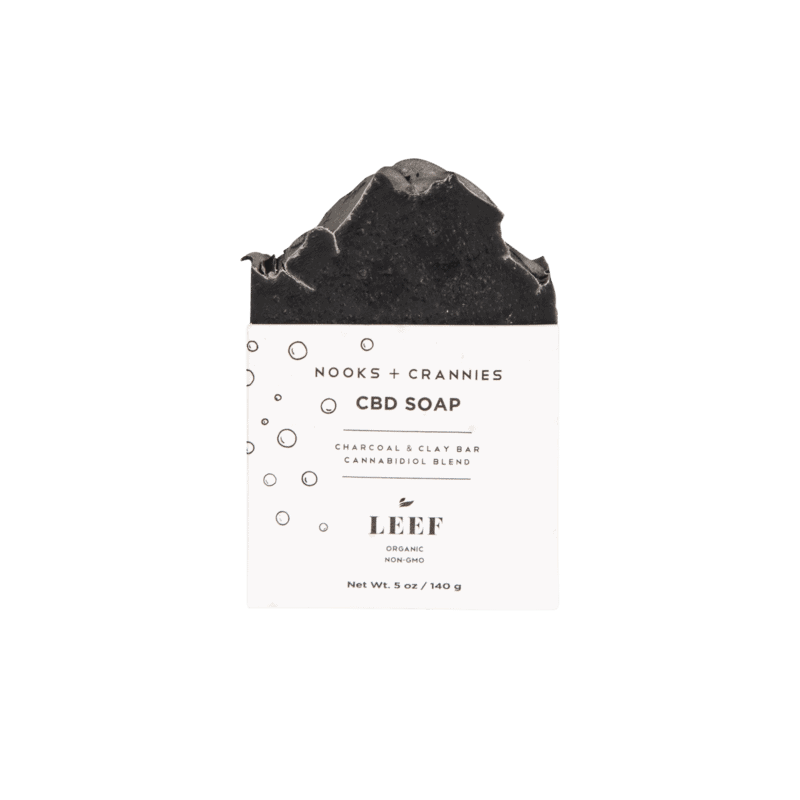 Cucumber Melon
White Tea & Ginger
Charcoal & Clay
Black Chamomile
Cactus & Agave
They carefully craft each bar with quality materials to alleviate adverse reactions, assist relaxation, and to mitigate symptoms from conditions stemming from dryness, acne, and inflammation.
CBD Bath Tea
Consumers that want a relaxing bath and choose to unwind with a long soak can look forward to Leef Organics CBD Bath Teas. These teas contain a mix of aromatic ingredients, including lavender, jasmine, and Moroccan Rose.
In addition to the soothing fragrance, each bath tea has Epsom and Himalayan sea salt to calm jittery nerves, relax muscles, and release stress. Each 4-ounce tea bag comes with 30mg of CBD. The teas are simple to use. Consumers fill a tub with the desired amount of water. Users then submerge the particles under the water and prepare for a nice, tranquil soak.
CBD Skin Oil
Rather than consuming their CBD oil, consumers can apply it directly to a chosen area. With the Leef Organic Skin Oil, users can specifically target parts of the body. Their skin oil has many of the attributes associated with their other tinctures and free radical fighting compounds, collagen boosters, and botanicals that help hydrate and nourish the skin.
Their skin oil also contains jojoba and coconut oils, soothing lavender extract, and 84mg of whole plant CBD extract. Each bottle is vegan-friendly, gluten-free, and cruelty-free. The skin oil line doesn't contain any parabens or harmful compounds. It is also a good choice for all skin types.
CBD Hand Sanitizers
In these hectic times, travel and many interactions can leave people open to a variety of pathogens. Hand sanitizers are often the first line of defense against the spread of germs and bacteria. Those looking for a soothing way to do it can get a bit of CBD in the mix. Leef Organics' premium line of sanitizers makes it easy to get CBD on the go while offering protection against disease-causing agents.
Their sanitizers contain the recommended 70% level of ethyl alcohol and a hefty dose of CBD. It also includes the delightful scent of orange blossoms. Each bottle has 7mg of CBD and kills up to 99.9% of microbes. It is also THC free.
What Else Should I Know About Leef Organics? A Few Interesting Tidbits
Leef Organics doesn't concentrate on just the bottom line. Its philosophy revolves around the integration of high-grade whole plant flower extract into the lives of people everywhere. They have a holistic approach to CBD.
Their practices provide a solid base for quality from seed to shelf. They carefully manufacture each item and test batches to ensure optimal ingredients. Consumers of this brand won't have to worry about subpar oils or products.
Other notable highlights include:
They feature genuine reviews from customers on their site
They utilize a single-origin harvest for the highest level of quality and value
There is free domestic shipping for orders over $75
Many of their ingredients are conflict-free and ethically sourced
Leef Organics CBD Review: Summary & Where to Buy
Leef Organics has a mission to provide top-notch CBD-infused products. They begin with the essential element: soil. Then, they ensure that each plant grows in a pesticide-free environment with complex nutrients that ensure optimal potency. They issue third-party lab-tested results and with detail the compounds in each item.
Their adherence to transparency makes them a company to trust. While their products are expensive, they have money-saving bundles that customers can use to combine many of their great products. They ship to most areas of the United States and have dedicated customer service teams for any questions or concerns. Their product line can be purchased on their website and sent through the United States Postal Service.
Official Site: leeforganics.com
10% Coupon Code: LEAF10