Overview
R + R Medicinals is a Colorado-based CBD brand that keeps things simple by offering only a handful of products. They use CO2 extraction to pull CBD and other phytochemicals from locally-grown hemp. The brand also provides detailed lab reports, and their extraction facility is a USDA Organic Certified operation. The R+R product range consists of CBD tinctures, softgels, gummies, and CBD pet products.

Ingredients
100% pure hemp extract and MCT oil (natural mint flavoring in the peppermint)
Recommended use
Up to 1ml of tincture 1-2 times a day
Extraction process
CO2 extraction
Medical benefits
Increased wellness and promotion of better sleep
*All the data provided is for oil products only
R + R Medicinals Quick Summary
Pros
There is a 2500mg CBD tincture option.
Extremely detailed lab reports.
Excellent price points for all products.
Full-spectrum CBD products.
Free shipping to domestic customers.
Discounts and reward programs.
30-day money-back guarantee.
Cons
Not a ton of information on company background on the official website.
You can purchase R + R products on third-party websites, but are ineligible for the money-back guarantee.
R + R Medicinals Complete Review
As long as the CBD industry is experiencing the lack of regulation that it currently is, it will remain paramount to know as much as possible about a specific brand. For this reason, the information a company displays about itself is crucial in terms of understanding their values and ethos – not to mention the quality of their product line.
Unlike some companies, R + R Medicinals chooses not to market their products based solely on image. On their 'About Us' page, customers can learn all they want about the Colorado-based company. At the end of the day, however, it's the quality of the actual products that are being sold that matters most. R+R sources their CBD from local hemp farms, which, along with their extraction facility, is now a USDA Organic Certified operation.
The company uses CO2 extraction to pull cannabinoids and other phytochemicals from the dried plant material, which is excellent news. The process includes a winterization technique that helps to remove things like unwanted plant particulates, lipids, and waxes. The result is a clean, pure, full-spectrum oil.
R + R Medicinals Tinctures
The brand doesn't try to over-complicate matters when it comes to its CBD tinctures. The Peppermint option comes in a 30ml bottle, which the company suggests is a 30-day supply. It is an extract filled with phytocannabinoids. Those who prefer full-spectrum and the associated entourage effect will gladly purchase this product. The lab report shows that its 2500mg bottle contains 2800mg of CBD!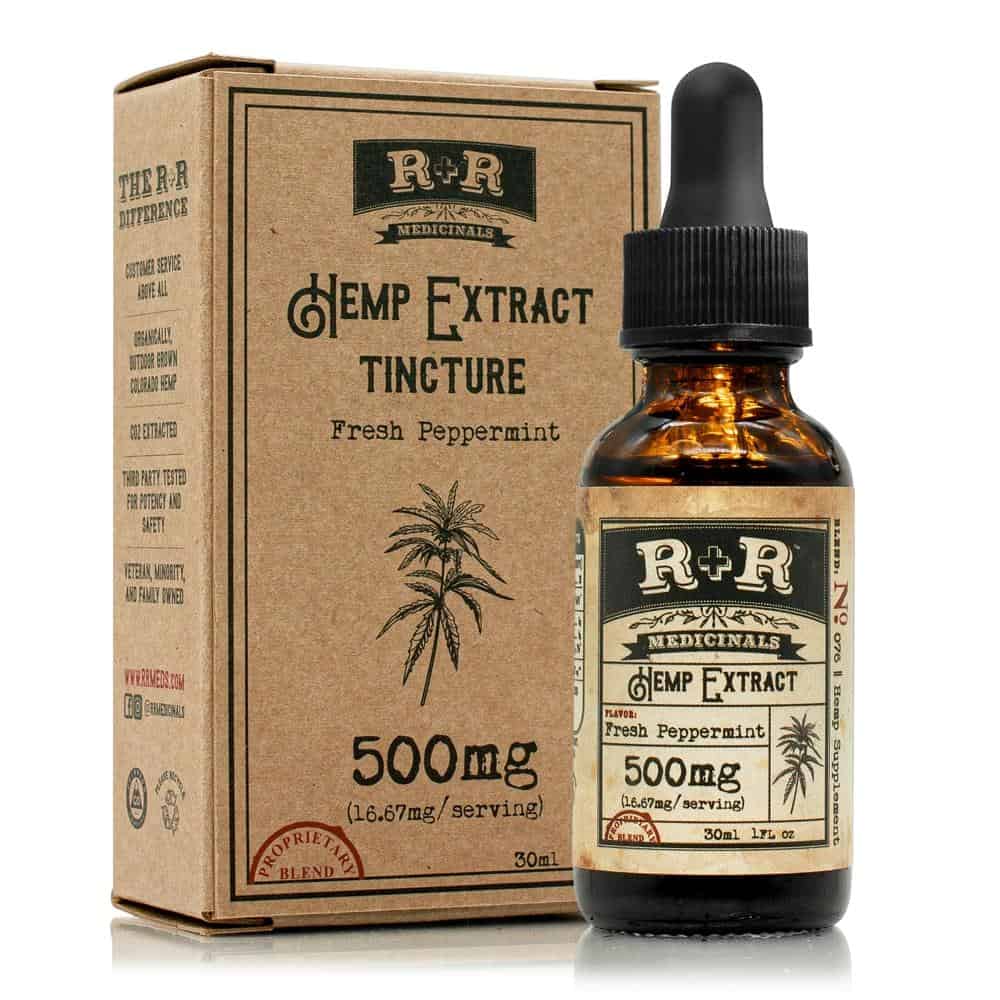 There is a significant amount of the following terpenes in this tincture:
A-Bisabolol
Trans-Caryophyllene
Guaiol
Limonene
Hexahydrothymol
What's interesting is that the brand says it uses CO2 extraction. However, the lab report for the 2500mg tincture shows a residual solvent (ethanol) in it at a rate of 539ppm. This is below the general FDA limit of 1500ppm but is an unusual finding. It suggests that R + R uses ethanol extraction for some of its products, at least.
The Peppermint flavor comes in 500mg, 1000mg, and 2500mg concentrations. There is also an unflavored tincture that is only available in a 1000mg bottle containing 30ml. This equates to 33.33ml of CBD per ml. Each dropper contains 1ml, which the brand says is the equivalent of 40 drops. It says you should hold the oil beneath the tongue for up to 90 seconds.
There are no other ingredients apart from organic full-spectrum hemp extract and MCT oil from coconuts. The peppermint product contains natural mint flavoring. For both options, you also have the chance to save some money by purchasing a 3-pack. There is also an auto-shipment program, which is effectively a subscription. R+ R Medicinals gives customers who pick this option a 10% discount for all products.
Sizes & Prices
| | |
| --- | --- |
| CBD Content | Price |
| 500mg | $25.99 |
| 500mg (3-pack) | $76.99 |
| 1,000mg | $45.99 |
| 1,000mg (3-pack) | $125.99 |
| 2,500mg | $96.99 |
| 2,500mg (3-pack) | $269.99 |
R + R Medicinals Softgels
The brand says it uses 'nano emulsified' hemp extract in its softgels. In case you were wondering, nanoemulsion is an advanced form of drug delivery. Proponents claim it ensures more of the cannabinoid makes it to the bloodstream for a higher bioavailability rate. Once again, R + R uses full-spectrum hemp extract.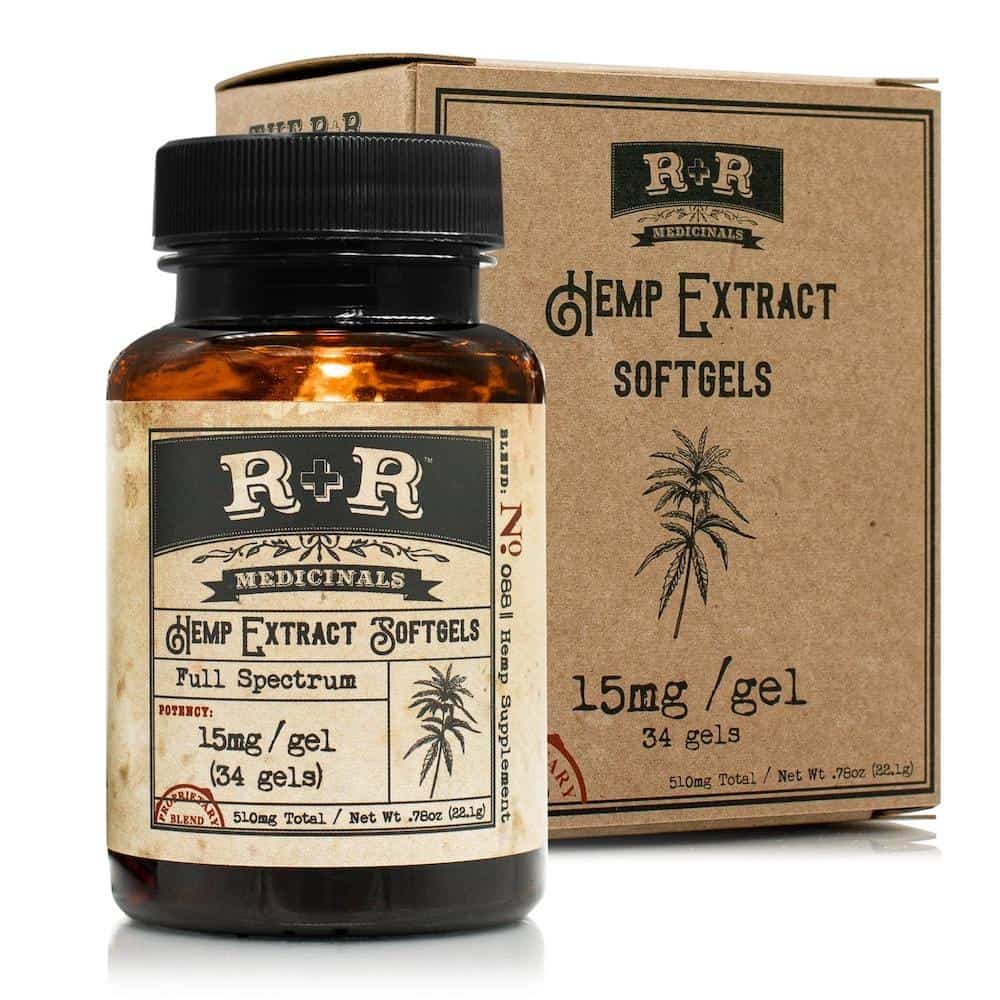 The list of ingredients, aside from the hemp, consists of MCT oil, vegetable glycerin, gelatin, and purified water. There are two concentrations: 15mg per softgel, or 30mg. Each bottle contains 34 softgels, a rather unusual number. The brand recommends taking one or two each day, preferably with food. However, it may take longer to feel an effect if you use it on a full stomach. This is a good option if you don't like the taste of CBD oil. You also know how much cannabidiol is in each softgel.
Sizes & Prices
| | |
| --- | --- |
| CBD Content | Price |
| 34 x 15mg Softgels (510mg Total CBD) | $25.99 |
| 34 x 30mg Softgels (1020mg Total CBD) | $45.99 |
R + R Medicinals Gummies
Like the softgels, the brand's CBD gummies are an excellent option if you want to know the precise amount of cannabidiol you take each day. They are vegan-friendly and come in a tasty multi-fruit flavor. There is a long list of ingredients aside from the hemp. These include sugar, tapioca syrup, and dextrose. Those who prefer a natural sweetener may not want to use these gummies. That said, there is unlikely to be a considerable amount inside.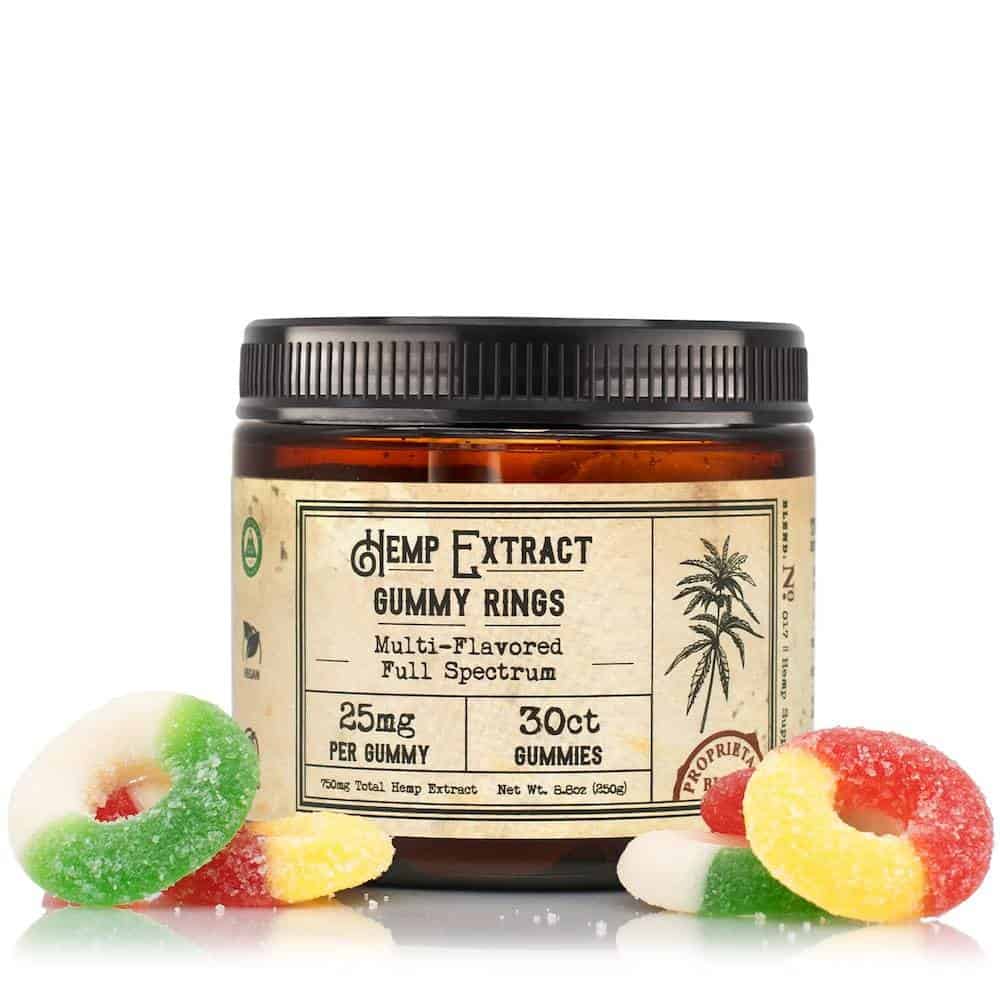 Each container has 30 gummies with 25mg of CBD apiece. If you don't mind a little bit of sugar in your diet, these gummies make for a tasty treat.
Sizes & Prices
| | |
| --- | --- |
| CBD Content | Price |
| 30 x 25mg CBD Gummies (750mg Total CBD) | $44.99 |
R + R Medicinals Pet Products
Given the increased popularity, any brand that doesn't include pet CBD products is arguably missing a trick. R + R understands this and sells two distinct options. The first is the standard pet tincture option. It is a full-spectrum blend, and the only difference between it and its tincture for humans is the addition of grapeseed oil.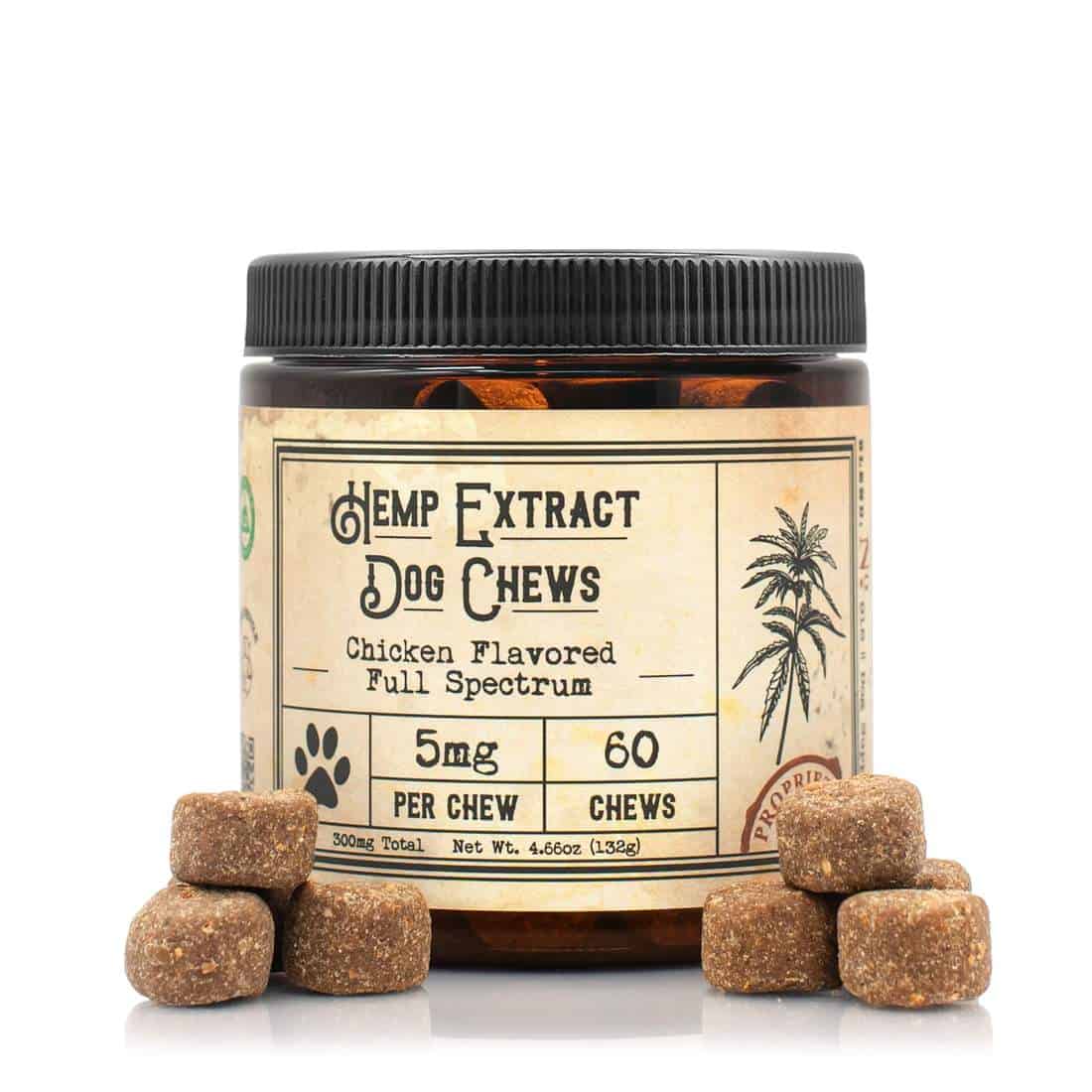 It is unquestionably one of the lowest-priced pet CBD tinctures we have seen on the market. According to customer reviews on the site at least, it is effective in helping pets that are usually anxious and those that are in pain. You should add the oil to your pet's food or water. It is unflavored, so they shouldn't notice any taste. When giving your pet CBD, make sure you take their weight into account.
The hemp extract dog chews are an ideal way to treat your canine friend. R + R Medicinals ensures that each one contains premium ingredients. They include:
Pea flour
Organic hemp powder
Flaxseed
Coconut flour
Chicken liver
The chews are chicken-flavored, and each packet contains 60 with 5mg of CBD apiece. R + R recommends giving your dog one or two a day as a treat. It also says that you may not see results until your pet uses it consistently for at least five days. Finally, please note that your dog may become a little more energetic than usual after eating these chews. If this happens, reduce the amount of CBD you give them.
Sizes & Prices
| | |
| --- | --- |
| CBD Content | Price |
| 500mg Pet Tincture | $23.99 |
| 60 x 5mg Dog Chews (300mg Total CBD) | $26.99 |
Where Can I Buy R + R Medicinals Products?
Aside from buying products from the official website, you can also get R +R Medicinals products on Amazon. This is highly unusual because Amazon doesn't sell any products that contain the word 'CBD' on the labeling or product description. This is because the cannabinoid isn't explicitly federally legal. R + R has got around this restriction by labeling all products on Amazon as containing 'hemp.' The brand isn't breaking any rules, and they're actually being quite clever. Their products do come from hemp, after all!
That said, on the website it clearly states that customers should buy directly from the R+R website. This is the only way to ensure an authentic product. The brand offers a 30-day 'risk-free' trial, which is effectively a money-back guarantee. If you are not happy with your purchase, send the product back to the company. Please note that R + R only refunds items bought on the official website.
The company uses reputable shipping services such as FedEx and USPS to deliver your purchases. One major plus point is the free shipping received by all domestic customers, regardless of the value of the order. R + R also provides international shipping to certain locations. In general, you can expect your purchase to arrive in 5-7 working days.
R + R also has an array of discount options. Aside from the 10% auto shipment discount, there is a 20% discount for veterans. The Rewards Program gives you a point for every $1 you spend and 100 points for signing up. You could get $50 for collecting 750 points. Finally, you could earn 30% off your next order by referring a friend.
Final Thoughts on R + R Medicinals
R + R is a brand that is attracting a growing following. The Colorado-based company sells full-spectrum CBD products and offers full third-party testing. Although the range of products isn't the biggest, it has a little something for everyone. R + R provides regular discounts and a reasonable reward program, not to mention a referrals program. They also offer some of the best value CBD products for the money.
R +R Medicinals is a veteran, minority-owned, family-run company, but you wouldn't know it without having a good read through their website. Their ethos revolves around the power of quality, well-made products rather than the parading of a particular brand or lifestyle image. In our opinion, this says a lot about the overall quality and values of the brand.
Lastly, the detailed lab reports offered by R+R Medicinals are crucial in terms of transparency, as they allow customers to know exactly what they're putting into their body. This is undoubtedly a company that is beginning to show traction and promise, and we would advise you to have a look at their full range of products by visiting the link to the official site below.
Final Verdict: 9/10