Overview
Established in 2016 in Colorado, CBDistillery is a globally-recognized name in the hemp CBD market, offering a large range of USA-made products both in the U.S. and abroad. CBDistillery is mostly known for their affordable prices, as well as their extensive online collection which includes CBD oils, vapes, edibles, topicals, and more.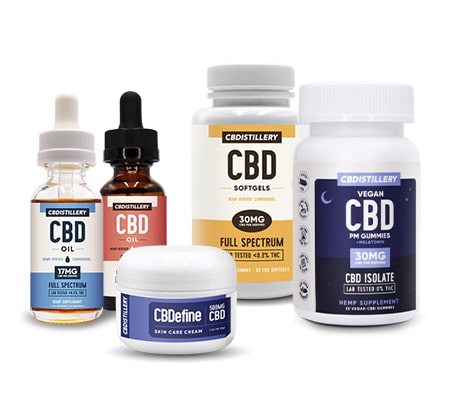 Ingredients
Full-spectrum hemp extract (aerial parts), Fractionated MCT oil
Recommended use
Take 1 serving (1 mL / 20 drops) orally. Hold under the tongue for 20 seconds before swallowing.
Extraction process
Not disclosed
Medical benefits
Supports functionality of the Endocannabinoid System (ECS), which helps regulate sleep, appetite, mood, immune function, pleasure, temperature, inflammation, nausea, and other functions.
*All the data provided is for oil products only
CBDistillery Brand Summary
Pros:
A fantastic array of products
Offers good value for money
Full-spectrum or isolate available
Third-party lab testing
Free shipping on all orders
60-day money-back guarantee
Cons:
Website is a little difficult to navigate
A number of negative customer reviews
To learn more about CBDistillery and skip our full review, check out the official website by following the link below. Don't forget to use your 15% coupon code for some great savings!

15% Coupon Code: 15OFFCBD
(applied automatically when clicking the link above)
CBDistillery Complete Review
The CBD industry is rising faster than cryptocurrencies during a bull run, and is a lot more stable! BDS Analytics and ArcView Market Research's latest report suggests that CBD will be worth more than $20 billion by 2024. Cowen & Co., a New York-based investment bank, was more pessimistic by stating the industry would only be worth $15 billion by 2025.
Even if the latter figure is true, it isn't exactly bad news for industry leaders such as Premium Jane, Pure Kana, and Provocan. CBD consumers are becoming ever more educated, and we aim to help their research by informing them of the best – and worst – CBD sellers on the market. Today, we look at CBDistillery, a relative 'old hand' in the CBD market!
Overview of CBDistillery
The company was founded by a group of Colorado natives who firmly believe that consumers deserve access to the highest quality hemp-derived CBD products. CBDistillery has even created its own slogan, #CBDMOVEMENT, as a means of increasing the public's knowledge of cannabidiol and hemp.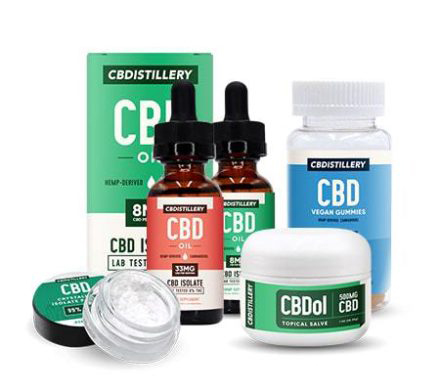 At the time of writing, CBDistillery's products have hit the mainstream; and are now available in a whopping 1,500 retailers across the United States.
The brand has featured in publications and media outlets such as CNN, PopSugar, and USA Today. It was also voted as the #1 Value Brand in 2019 by Mashable.
CBDistillery was co-founded by Lincoln Sorenson and Andy Papilion, who now work as the CRO and COO respectively. Chase Terwilliger is the CEO while Chuck McKenney is the Chairman of the Board.
All of the brand's products are made from pesticide-free, Non-GMO industrial hemp grown organically under natural sunlight. The company offers full-spectrum and CBD isolate products. Also, you can click on the images of each product to see results from third-party lab testing. A quick look at the 1,000mg THC free CBD oil revealed that it was tested by Botanacor Services and contained 34.7mg of CBD per ml, slightly higher than the 33.3mg claimed by the company.
Review of CBDistillery Full Spectrum CBD Tincture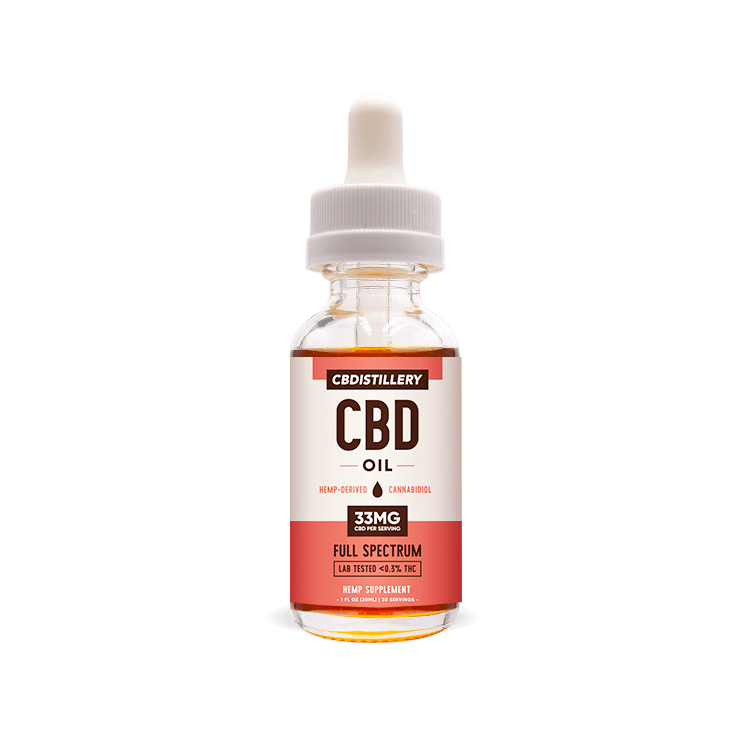 There are several CBD tincture options in a variety of sizes and strengths. Unfortunately, the site has an annoying structure where the sizes of the oils are not placed in order.
Full-Spectrum CBD Oil

250mg: $20
500mg: $35
1000mg: $60
2500mg: $120
5000mg: $240
All of the oil strengths come in a 30ml bottle. Therefore, the 5,000mg bottle contains a substantial 166.66mg of CBD per ml. The dropper that comes with the bottle holds up to 1ml, and the strongest CBD tincture is ideal if you have chronic pain. If you want a lower dose, either use a fraction of the dropper or purchase one of the smaller sizes. The 250mg bottle can serve as an introduction to the world of CBD.
THC Free Pure CBD Oil Tincture
Once again, you have the choice of five sizes, and the bottle contains 30ml of liquid in each case.
250mg: $19
500mg: $32
1000mg: $55
2500mg: $120
5000mg: $210
The THC-free oil is a little cheaper because you don't get the benefit of several cannabinoids. The oil is extracted from aerial plant parts and is completely free of the psychoactive compound, THC. It offers a natural plant taste with no danger of attaining a high. Although CBDistillery can't make any guarantees, this product could be useful if you are worried about failing a marijuana drug screen.
Regardless of the reason for using the CBD oil, you can consume it as follows: Either add it to a drink or hold a few drops under your tongue for a few seconds before swallowing. The amount you need depends entirely on why you're using the CBD.
CBD Pet Tincture
This CBD tincture is specifically designed for pets and is available in two sizes:
As you can see, the 600mg option is far better value for money. This oil is different from what is consumed by humans because it is formulated using cold-pressed hemp seed oil. As a result, your cat or dog should be able to consume it safely.
Review of CBDistillery Isolate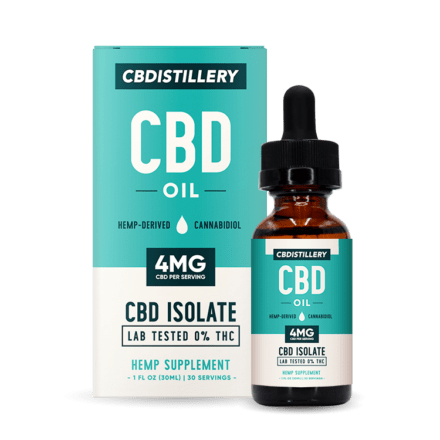 When it comes to the famed CBD isolate sold by CBDistillery, you have two options.
99+% Pure CBD Isolate Powder (Crystalline) From Hemp
This product is derived naturally from industrial hemp oil extracted from the stems and stalks of the hemp plant. It is available in several sizes but when we checked the site, only one was available:
As the name suggests, you get over 99% CBD when using this powder. Therefore, a single gram contains over 990 grams of CBD for just $30! The beauty of this product is its versatility. You can try and eat it straight, add it to MCT oil for a homemade tincture, or mix it with oil and vape it. Once again, the amount you need, along with the manner of use, depends on what you're using CBD for.
If you're looking for new and innovative ways to use CBD, this isolate powder is ideal! Users have found that it works extremely well when you vape it. But obviously, you will need to tinker with the formula to find the right strength. Users have also expressed amazement at the rapid effect the powder had when it was placed under the tongue and consumed. The taste is intense, and you should feel the difference pretty quickly.
Perhaps the best way to use the powder is to mix it with some MCT oil (coconut oil is always a good choice) and dissolve the solution, so you have a nice, potent tincture. In fact, an increasing number of users are utilizing this product as a backup tincture, and at $30 a gram (less in bulk), it represents excellent value for money. The one downside is that the powder can have a sedative effect, so don't use it before any strenuous activity.
CBDelicious 99%+ Formulation Powder from Hemp
This is an innovative product that is designed to be used as an ingredient. Whether you want to add it to a smoothie or use it when baking a cake, it is possible to include hundreds of mg of CBD easily. At present, it is only available in one size: 1 gram for $28. Once again, this product is comprised of at least 99% CBD. It is also free from THC.
What About CBDistillery's Other Products?
Capsules
This brand is determined to provide customers with CBD in as many forms as possible. As a result, it sells two types of softgel capsule, each in two different pack sizes:
Full-Spectrum CBD Infused Softgels: 30 x 30mg of CBD for $60
Full-Spectrum CBD Softgel Capsules: 60 x 30mg for $115
CBD Isolate Softgels: 30 x 30mg for $60
CBD Isolate Softgels: 60 x 30mg for $115
The isolates have nothing but CBD, while the full-spectrum offerings include other cannabinoids and terpenes.
Topicals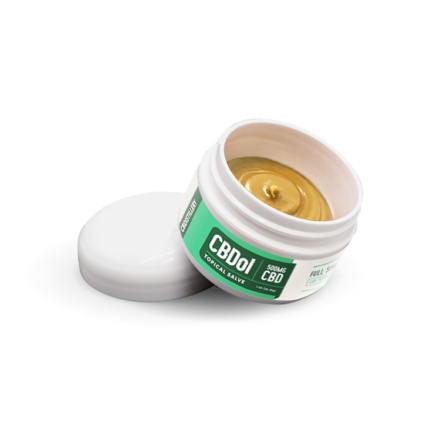 There is no letup in the variety when it comes to topical options:
CBDol Topical Salve: 500mg of CBD for $50
CBDol Relief Stick: 500mg of CBd for $40
CBD Lip Balm: 25mg for $6
CBDefine Skin Care Cream: 500mg for $50
The topical salve, in particular, has the potential to make your skin feel refreshed. It includes ingredients such as peppermint, eucalyptus, and lavender to provide a soothing and cooling sensation.
Gummies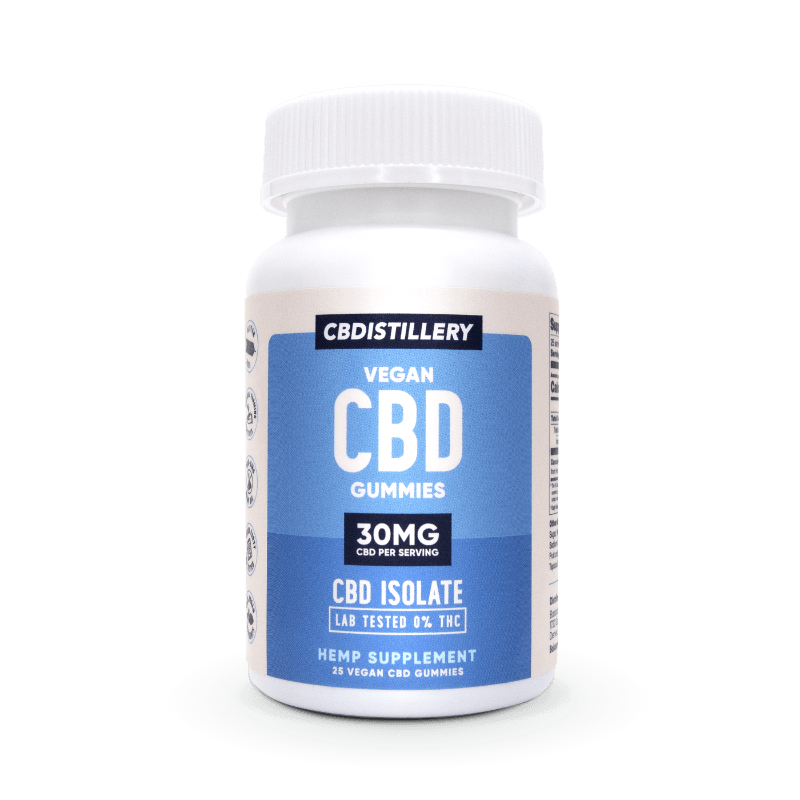 CBDistillery sells fruity gummies in two forms. First comes the standard 25 x 30mg CBD gummies for $55. Then there is a special CBD night time gummies option which is the same price but includes melatonin to calm you down before bedtime. Both products are vegan and you can buy a bottle of each for the bargain price of $90.
Vape Products
The brand has joined the vaping revolution with a range of e-liquids. They contain 500mg or 1000mg of CBD and cost $32-$55. Flavors include Grape, Mint, Mango, and Strawberry Lemonade. The carrier is an 85:15 PG-VG blend.
Where Can I Purchase CBDistillery Products?
You will find all the products on CBDistillery's shop page. Although you will need to scroll down to find the different tincture oil strengths, at least the website itself is well designed and professional looking.
You can also check out the company's wholesale page if you wish to sell any of its products. The brand claims to have shipped over 5 million units across the world since its formation in 2015.
Shipping is free and the company offers a generous 60-day money-back guarantee.
Final Thoughts on CBDistillery
CBDistillery has been around for a considerable time, and it keeps on expanding. It offers a wide variety of CBD products, including THC-free, full-spectrum, and CBD isolate items.
The price point is reasonable, and there is no question that the brand is reputable.
We have read a few troubling reviews from customers who suggest the quality of the service has dwindled in recent times. It is a real pain when you find out that you are unable to return a product during busy seasonal periods. It is also a bit odd that there is no contact number for American customers on the Contact Us page, but there is one for UK customers!
Overall, reviews are mixed, and while we were happy enough with the quality of products and delivery, a growing number of people are not. If CBDistillery wishes to keep up with the top dogs of the CBD industry, it needs to up its level of customer service based on what we have read.
Final Verdict – 8/10
To learn more about CBDistillery and see their full product range, head over to the official site and don't forget your 15% discount code:
Published on:
26 Jun, 2019