Harambe's Ghost Strain Overview
Harambe's Ghost is a hybrid strain that was named after the beloved gorilla, "Harambe," who was tragically shot and killed at a Cincinnati Zoo in 2016. The strain was created by Ethos Collective and has an incredible THC content level of close to 30%.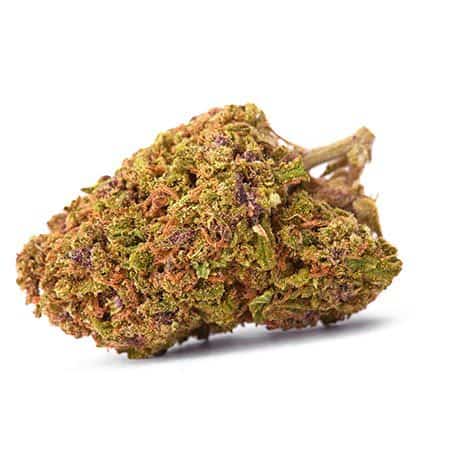 Common usage
Chronic pain
Lack of appetite
Nerve pain
Stress
Effects
Body high/numbing
Euphoria
Relaxation
Growing info
Harambe's Ghost can be cultivated both indoors and outdoors. When grown indoors, the plant has a flowering time of between 60 - 65 days. BUY SEEDS FOR THIS STRAIN AT OUR #1 RATED
ONLINE SEED STORE: HOMEGROWN
Ghosts don't have to be scary. Harambe was the very loved and now mourned gorilla that was tragically shot and killed at a Cincinnati Zoo in 2016. His impromptu death turned the internet into a meme-filled mania, and now cannabis lovers can smoke up in his memory.
Harambe was a 17-year-old Western Lowland gorilla that was executed by zoo staff after a three-year-old boy wandered into his enclosure at the zoo. Those who were online at any point in the months following this incident will know that it became an internet sensation. People were understandably very upset about the death of an innocent animal due to human negligence.
Harambe's death resulted in an outpouring of grief that has shown up in Halloween costumes, memes, and now cannabis strains. Currently, there is not much information available on the Harambe's Ghost cannabis strain. But, we will tell you everything that we could find about this gorilla inspired strain below.
Try Legal THCA Flower
Want to experience the qualities of THC-A flower? The amazing brand Premium Jane just launched their new line, including strains like OG Kush, Purple Cream, and Blue Dream Pie. Averaging 23% THC-A, there's so much to love with these flowers. Try them today to get 20% off using WayofLeaf's exclusive coupon code: THCAWOL
What Is the Harambe's Ghost Strain?
The Harambe's Ghost strain is a hybrid that Colorado-based Ethos Collective created in an effort to pay homage to the gone-too-soon gorilla. It is a cross between Ethos' own Black Fire, Citral Skunk, and Gorilla Glue #4. It appears to be a 50/50 split between indica and sativa properties.
Harambe's Ghost is famous for its extremely high THC levels of up to 30%. Clearly, Ethos Collective wasn't playing games when they created this one. The company has made the sale of the strain a testament to Harambe's memory – they donate 10% of proceeds to no-kill animal shelters in Colorado.
The varieties that comprise the lineage of the Harambe's Ghost strain lean slightly indica, implying that it is more likely to mellow users out than amp them up. That said, this strain is known for its potency and a thick blanket of trichomes that will help you wind down after a long day.
Aroma
Harambe's Ghost has a rich diesel aroma alongside subtle notes of citrus. Some users say it smells like a classic OG, earth, pine, and fuel mixed with hints of citrus.
Flavor
The Harambe's Ghost flavor is similar to the aroma. Overall, it's sweet like candy, and you can also expect notes of citrus.
Appearance
Those who are fortunate enough to have tried this novelty strain praise the thick coat of icy white trichomes on the flowers. The straight buds are pungent, featuring beautiful crystals, and even breaking up just a small amount will leave a thick, sticky residue.
Harambe's Ghost Strain Grow Info
It is possible to cultivate Harambe's Ghost both indoors and outdoors. Indoors, the plant has a flowering time of between 60 – 65 days. Unfortunately, there is not much more information available on growing this strain.
Harambe's Ghost seeds aren't yet widely available in either recreational or medicinal dispensaries. However, Ethos Collective has released a small number of seeds for sale online. As a result, clones will probably start circulating in growers' markets, and eventually, flowers may find their way into retail outlets.
THC Content – Highest Test
The highest THC content recording of Harambe's Ghost is 30% – which is incredibly high, not to mention impressive.
CBD Content – Highest Test
The Harambe's Ghost strain only contains trace amounts of CBD. Not even as much as 1% of CBD has been reported in this strain.
Medical Benefits of the Harambe's Ghost Strain
There is practically no information available pertaining to the medical benefits of Harambe's Ghost specifically. However, high in THC levels, it's sure to offer patients a complete body high that can melt pain in a blissful, relaxing, and euphoric high.
Some users report that Harambe's Ghost has helped relieve stress and anxiety. However, its potency arguably makes it more suitable for managing muscle spasms, nerve damage, and back pain.
As it's so potent, Harambe's Ghost could help to alleviate severe pain. Furthermore, because it ultimately causes users to feel tired and sleepy, it could also be useful for dealing with insomnia. It may also increase appetite due to the THC levels.
Possible Side Effects of the Harambe's Ghost Strain
We couldn't find any information about the side effects of the Harambe's Ghost strain specifically. However, due to the high THC level, here are a few of the possible adverse effects:
Dry Mouth: Also known as cottonmouth, high-THC cannabis strains can make your mouth exceptionally dry. So, be sure to drink lots of water.
Dry/Red Eyes: Red and/or dry eyes are the classic telltale sign of cannabis use. THC is known to lower the blood pressure and dilate blood vessels in the eyes, which leads to redness.
Sleepiness and Lethargy: If you're looking to stay active while smoking weed, keep in mind that some strains (especially those high in THC) can induce lethargy, naps, and an early night's sleep.
Final Thoughts on the Harambe's Ghost Strain
Unfortunately, there currently isn't much information available on the Harambe's Ghost strain. However, we love the fact that this is a cannabis strain whose breeders created it in honor of an innocent animal – killed due to human negligence.
Moreover, Ethos Collective donates 10% of all proceeds to no-kill animal shelters – so you can get high while doing some good. Harambe's Ghost is not widely available to purchase, but if you can get your hands on it, the effects are enjoyable and relaxing.
The THC level is exceptionally high (one of the highest we've seen), so be cautious if you are a novice or sensitive to the effects of cannabis. With such high THC content, Harambe's Ghost is the perfect strain if you want to see ghosts and ghouls this Halloween.
Try Legal THCA Flower
Want to experience the qualities of THC-A flower? The amazing brand Premium Jane just launched their new line, including strains like OG Kush, Purple Cream, and Blue Dream Pie. Averaging 23% THC-A, there's so much to love with these flowers. Try them today to get 20% off using WayofLeaf's exclusive coupon code: THCAWOL