Purple Afghani Strain Overview
The Purple Afghani strain is a fine example of what happens when good genetics are properly utilized. It is an aesthetically pleasing and flavorful strain, which is easy to cultivate for first-time growers.
Flavors
Earthy
Flowery
Fruity
Hash
Herb
Common usage
Anxiety
Chronic pain
Cramping
Depression
Sleep
Stress
Effects
Appetite
Euphoria
Happy
Relaxation
Sleep/Sedation
Growing info
Purple Afghani is insanely easy to grow and is a good option for first-timers. It also produces an extremely generous yield. You can enhance the purple hue by carefully exposing it to cold night-time temperatures. BUY SEEDS FOR THIS STRAIN AT OUR #1 RATED
ONLINE SEED STORE: HOMEGROWN
'Purple' strains are always a popular option amongst cannabis users. They are generally aesthetically pleasing and are extremely rewarding to grow. The Purple Afghani strain is a combination of world-class genetics and also provides that winning purple coloring. Read on to learn more about its effects and how to cultivate it.
Try Legal THCA Flower
Want to experience the qualities of THC-A flower? The amazing brand Premium Jane just launched their new line, including strains like OG Kush, Purple Cream, and Blue Dream Pie. Averaging 23% THC-A, there's so much to love with these flowers. Try them today to get 20% off using WayofLeaf's exclusive coupon code: THCAWOL
What Is the Purple Afghani Strain?
It is an indica dominant hybrid that's a cross of Afghani #1 and Purple Kush. BC Depot created it, and it is certainly best used in the evening or at night. Purple Afghani weed is potent with an extremely high THC content.
Users are immediately drawn to the attractive appearance of the plant. Once they have had a sample, the effects they feel brings them back for more.
In many ways, Purple Afghani provides the 'classic' marijuana high. Users tend to feel extremely relaxed soon after using it. The intoxication one experiences generally results in a feeling of calm euphoria. You will likely spend much of the high with a smile on your face.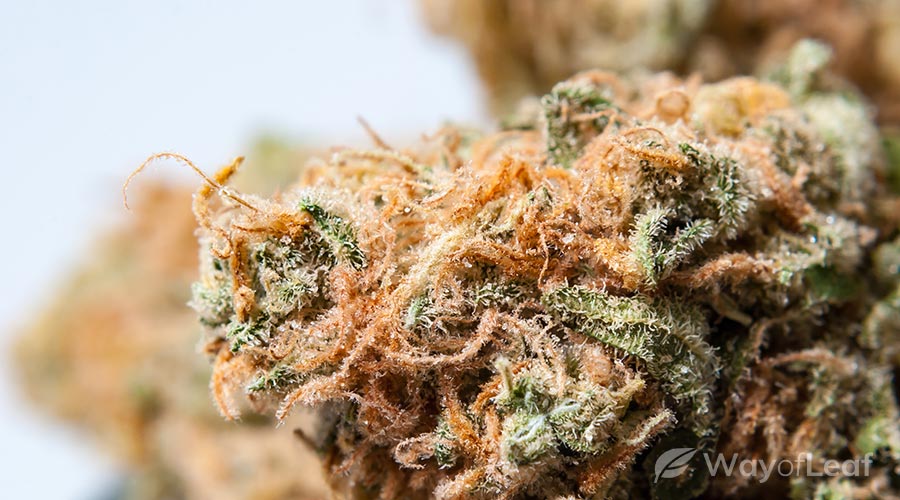 One possible issue is the speed with which Purple Afghani gets to work. Make sure you are in a comfortable place before imbibing. Many first-time users of this strain often admit to being caught out by the high. Within minutes, they feel sleepy and find movement challenging! Also, Purple Afghani can cause a major case of the munchies. Keep your snacks close by.
Aroma
You can expect to get an earthy aroma with Purple Afghani. There are also notes of woodiness, sage, and even a savory delight in the form of blue cheese.
Flavor
When you smoke Purple Afghani, you will likely get an earthy and floral taste that is extremely pleasant. The blue cheese aroma doesn't necessarily carry into the flavor, however.
Appearance
Purple Afghani has thick and heavy buds with glistening layers of trichomes. Of course, the strain's genetics provide a glorious purple coloring. Read our Grow Info section to discover how to enhance it.
Purple Afghani Strain Grow Info
Interestingly, there are reports that Purple Afghani is a popular black-market strain. Users living on the East Coast may find it hard to locate Purple Afghani seeds. However, it is widely available legally on the West Coast. It is also extremely popular in Colorado.
This is a tough cannabis strain with high resistance to pests and common diseases. In general, maintenance consists of regular trimming and pruning. Purple Afghani grows well indoors or outdoors. For most marijuana cultivators, indoors is the more realistic option. In this scenario, the strain has a flowering time of 8-9 weeks. Users are generally rewarded with a handsome yield.
A lot of growers try to boost the purple coloring on this strain. You can achieve this by reducing the night time temperature by up to 20 degrees. Exposure to lower temperatures results in the breaking down of chlorophyll. It may also encourage your plants to produce more anthocyanins, the pigment that produces the purple color.
Please avoid drastic measures when looking to make cannabis more purple. For example, depriving your plants of oxygen or feeding them more nitrogen will only damage your crop.
THC Content – Highest Test
In general, Purple Afghani has more than 20% THC. Indeed, it is common for it to contain 25%.
CBD Content – Highest Test
There is minimal CBD in Purple Afghani. It contains a lot less than 1%.
Medical Benefits of the Purple Afghani Strain
One of the main reasons why people use Purple Afghani is to help them enjoy a good night's sleep. Its effects can strike you within minutes. We advise you to use a moderate amount at first because its effects are extremely strong. Make the mistake of allowing the high to take hold before you're ready to settle down, and you will struggle to move to your preferred spot.
Purple Afghani could also prove useful for individuals with depression or stress. Users suggest that it helps elevate their mood. If you are feeling down or stressed after a long day, a few tokes of this strain could help.
Also, Purple Afghani provides an extreme case of the munchies among many users.
Possible Side Effects of the Purple Afghani Strain
As is the case with extremely strong cannabis strains, Purple Afghani has some potential adverse effects. Using too much could result in heightened anxiety, for example. Also, its potency could prove overwhelming for novices in general. This strain is very much one where you should go 'low and slow.' More common side effects include a dry mouth and red eyes.
Final Thoughts on the Purple Afghani Strain
Overall, Purple Afghani is a marijuana strain that commands respect. You are better off using it in the evening. We would also advise novices and those with low cannabis tolerance to try something with a less powerful high. Consider using Purple Afghani if you have issues trying to sleep. You might also find that it helps if you have chronic pain or problems with low appetite.
It is an ideal cannabis strain for first-time growers. Purple Afghani is a tough plant, though it requires some maintenance. You will also need to tread carefully if you want to enhance the purple hue. Exposing marijuana plants to shock is always a risky business.
Try Legal THCA Flower
Want to experience the qualities of THC-A flower? The amazing brand Premium Jane just launched their new line, including strains like OG Kush, Purple Cream, and Blue Dream Pie. Averaging 23% THC-A, there's so much to love with these flowers. Try them today to get 20% off using WayofLeaf's exclusive coupon code: THCAWOL