Overview
Trokie CBD takes a more medicinal approach to its CBD products. They were formulated by the founder himself, Dr. Crowley, who is a pharmacist with more than 30 year of experience under his belt. Trokie offers lozenges, pain patches and microdose capsules - so you can get your life back. Plain and simple.
Ingredients
Olive Oil, Camellia Oil, Marula Oil, Kukui Oil, Coconut Oil, Aloe Vera, Rosemary, Comfrey Leaf And Root, Calendula, Devil's Claw, CBD Isolate, Camphor, Menthol, Wintergreen, Proprietary Blend Of Essential Oils.
Recommended use
Get straight to the pain with effective, fast-acting topical spray - allow to penetrate and feel the relief immediately.
Extraction process
CO2 Extraction
Medical benefits
Each of our sprays are a multi-use way to treat pain and other skin conditions without the use of harsh chemicals. They are meticulously formulated to relieve local pain while nourishing the skin.
*All the data provided is for oil products only
In the modern era, we are beginning to understand the benefits of microdosing hemp and marijuana compounds such as THC and CBD. The idea behind microdosing is to get the maximum possible benefit from the smallest possible dosage. The main issue is that cannabinoids react differently from person to person.
Patient A may find that 20mg of CBD helps calm their anxiety, while patient B may need 40mg to get the same effect. With microdosing, you can slowly but surely increase your dosage as and when necessary, and eventually, you will reach the 'ideal' amount. This is why cannabis products such as capsules, patches, and lozenges are becoming so popular, and why companies such as Trokie have decided to focus on selling them.
Who are Trokie?
The company was founded by a physician named Dr. Crowley. According to the website, he is a trained executive with 30 years of experience in the pharmaceutical industry and clinical medicine. Dr. Crowley has created and patented 'medical-grade' marijuana products to treat symptoms such as neuropathic pain. Aside from this information, there isn't a great deal more about the organization.
Trokie does include a page on how their products work at least. Through the process of 'Buccal Delivery,' the cannabinoids in Trokie products, especially the lozenges, reach the bloodstream in 5-40 minutes and last for up to 12 hours. In comparison, edibles take up to 120 minutes and last for a maximum of 9 hours, while inhalation takes effect in 5 minutes, but the effects only last a couple of hours.
The site also goes into detail regarding the advantages of cannabis compounds versus narcotics, which include:
The fact that cannabis compounds are non-addictive.
Their ability to stimulate appetite.
Cannabis compounds improve GI function while narcotics can cause constipation.
Cannabis compounds reduce nausea and vomiting while narcotics can cause both symptoms.
Before going any further, I have to say I was impressed that the Trokie website provided detailed information on recommended dosing. For the first five days, it is best to use a total of up to 30mg of CBD and 15mg of THC in three separate doses.
From days 6 to 13, you should lower the amount you take to two doses of 10mg CBD and a single evening dose of 15mg THC. From day 14 onward, try up to 7.5mg of THC or combine 10mg of THC with 12.5mg of CBD daily.


10% Coupon Code: LEAF10
Review of Trokie Lozenges
Trying to purchase Trokie Lozenges isn't as easy as it should be. For a start, you have to purchase products from physical stores rather than on the Trokie website (more on that later), and there is a wide variety of options, not all of which are readily available on the official website. On the site, there seem to be six options with different THC and CBD levels:
100mg CBD
100mg CBD + 15mg melatonin
50mg CBD + 50mg THC
50mg CBD, 50mg THC + 15mg of melatonin
90mg CBD + 10mg THC
100mg THC Indica
100mg THC Sativa
You can break the lozenges into smaller doses; Trokie recommends 10mg doses. However, there are other lozenge options available online, and that is where I found mine. I tried the CBD: THC40 1:1 lozenge, which costs $17 and consists of 20mg CBD and 20mg THC.
I used half a lozenge, which meant I consumed 10mg of CBD and 10mg of THC. Within 10 minutes, I felt mild euphoria, but it didn't last for long. In fact, the effects had worn off in around two hours; a far shorter timeframe than what Trokie promised with its buccal delivery method.
The taste was almost overpowering, and if you are a new user, I would recommend using even less than 10mg of each compound at a time. For the record, the lozenges allow the cannabinoids to bypass the GI tract and liver to provide faster results; and ensure more of the cannabinoids reach your bloodstream.
Trokie recommends placing the lozenges between the upper lips and gums to get the best effect. They definitely work, but are rather expensive. There is a far stronger CBD: THC160 option for $55 which includes 80mg of THC and 80mg of CBD, a better value-for-money choice. Just make sure you don't use all of it at once!
Review of Trokie Capsules
When you visit the website, there are five capsule options with varying degrees of cannabinoids:
30 x 25mg CBD capsules.
10 x 1:1:1: microdose capsules containing 5mg CBD, 5mg THC-A, and 5mg Δ-9 THC.
10 x 9:1 capsules which have 27 mg of CBD and 3mg of THC apiece.
10 x 10mg THC Sativa capsules.
10 x 10mg of THC Indica capsules.
I tried the THC Indica capsules and felt a slight 'high.' It helped me to relax, and I would recommend using one in the evening to help you get ready for a restful night's sleep.
Review of Trokie's Patch
This product is different to the rest because there is no THC and only one version available which contains CBD and OTC lidocaine. As it has no intoxicating effects, these patches can be safely used by children aged 12+. To use, simply place one of the patches on a sore area and it can help with arthritis, joint pain, muscle soreness, and back pain.
Each pack contains two patches for $30. At 10cm x 14cm, they are a good size and stick on easily. Each patch contains 25mg of CBD, and it is effective for up to 12 hours. If you wish, you can cut the patch into smaller sizes. I placed it on my sore arm and am happy to report that the severe pain I feel after weight training felt far more manageable within a couple of hours of wearing the patch.
Where to Purchase Trokie Products?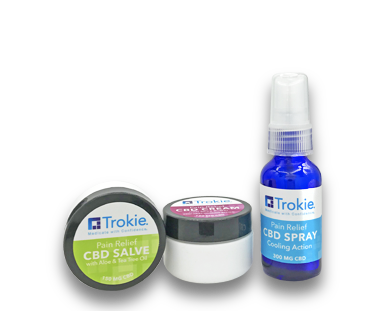 It is at this time that you are normally directed to the company's official website, but you can't purchase Trokie products directly from there. Instead, you are told to visit stores in California, Nevada, Oregon, Arizona, and Canada. It is possible to buy Trokie items from online stores such as Green Door West. This is pretty much your only option if you don't live anywhere near a store that sells Trokie goods.
Final Thoughts on Trokie
Trokie is leading the way in the world of microdosing marijuana compounds. It sells lozenges, patches, and capsules that enable you to benefit from long-lasting effects. The products are of premium quality, and the United States Patent Office has officially patented the company's lozenge.
I wish there were more information on the company, and it is also a pain to have to search third-party stores for online orders. The products are also expensive, so if you are not a fan of microdosing, and would prefer tinctures, Trokie is not for you. If you want to take a chance on microdosing, Trokie is as good as any company in that particular niche.
Rating: 8/10
Official Site: trokie.com
10% Coupon Code: LEAF10
Trokie Pros
Products are ideal for microdosing.
You can purchase THC or CBD only items, or a mixture of both.
The effects could last longer than traditional tinctures.
Trokie Cons
You need to use a third-party store to purchase items online.
Trokie's products are expensive in a one mg of CBD or THC sense.
Not a great deal of information about the company.