Overview
CBD American Shaman is a huge CBD brand based in Kansas, Missouri. Its products are created from highly concentrated, superior hemp extracts. Its mission is to spread wellness through the benefits of CBD.
Ingredients
PURIFIED WATER BY REVERSE OSMOSIS, FULL-SPECTRUM HEMP OIL, CITRIC ACID, MCT FROM COCONUT OIL, NATURAL FLAVOR
Recommended use
USE 1/2 ML IN 8OZ OF LIQUID. STIR AND DRINK
Extraction process
CO2 extraction
Medical benefits
CBD MAY HELP TO MAINTAIN BALANCE AND ENSURE FOCUS.
*All the data provided is for oil products only
American Shaman CBD Quick Summary
Pros
Uses proprietary nanotechnology which could improve the bioavailability of CBD
45-day money-back guarantee (30 days if purchased from a franchise)
Discounts available via its Compassionate Care Program
An enormous range of products
Up to date third-party lab reports
 Cons
Lab reports don't include information on heavy metals, pesticides, and other chemicals
The website's design doesn't make it easy to find what you need quickly
Full American Shaman Review
The CBD industry continues to have issues with a lack of regulation. This enables low-grade products to pollute the market. One typical sign of a brand worth avoiding is a lack of information on it. Too many sites contain little information barring vague promises to help customers improve their wellness and general health. There are also plenty of small-scale companies unable to compete with the big boys.
American Shaman has no such problems. It is an extremely transparent brand with a charismatic co-founder. You can find as much information about the company online as you like. Furthermore, it is one of the largest CBD retailers in the United States, with almost 370 locations at the last count.
Few CBD brands provide customers with as many product choices as American Shaman. This review delves into whether it is a company worth investing in. 
Who Is American Shaman?
Although Bud Miley is the President of American Shaman Franchise Systems, Vince Sanders, the CEO, and co-founder, is arguably the 'face' of the brand. Sanders helped found the company in Kansas City, Missouri, in 2014.
He is a colorful character, to say the least. Sanders watched his father go to prison and then dropped out of school. About 20 years ago, he went to jail for organizing and financing a scheme to sell marijuana. Federal officials tracked his operation for years and estimated that Sanders earned $2.5 million for his scheme, although the man himself suggests it was more.
Putting his past firmly behind him, Sanders now heads a rapidly growing CBD company. He says that the brand's mission is to make high-quality cannabidiol and help people feel better. Indeed, he decided to launch American Shaman after trying to help his terminally ill uncle. Sanders fought the good fight for the industry and was among those who pushed hard for the legalization of hemp via the 2018 Farm Bill.
The company cultivates its hemp on Colorado and Kentucky farms and uses CO2 extraction to take the compounds from hemp plants. The CO2 method is the gold standard of the CBD industry and is believed to play a key part in producing the best possible CBD product.
The website contains a regularly updated blog providing useful information on CBD. It also offers opportunities to become an affiliate, start a franchise, or become a wholesaler. Now, let's find out more about the type of products the company offers.
American Shaman and Nanotechnology
The company says its CBD oil is eco-friendly, gluten-free (edibles may contain gluten), and batch tested using Ultra Performance Convergence Chromatography.
American Shaman claims its proprietary nanotechnology ensures its products are up to ten times more bioavailable than anything else on the market. As a consequence, your body absorbs CBD more efficiently. There is research to suggest that nanotechnology could indeed help increase the absorption rate of cannabidiol. However, American Shaman is making a bold and hard-to-prove claim here.
Then again, at least it is trying to find evidence! In June 2021, the brand released three studies at The International Cannabinoid Research Society conference. Each one was offered as proof of CBD's efficacy. One of the studies found that people who used the brand's nano-treated CBD required seven times less cannabidiol a day than individuals who used 'regular' cannabidiol.
American Shaman uses nanotechnology to ensure that its CBD products are highly bioavailable, leading to increased absorption.
By the way, 'water-soluble' CBDis oil broken down using nanotechnology. The process makes the particles smaller and easier for your body to absorb. Benefits include faster effects and higher bioavailability. This form of CBD is also easy to mix with food or water.
*One thing to note: American Shaman refers to its cannabidiol as 'water-soluble,' but CBD is technically NOT water soluble!
Like all reputable brands, American Shaman offers you the chance to view its lab reports, providing useful information on how to read them. Many of the reports are relatively recent. However, they do not contain data on the level of pesticides, heavy metals, and other potentially harmful chemicals. For the record, Green Scientific Labs conducts the testing.
With plenty of background information and details on American Shaman's nanotechnology out of the way, let's check out its product range.
American Shaman CBD Oil Review
One thing we quickly noted during this American Shaman CBD oil review was the sheer range of products which is potentially overwhelming, especially for novices. There are no fewer than 18 flavor options, and the following seven CBD concentrations:
50mg
150mg
300mg
450mg
600mg
750mg
900mg
There are also six specific products:
Water-Soluble CBD, Full-Spectrum Hemp Oil
VG Cloud Tincture
CBD Extra Strength Water Soluble
Terpene Rich Hemp Oil Tincture
Terpene Rich Topical Serum
Topical Serum Roll-On
For many of the products, you can choose between having a little THC or none at all.
The water-soluble CBD oil is the main American Shaman product. The company claims it is up to ten times more bioavailable than other CBD oil. It comes in five flavors, but you can only get a 300mg bottle. At approximately $60, it seems expensive at first glance. However, if American Shaman's claims are true, it is the equivalent of 3000mg worth of 'regular' CBD oil.
If the above isn't enough CBD for you, there's an extra-strength version. Available in Natural or Lemon flavors, choose between CBD concentrations of 450mg, 600mg, and 900mg. To use this oil, put a few drops in approximately 250ml of water and drink it.
The VG Cloud Tincture is another interesting product. It contains vegetable glycerin (VG), propylene glycol (PG), CBD, and natural or artificial flavorings. VG and PG are typically associated with vape juice, which means you could vaporize this oil. However, American Shaman recommends using it as you would regular CBD tinctures.
There's evidence that VG and PG could release carcinogenic substances when heated in a vape device. However, there are no studies suggesting its harmfulness when consumed sublingually or orally at room temperature.
American Shaman CBD Gummies Review
There is also no shortage of options when it comes to CBD gummies. Apart from a standard offering, there are:
CBD Gourmet Gummies
Nano CBD Gummies
CBD Energy Gummies
CBG Gummies
Sugar-Free CBD Gourmet Gummies
If you're on a budget, there's a sample pack containing 10 x 10mg CBD gummies. This candy has a great tasting selection of fruit flavors, including raspberry and peach. The larger bottle contains 30 x 10mg CBD gummies. Ingredients include sugar, corn syrup, soy lecithin, and artificial flavoring. American Shaman suggests a serving size of two pieces a day.
The so-called 'Gourmet' gummies possess a greater CBD concentration of 25mg apiece. Again, each pack contains ten, and you can choose between full-spectrum and broad-spectrum.
As you might guess, the Nano gummies utilize the brand's nanotechnology. As such, you can expect to pay more. They are available in 15 x 10mg and 30 x 10mg CBD concentrations. The Energy gummies include green tea along with vitamins C, B6, and B12.
American Shaman CBD Topicals Review
Yet again, customers are spoiled for choice by the vast range of topicals on offer. They include:
Topical Cream
CBD Body Lotion
CBD Face Cream
Terpene Rich Topical Serum
CBD Under Eye Serum
Topical Serum Roll-On
The topical cream comes in 250mg and 500mg CBD concentrations. It includes ingredients such as MCT oil, olive oil, and DMSO, along with a wide variety of terpenes. To use, apply it to a specific area and rub the cream into the skin. You can buy full-spectrum or broad-spectrum cream.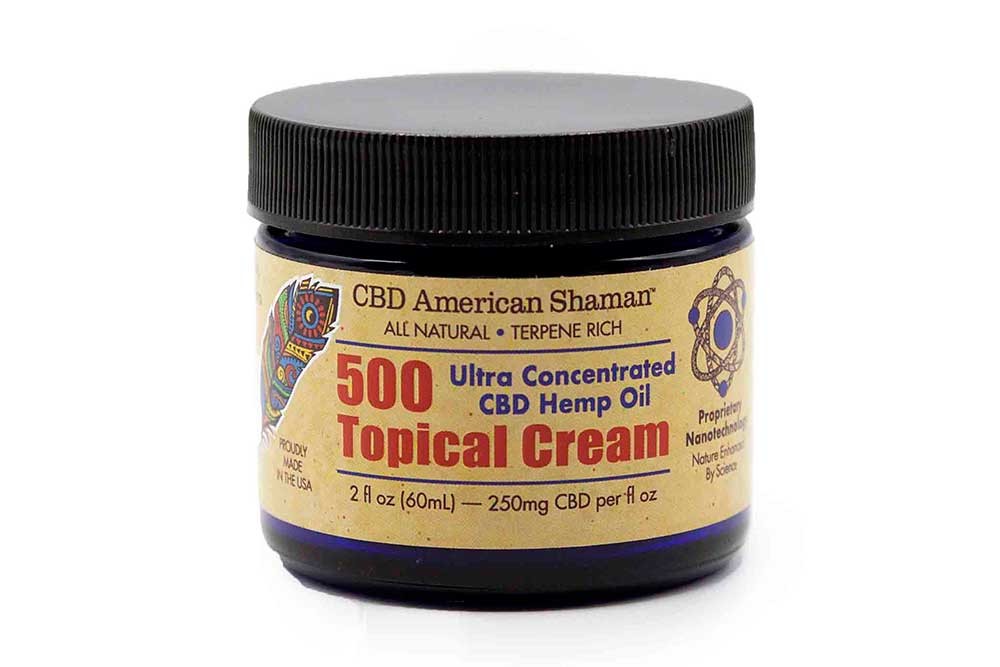 The CBD body lotion has a pump and contains 15mg of nano-CBD per fluid ounce. It has a much lower concentration than the cream, but it could prove just as effective. Choose between scented or unscented.
TheCBD face cream is another popular product. Containing 30mg of cannabidiol per ounce, it is best used as part of a regular skincare regime. American Shaman recommends applying only one or two drops at a time.
What Other CBD Products Does American Shaman Sell?
Take your pick! The brand leaves no stone unturned when it comes to CBD products. It sells the following:
CBD Capsules
Hemp Flower
CBD Edibles
CBD Candy
CBD Water
CBD Wellness
CBD Skincare
CBD for Relief
The edibles range includes CBD coffee, honey, popcorn, cookies, and lollipops. It is also possible to purchase CBD joints, cigarettes, and a moon rocks jar. Frankly, there are few CBD products that American Shaman does NOT sell. Few reputable brands on the market can compete with this variety.
Where to Buy American Shaman Products
Go to the official website to see the enormous range of CBD items. If you're unhappy with a purchase, American Shaman has a 45-day money-back guarantee if you buy the product on the site. It becomes a 30-day guarantee if you get the product(s) from a franchise. Please note that purchases made from a wholesale account or another authorized retailer fall within the return policy of that company.
American Shaman offers discounts of up to 30% for low-income customers, people in need, and veterans as part of its Compassionate Care Program. This is always great to see and shows a commitment towards helping those who could really benefit from using CBD.
The company ships to all 50 states and most nations where CBD is legal, barring Australia and Canada. You could earn free shipping for orders worth over $100.
According to various customer reviews, the brand's standard of customer service doesn't quite match the quality of the products. Hopefully, American Shaman works hard to rectify this situation.
Final Thoughts on American Shaman
Overall, American Shaman is making a big play in its bid to become an industry leader. One might argue that the brand has already achieved this status. However, it has no intention of resting on its laurels and continues to expand.
American Shaman provides an extraordinary number of CBD products, and its nanotechnology claims have some science behind them. The brand's products are potentially more effective than non-nano CBD items. If this is the case, the hefty price tag for each product is justified. There seems little doubt that it uses premium-quality hemp, and the result is a gigantic range of products worth trying.
The Compassionate Care Program is a great addition and provides a generous discount to people who need it. We wish it would provide more detailed lab reports, and its massive selection may intimidate newcomers to the CBD scene. Nonetheless, American Shaman is an excellent brand and deserves the plaudits it readily receives.
Rating: 9/10
Visit Official Site: cbdamericanshaman.com
Coupon Code: AMERICAN20