Overview
CBD brand, Holland and Barrett brings a vast array of health supplements, vitamins, minerals and wellness centered foodstuffs to the UK market and beyond. They also specialize in providing a selection of CBD oils. They focus on customer service, satisfaction and a holistic approach to a fitter lifestyle.
Ingredients
hemp seed oil, CBD extract, and emulsifiers.
Recommended use
Place 3 drops under the tongue up to 3 times per day, hold for 60 seconds, and then swallow.
Extraction process
Not listed on site
Medical benefits
Consumers should research potential benefits of CBD and seek the guidance of a medical professional before using any supplement.
*All the data provided is for oil products only
Site:
hollandandbarrett.com
Holland and Barrett CBD Oil Quick Summary
Pros
Available online and in high street stores
Products available from various brands
Great value if you catch H&B's 'Penny Sale'
Cons
The lower potency CBD oils were ineffective
Using a higher dosage can work out expensive
Read on for the full review of Holland and Barrett's CBD oil, or check out some of our top UK brands below:
Holland and Barrett CBD oil Full Review
One of the clearest signs that CBD oil was about to take off in the UK came when Health Food sector giant, Holland and Barrett, began stocking CBD oil from Jacob Hooy, a Dutch firm, in January 2018. Within a matter of weeks, bottles of the oil started flying off the shelves as CBD mania finally hit Britain.
As you probably know, CBD, or cannabidiol, is a non-intoxicating cannabinoid in marijuana. It is used to treat a variety of ailments ranging from depression to chronic pain. As long as CBD oil contains less than 0.2% THC, you can purchase and consume it in the United Kingdom. According to the Cannabis Trades Association UK, there are approximately 250,000 CBD users in Britain, a jump of 100% in a year.
With its place at the top of the CBD charts thanks to its association with Holland and Barrett, the question is: should you use Jacob Hooy CBD+ Oil?
Review of Jacob Hooy CBD+ Oil
When you visit the official Holland and Barrett website, you will see that there are four CBD+ oil options from Jacob Hooy:
10ml of 2.75% oil: £19.99
30ml of 2.75% oil: £39.99
10ml of 5% oil: £29.99
30ml of 5% oil: £59.99
First and foremost, Jacob Hooy CBD+ oil easily meets the EU requirements as it contains less than 0.05% THC. The oil is made from 100% natural cold-pressed hemp seeds and certainly possesses a strong taste.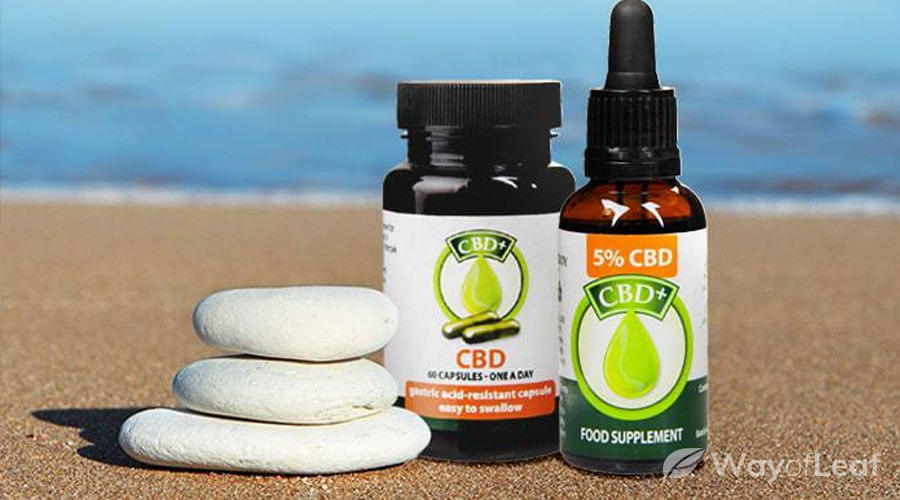 Frankly, the lower strength oil is likely to be ineffective for people with chronic and severe conditions. However, the 5% 30ml bottle represents decent value for money. It equates to 1,500mg of CBD for approximately $80. Meanwhile, major U.S. brands charge around $130 for 1,000mg, although the price varies.
The bottle comes with a 1ml dropper; Holland and Barrett recommend consuming a maximum of 10 drops per day and state that you should try a few drops 2-3 times a day. 1ml of the 5% oil equates to 50mg of CBD each day, and in my experience, it is best to start with as little as 20 ml.
More About Jacob Hooy CBD+ Oil
If you decide to use Jacob Hooy CBD+ oil, we thoroughly recommend doing so with a glass of water to hand. The taste is extremely potent and is unlikely to be to everyone's liking. On the plus side, it has a 'natural' taste which suggests the CBD oil is of premium quality.
Beware oils that have a sweetened or artificial taste, because they are likely to be full of unnecessary ingredients. For the record, this CBD oil consists of hemp oil, hemp paste, and sunflower lecithin.
Our reviewer had chronic knee pain and was looking for something to take the edge off the persistent throbbing. He said; this CBD oil had a reasonable effect within a week once I upped the dosage to around 75mg of CBD a day.
Another member of the team used the 2.75% CBD+ oil and was not impressed at all. She said it was far too weak to even make a dent in her anxiety. Therefore, we can only recommend the 5% option, and even then, you may need even more than a full dropper a day.
We've heard of patients needing up to 100mg a day, which means a large bottle only lasts two weeks. Although money is less important than quality of life, £160 a month is too steep for most patients.
Final Verdict – 7.5/10
Does Holland and Barrett Stock Any Other CBD Products?
If the taste of the CBD+ oil is too much for you, why not consider purchasing Jacob Hooy CBD+ capsules? At present, Holland and Barrett only stock a 60 capsule bottle which is available in three different strengths:
10mg: £34.99
15mg: £44.99
20mg: £64.99
The capsules are made from hemp oil and hemp paste, but also include hypromellose and gellan gum. They are vegetarian, gastric acid-resistant capsules.
According to the company's instructions, you should take one capsule a day with water, 30 minutes before a meal. One 10mg capsule is equivalent to 8 drops of 2.75% CBD+ oil.
As we had already established that the 2.75% oil is not strong enough, it was no surprise when another team member complained that the capsules were ineffective for his shoulder pain. Matters gradually improved once he bumped it up to two capsules, but it didn't provide him with 24/7 relief, which was a disappointment. According to online users, the capsules worked best for those with insomnia.
Since our initial review, Holland and Barrett have started stocking several other CBD brands, including:
Holistic Herb Premium
Satipharm
Starpowa
Naturopathica
However, the Jacob Hooy products continue to make up most of their range.
Final Verdict – 7/10
Where Can I Purchase Holland and Barrett CBD Oil?
The most convenient place to buy it is on the official Holland and Barrett website. As it is a High Street store, you can walk in at any time and buy it without a prescription. All Jacob Hooy products are subject to the usual Holland and Barrett terms and conditions.
We have also discovered the CBD+ oil on sale on websites such as eBay for up to 25% less, but you don't enjoy the same protections as you get from a reputable agency such as Holland and Barrett.
Final Thoughts on Holland and Barrett CBD Oil
Although the Jacob Hooy range has been a rousing success to date, we were disappointed with the outcome. The 2.75% oil and capsules are simply too weak to work.
The 5% oil was much better, but even then, you may need two x 30ml bottles a month to treat chronic pain at 100mg of CBD a day. Studies show that a higher concentration of CBD may be necessary. In a study by McGuire et al., published in the American Journal of Psychiatry, in March 2018, CBD reduced psychotic episodes in patients with schizophrenia, but the dose was 1,000 mg of CBD.
For now, Jacob Hooy is performing well in the UK, but when other organizations decide to expand to include the British market, it is hard to see how the brand will keep its place at the top of the CBD food chain.
Brand Name
Features
Our Score
Over 10 Years Experience
Products meet EU & UK Standards
Full Spectrum CBD Oil
Price Range (£39.99 - £49.99)
Full-spectrum, entourage effect oil
Lab Tested for Guaranteed Quality
Made in the U.K with organically grown hemp
Price Range (£24.99-£69.99)
Free UK delivery on orders over £50
100% natural products
Website offers convenient CBD dosage calculator
Shop from CBD oils, edibles, topicals & more
Full-Spectrum Extract, 99% pure
No pesticides, solvents or chemical fertilizers
3rd party laboratory tested
Price Range (£29.99-£99.99)
Full-Spectrum Extract (Made in USA)
100% Natural and Organic
Contain no artificial flavors or preservatives
Prices range ($48-$125)
Vegan & naturally sourced
Lab reports available on all products
Wholesale CBD ordering available
Cannabis trades association member