Overview
Koi CBD is one of the few brands on the market that can tout 0% THC and 99% CBD products. Their special formulations allow their customers to enjoy more of CBD's benefits. They offer a plethora of CBD oils created with American grown hemp.
Ingredients
broad spectrum hemp extract, MCT oil, natural flavorings, coconut oil
Recommended use
1ml with food three times a day.
Extraction process
CO2 extraction
Medical benefits
While there are many possible benefits to CBD if you have or suspect you have a serious condition or illness, please consult a medical professional.
*All the data provided is for oil products only
Koi CBD Quick Summary
Pros
Great range of CBD vape products
All products are free from THC
Lab reports available on the website
Numerous positive customer reviews
Cons
Some of the vape flavors taste artificial
Limited variety of non-vape products
Read on to learn more about KOI CBD, or check out some of our favorite vapes by following the link below:
Koi CBD Full Review
There are a lot of CBD products on the market, so when a company claims to create something with 0% THC and over 99% CBD; it is worth sitting up and taking notice. There are far too many firms that have jumped on the CBD bandwagon, but few have the products to back up their bold claims.
KOI CBD is a different company entirely. You can view their lab reports directly on the company website, so readers have no doubt as to the efficacy and quality of the CBD products on offer.

15% Coupon Code: CBD15LIFE
About KOI CBD
KOI CBD is what you might call one of the "new kids on the block," as it was only established in 2015. It is well aware that the market is full of less than premium quality stuff, and the company's mission is to create CBD products of a completely different standard than its rivals.
Brett Brunner is the Marketing Director. He leads a four-person team responsible for ensuring that the firm's products are not only up to snuff with current industry standards, but also with market competition as the cannabis industry is one of the most rapidly-progressing in recent memory.
In order to set themselves apart from the competition, KOI CBD uses 99% pure cannabidiol that they extract via a pharmaceutical-grade processes in a cGMP facility. According to the brand themselves, the end result is the 'most consistent and finest hemp extract (CBD) on the market.'
Let's check out how valid that claim is in this complete Koi CBD review.
Review of Koi CBD Vape Juice
KOI CBD makes several products, but their line of potent and exquisite-tasting vape juices are clearly the premier offering. As well as selling an unflavored version (White), KOI provides customers with six flavors in its CBD vape juice range:
Classic Strawberry Milkshake
Blue Raspberry Dragonfruit
Vanilla Caramel Custard
Pink Lemonade
Watermelon Green Apple Sour
Tropical Popsicle

Each bottle of Koi CBD Vape Liquid contains 30ml of 'juice,' and comes in four different strengths:
100mg: $29.99
250mg: $39.99
500mg: $59.99
1000mg: $99.99
Moreover, we determined in our Koi CBD vape juice review that each bottle contains 30 x 1ml servings (20 drops per ml). Therefore, the strongest version is rather expensive as it basically costs $100 a month. The good news is there is also a KOI Variety Pack available, which offers 5 bottles for the price of 4.
Ultimately, our main bone of contention here is the addition of 'extras' such as Food Grade Vegetable Glycerin, Propylene Glycol and some natural and artificial flavorings. The goal is to take the 'edge' off the plant taste, but it appears to work better with some flavors than with others.
However, at least the oil is clear in color so we know it is of high quality (the aforementioned extras are colorless, so they would have no impact on the appearance of the product). While each flavor of Koi CBD oil for sale gives off a pleasant scent, the actual taste may not be to everyone's liking. Be wary of this before spending hundreds of dollars on a bulk buy!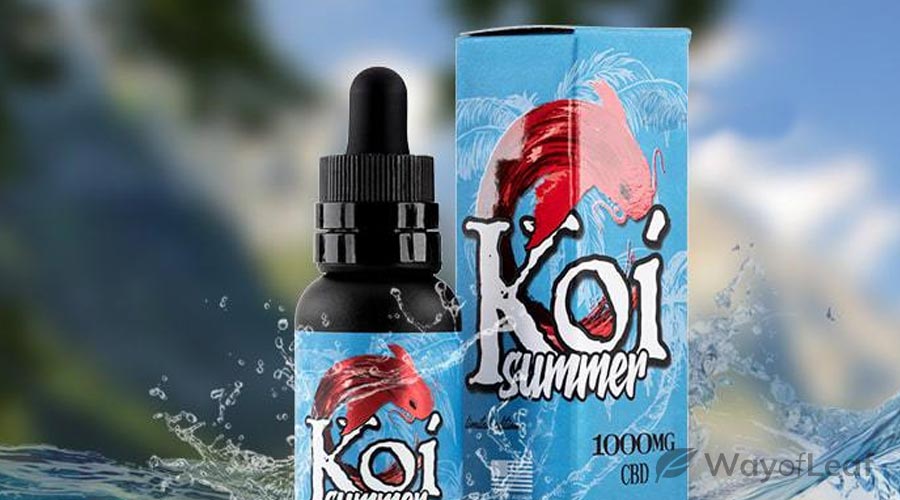 How to Consume Koi CBD Vape Juice
While Koi CBD vape juice is ostensibly designed for vaping, you can also use the droppers to place the oil beneath your tongue (you are supposed to take 20 drops 1-3 times a day depending on your needs). Simply hold it beneath the tongue for 15-20 seconds before swallowing, and wait at least 3 hours after the first dose to see how your body reacts to the CBD.
If you do have a vape device, simply use it as you would your favorite e-liquid. You can use Koi CBD vape juices throughout the day, but keep an eye on how much you use. You can also add it to an e-liquid, and it is suitable for any vape device.
Is Koi CBD Vape Juice Effective?
We decided to see if there was much of a difference between the juice when using it as a tincture or in a vape device. The answer was NO! Koi CBD vape juice appears to be pretty effective, no matter which way you consume it because the quality of the product is that high.
Also, it's worth pointing out that the general reviews of KOI Vape Juice are mostly positive. In fact, one contributor vaped the juice and said it worked incredibly well for her chronic abdominal pain. Before KOI, she was reliant on fairly ineffective prescription medication and over-the-counter drugs. Normally, the intense abdominal pain would result in anxiety, which then caused chest pain, high blood pressure, and other physical ailments. When she used KOI CBD Vape Juice however, she claimed that the symptoms subsided significantly.
Moreover, those who consumed Koi CBD oil by placing it under their tongue were also delighted with the overall outcomes. The biggest benefit of KOI CBD Vape Juice is that it appears to allow people to wean themselves off of medication (and/or smoking habits) gradually. We have also heard it is effective when dealing with chronic migraines, depression, anxiety and more.
Review of Other Koi CBD Products
Koi CBD Tropical Gummies
If you have a sweet tooth and want to combine your daily intake of CBD with a scrumptious, sugary concoction, why not try some absurdly delicious Koi CBD gummies? There are 20 gummies in each pack for $29.99, or you can sample 6 for $9.99. Each one contains a total of hearty 10mg of CBD. We enjoyed eating these as the combination of lime, acai, pomegranate and tangerine was a real burst of flavor. Seriously good stuff.
Also, KOI CBD gummies contain a whopping 80% full-spectrum CBD formula, as well as a complete terpene profile and 0% THC. While other firms use an inefficient 'spray on' method for their gummies, KOI CBD gummies are actually mixed and rolled three separate times to make sure each one is evenly and efficiently infused with the therapeutic compound.
Additional ingredients of Koi CBD gummies include citric acid, gelatin, sugar, and natural & artificial flavoring. These edibles are a fine way to get your daily CBD intake, and they seem to work almost as well as the vape juice. However, they are on the expensive side (Koi suggests you take between 1-3 gummies per day).
Lavender Koi
Believe it or not, some people have come out and said that CBD is most effective when applied topically (directly onto the skin). Whether that's true or not, you can find out for yourself by checking out Koi CBD hand and body lotion, which comes in a 125ml bottle (contains 200mg CBD) for $39.99.
As always, KOI CBD ensures that the product contains 0% THC. All in all, this would be a good option for anyone who suffers from skin irritation, or perhaps even from a joint pain condition such as rheumatoid arthritis. Simply rub the Koi CBD lotion on the affected area a couple of times a day, and what for the action of the natural cannabidiol to kick in.
Koi Soft Chews
Our KOI CBD review took a turn for the better when we found out that the firm is a supporter of the idea that pets should not be kept away from the marvelous medicinal benefits of cannabidiol!
These Koi CBD Soft Chews are specifically designed for dogs, and there are 25 chews in each pack for $29.99. Every one contains a total of 2mg CBD, and the company recommends 1-2 chews daily for small dogs, 2-3 for medium, and 3-4 for large.
Where to Buy Koi CBD?
It was pretty clear in our KOI CBD review that the firm is a popular brand — after all, it's products are available on sites around the globe (including several UK sites), as well as in retail stores throughout the country. As always, however, it is your best bet to stay safe and purchase directly from the Official KOI CBD Website.
The site of course carries the complete and up-to-date range of CBD products, plus it is the best place to purchase all of the Koi-specific vaping accessories.
One interesting accessory is the KOI Stik, which the company markets as the easiest and fastest way to start vaping KOI CBD pods. This costs $17.99, and includes an empty pod as well as an empty 30ml bottle for filling pods. Each pod 2-pack costs $9.99, and holds 1.8ml of KOI CBD liquid.
Of course, you could simply drop the oil under your tongue and forget about these vaping accessories if you want to take the "classic" CBD route!
The brand also stocks a limited range of hemp flower, CBD inhalers, bath bombs, and skin balm.
Final Thoughts on Koi CBD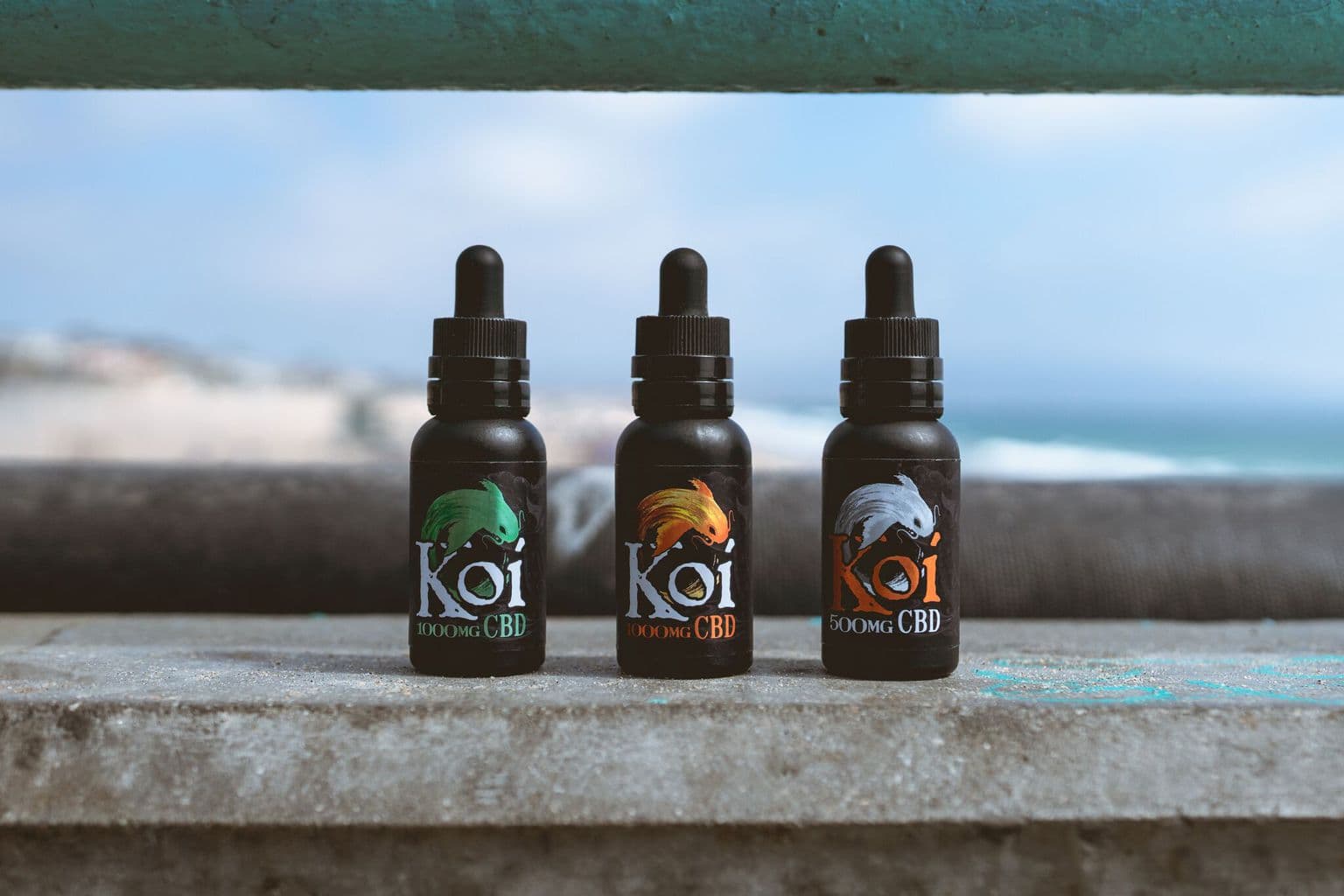 All in all, KOI CBD is a company that has enjoyed a rapid, well-deserved ascent, and is one that seems keen to build upon its early success. The firm originally started with just 50mg and 100mg bottles, but today, it is possible to purchase extra-strong 1000mg bottles of CBD oil. As well as selling its much-vaunted Koi CBD Vape Juice, the brand has also added a complete range of products to its lineup, including its delicious gummies.
All things considered, the future looks pretty bright for this company. Management clearly understands the need for transparency in an industry that isn't well regulated, and we applaud their decision to publish the results of Koi CBD oil lab tests on the website (and certainly wish other CBD sellers would follow suit). It's also worth pointing out that there is no THC in any Koi CBD products for sale — including the impressive array of vaping options.
In regards to their prices, they seem to be pretty affordable and customers on their website seem to be applauding the brand. They haven't really been ranked as one of the top 10 on most reviews, but that doesn't mean that they haven't got a solid product. Really the only issue that "showed up" in our Koi CBD oil review was the presence of artificial flavors, which will not be to everyone's taste. Also, there's a danger that you'll find some of the flavors a bit "too tropical" (if that makes any sense). If in doubt, choose the flavorless 'White' option.
Overall, KOI CBD seems to have a good thing going. There are other brands on the market that seem to be more popular, but if you are looking to get started with CBD and looking for a comfortable product to begin with, then KOI could be a solid option.
Final Verdict – 6.5/10
Official Site: koicbd.com
15% Coupon Code: CBD15LIFE
If you are looking for what is in our mind the truest high-quality CBD oil out there, we suggest you check out our staff-selected #1 pick, which we have collectively chosen for the past two years in a row.
Other Recommended CBD Oils
Brand Name
Features
Our Score
Full-spectrum Hemp extract
No pesticides, solvents or chemical fertilizers
3rd party laboratory tested
Price Range ($48.00 – $390.00)
Full-Spectrum Extract (Made in USA)
100% Natural and Organic
Contain no artificial flavors or preservatives
Prices range ($48-$125)
High-grade CBD formula
All products are lab tested
Made from organically grown hemp
Price Range ($39-$139)
CBDPure uses a chemical-free CO2 extraction process
3rd party laboratory tested
Certified hemp grown in Colorado
Price Range ($29.99 – $79.99)
Huge selection of CBD products
Implement natural hemp practices
Lab tested potency and purity
Price Range ($29 - $99)
Free shipping on orders over $99
Certificate of analysis for all products
Seed-to-sale hemp-based CBD products
Price Range ($19.99-$124.00)
All CBD products follow Good Manufacturing Protocols
Made from all-natural, non-GMO Colorado hemp
Community-minded brand
Local sourcing where possible
Price Range ($29.99-$199.99)
Published on:
1 Jan, 2019