Overview
Veritas Farms is a family-owned operation located in Colorado. Their CBD is derived from authentic American industrial hemp, and one of their defining characteristics is their use of full-spectrum hemp extract. They utilize as much as they can from the hemp extract, resulting in more sustainable CBD extraction.
Ingredients
(For CBD oils only) Full-spectrum Hemp Extract, Fractionated Coconut oil, Organic Stevia (Flavored CBD Tinctures only); Essential Oils and Natural Flavors (Only in Flavored CBD Tinctures)
Recommended use
(For CBD oils only): Place up to one full dropper under the tongue. Hold for 60-90 seconds before swallowing.
Extraction process
Cold ethanol
Medical benefits
Encourages healthy sleeping patterns, stress relief, and relaxation
*All the data provided is for oil products only
Site:
theveritasfarms.com
Veritas Farms CBD Highlights
Here are some of the key features of Veritas Farms CBD products:
Pros
The company is involved in every stage of manufacture
They use sustainable and eco-friendly farming methods
Full-spectrum CBD with flavonoids and terpenes
Third-party lab reports available for all products
Great product range, including oils, edibles, and topicals
Cons
Gummies available in a limited range of flavors
Lower potencies may be less effective
Want to skip this review and see what Veritas Farms has to offer? Simply click on the button below and use our 15% coupon code.
Veritas Farms CBD Complete Review
Veritas Farms CBD is one of the few brands out there that truly prioritizes its products above all else. Hailing from Pueblo, Colorado, they (unlike many other CBD "brands" out there) are directly involved in the actual growing, cultivation, and extraction processes. This is a wonderful breath of fresh air compared to some of the 'big-box' products out there that, to be quite frank, are really just the same thing aside from a different label on the bottle.
Take a brief look around their website and it quickly becomes clear that Veritas Farms is in the business for the right reason.
They've got loads of insightful information about their various product formulations, and their transparency is second-to-none compared to market competition.
Of course, the real question is: 'How do the products actually work?' The team here at WayofLeaf was sent a nice little goodie box of products to test and try out; in this complete Veritas Farms CBD review, we'll offer our honest opinion on effects, pricing, and more. Enjoy!
Veritas Farms: Checking Out the Brand
Veritas Farms is nestled on a gorgeous plot of Colorado land. The outdoor farm is home to nearly 200,000 hemp plants, but they grow even more in a collection of climate-controlled greenhouses. The brand runs on a vertical integration model, which puts them in control of every aspect of production.
From clippings (they use "mother" plants as clones and not seeds) to shelf, Veritas Farms CBD keeps a handle on what goes into their products. Their philosophy is that there can't be a good CBD product without pure, high-quality plants.
And after trying their CBD oils, we have to say this is a great philosophy to have. Not only are Veritas Farms CBD oils made sustainably, but they're also brimming with flavonoids, cannabinoids, and phytochemicals. In other words, these are truly full-spectrum products that utilize all aspects of the hemp extract. As CBD fans, we're always happy to find companies that take growing hemp seriously and that have an obvious interest in what they're offering to the market.
Total Brand Transparency
When you go to their website, you'll notice that Veritas Farms proudly espouses their philosophy of sustainability and quality. Every page seems an homage to the process of creating clean, premium CBD.
And the refreshing thing is, while we've heard this all before, Veritas is not just talk. These guys put in the hard work, and it shows. They have a good selection of products that offer a truly full-spectrum experience.
We also love that they are proponents of quality assurance. What do we mean by this? Veritas Farms analyzes the contents of their CBD using a process called high-performance liquid chromatography, or HPLC. This technique utilizes a high-pressure system and a mixture of liquids such as helium and nitrogen to separate compounds for identification.
In other words, they can identify exactly what's in their products, down to each individual compound. They then post this information for consumers via Certificate of Analysis reports on each product page.
More About the Veritas Farms Quality Process
Veritas Farms strictly adheres to the 0.3% or less THC standard. And of course, they also keep an eye on the amount of CBD (and other hemp extract components) that are in their products.
We also love how committed the brand is to sustainability. For eco-conscious CBD lovers, this is a definite plus. Veritas Farms CBD uses drip irrigation, which is a process that eliminates waste and conserves water.
They also strive to make their customer's CBD experience as consistent as possible through the use of clones. While other companies use seeds, Veritas Farms uses plant clippings that are all genetically identical. This results in plants that are not only of the utmost quality, but that have similar levels of CBD and other phytochemicals.
Quick Veritas Farms Product Snapshot
Veritas Farms offers a pretty wide range of products. This includes:
CBD tinctures
Gummies
Skincare creams and lotions
Massage oils
Capsules
Salves
Roll-ons
CBD-infused items for pets
Truly, they've made an obvious effort to offer different products for a variety of CBD needs.
And as we discussed earlier, we also like that the brand publishes Certificate of Analysis (COA) reports from third-party labs for each of their products. These reports break down the phytochemicals that are in each item and even outline the presence of other hemp-based essential compounds like CBG, CBD-A, and CBD-V.
Veritas Farms CBD Oil Review
We're always a little bit skeptical when it comes to doing brand reviews. CBD companies really have become a dime a dozen, and finding a quality one isn't easy. We must say, though, that after trying the 500 and 1,000mg formulations (in Peppermint and Citrus flavors, respectively) that Veritas sent over, we were pleasantly surprised.
The 500 mg tincture offers a little over 16 mg of full-spectrum hemp extract in one full dropper. In terms of effects, it absolutely made a difference. It had clear and obvious relaxing effects and actually was able to help mollify some headaches. As far as the flavor goes, the peppermint was definitely noticeable but not at all overpowering.
The 1,000 mg Citrus tincture was especially popular with the MB team. Also, this is a little off-topic, but we love that the tinctures come in packaging that is simple and easy to read. There aren't any crazy marketing logos, and you don't have to go to the brand's website to find additional information.
If you're unsure how your body will respond to Veritas Farms CBD products, we think either the 250 or the 500mg option would be a great start. The company recommends this as well, but if you feel confident and want to up the milligram amount straight away, they offer a variety of potencies all the way up to 2000 mg. Prices are pretty competitive as well, and range from $29.99 for the 250 mg option to $199.99 for the 1000 mg.
Other Veritas Farms CBD Products
After reviewing the Veritas Farms CBD tinctures above, we moved on to some of the other products that were sent to us. In total, we received:
Cucumber Eye Cream
Full Spectrum Hemp Oil Capsules
Calm and Balance Gummies
Lavender Eucalyptus Salve
Minted Lavender Moisturizing Lotion
Calming Chews for Dogs
100mg Full Spectrum Hemp Oil Cucumber Eye Cream
In such a short amount of time, it's tough to gauge the practical effects of something like an eye cream. The product itself seemed very light and airy (not too heavy or oily), which in general is a sign of a good quality topical product.
Of course, something like this you would have to use for weeks on end to really see what kind of effects it has in terms of helping with wrinkles, age spots, etc. We can say, however, that it felt great on the skin and really improved moisturization throughout the day.
Veritas Farms CBD Gummies: Wild Berry Calm and Balance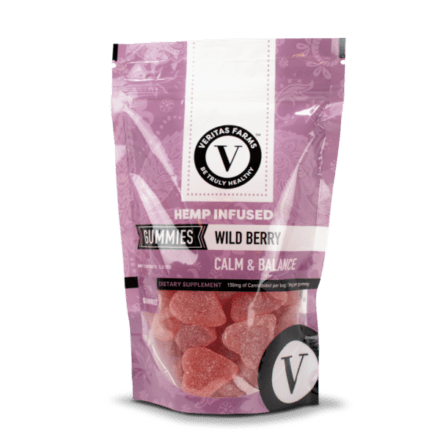 We'll just get right to it; the Veritas Farms CBD gummies were extremely tasty. These are made with CBD isolate, and come in either 5-count bags or 30-count. As far as effects, it's kind of difficult to explain, but the gummies seemed to have a kind of 'heavier' effect than the tinctures. They made some of us kind of tired, which may be a good thing if you're wanting to use them for help sleeping.
In addition to the Calm and Balance gummies, Veritas Farms also offers the same formulation infused with melatonin. If you're having trouble sleeping, these would surely be an even better option.
All in all, the gummies induced feelings of relaxation and calm, but the only drawback is the lack of diversity and options in terms of flavor. While the Wild Berry formula is truly delicious, we hope in the future that they offer more choices. Veritas Farms CBD Gummies come in a 5-count option (7.5mg per gummy), as well as 30-count options that contain 5mg CBD per gummy.
1000mg Lavender Eucalyptus Full Spectrum Hemp Oil Salve
This was a product that really surprised us. The team didn't really have anything to gauge the effects by, so we offered the 1000mg salve to a friend that had actually put out his back a few days earlier. While it wasn't an 'instant cure,' he said he absolutely noticed a positive difference applying the cream. And mind you, this is a medical cannabis user that uses high-strength THC and CBD products on a daily basis.
The salve comes in a 2 oz tub, and in addition to the Lavender Eucalyptus formula is also available in Unscented and Cooling Menthol options. Consumers can also opt for a cheaper 400mg option in addition to the 1000mg sample that we used.
25mg Full-Spectrum Hemp Oil Capsules
In our experience, capsules generally don't have the same clear effects as CBD tinctures and oils. While the same was kind of true for Veritas Farms CBD capsules, these capsules did improve relaxation.
Each 1.5 oz tub contains 30 capsules, and you can choose from either 10mg per capsule or 25mg depending on the potency that fits your individual needs (we tried the 25mg). Veritas Farms capsules not only have CBD, but also other full-spectrum hemp-based phytochemicals including CBG, CBC, and CBN.
500mg Minted Lavender Moisturizing Lotion
This lotion smells awesome, feels incredibly light on the skin, and offers very, very obvious moisturizing effects that last nearly all day long. It comes in a 2oz tub and, as per the title above, contains 500mg of full-spectrum hemp oil. The fresh Minted Lavender scent is an absolute delight, and the lotion also contains other emollients such as shea butter, safflower seed oil, and aloe vera.
As far as what to use it for, we suppose it would work well for dry, parched skin or as a general skin-softener after a hot shower or bath to help conserve moisture. It would surely probably help with moisturization as well in cold, dry climates.
While the aroma is pleasant, it isn't at all overpowering. Also, the cream is cruelty-free and free of harsh chemicals, which will please all you purists out there. If you're hoping for more of a direct CBD boost, though, we'd suggest sticking with the tinctures.
10mg Full Spectrum Hemp Oil Calming Chews (for Full-Grown Dogs)
So, one of our writers here actually gives CBD to his 14-year old dog and swears by the positive effects it has on her. The dog (a Shepherd mix) suffers from severe arthritis, and he says the improvement in mobility after giving her CBD is very noticeable.
He typically mixes a dropper of CBD oil into a spoonful of peanut butter for her, but he said these 10mg Calming Chews worked really well. We were sent the All Natural option, but they also have tincture options in bacon and tuna flavors. These contain 200mg of CBD per bottle and can be administered with a dropper or mixed into water or food.
Aside from the Calming Chews, Veritas Farms also offers Joint Care Chews and Skin & Allergy Chews. Each type is available in a 30 or 60-count bag, and the company recommends that small dogs (those under 25 pounds) only have half a chew per day.
Bigger dogs between 26-50 pounds can eat one whole chew per day, while dogs between 51-75 pounds should have no more than two chews per day. Finally, large dogs weighing 76 pounds or more can be given no more than 3 to 4 chews.
Other Veritas Farms CBD for Dogs Products
In addition to the chews, Veritas Farms also offers a variety of other dog and pet-specific products. They offer a "Hot Spot Oil," for example, which is a spray that provides 200mg of CBD in each bottle. Likewise, their "Paw Rescue" is a salve for a pet's paws that contains 250mg of hemp extract per tub.
Veritas Farms also has an ear cleaning kit with hypoallergenic foam for comfortable cleaning of your pet's ears. The package includes an ear cleaning solution with 50mg of CBD per bottle.
Veritas Farms Review: Other Products
Aside from the products that we were sent and that we've reviewed above, Veritas Farms also offers a host of other products. If you are looking for something different than above, feel free to take a look at some of their other items, most of which include skincare products.
For example, the brand offers a very appealing Hyaluronic Day Cream, which contains compounds like squalane, jojoba oil, and apricot kernel oil. They also have a hemp oil-infused Night Cream, Blemish Cream, and a Beauty Kit. The Beauty Kit seemingly contains samples of all Veritas Farms skincare products in one bundle.
The moisturizing lotions come in tubs that are a little over 3.8 oz, and contain either 500mg of CBD or 1000mg of CBD. These are available for purchase in three options: Unscented, Mint Lavender, and Fruity Patchouli.
If you're into massages, the Veritas Farms Massage Oil is another full-spectrum option that contains 500mg of CBD per bottle. These bottles have a pump-style top, and contain hemp and jojoba oils.
Lip Balm or Roll-Ons, Anyone?
Veritas Farms also offers an interesting full-spectrum CBD Lip Balm, which comes with 25 mg of hemp oil along with other ingredients like beeswax, castor oil, and essential oils. This is available in several different flavors, including French Vanilla, Orange Creme, Watermelon, Cherry, Mango, and Strawberry. The Lip Balm can be purchased as a single tube, or in a 3-pack.
For fitness advocates, the Veritas Farms Sports Cream would probably be a good option. This specific cream contains 600mg of full-spectrum hemp oil for recovery after intense exertion and exercise. It is cruelty-free, and contains no parabens or fragrances.
The Zen-Roller CBD Roll-On would likely be another good choice for athletes and fitness enthusiasts. It comes in either a "Mood" or "Mind" formulation, and each roll-on contains about 100mg of CBD. The "Mood" roll-on includes hemp oil with rosemary and peppermint, while the "Mind" roll-on contains hemp oil with bergamot and lavender.
Veritas Farms Review: Prices
If you want to buy Veritas Farms CBD oil or other products, we've included a complete breakdown of their prices. (If you're in the military, take a look at their military discounts for deals). The brand routinely offers promotions on its official site, so it's a good idea to keep an eye out for those.
VERITAS FARMS PRICES
Full Spectrum CBD Tinctures
$29.99 – $199.00 (depending on potency)

Full-Spectrum CBD Capsules
$29.99 (10 mg)

$69.99 (25 mg)

Gummies
$5.99 (5-count)

$34.99 (30-count)

Skincare
The Cucumber Eye Cream ($32.99)

Hyaluronic Day Cream ($35.99)

Rejuvenating Night Cream ($36.99)

Blemish Cream $35.99

Skincare Bundle ($116)

Full-spectrum CBD Salves
$39.99 (400 mg)

$94.99 (1000 mg)

Zen-roller CBD Roll-On
$9.99
Hot Spot Oil spray (for pets)
$27.99
Paw Rescue (for pets)
$36.99
Ear Cleaning System (for pets)
$52.99
Pet Tincture
$29.99
Dog Chews
$29.99 (30-count)

$59.99 (60-count)

Lotions
$49.99 (500 mg)

$84.99 (1,000 mg)

Massage oil
$54.99
Full-spectrum CBD Lip Balm
$3.99 ($11.99 for a 3-pack)
Sports Cream
$29.99 per tube
Full-Spectrum Minted Lavender Lotion
$24.99 per tube
Full-Spectrum Starter Kit
$97.00 (contains a tincture, salve, capsule, and lip balm of your choice)
Beauty Kit
$97.00 (comes with the Hyaluronic Day Cream, the Blemish Cream, a tub of the Cucumber Eye Cream, and the Rejuvenating Night Cream)
Veritas Farms CBD Oil Review: Our Final Thoughts
All in all, our Veritas Farms CBD review showed us that the brand is not only serious about quality but also dedicated to things like transparency and sustainability. This is evident in how they process their materials to ensure consistent and reliable CBD content.
We also love that they maintain control over every aspect of their products, and make sure that they are THC-compliant in addition to offering detailed COA reports on every product they sell.
We love the fact that Veritas Farms offers an excellent selection of items.
They seem to have really taken the time to study what people enjoy about CBD, and have created items that seamlessly blend into the lifestyles of people all across the country.
Lastly, we love the idea that when you buy Veritas Farms CBD oil, you're helping to contribute to an eco-friendly company that actually cares about hemp farming and the environment. Their products are cruelty-free and contain no harsh chemicals or things like pesticides or herbicides.
If you're looking to purchase from a company that provides quality CBD, Veritas Farms may be just what you've been searching for. The company grows hemp responsibly, extracts efficiently and responsibly, and controls all manners of production for optimal value and quality.
Final Verdict: 9/10 – Highly Recommended
15% Coupon Code: 15OFFCBD