Overview
VETCBD is a brand aimed at pet owners. It sells tinctures for dogs, cats, and horses and a CBD balm for topical use. It's ideal for those who want to give their pets CBD in a safe manner.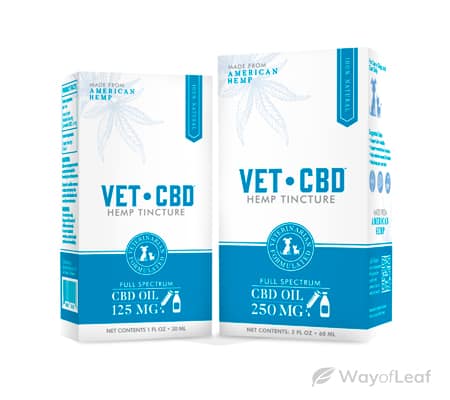 Ingredients
Olive oil, full-spectrum hemp extract
Recommended use
Use the syringe to drop the oil directly into your pet's mouth or into their food once per day
Medical benefits
Supports joint mobility, supports normal brain function, helps maintain gut health, keeps pets calm.
*All the data provided is for oil products only
VETCBD Highlights
Pros
Backed by medical professionals with veterinary experience
Reasonable pricing
Triple-lab-tested for quality and safety assurance
Easy-to-use website
The syringe makes dosing easy
 Cons
The extraction process is not stated
Very few products to choose from
Don't have time to read the full review? Head over to the VETCBD store to view their products. Don't forget your exclusive WayofLeaf discount code to make some great savings!

20% coupon code: 20LIFE
VETCBD Complete Review
CBD for pets has become a pretty big deal recently. Once people realized that taking CBD could alleviate their anxiety and reduce joint pain, among other things, they began to wonder if their pets could garner these same benefits.
As it turns out, our mammalian friends also have an endocannabinoid system, which allows them to benefit from CBD in a similar way. That said, it's crucial to give them CBD with as few additives as possible and a much lower dose than you would give a human.
VETCBD is one of several CBD brands explicitly geared toward pets. It sells a handful of pet-specific CBD products for dogs, cats, and horses. Below, we review this brand in more detail.
Who's Behind the Brand?
A man named Dr. Tim Shu founded VETCBD. He worked as a veterinarian for many years, then turned to business to create this brand. His mission is to improve pet's lives through cannabis and CBD.
VETCBD is rooted in education, research, and advocacy, which means that scientific information is at the heart of it.
Currently, the team is made up of numerous veterinary professionals and experts in the hemp industry. Apparently, they have over forty years of combined experience. This is very reassuring for pet owners, who will only ever want to give their four-legged friends the best that money can buy.
The website states that VETCBD is rooted in ERA (Education, Research, and Advocacy), which means that scientific information is at the heart of it. This is especially a good sign in the veterinary industry.
What Is the VETCBD Process?
VETCBD has a section on the website dedicated to its processes. However, there is some crucial information missing. It states that the hemp comes from America, but it does not explain the extraction process. Most people like to know this information, as certain extraction processes are deemed safer than others.
Nonetheless, VETCBD does everything in accordance with the 2018 Farm Bill. Each batch contains less than 0.3% but maintains a full spectrum of cannabinoids, giving pets the chance to benefit from an array of hemp compounds. There are lab reports to verify the miniscule THC content, which adds an extra layer of reassurance. After all, giving THC to pets is a bad idea.
Not only are the products lab tested, but they are triple-tested. The process checks for pesticides, solvents, mycotoxins, heavy metals, and bacteria alongside cannabinoids. It ensures that your furry friend will always be safe.
VETCBD Products
VETCBD sells a couple of CBD products. There are tinctures and a hemp balm. Primarily, the products are aimed at dogs and cats, but there is also an equine tincture for horses that has a super strong potency.
VETCBD Tinctures
The VETCBD tinctures have an olive oil base. Most CBD tinctures on the market contain MCT oil from coconuts, but VETCBD has gone in a different direction. Olive oil is different because it is a long-chain triglyceride (LCT), which VETCBD believes provides better bioavailability. It's unclear whether this information is correct since most brands say that MCT oil is more effective.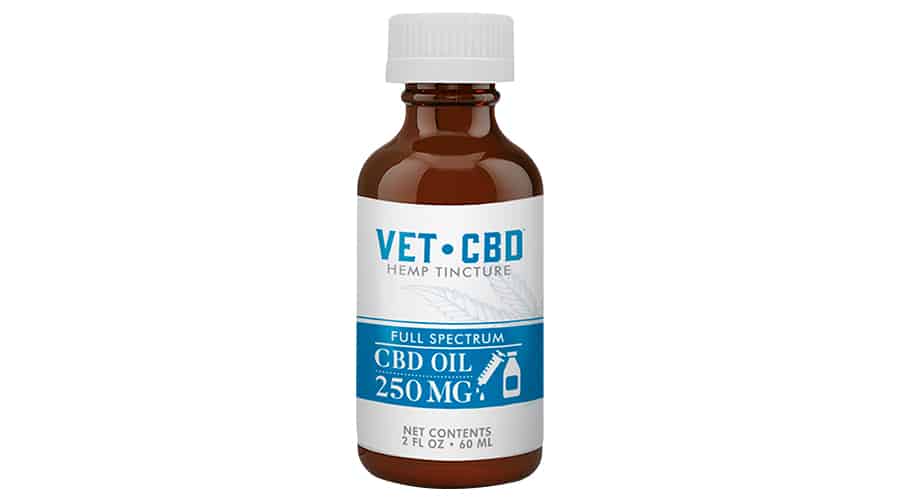 VETCBD stocks a variety of strengths, starting at 125mg. Other options include 250mg and 500mg, with the equine option packing a whopping 3000mg. This seems like quite a jump, but there is a vast difference in the CBD needs of a cat and those of a horse.
Each tincture comes with a marked syringe, making dosing really easy. The owner can drop the tincture directly into the animal's mouth or add it to food, giving them some flexibility.
VETCBD Hemp Balm
The hemp balm is ideal for pets who have minor skin irritations or inflammation in the joints. VETCBD recommends rubbing it onto paw pads and noses.
The balm contains a blend of olive oil, beeswax, and full-spectrum hemp. There are very few ingredients, reducing the risk of your pet having an adverse reaction or even turning their nose up at it.
The balm costs $29.99 for 200mg of CBD, which is a pretty good price for a pet product.
Notably, VETCBD does not ship the balm to Idaho, Kansas, Nebraska, or South Dakota due to local regulations.
VETCBD Customer Service & Shipping
One of the best points about VETCBD is the subscription option. All of the products have an option to subscribe and save 5% of every order. You can also decide how frequently you wish to receive the product: every month, every two months, or every three months. This means that you never have to worry about running out, and you can save money in the process.
All products have an option to subscribe and save 5% of every order. You can also decide how frequently you wish to receive the product.
VETCBD also has decent customer service. There is free shipping on all orders over $49 and a 30-day money-back guarantee.
Online reviews for the brand are generally positive, showing that other pet owners have had a good experience. As a result, it's likely safe to say that VETCBD is a legitimate brand with high-quality products.
Final Thoughts on VETCBD
Overall, VETCBD seems like a great brand to try if you are looking to give your pet CBD. It is a brand with a trustworthy team of specialists working on its products. Those unsure about CBD for pets or the VETCBD products can consult a veterinary professional via the brand's email service, which is another helpful touch.
With decent customer service, reasonable prices, and lab reports, it's challenging to find many faults with VETCBD. If you are seeking effective CBD for pets, it may be worth checking them out.
Final Verdict: 8/10