Overview
Cultivated CBD is a Minnesota-based brand that sells a wide range of cannabidiol products. Aside from offering the usual tincture and topical options, it also sells CBD hemp flower in several strains. Although it has received several positive customer reviews online, relatively little is known about the brand.
Ingredients
Full-spectrum CBD oil, avocado oil, and botanically-derived terpenes.
Recommended use
Place a few drops beneath your tongue. Alternatively, add it to soup, salad, or pizza. Users can also place the oil on their hair or skin.
Medical benefits
It could help to manage the symptoms of several medical conditions.
*All information provided is for the Tinctures only

*All the data provided is for oil products only
Cultivated CBD Quick Summary
Pros
Full-spectrum CBD products.
Excellent range of hemp flower.
Provides full Certificates of Analysis.
Doesn't include artificial flavors or colorings.
Reasonable range of products.
Ships internationally.
Cons
The Pate De Fruit option is relatively expensive.
The brand isn't particularly well known, and there is little information about it online.
Some flower strains contain more than 0.3% THC.
Who Are Cultivated CBD?
Cultivated CBD is a Minnesota-based CBD company that uses experienced cannabis and hemp growers and extractors. The brand says it sources its organically grown material from the West Coast's legendary Emerald Triangle. Cultivated CBD also says it tests all of its products for potency and legal compliance.
Aside from this information, it is difficult to find a great deal of data on this brand online. It has a Twitter account with over 700 followers, and its Facebook account has over 1,000 likes. However, there isn't much detail available regarding the founders or owners. Some independent customer reviews are overwhelmingly positive, at least. That bodes well for Cultivated CBD's credibility.
The company also provides Certificates of Analysis for its products, which is another massive step in the right direction.
Cultivated CBD Tinctures
The brand sells its tincture range in three sizes:
You can also choose between the following three flavors:
Original
Spearmint
Cinnamon
All of the brand's tinctures are formulated with high-quality ingredients. Cultivated CBD uses full-spectrum CBD oil, along with avocado oil. According to the company, this oil is an excellent carrier because it remains liquid at room temperature. Also, it has little flavor, so it won't interfere with the taste. Avocado oil contains a myriad of vitamins, antioxidants, and fatty acids.
Rather than including artificial ingredients, Cultivated CBD uses botanically derived terpenes to provide different flavor options. Aside from placing it beneath your tongue, you can also add it to pasta, pizza, or soup. The company even suggests using it on your hair and skin! All tincture sizes come in a 30ml bottle with a dropper.
Sizes & Prices
| CBD Content | Price |
| --- | --- |
| 500mg | $59.99 |
| 1000mg | $89.99 |
| 2500mg | $149.99 |
Cultivated CBD Flower
This brand has gained a positive reputation for the high quality of its CBD flower. Aside from offering a pre-rolled 0.5-gram CBD 'joint,' Cultivated CBD sells its hemp in the following sizes:
It sources the hemp from small farms that produce top-notch handcrafted flowers. Cultivated CBD says that it only uses flower that is high in cannabidiol and terpenes. The hemp you purchase is carefully trimmed, which means no stems, sticks, or leaves. There is a wide range of strains to choose from, including:
Sour Space Candy
Special Sauce
Lifter
Strawberry Rose
Silver Haze
CBG Tangy White
Bubba Kush
You can learn more about the CBD content of each option by clicking on the COAs. For example, the Sour Space Candy strain has 16.67% CBD. The Bubba Kush strain has even more at 21.23%.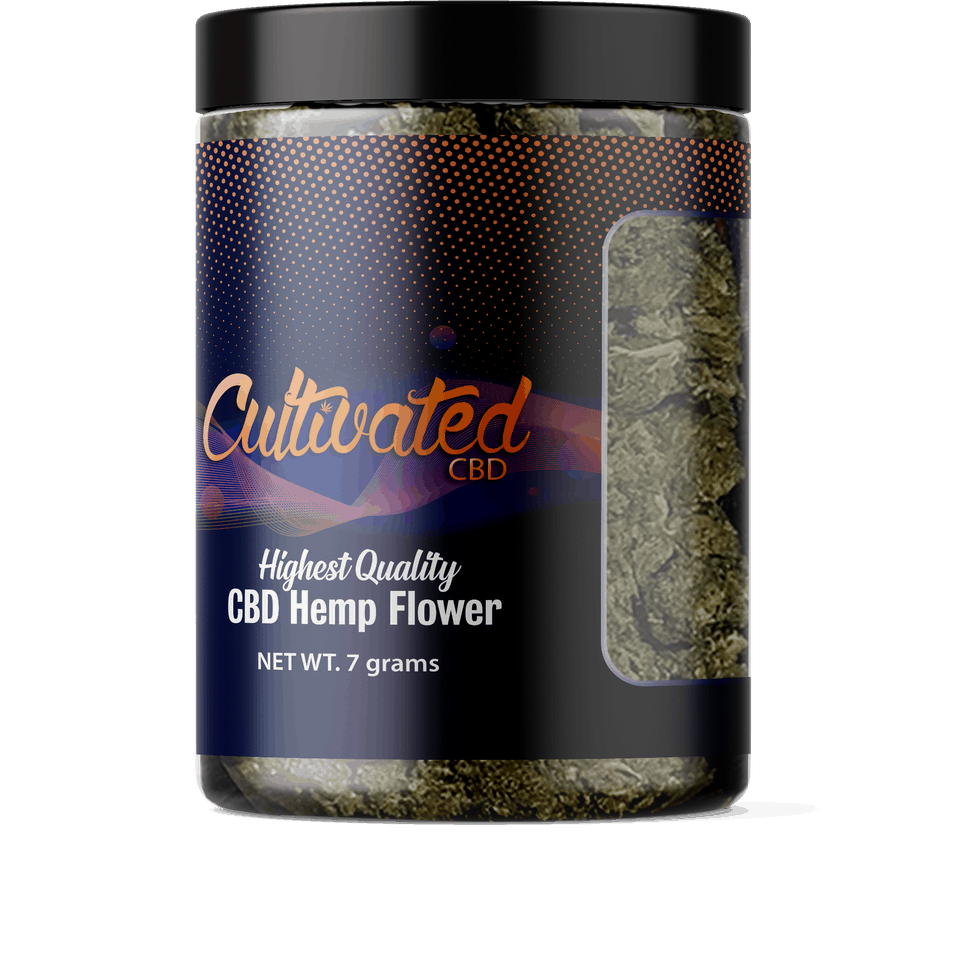 However, it is essential to analyze the COAs carefully. In some cases, the product could contain more than the 0.3% THC permitted in some states. For instance, the Bubba Kush option contains 0.77% THC. It is a relatively low amount, but if you use a lot of it close to a drug screening, for instance, there is a slight chance you could test positive for THC-COOH metabolites.
Sizes & Prices
| CBD Content | Price |
| --- | --- |
| 1 gram | $9.99 – $11.99 |
| 3.5 grams | $29.99 – $39.99 |
| 7 grams | $49.99 – $59.99 |
| 0.5 grams pre-roll | $9.99 |
Cultivated CBD Topicals
The brand doesn't try to overcomplicate things when it comes to its range of topicals. You can choose between a CBD Cooling Balm and a CBD Warming Balm. Both options come in the following four sizes, for the same price:
Both topicals are created in a GMP Certified Lab, with the aid of chemists, cannabis experts, and botanists. You will NOT find any of the following in the balms, because they are potential allergens:
Beeswax
Petroleum Byproducts
Parabens
Dyes or Fragrance Chemicals
There is also no animal testing involved in the creation of these products. You will find slightly different ingredients in each product. Both contain standard CBD cream ingredients, including full-spectrum CBD oil, shea butter, and cocoa butter.
However, the Cooling Balm includes menthol, eucalyptus oil, and spearmint oil. In contrast, the Warming Balm has ginger oil and black pepper oil.
Regardless of which one you buy, apply it directly to the skin. According to Cultivated CBD, the balm stimulates the body's endocannabinoid receptors. It could influence a range of musculoskeletal conditions.
Sizes & Prices
| CBD Content | Price |
| --- | --- |
| 500mg | $49.99 |
| 1000mg | $79.99 |
| 2000mg | $129.99 |
| 4000mg | $159.99 |
Does Cultivated CBD Sell Any Other Products?
The company sells an interesting item called Pate De Fruit. It is a traditional French recipe that consists of all-natural ingredients, including glucose, citric acid, and pure cane sugar. It is Cultivated CBD's attempt at edibles and tastes extremely good. The natural fruit flavors include Watermelon, Lemon, Orange, and Blue Raspberry.
There is 20mg of CBD in each piece, and you can choose between the following sizes and prices:
60mg (3 Pieces): $9.99
120mg (6 Pieces): $19.99
260mg (13 Pieces): $34.99
500mg (25 Pieces): $59.99
1000mg (50 Pieces): $99.99
2000mg (100 Pieces): $159.99
Although this vegan-friendly product is an innovative one, it is costly.
The final Cultivated CBD product on offer is its vape cart range. There are two options:
300mg (0.5ml): $29.99
500mg (1ml): $49.99
As you can see, the 1ml version has a slightly higher concentration of CBD per ml. Cultivated CBD says its team of cannabis extraction experts produces each full-spectrum cartridge. Every cart contains a blend of organic hemp-extracted CBD oil and 100% all-natural terpenes to provide a flavor.
There are no pesticides, harmful additives, or heavy metals in the liquid. You have the choice of five strains:
The brand doesn't provide any specifics on the types of vaporizer the vape juice is compatible with. Therefore, one must assume that it works with all vape pen types.
Where Can I Buy Cultivated CBD's Products?
You will need to go to the official Cultivated CBD website, as there is little information on the brand otherwise. You also have the option of purchasing its products in one of the dozens of stores. While the vast majority are in Minnesota, there are also options in Colorado, Missouri, and South Dakota.
Cultivated CBD claims it can ship to almost any address in the world. However, please note that there are restrictions on certain products. As a result, the brand is unable to ship some products to specific international locations. Shipping rates depend on the weight of your order.
In general, you can return unopened items within 30 days of delivery to get a full refund. Unlike most CBD brands, Cultivated CBD also pays the return shipping costs if the return is the result of an error on its part.
Incidentally, retailers interested in selling Cultivated CBD products should get in touch with the brand to negotiate a wholesale price.
Final Thoughts on Cultivated CBD
This is a brand with a steady customer base, but we wish it would offer more information on the founders. Although it isn't exactly a 'mystery' brand, Cultivated CBD doesn't enjoy the profile of companies at the top of the CBD tree.
It sells a nice array of products, and there seems little doubt that it is a legitimate enterprise. It provides COAs with each item, and its CBD flower appears to be of the highest quality. The Pate De Fruit range is an excellent addition despite its expense. Overall, Cultivated CBD is a brand with promise, but it needs to let the world know more about it and its processes.
Final Verdict – 8/10
Looking for something else? Check out our list of CBD brand reviews.