Are you looking for the benefits of pure CBD without the added frills of CBD edibles or any other consumables? Well, the best CBD concentrates contain the most potent forms of CBD around. The popularity of CBD is booming, and the selection of products on the market can be quite confusing. But today, we want to tell you all about where you can find the best CBD concentrates.
As more people come to understand and appreciate its beneficial effects, the use of CBD is expanding rapidly. As of late, CBD concentrates are becoming increasingly popular. Typically sold in smaller sizes than other CBD products, they are believed to be highly effective in very small amounts.
CBD Concentrate: What Is It?
CBD concentrates are a broad group of highly concentrated hemp extracts. They are made by stripping the active terpenes, cannabinoids, and waxes from the hemp plants. Then, they go through further purification activities to remove terpene or non-cannabinoid phytochemicals.
CBD concentrates can be vaped, smoked, consumed orally, or used topically. The ultra-high CBD levels allow users to attain potent effects with tiny servings. The CBD content usually varies between 45% – 99.9%, depending on the extraction method used.
Basically, a CBD concentrate is a highly potent hemp extract that contains an exceptionally high percentage of CBD. Types of CBD concentrate products include CBD wax, CBD concentrate oil, shatter, budder, crumble, and more.
Pros and Cons of Using CBD Concentrate
They are a powerful way to get maximum relief from medical conditions, such as pain, and panic attacks in the shortest possible time.
CBD concentrates are very versatile. Most can be used for vaping, ingesting directly, or added to foods.
They tend to be well-priced since they don't contain any other ingredients that usually influence the overall cost of the product.
The fast-acting relief of CBD concentrates makes them the best option for more severe or acute symptoms.
CBD concentrates are a great way to customize your treatment plan. They can be easily combined with other CBD products, like capsules or tinctures, to get the maximum benefits.
The high potency means that the difference between even just 1 mg of a concentrate can change the effects significantly.
It's easy to take too much if you aren't sure how CBD affects your body specifically.
Using CBD concentrates on-the-go as a dab is not very convenient or discreet.
The extraction process is complicated and amateurs trying to extract their own dabs can lead to contaminated end products.
CBD concentrates are not as accessible as, say, CBD oils and CBD edibles.
EDITORS CHOICE – CBDISTILLERY
Want to skip this full review and go straight to our #1 pick of the year? All three are high-quality and reputable brands, but CBDistillery seems to offer the purest and most cost-effective option.
Using CBD Concentrates: Exploring the Benefits
CBD concentrates are as close as you get to the natural hemp plant. They contain no additives to dilute the pure CBD ingredients. Ultimately, CBD concentrates are the most potent CBD products available. They are one of your best options if you're looking for fast-acting relief from a wide range of symptoms, including inflammation, pain, stress, and anxiety.
CBD concentrates are specifically designed with a focus on delivering higher levels of CBD in relation to the total volume of the product. Some CBD isolate products can contain as much as 99% pure CBD and are a great option for consumers who are looking for products with a higher concentration of CBD.
CBD concentrates are an excellent way to get all the benefits CBD has to offer. A high dose of cannabinoids kick-in a lot quicker than alternative methods, and often with the added benefit of healing terpenes that get re-introduced into the concentrate.
Concentrates are also often better value for money because they don't contain other ingredients that influence the total cost of the product. Also, they come in smaller package sizes, which helps to reduce costs like shipping and handling.
Alternative Ways to Use CBD Concentrate
CBD concentrates can be used in a variety of ways from vaporizing using a vape pen, smoking them with your favorite CBD flower, smoking dabs using a dab rig, and some forms can even be added to food or drinks.
Dabbing a CBD concentrate may sound strange, but it's one of the most popular ways to use concentrates. It falls under the category of smoking, but is easier on the lungs than smoking, and allows users to easily take in high doses with minimal amount of the product used. You will need some equipment to dab CBD though, such as a dab rig, small blow torch, and a dabber.
Another option is vaping. By heating the CBD concentrate to its vaporization point, you will get a thick vapor that is smooth and easier on the lungs and throat. Most people use a vape pen for this method, but you can also get vaporizers that plug into an outlet.
You could also use a "Nectar Collector" – a simple tool made from ceramic, glass, or metal. Basically, these tools require you to heat up the tip with a butane point. Then, place the CBD concentrate wax on a heat-resistant material, like a silicone mat. Lastly, you will apply the heated tip to some CBD wax while you are inhaling at the other end of the tool.
Common Mistakes Made When Dabbing CBD Concentrate
Dabbing is a complex and often overwhelming process. Setting up a rig can be scary and because CBD concentrates are very sticky and hard to handle, things can get extra messy. To make things a bit easier, we've highlighted a few of the common mistakes people make when dabbing.
Burning yourself or grabbing the nail: Many newbies think of a dab rig as a bong, which it is not. They then reach for the bowl after taking a hit, only to touch a scorching surface. Dab nails get very hot and can cause serious burns.
Overheating the nail: This is one of the most challenging aspects of dabbing. Concentrates need to get to very high temperatures to vaporize properly. The ideal temperature is around 160–230°C (315–450°F). If you go above these levels, you risk combusting your CBD concentrate.
Overloading the nail: The right temperature is key when it comes to dabbing and when you overload the nail, the temperature may drop, which can stop the concentrates from vaporizing properly.
Not holding the rig properly: Many newbies don't grip the dab rig properly. This can cause you to burn yourself or possibly even drop and break the entire rig. Generally, you should only hold one hand on the rig – around the base or main chamber. The other hand is used to add the CBD concentrate to the rig, while your mouth is gently pressed against the mouthpiece.
Which Brand Offers the Best CBD Concentrate?
Choosing our best picks wasn't an easy task. We reviewed the three top brands according to flavor content, product range, purity, quality, and price. We eventually narrowed it down to three brands and compared them across these five aspects. The following are the brands we focused on:
CBDfx
The CBDistillery
Charlotte's Web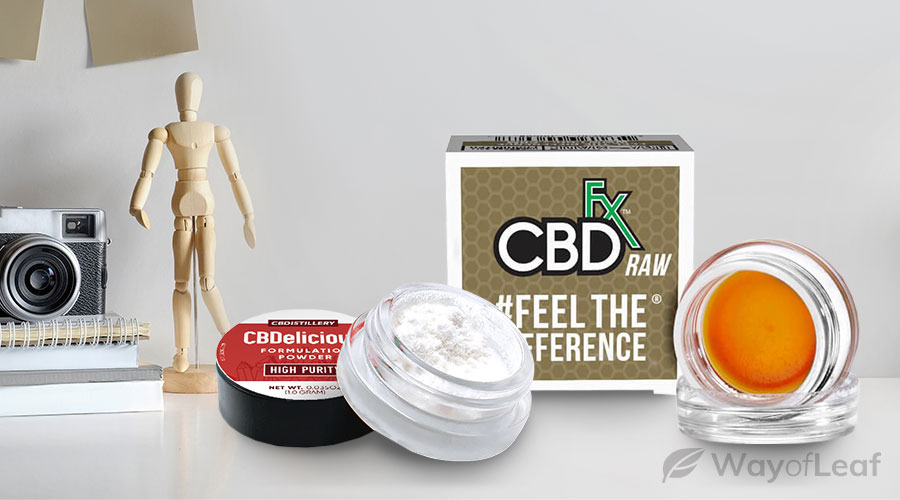 Hemp contains hundreds of compounds – cannabinoids, minerals, amino acids, sterols, and much more. Concentrates are made by removing everything except for the parts that you want, such as the CBD. But there are concentrates that retain the whole resin content, which is the part that most of the terpenes and cannabinoids reside in.
Charlotte's Web CBD concentrate oil is flavorless, so it's perfect for those who like the natural taste of the CBD. You can take it straight like that or mix it into some homemade goodies. The CBDfx CBD wax is made especially for dabbing. It's made with full-spectrum oil and contains beneficial amino acids, terpenes, and other cannabinoids in addition to the CBD.
However, The CBDistillery is the only one that offers some flavored options in the form of the CBDelicious Powder and terpene-rich Terpsolates.
WINNER BY FLAVOR – THE CBDISTILLERY
If you're looking for a bit of variety, you aren't going to find it at Charlotte's Web. They only sell one CBD concentrate, which is their CBD isolate oil. The same goes for CBDfx – there is only one option when it comes to CBD concentrates, and that's their CBD wax.
The CBDistillery, on the other hand, has three varieties of their CBD Powder: Crystalline, CBDelicious, and CBG isolate. In terms of the entire product range, all three brands have an impressive selection of products, including CBD oils, topicals, edibles, and capsules. But if you're looking for a choice of CBD concentrates, The CBDistillery is your best option.
WINNER BY PRODUCT RANGE – THE CBDISTILLERY
As we've already discussed, CBD concentrates are significantly more potent than your typical CBD products. They are stronger, faster-acting, and made from pure hemp oil extract.
The CBDfx wax is made with filtered CBD oil that is derived from hemp plants that are grown organically. It's rich in CBD, amino acids, and terpenes. The wax contains 1 gram of 30% CBD oil and 300 mg of pure CBD. The Charlotte's Web CBD isolate oil contains 20 mg of CBD per 1 ml serving. But not much beats The CBDistillery powders, which contain 970 mg of CBD per 1 gram tub. It's 99% pure – truly potent.
WINNER BY PURITY – THE CBDISTILLERY
4
Best CBD Concentrate Quality
We looked at the CBD concentrate quality in terms of the hemp and extraction method used. The CBDistillery concentrates are derived from sustainably-farmed hemp and purified with the CO2 extraction method to ensure the highest quality CBD concentrate. They have a certification from the U.S Hemp Authority to back them up.
The CBDfx wax is made with full-spectrum oil. There's not much information available on the hemp used or extraction method – which is never a good sign. Charlotte's Web is also certified by the US Hemp Authority. The CBD extract is extracted using proprietary processes that allow them to isolate the CBD from the hemp extract. This is one area in which we believe Charlotte's Web outshines CBDistillery.
WINNER BY QUALITY – CHARLOTTE'S WEB
Ultimately, you won't find a "budget" CBD concentrate. These brands need to pay significant amounts of money to get high-quality hemp. Comparing the price isn't easy since each brand has a different size and measurement scale. However, Charlotte's Web appears to be the most expensive with the 30 ml bottle of CBD oil retailing for $69.99.
A tub of the CBD FX CBD wax contains 20 servings and retails for $49.99. The CBD powder offered by CBDistillery retails for between $28 – $40. However, the company allows customers to buy these in bulk, which brings the cost per mg down to a low $0.03 per mg. This is an incredible price for CBD concentrate.
WINNER BY BUDGET – THE CBDISTILLERY
Conclusion
Ultimately, it's for you to decide which brand offers the best CBD concentrate for you. CBD concentrates are one of the best ways to get some much-needed relief and fast. They typically contain the most potent dosage of CBD – sometimes ten times more than other types of CBD products.
The conversation surrounding concentrates usually centers on dabbing and getting lighting-quick effects. The CBDistillery offers the purest and best priced CBD concentrates. It's also the only brand that offers a little flavor.
OVERALL WINNER – THE CBDISTILLERY
Final Rating – 9.7
Published on:
19 May, 2020