What makes a weed strain one of the few coveted popular strains? Popular marijuana strains have one thing in common – people love to smoke them. The most popular strains of marijuana are often award-winning, making some popular weed strains highly sought-after due to the demand.
Generally, the best marijuana strain differs widely depending on the consumer, and their personal preference, needs, and desires. What works for one person won't necessarily be enjoyed by another because individual preferences may be vastly different. However, there are some strains of marijuana that everyone should try.
Here is our list of the best award-winning marijuana strains that are worth trying.
Try Legal THCA Flower
Want to experience the qualities of THC-A flower? The amazing brand Premium Jane just launched their new line, including strains like OG Kush, Purple Cream, and Blue Dream Pie. Averaging 23% THC-A, there's so much to love with these flowers. Try them today to get 20% off using WayofLeaf's exclusive coupon code: THCAWOL
5 Award-Winning Cannabis Strains You Have to Try
You might be wondering how we came up with this list of the best award-winning marijuana strains, so let us fill you in. Firstly, we look at each strain's influence and overall contribution to the cannabis gene pool. We also looked at the various awards won. For instance, the Cannabis Cup is the most prestigious cannabis festival in the world, and winning a Cannabis Cup is a big deal.
Other factors we considered were the strains' popularity, along with potency, flavors, aromas, and effects. Whether you're looking for something to lift you up or mellow you out, give you energy or help you sleep, below you can find our top-5 picks of award-winning marijuana strains that we think are definitely worth trying.
1 – Super Lemon Haze
Super Lemon Haze is a classic sativa and two-time Cannabis Cup winner. This strain scored her wins in Amsterdam in 2008 and 2009 – making her one of only two back-to-back Cannabis Cup champions. Super Silver Haze (one of her parents) is the only other to achieve this feat, back in 1998 and 1999.
Super Lemon Haze has one of the highest THC levels (up to 22%) and is a true Amsterdam original. The breeding giants, Green House Seed Company created it, initially. With its intense lemon aroma and flavor, this strain definitely lives up to its name and reputation.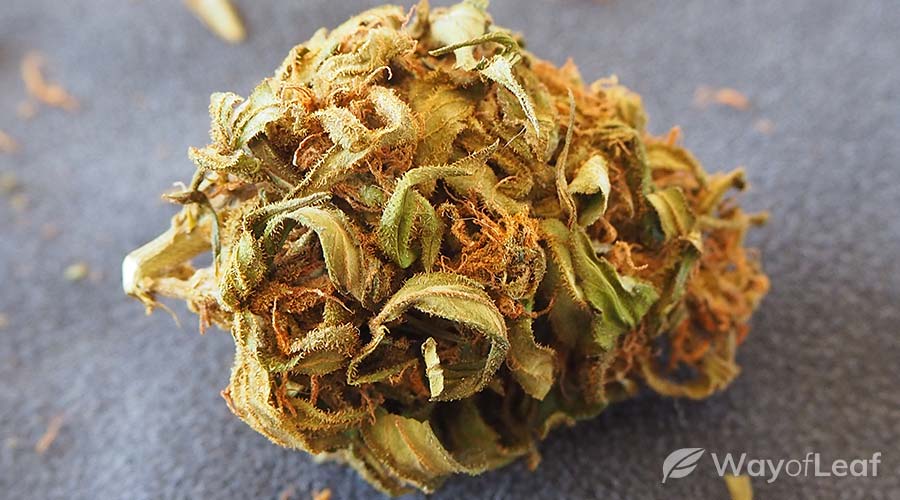 Few things are as uplifting as a strain full of the lemony goodness of limonene. The flavor profile is what has kept Super Lemon Haze at the top of the game since it won its last Cannabis Cup in Amsterdam more than ten years ago. The taste is everything one would expect based on the name – but not quite as sharp as you might think.
The effects of Super Lemon Haze are uniquely lively and energetic, so it might not be ideal for those who are naturally wound-up tight. It will elevate your mood, and bring about positive energy and creative introspection. It's perfect for those who suffer from fatigue and exhaustion.
2 – Skunk #1
Skunk #1 has influenced the cannabis world on a global scale. It's well-known for its genetics and many consider it to be one of the first and best real hybrids of the modern cannabis-breeding era. Skunk #1 is a hybrid strain and a mix of three true-breeding landrace strains: Afghani, Colombian, and Mexican.
This strain is a cannabis icon and, to this day, is still the benchmark of quality marijuana. Skunk #1 won first place in High Times Cannabis Cup (Cultivator's Choice) in 1998, the Best Overall Strain at AMEC Cup in 2009, and Soft Secrets Strain of the Year in 2013.
Before Skunk #1 entered the scene, marijuana was virtually always seeded, and buds looked a lot less desirable. An indica/sativa hybrid that could retain the cerebral effects and produce generous yields of dense buds in just eight weeks of bloom didn't exist before Skunk #1.
As the name suggests, Skunk #1 has a powerful skunk-like smell and subtle earthy notes. It offers elevated creativity all through the high-energy buzz.  Meanwhile, you can expect stress and appetite loss to melt away thanks to the potency of Skunk #1.
3 – Jack Herer
Named after cannabis activist, author, and "Emperor of Hemp," Jack Herer has gained as much fame as its namesake. With more than eleven awards behind its name, outstanding THC levels, and a unique flavor profile, Jack Herer is a best seller for a number of reasons. This strain has a characteristic pungent, earthy aroma, with notes of citrus, pine, and fruit, plus a dash of spiciness.
Jack Herer is a world-renowned sativa-dominant hybrid that is mostly known for its ability to induce a clear-headed buzz together with a boost of focused energy. Patients typically use the strain to relieve and help cope with stress, anxiety, headaches, depression, nausea, and more.
It's a low-CBD strain, so if you're looking for a more chill effect, you may want to opt for a more indica-dominant strain. However, Jack Herer is ideal for those in search of an energetic high. It offers a blissful, lively high that is perfect for daytime use.
Sensi Seeds created Jack Herer in the Netherlands. It was an effort to capture both the heavy resin production of indicas and cerebral elevation associated with sativas. Dutch pharmacies later distributed it as a medical-grade strain. Since then, this spicy, pine-scented cannabis has taken home a number of awards for its potency and quality.
4 – White Widow
White Widow is among the most famous marijuana strains in the world. It's a balanced hybrid that was first bred by Green House Seeds in the Netherlands. It has been winning the Cannabis Cup as far back as 1995 when they first released it. Since then, White Widow has graced every coffeeshop menu in Amsterdam. It won its last Cannabis Cup in 2014, and prior to that, it won countless other awards.
This classic indica strain contains up to 20% THC. Its name, White Widow, stems from the abundant resin quantity, which completely covers the buds, giving a unique whitish color when late flowering.
A well-balanced hybrid that is reportedly a cross between Brazilian sativa with an unknown indica from South India, White Widow has both a sativa-dominant and indica-dominant phenotype.
You can expect a powerful and immediate burst of euphoria and energy that stimulate both creativity and conversation when smoking White Widow. It leaves users feeling energized yet relaxed in a state of euphoria that will allow them to function normally – with slightly more positive energy.
5 – Northern Lights
Northern Lights is one of the most famous marijuana strains of all time and was winning Cannabis Cups in Amsterdam all the way back in 1990. It's a pure indica strain that people cherish for its resinous buds. It has also given rise to famous hybrids like Super Silver Haze and Shiva Skunk.
They say that Northern Lights was first bred in Seattle, Washington, USA, but crossed the ocean to be commercialized in Holland by what is now Sensi Seeds. The legendary strain originates from Afghan and Thai strains- it's 95% indica and 5 % sativa – making it very relaxing.
Many know it as a "two-hit and quit" strain, and Northern Lights puts the body into an incredibly numbing, lazy mode. Even in low doses, the desire to sit on the couch and take in the call of the munchies may be overwhelming to novice users. Accompanying the body high is a great sense of happiness and wellbeing.
Northern Lights has a pungently sweet and spicy aroma that radiates from its crystal-coated buds. The psychoactive effects relax the muscles and calm the mind in dreamy euphoria. It's a highly sedative strain and is often used to relieve stress and anxiety.
Award-Winning Marijuana Strains: Roundup
So there you have it. These are five award-winning marijuana strains that we definitely think you should try. There is something for everyone on this list. Super Lemon Haze is perfect if you're looking for a strain to elevate your mood and boost your energy levels, while Northern Lights is ideal for anyone wanting to enter deep relaxation zones. White Widow, on the other hand, offers the perfect balance between indica and sativa properties.
Hopefully, our top five selection is one that our readers can get on board with. Did one of your favorite stains make our list? If so, let us know why you love it in the comments below.
Try Legal THCA Flower
Want to experience the qualities of THC-A flower? The amazing brand Premium Jane just launched their new line, including strains like OG Kush, Purple Cream, and Blue Dream Pie. Averaging 23% THC-A, there's so much to love with these flowers. Try them today to get 20% off using WayofLeaf's exclusive coupon code: THCAWOL