In every state, there comes a time when lawmakers have to listen to the people's will. To date, a significant majority of American states have legalized medical marijuana. That Canada has fully legalized the substance puts pressure on the United States to act. There is also a strong possibility that Mexico will follow suit sooner rather than later.
The rules surrounding CBD are often confusing, even in states where recreational cannabis is allowed. This issue is compounded in states where marijuana isn't legal for medical use. As a result, we have created a series of guides outlining cannabidiol laws in various states. Today, we investigate the situation regarding CBD oil in North Carolina and outline its existing marijuana laws.
Is CBD Oil Legal in NC?
Determining whether CBD oil is legal in North Carolina isn't straightforward. The Hope 4 Haley and Friends bill was introduced in North Carolina in 2014 and proposed legalizing CBD extract oils to help patients with epilepsy. The legislation was named after a young girl named Haley Ward, who suffered from daily seizures.
Governor McCrory signed the Epilepsy Alternative Treatment Act, or HB 1220, into law in 2014. He later signed amended legislation, called HB 766, into law in 2015.
However, the law didn't create an infrastructure for patients to actually buy CBD oil in North Carolina. While qualifying patients are allowed to use and possess CBD oils with a minimum CBD content of 5% and a maximum THC content of 0.9%), there is no place to purchase such products in the state.
How Can I Buy CBD in North Carolina?
If you want CBD products with more than 0.3% THC but less than 0.9%, you must buy them in other states. However, transporting CBD products with more than 0.3% THC across state lines is technically a federal crime!
The 2018 Farm Bill legalized hemp with a maximum of 0.3% THC, but cannabis plants with a higher THC percentage are classified as marijuana, which remains a federally prohibited substance. This rule also applies to CBD products with a higher THC content than the Farm Bill threshold.
North Carolina does, however, allow the cultivation of industrial hemp with 0.3% THC or less. There are hundreds of stores that sell hemp-derived CBD products in North Carolina. Also, countless online CBD vendors ship directly to the state without issues.
Therefore, anyone looking to buy CBD oil in North Carolina should stick with hemp-derived CBD. Make sure it contains a maximum of 0.3% THC. Also, avoid using smokable hemp as police often mistake it for marijuana.
Unfortunately, there has been little movement in North Carolina regarding CBD products since 2015. Furthermore, the state doesn't have a standard medical marijuana program.
Marijuana Laws in North Carolina
North Carolina has a reputation for being one of the strictest anti-cannabis states in America. However, it reduced penalties for the use of the substance in 1977.
A recent poll revealed that 54% of state residents favored recreational cannabis legalization. This was an increase of 9% from a 2017 poll that asked the same question.
Interestingly, support for MMJ reform dipped by 7% compared to the 2017 figure but remained strong at 73%. With almost three-quarters of North Carolina residents backing MMJ – and a majority in favor of full legalization – it is surely only a matter of time before lawmakers act.
Indeed, an updated MMJ bill is in the works. The North Carolina Compassionate Care Act, also known as Senate Bill 711, would allow patients with PTSD, epilepsy, cancer, and a handful of other conditions to legally use medical marijuana. However, while the legislation has made it through numerous committee votes, it has a long way to travel for approval.
Cannabis Penalties in North Carolina
The aforementioned poll found that 67% of North Carolina residents support reducing penalties for cannabis possession.
Currently, the possession of less than half an ounce is a Class 3 misdemeanor. It comes with a fine of up to $200 but no prison time, even if you have a criminal record. The hope is that North Carolina will reduce the penalty for possession of small amounts of marijuana to a civil infraction.
It is still a misdemeanor if you are caught with between 0.5 and 1.5 ounces. However, you could serve up to 45 days in jail. Anything more than 1.5 ounces is a felony, with a 3-8 months prison term the likely outcome.
The sale or cultivation of any amount of marijuana is also a felony with a possible prison term of 8 months as the penalty for less than 10 pounds.
Any marijuana crime involving a minor is a more serious felony with a potential jail sentence of up to seven years!
Where Can I Buy CBD Oil in North Carolina?
Despite the opaque nature of the laws, there are a huge number of CBD vendors in North Carolina. However, there are no licensing laws, which means there is a free-for-all in the state. Just about anyone can sell CBD oil here with little to no regulations.
You should only purchase CBD oil from a company that offers third-party lab reports. This documentation proves that the product in question doesn't contain any heavy metals, pesticides, or other harmful chemicals. It also outlines its cannabinoid content, including its CBD and THC levels.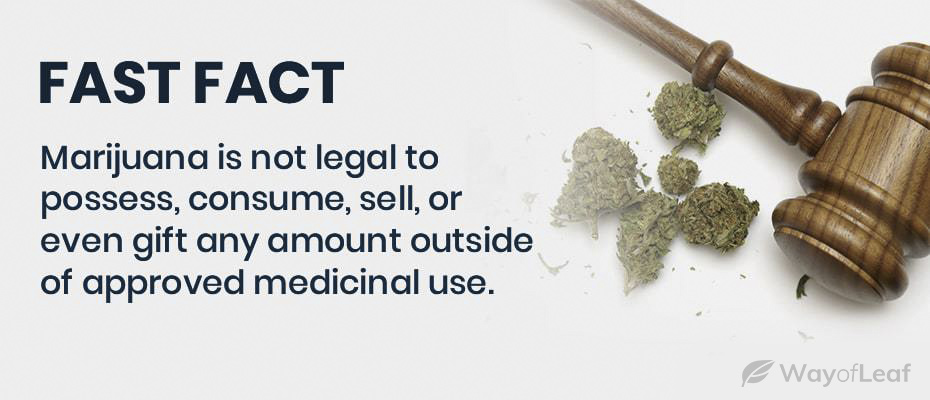 Here are five CBD sellers in North Carolina with positive reputations.
How to Buy CBD Oil in NC Online
If you're unable to visit any of the above stores or would rather have the convenience of getting CBD shipped to your door, here are five trustworthy online brands. These companies make their products in the USA and ship (often for free) to North Carolina residents within days.
You can find out more about each brand, and a handful of other great options, at the bottom of this article.
Final Thoughts on CBD Oil in North Carolina
As things stand, North Carolina is another state that doesn't make its CBD laws overtly clear. There is no question that it is illegal to grow, sell, or use marijuana in the state. However, there is no such clarity in the CBD industry.
It is possible to purchase CBD oil in North Carolina from reputable online stores.
It is legal to cultivate industrial hemp with a maximum THC content of 0.3%. Yet, there is no guidance on whether North Carolina residents can use CBD products derived from this hemp. We know that only patients with epilepsy can use CBD oil with a maximum of 0.9% THC. Such individuals must register with the state's approved medical program but have no place to buy the product.
For everyone else, it is possible to purchase CBD oil in North Carolina from reputable online stores, such as the ones listed below. There doesn't seem to be any legal crackdown on such products at present, nor does any such law seem likely.