Overview
Nature's Script is a company that seeks to bring its customers CBD products in their most purest form. That means incorporating no unnecessary additives and sourcing hemp from regulated farms. Additionally, they back up all their products with lab tests so you can be sure the quality you expect, is the quality you receive.
Ingredients
Hemp Oil, Pure CBD, Grape Seed Oil, MCT Oil
Recommended use
start with a low concentration, like 5 to 10 mg each day. Slowly increase your concentration until you feel you are taking a sufficient amount for your specific needs.
Extraction process
CO2 Extraction Method
Medical benefits
Helps your body to regulate essential functions like pain sensation, sleep cycle, mood, and immune response.
*All the data provided is for oil products only
It's always a treat when us editors here at WayofLeaf receive a box full of new cannabis goodies to try out. Being betrothed to no particular entity, we fully enjoy the opportunity to dish out judgment (favorable or otherwise) as we see fit.
In this particular review, we check out a handful of products from a small USA-based CBD oil company called Nature's Script. They were kind enough to send samples of nearly their entire product lineup, so if you're wanting to know how the brand stacks up against some of the industry's best competition, keep reading.
For our professional opinion on pricing, dosing, safety, product effectiveness, and overall value, continue reading our Nature's Script CBD oil review below…
Nature's Script CBD: The Brand Behind the Name
As a cannabis-industry website who makes an honest effort to keep up with all the latest brands and products, it can be legitimately tough to keep an eye and an ear on everything – especially in the CBD industry.
Regardless, we legitimately feel it's important to do as many of these reviews as we can in order to offer a bit of transparency on a market that's otherwise shrouded in a mild form of ambiguity.
Nature's Script appears to be one of the latest in a long-line of premium Florida-based CBD oil manufacturers, and it was clear from the get-go that their operation is built squarely upon product quality.
| It was pretty clear right from the get-go that Nature's Script is a company built squarely upon product quality.
Their non-GMO hemp plants are 100% grown on USA soil, which, if you've been following the latest market trends, really says a lot in terms of what they're trying to offer to customers.
A lot of brands nowadays are importing hemp from far-east suppliers, and you can bet that these cheap, dried-out fibers are terribly low-quality compared to "fresh" plants that are grown and regulated right here on American soil.
Furthermore, the actual Nature's Script CBD oils are 100% made in the USA as well, with each batch containing an up-to-date third-party lab report that verifies CBD content, as well as the purity of the oil.
Lastly, as a company that deals with legal USA-grown industrial hemp, their entire product lineup is available to be bought online and shipped to all 50 U.S. states, as well as many other countries worldwide.

20% Coupon Code: LEAF20
Nature's Script CBD Oil Review: Product Lineup

Nature's Script offers more or less a complete range of hemp-based CBD products, and the only thing we didn't receive in our little goodie sample box was the CBD Pain Rub (a topical cream that can be applied to sore muscles and aching joints). During the review process, we tested out the following:
CBD Oils
CBD Vape e-Liquids
CBD Pet Oil
CBD Oral Capsules
CBD-infused Gummies
CBD Relaxation Syrup
Nature's Script Pure Hemp Extract Oil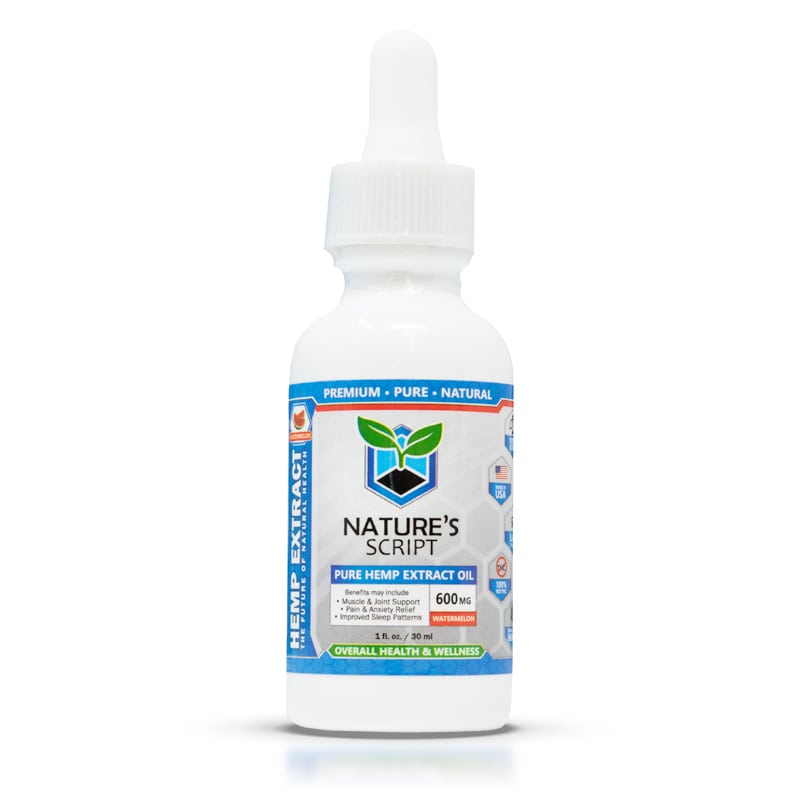 Nature's Script offers CBD oils in potencies of 300mg, 600mg, 1,000mg, 2,000mg, and 4,000mg. The first thing of note was that these are CBD isolate oils – in other words, they are 100% THC-free.
We only received the 300mg bottle (their cheapest and least potent option at $49.99), which works out to offer 0.5mg of CBD per single drop – a pretty mild dose that would likely be most effective for moderate cases of stress, anxiety, or sleep issues. (For things like pain or more severe cases of anxiety you'd almost certainly want to step up to a higher-potency option).
The second thing we noticed is that these oils are almost entirely void of the hemp smell and taste. We got a bottle of the Peppermint and Watermelon flavors, and let me tell you – they're not like other CBD oils we've had. If you're not a fan of the iconic "earthy" flavor, these are easy to swallow and would offer an excellent alternative.
Like all of their other products, Nature's Script Hemp Extract oils are 100% made in the USA, lab-tested for purity, and are sourced from non-GMO American-grown hemp.
Also, it sounds kind of silly but we really admired the fact that these came in glass bottles. So much of the low-quality stuff that you're finding in stores nowadays comes in those cheap generic plastic bottles, but there have actually been reports that glass is the best option in terms of preserving quality and freshness.
Nature's Script Hemp Extract Gummies
These little gummies are actually pretty potent, with each one offering 15mg of CBD extract (they come in bottles of 15 and contain 225mg CBD total). At less than $30 a bottle, that's a very good value compared to gummies from other high-end brands.
They do include sugar and corn syrup on the ingredients list however, so if you're a health nut or if you're super concerned about sugar or carb intake, you might want to consider either the CBD oil tincture or the capsules instead.
In terms of taste, the gummies tasted virtually just like any other gummy bear candy I've ever had – fruity and delicious to the point where I wanted to eat the entire bottle right there all at once (which reminds us – make sure you don't let a kid get ahold of these as they WILL eat all of them!).
In terms of effect, they were very similar to other potent CBD gummies that I've tried in the past – while they don't work super quickly, the relaxation is very tangible and should be noticed in less than an hour. I'd definitely recommend these for folks suffering from stress, anxiety, or trouble sleeping.
Nature's Script Hemp Extract Capsules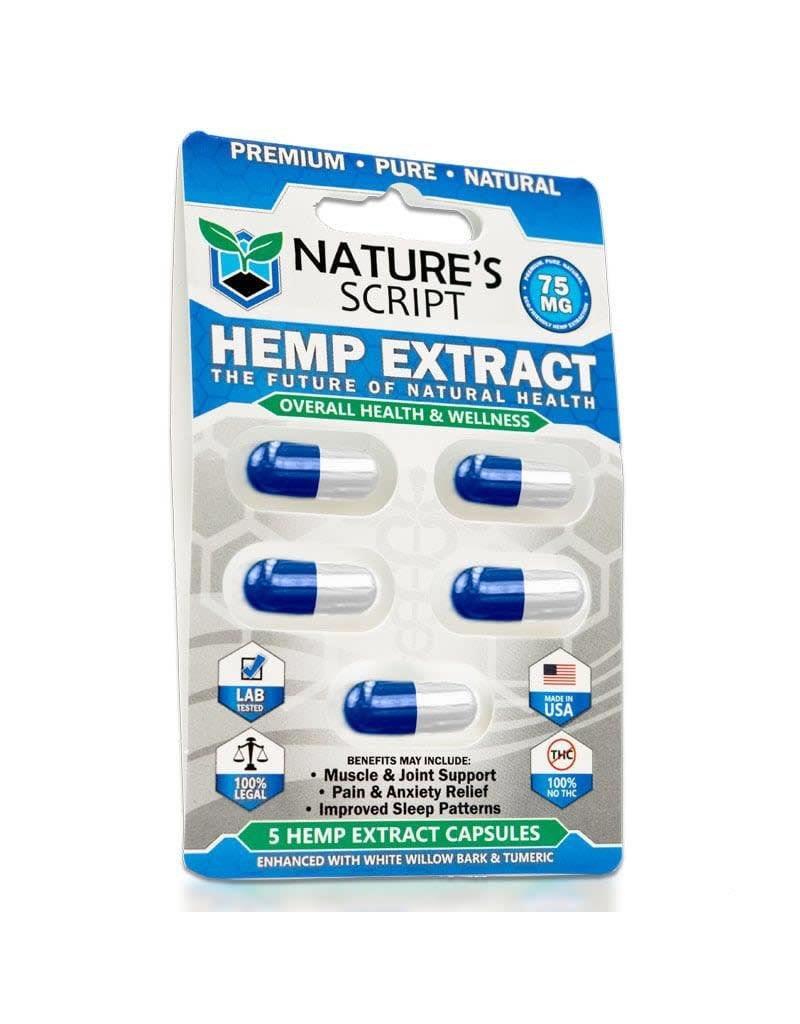 Oddly enough, I've never been a huge fan of CBD capsules personally. Some people swear by them and love them for the fact that they're so much easier to take than CBD oils, but I've always found that they're not quite as potent as the tincture version.
That said, I noticed more or less the same effects using the Nature's Script capsules as I did with their 300mg oil tincture; pretty obvious bodily relaxation combined with mild sedation that really took the bite off a hard day's work.
Just like the gummies, the capsules come in bottles of 15 with each capsule containing 15mg of CBD. I'd recommend them for folks who want to avoid the rather cumbersome dosing process that goes along with using CBD oil. Otherwise, opt for the oil tincture instead.
Nature's Script Relaxation Syrup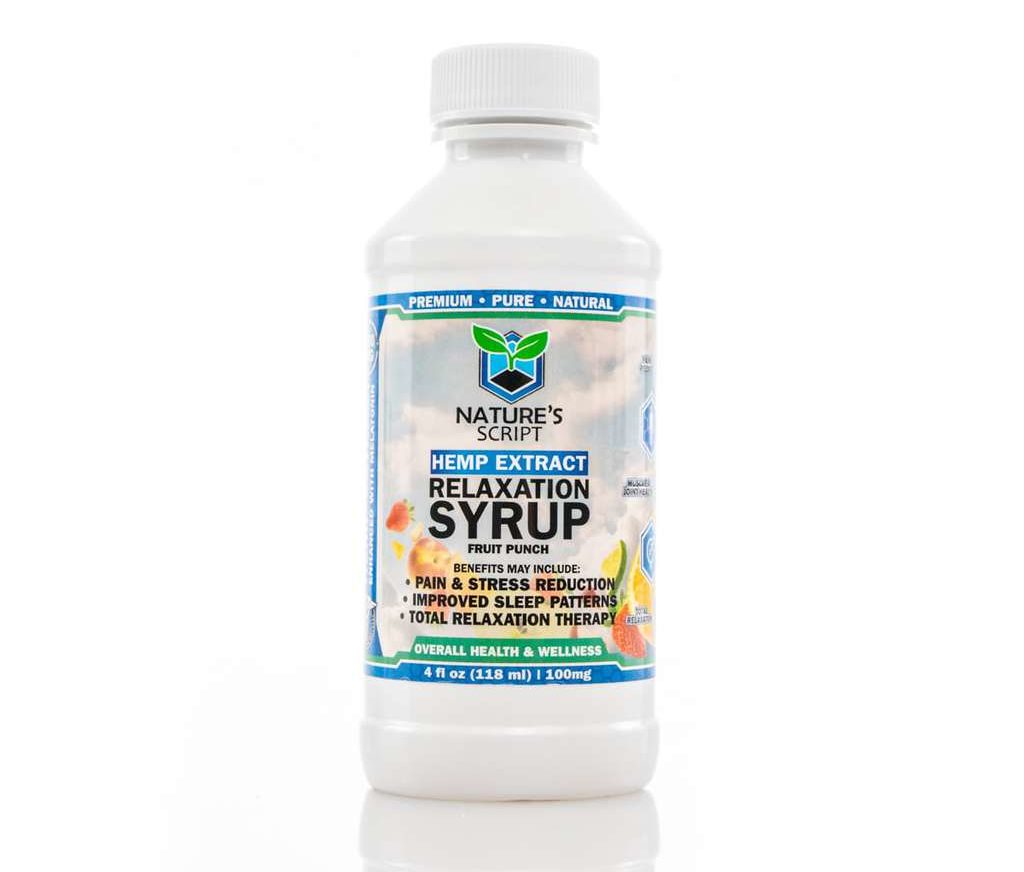 This stuff, wow. If you're looking from something to really wipe you out and help you get to sleep at night, I'd highly suggest trying it. My wife takes a medical CBD oil for sleep nearly every night (she has an MMJ license here in Florida), and claimed that the 'Relaxation Syrup' was every bit as effective.
It pretty much looks like a general cough syrup, though much better tasting and (probably) a little healthier. A single 1 oz dose contains 25mg of CBD extract, as well as Melatonin and L-Theanine (two natural compounds that have been shown to help with sleep therapy).
Also, another cool thing about the Relaxation Syrup is you can add it to pretty much any drink if you don't want to consume it by itself. You probably wouldn't want to add it to tea or coffee since it's fruit punch-flavored, but it would probably be great in a nice refreshing soda or even a cocktail.
Nature's Script Hemp e-Liquid
Ok so I'll be honest – I'm not a vaper. I've tried it a few times and yes it does work immensely well, but for some reason I've just never enjoyed inhaling stuff (other than fresh air) into my lungs.
That said, I do think anyone who enjoys vaping and has been looking for a good CBD e-Liquid would immensely enjoy these oils from Nature's Script. The aroma is rich and pungent as soon as you pop the lid off, and we did have another one of the editors here try it and he said it was as smooth as some of the stuff he's gotten from Trulieve (a medical dispensary here in Florida).
They offer three different flavors (Blueberry Jam, Fresh Mango, and Juicy Watermelon), as well as three different potencies (75mg, 300mg, and 1,000mg). Our editor didn't really have anything to reference it off of in terms of therapeutic effects, but said he could easily see it used for relaxation, headaches, and general stress relief.
Nature's Script Hemp Extract Oil for Pets
Mmmmm, Chef's Cut Beef-flavored CBD oil, anyone!? We received two bottles of CBD pet oil for our Nature's Script review, and we've gotta say that both the Beef flavor and the Roasted Chicken flavor had my dog sniffing around in utter curiosity.
No joke, I opened the seal and popped the lid off to check it out, and within seconds my 12-year old Australian shepherd was trotting over to try and get in on the action. If you've ever tried to give normal CBD oil to your dog, you'll know that it borders on the difficulty level of trying to bathe a cat. With these, however, you could probably easily add it to a small bite of food and they'd wolf it down without batting an eye.
My dog actually let me give her a few drops right out of the bottle (well, more like she licked the dropper while I sat there holding it) – I didn't really have much to gauge the effects by, but I'd say this would be an excellent option to try if you've been wanting to get your pet onto the therapeutic benefits of CBD oil.
Nature's Script CBD: Prices and Overall Value
So in terms of price, I wouldn't necessarily say that Nature's Script offers the single best value on the entire market, but I will say that they stack up very comparatively with some of our other top-rated brands.
To break everything down on a visual level, here's a complete Nature's Script CBD oil review chart that compares the prices of all the different products we tried out (in terms of the most bang-for-your-buck, we'd probably advise you to go with the standard Hemp Extract Oil as you get 60 servings (roughly two months worth) in a single bottle):
| PRODUCT | AMOUNT OF CBD PER DOSE | PRICE |
| --- | --- | --- |
| Hemp Extract Oil (300mg) | 5mg (other strengths are available – this was the lowest potency option) | $49.99 |
| Hemp Extract Capsules | 15mg | $34.99 |
| Relaxation Syrup | 25mg (per 1 oz serving) | $49.99 |
| CBD Gummies | 15mg | $29.75 |
| CBD Pet Oil | 2.08mg | $29.99 |
| Hemp Extract e-Liquid | 75-1000mg (per bottle) | $14.99 – $99.99 |
Negative Thoughts on Nature's Script
Truth be told, there really was hardly any negative things that we came across during our Nature's Script CBD oil review. One of the things we did see that was a minor bummer (at least for our European friends) was that they don't ship to the UK. If you're in the USA, of course, this is no matter (they ship to all 50 states), but if you're a Brit, you'll have to look for your CBD elsewhere.
Also, precise dosing can potentially be kind of tough if you're using the CBD oil (Hemp Oil Extract), as the dropper bottle isn't marked. It says a single serving (dose) is equivalent to half a dropper, but again, this is difficult to measure when there is no reference or markings to go by on the dropper itself.
Nature's Script Review: Our Final Conclusion
All in all, we hope that this Nature's Script review has been helpful if you've been considering trying out some products from the Florida-based brand. While these aren't the cheapest hemp extracts on the market, we do thoroughly believe that they're extracted and manufactured with the utmost quality.
Also, if you've tried other CBD oils and were turned off by the taste, these may offer an excellent alternative. Personally, I really liked the Peppermint flavor, as it seemed to counter really well the relaxing, mildly-sedative effects of the tincture.
Remember that all of these products are available for shipment to all 50 U.S. states (as well as other parts of the world), so be sure to check out their online store (and current promotions) to start shopping today.
OVERALL RATING: 8.5 out of 10
Official Site: naturesscript.com
20% Coupon Code: LEAF20