Cherry Lime Strain Overview
The Cherry Lime Haze strain is a mouthwatering offering. It provides a creeper high and is a relatively potent strain, though the CBD content takes off some of the edge. It is popular amongst MMJ patients for many reasons, but it is the sweet and refreshing taste that keeps people coming back for more.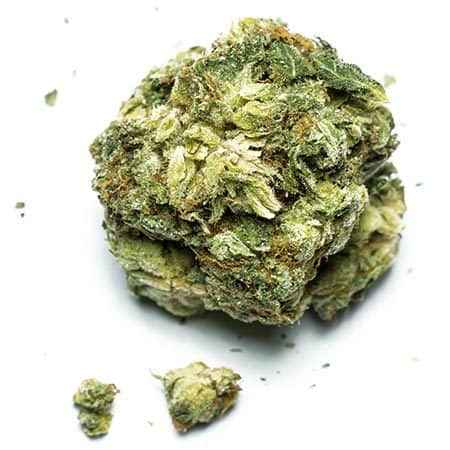 Flavors
Black cherry
Cherry
Citrus
Earthy
Hash
Common usage
Anxiety
Chronic pain
Migraines
Nausea
Stress
Effects
Creativity
Euphoria
Happy
Laughing
Relaxation
Growing info
Cherry Lime Haze is fairly standard when it comes to cultivation. However, it requires a little maintenance. This includes topping to keep the height down and pruning to ensure good airflow and light access. BUY SEEDS FOR THIS STRAIN AT OUR #1 RATED
ONLINE SEED STORE: HOMEGROWN
Breeders know that genetics mean everything when trying to create a world-class hybrid. This is why so many of them stick to Haze. The Haze family of cannabis has produced many memorable strains.
The Cherry Lime Haze strain is a gorgeous bud that tastes every bit as good as it smells. Keep reading to learn everything there is to know about this energizing cannabis strain.
Try Legal THCA Flower
Want to experience the qualities of THC-A flower? The amazing brand Premium Jane just launched their new line, including strains like OG Kush, Purple Cream, and Blue Dream Pie. Averaging 23% THC-A, there's so much to love with these flowers. Try them today to get 20% off using WayofLeaf's exclusive coupon code: THCAWOL
What is the Cherry Lime Haze Strain?
The Cherry Lime Haze strain is a sativa-dominant hybrid that's a cross of Haze, Cherry Bomb, and an unknown third strain. Some say the mystery bud is Lime Haze, while others believe it is Cherry Pie. In any case, Cherry Bomb is well-known for its mild effects and sweet cherry taste. Meanwhile, Haze is a world-famous strain that provides the energizing high we've come to associate with sativas.
Cherry Lime Haze combines THC with CBD. While the CBD far from counteracts the high of this strain's THC, it can eliminate any chance of a psychedelic experience. Users typically report feeling a clear head high with minimal fogginess. The intoxication has a euphoric nature, and even those in a very bad mood will likely feel happy rather than angry.
It usually takes a few minutes for Cherry Lime Haze to take effect, so be patient! Once the high takes hold, it can last far longer than with most other strains. The high is described as being 'consistent,' making it popular amongst MMJ patients.
Nonetheless, Cherry Lime Haze shouldn't cause much of a body high or sedation. As your mind typically remains clear and you feel energetic, you can use it in the afternoon. If you're an experienced user, you may even contemplate it as a 'wake and bake' strain.
Aroma
With a name like Cherry Lime Haze, it is fair to say that users expect a scent of lime and cherry. It doesn't disappoint as it provides the above, along with additional citrus and sweet smells that create a beautiful bouquet of aromas. The smell becomes more intense when you grind up the buds.
Flavor
While it is the smell of Cherry Lime Haze that draws users' attention, it is the taste that ensures they return for further tokes. The aroma can make the mouth water, and most users adore the sweet citrus and berry flavor. Some claim they also get hints of cheese and skunk.
Appearance
Unlike its flavor and smell, the Cherry Lime Haze strain's appearance is unremarkable. Healthy Cherry Lime Haze bud is bright green with vibrant orange pistils surrounding it. The strain's buds are oval-shaped and fluffy. At a distance, you might also spot cherry colors near harvest time.
Cherry Lime Haze Cannabis Strain Grow Info
It isn't particularly easy to find Cherry Lime Haze seeds online. In general, it is best if you try to get cuttings from a healthy mature plant to create clones.
These plants are genetically identical, which means you get consistency with your grow. You can replicate the Cherry Lime Haze strain time and again and get the same great-tasting strain. Growing clones also means you go straight into the vegetative period with no need to germinate seeds.
Its flowering time is approximately ten weeks which is relatively short for a sativa.
It is best if you cultivate Cherry Lime Haze indoors. Its flowering time is approximately ten weeks which is relatively short for a sativa. One thing to note is that this strain is a slow grower. You'll only see the majority of the growth in the last few weeks of the cycle.
When growing any cannabis strain indoors, it is always wise to consider topping it to keep its height under control. Cherry Lime Haze is no exception. Also, look to prune the plants as they grow bushy. Doing so ensures that the bottom parts of the plant get good air circulation and light.
THC Content – Highest Test
Cherry Lime Haze's THC content ranges between 16% and 20%, with 18% considered the average.
CBD Content – Highest Test
You could find up to 1% CBD in Cherry Lime Haze. This keeps the THC to CBD ratio below 20:1. Experienced users, in particular, should find that the high is pleasant rather than overly intoxicating.
Medical Benefits of the Cherry Lime Haze Strain
Cherry Lime Haze is all about the clear cerebral high, which causes euphoria. As you're likely to feel much happier, consider using this strain for depression, stress, or anxiety. It isn't easy to feel down when pleasing thoughts are all that's in your mind. Also, some users liken the energizing feeling to what they experience after drinking a strong cup of coffee.
As the high can last for several hours, MMJ patients with chronic pain may seek Cherry Lime Haze. It can help manage pain symptoms for much of the day while enabling you to complete your tasks.
Finally, you might try Cherry Lime Haze to help with glaucoma. It may provide relief from symptoms such as headaches, eye pain, and nausea.
Possible Side Effects of the Cherry Lime Haze Strain
The main side effects associated with using Cherry Lime Haze are dry eyes and a dry mouth. Due to the CBD content, you're less likely to experience dizziness, anxiety, or paranoia than with higher THC strains that have some CBD. Also, it is important to avoid using this strain near bedtime. It tends to provide energy for hours, so it could keep you awake at night.
Final Thoughts on the Cherry Lime Haze Strain
If you're in the market for an energizing cannabis strain that also tastes great, put Cherry Lime Haze on your list. It combines CBD with THC to provide an intoxicating high that shouldn't overwhelm and could last for hours. It is an exceptional tasting strain, and its scent is arguably even better.
Cherry Lime Haze provides a reasonable yield and requires a little maintenance. However, you can get cuttings to create clones and skip the germination process.
Try Legal THCA Flower
Want to experience the qualities of THC-A flower? The amazing brand Premium Jane just launched their new line, including strains like OG Kush, Purple Cream, and Blue Dream Pie. Averaging 23% THC-A, there's so much to love with these flowers. Try them today to get 20% off using WayofLeaf's exclusive coupon code: THCAWOL