There are thousands of glass bongs for sale from hundreds of brands. They are a relatively recent phenomenon in the West. However, other cultures around the world have used them for centuries.
In Africa, for example, archaeologists have discovered smoking pipes made of bamboo, horns, and earthenware dating from the 13th century. Throughout the Middle Ages, bamboo bongs were prominent in Asia. They spread quickly from Thailand to the economic hub of Hong Kong.
Bongs eventually made their way to Europe in the 18th century, finally reaching America by the early 19th century. However, true-to-formglass bongs designed specifically for cannabis use only came to prominence in the 1970s. This was down to the growth of the 'hippy glass-blowing' movement. Around this time, the first patent for a glass bong was filed in the United States.
The humble bong is now one of the most coveted items among weed purists.
Today, glass blowing artists are in hot demand. The humble bong is now one of the most coveted items among weed purists. There are some truly gorgeous pieces out there. Certain bongs are almost too beautiful to fire up and deface with resin coatings!
This article looks at five unique pieces we feel are currently the best glass bongs for sale. We have considered things like price, convenience, and ease-of-use in addition to pure craftsmanship and artistry. In other words, these are the glass bongs that (in our opinion at least) represent the best overall value for your money. Enjoy.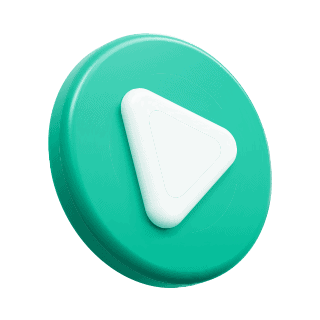 Gummies That Are 3x Stronger Than THC… For FREE??
Are you one of the millions of Americans that doesn't have access to legal cannabis? If so, you need to check out the new award-winning 'alternative' THC products from leading U.S. brands like PureKana, Premium Jane, Binoid, and more. Under legal guidelines of the Hemp Farming Act, these companies are making and shipping potent, organic cannabis products (NOT CBD products) to residents of all 50 states. Browse the collection and shop securely online using coupon codes that will get you up to 50% off sitewide:

First Things First: Bong Types
Ultimately the shape, size, and height of a glass bong impact its ability to pull smoke through the water chamber and into the tube. Moreover, the diameter of the bowl and stem also dictates the flow of smoke and air. Some popular types of glass bongs include:
Percolator Bong: A percolator bong uses a glass filter suspended into the water chamber. The filter is responsible for breaking up and spreading out the bubbles evenly by ensuring the smoke is circulated through the water. The result is the creation of tiny bubbles, which are excellent at filtering toxic substances while also cooling the smoke.
Bubbler Bongs: This glass weed bong is a bong and pipe hybrid. It is a portable option that is horizontal. It includes a drop-down water chamber that cools and filters the smoke. When using a bubbler, be careful not to pull too hard, or else you will swallow the water.
Mini Bongs: When you want cheap bongs, the portable mini bong is probably the right option for you. You can find minis that are just six inches in height, and several are available for under $60. Most mini bongs rely on a carb system. Due to the lower price, they tend to be made from thinner glass, which is easier to break.
Scientific Bongs: This is the name given to laboratory-grade borosilicate glass bongs. These are more expensive devices because they are stronger with increased resistance to heat. The design can range from a simple straight tube to a complex bong with ash catchers, uniquely crafted percolators, and bent mouthpieces.
Who Would Want a Glass Bong?
In general, bongs are for serious weed users because they are larger and more expensive than other smoking devices. Collectors are often willing to pay good money for uniquely designed pieces. An example is any bong produced by the legendary JP Toro.
Some users believe their bong choice is a reflection of their personality. As a result, selecting one is a personal – if not critical – choice!
If you enjoy weed and are prepared to pay a little extra for a smoother and higher quality smoking session, then a bong is no doubt a worthy investment.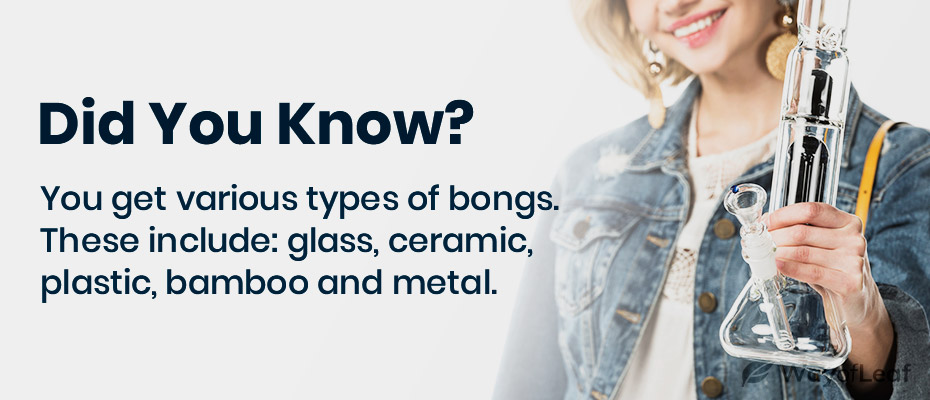 A device like a Roor bong is likely to enhance your dry herb's potency. It could make the whole process of inhalation more efficient – and perhaps even healthier. In other words, a well-made glass bong can help you get more from less.
However, if you're new to the world of bongs, consider trying an affordable wooden or acrylic. That said, while they cost significantly less than glass pieces, bongs made from cheaper materials are harder to clean. Also, many users say that cheap bongs negatively impact the flavor of the herb.
3 Things to Consider When Choosing a Glass Bong
1 – Inspect for Defects!
Always inspect the glass for defects and hairline cracks. Pay special attention to areas next to spirals and joints. Also, don't automatically go for the largest bong you can find. You can find large bongs for cheap, but you will have mediocre sessions if they are acrylic bongs.
Even expensive glass bongs with lots of parts and accessories are not necessarily your best option. First, there is a greater chance of complex pieces breaking. Secondly, such bongs tend to create more pull as you drag, so it becomes harder to clear the tube.
2 – Even the Best Glass Bong Needs Cleaning — Before You Use It!
Clean your bong as soon as you bring it home from the store. If you buy bongs online, clean as soon as it arrives in the mail. This is especially true with the more expensive pieces as they are generally harder to sell. Such pieces spend more time gathering dust and absorbing particles that you don't want to inhale.
While you don't have to clean your bong after every session, you will enjoy a better experience. Use fresh, clean water when you do. Also, avoid overfilling the water chamber. This process could cause the liquid to shoot up the stem, potentially ruining your herb or splashing water into your face.
Also, never blow down into a bong's tube. By doing this, you force the water out of the carb and up the downstem. You will either blow the herb out of the bowl or completely soak it.
3 – Change It Up!
Don't be afraid to experiment! Thousands of glass bong users have added various liquids to the chamber's bottom to try and influence the smoke flavor. You could citric juices or herbal teas.
Dairy and liquor are bad ideas because the THC in your weed is absorbed by alcohol and fats. Carbonated and sugar-laden drinks attract insects, which stick to the sides of your bong. So, unless you enjoy inhaling bugs, this is also not recommended.
4 – How to Use a Bong
Ultimately, the best way to use your glass bong is to pack the herb in the bowl tightly and put your lips inside the top of the tube. This will ideally form a tight seal. Cover the carb with your thumb (if applicable), and light the corner of the bowl.
Then, inhale slowly but surely until the water starts bubbling and the tube is filled with smoke. Next, uncover the carb/pull out the sliding downstem while sucking in as much vapor as possible. Trap any remaining smoke by placing your hand on the mouthpiece, and go again when you're ready.
Now, keep reading to learn more about the top 5 best glass bongs on the market right now.
Best Glass Bong Brands on the Market
1 – Blaze Glass
When you buy a Blaze Glass bong, you are investing in a quality piece of work made from premium-grade, stress-relieved 3.1 borosilicate glass. The company claims that their glass is comparable to the Duran Glass used by industrial lab pieces like beakers and Erlenmeyer flasks.
The firm is part of the German brand Near Dark. However, all of their glass water pipes are made in Asia by specialist glass blowers.
They have pieces with a minimum thickness of 5mm and use a ground glass joint of 14.5mm or 18mm. Blaze is part of a larger brand (Near Dark), one of the world's leading providers of headshop equipment for over 20 years.
The firm is part of the German brand Near Dark. However, all of their glass water pipes are made in Asia by specialist glass blowers.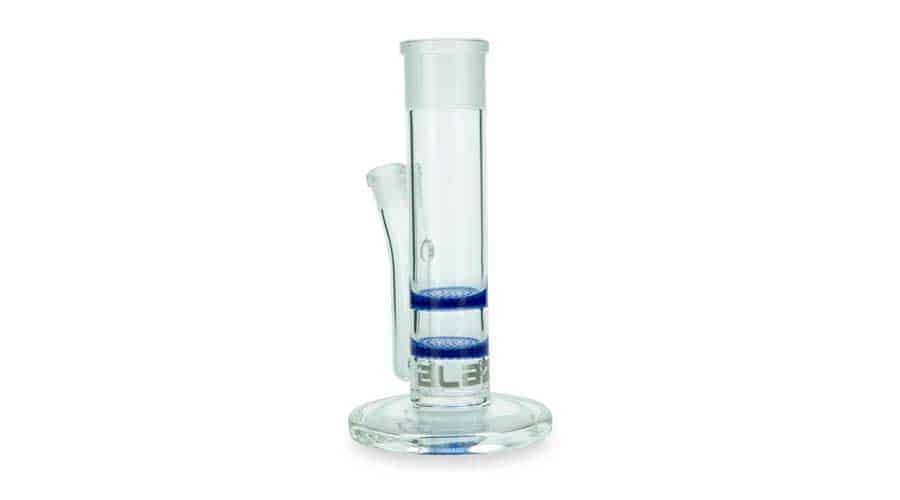 The detailed study of geometry aids every Blaze Glass bong's design. The team has worked hard to find out the aspects of bong design that are most impactful on performance. As a result, you should experience exceptional flavor with every hit. Moreover, Blaze Glass is adamant that all cracked bongs belong in the bin. This is why it leaves no stone unturned to guarantee an unmatched level of craftsmanship.
The Blaze Glass Range
You can mix and match with Blaze Glass. The Percolator Beaker Ice Bong is 40cm tall. It includes a spiral percolator to filter and cool the smoke along with a beaker base. There is also a cool splashguard to prevent nasty bong water from getting in your mouth. It is just over $100 these days and comes with a glass bowl, keck clip, and a diffuser downstem.
The Multi-Level Stemless Ice Bong with Disc Perc is even more affordable. You can get it for around $60. The disc perc does a wonderful job of diffusing the smoke. Also, the round hole ice catcher ensures you benefit from a wonderful cooling sensation. The 5mm Pyrex glass means it should last you a long time.
Verdict: 9.5/10
Blaze Glass is no doubt one of the top bong makers in the industry. Most of its products are extremely customizable, such as the Ice Bong. As a result, you can tweak your piece until you find the perfect arrangement that suits you best. The brand's bongs are fabulously designed pieces that will look awesome in any collection.
They provide you with filtered hits that you can enjoy for years on end and are outstanding value for money.
2 – Mountain Jam Glass Company
Mountain Jam Glass is one of the oldest companies on this list, as it was founded in 2000. It operates out of Eugene, Oregon. The brand's website proudly states that all of its glass is made right there in the city.
Described as a 'glass blowers collective,' the Mountain Jam Glass company creates uniquely designed bongs. A specific artist creates each pipe. All of these experts are master glassblowers and work in their own space. It explains why the company produces so many unique, remarkable-looking pieces.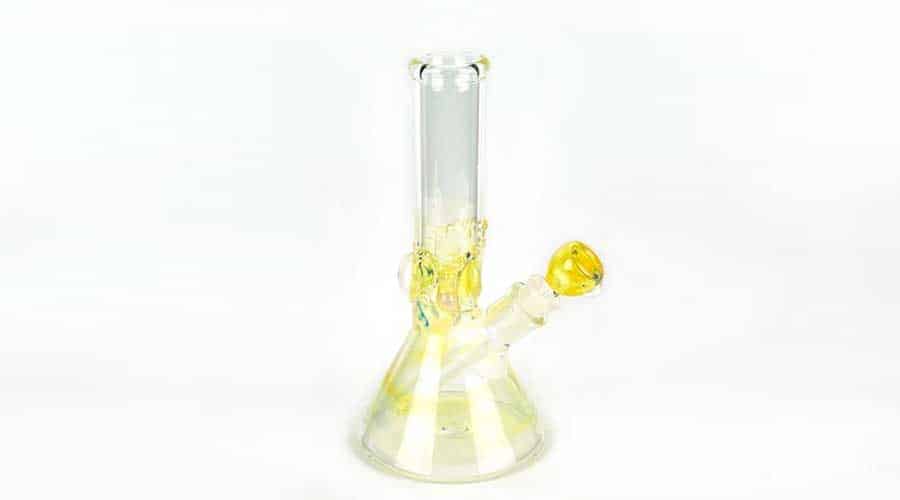 Mountain Jam Glass is happy to sacrifice volume for quality. As a result, it has become an extremely popular and well-respected brand in the industry. It is also dedicated to providing great customer service. According to the brand, community and sustainability are prominent in its list of core values.
The Mountain Jam Glass Company Range
We love the Mountain Jam Glass Hammer Pipe range. It features some mind-blowing inside-out reversal work. Each hammer is a stunningly crafted piece with reversal sections at various points on the pipe.
If you didn't know, the 'reversal glass technique' involves creating individual color lines which all arrive at a point in the middle of the glass. The result is a marvelous and unique design that you won't find anywhere else.
The Bubbler range is also exceedingly impressive. According to Mountain Jam Glass, bubblers provide a more concentrated and purer hit than bongs. However, you don't get as big a rip as you would from a bong. Choose between Sherlocks and Sidecars to go along with the Hammers.
Verdict: 9/10
Mountain Jam Glass pipes are eminently affordable. You can get a Sherlock for just $40. Even the pipes at the top end of the scale seldom exceed $200 with this company. If you intend to create a bong collection to remember, you have to include this company on your shortlist of potential investments.
3 – Roor
This is a company that has become synonymous with quality. It is no secret that Roor bongs are among the most sought after in the industry. The brand is targeted by copycats hoping to cash in on the German organization's hard work and creative engineering.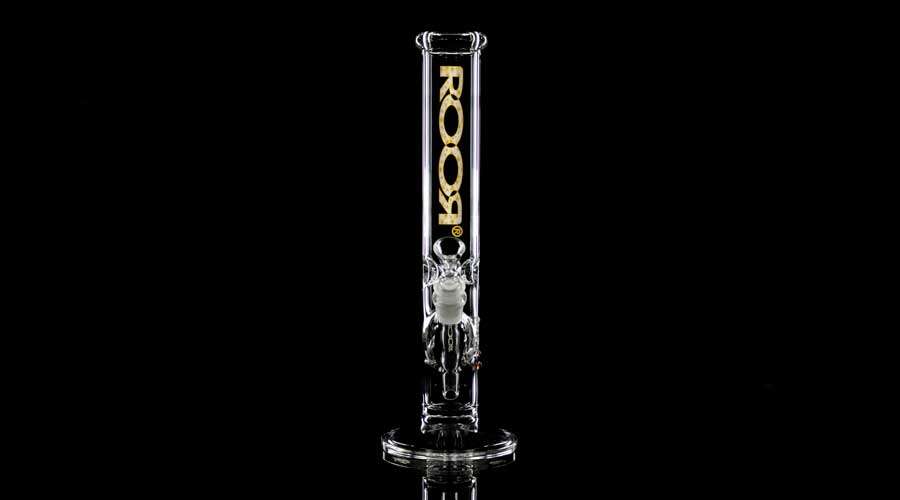 If you're worried about owning an "imposter," it is easy to see if you have a genuine Roor glass bong. Check for the black pendant, which is attached to every piece. On this pendant, you'll find the piece's bubble tag. It is a 3D pattern of bubbles that "fraudsters" are unable to replicate. Scan the QR Code on the pendant, or enter your pipe's ID on the official website to verify its identity.
All Roor glass bongs for sale are manufactured in Germany by Martin Birzle and his elite glass-blowing artists.
All Roor glass bongs for sale are manufactured in Germany by Martin Birzle and his elite glass-blowing artists.
It seems likely that the company name is a play on the word 'Rohr,' which is German for 'pipe.' The Roor range is made from high-quality borosilicate glass, which ranges from 2-9mm thick. The latter pieces are the heavier and more durable ones.
The Roor Range
The Roor range includes 18" straight tubes in a variety of colors. Each one has a built-in ice pinch, which allows you to add ice to cool your hits. Every downstem is hand-measured and cut to each piece.
The Beaker bong selection offers 14", 18", and 22" pieces. We also love the sandblasted beakers. They are scientifically proportioned to provide an easier pull. You benefit from more diffusion and more smoke with each draw.
The RoorTech range offers a wide array of bongs with names like lab reports. The BTBS-17 option features a barrel bubbler. Roor redesigned it in 2017. It is made from German Duran Schott glass. The mini RoorTech barrel percolator sits near the upper chamber. It has slits on the bottom to increase percolation and airflow.
Verdict: 9/10
Few manufacturers in the world can match a Roor bong for quality, durability, and aesthetics. It is an innovative organization; its artists were the first to create high-end pipes with diffusers and ice notches. There are a few lower-priced options. However, you may have to part with over $400 to get the best Roor offers.
4 – Snoop Dogg Pounds
It is hardly a shock that Snoop Dogg has released a range of glass bongs. The Snoop Dogg Pounds range features several water pipes, each of which has a specific use. For example, one of the pipes is for dry herb, while another is perfect for concentrate oils and dabs.
The Snoop Dogg Pounds Range
The Spaceship is the smallest member of the Snoop Dogg Pounds glass family and is 6 inches high. It is one of the most compact pipes around and is designed for dabbing. It includes two different nail types: A bubble dome & nail and a quartz bucket. It also includes a small Inline ruffle percolator. This does an outstanding job of filtering and cleaning the smoke, so only the smoothest hits are available.
This piece includes a fixed downstem with a 14.5mm male joint. There are numerous accessories, such as a:
Dry herb bowl
Vapor dome with a glass concentrate nail
Glass dab tool
Quartz concentrate bucket
The Battleship is designed with a perforated honeycomb disc. This disc is sandwiched between a pair of tornado percolator discs found in the bong's straight body. The trio of discs combines their power to filter the smoke as it travels through the vast array of holes and slits. The result is cool and filtered smoke when it reaches your lips, with a flavorful and soothing hit.
We also enjoyed watching the filtering process. It is like watching a master at work, especially after your cerebral buzz starts to take effect.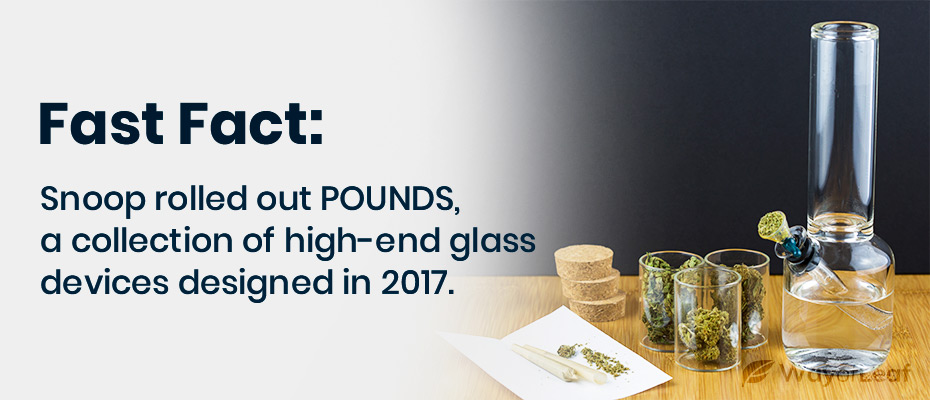 We were also impressed by the flared mouthpiece, which is ideally angled for ease of use and comfort. It also ensures you're not too close to the nail. Even the bong's subtle accents are something to behold, as the red glass flares bring everything to life. The thick and sturdy base makes sure that the pipe feels secure and steady when you set it down.
Verdict: 8.5/10
The Pounds range by Snoop Dogg was one of the most expensive brands on the market. However, plenty of third-party sites are now slashing their prices. The Battleship usually costs $300 but is now available for below $180 in places. It is also money well spent.
The build's quality is exceptional, and it produces hits that quite frankly are out of this world. Then again, we would never expect Snoop Dogg to put his name on anything other than the very best.
5 – Medicali
There have been Medicali glass items for sale for at least a decade. However, relatively little is known about the brand. What we do know is that the company creates its Medicali glass bongs using German borosilicate glass. Also, all pieces are created in-house.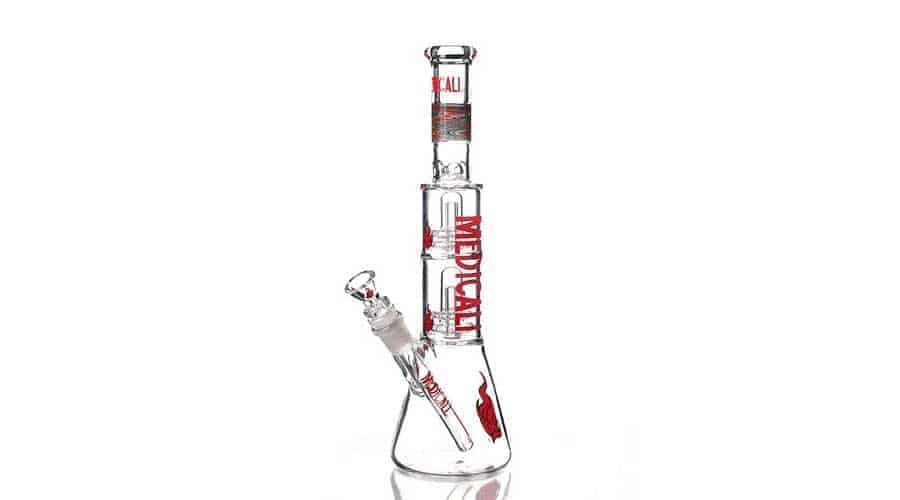 The Medicali Range
Medicali sells rigs, reversals, showerheads, and a range of 9mm thick pieces. The basic Showerhead range includes 10", 12", 14", 18" pieces. The 10" option is straight and costs $220. You also get the option to decide if you want the Medicali logo in block capitals or cursive script.
It is made with Schott Boro Artistic Glass. The Showerhead perc does a great job diffusing smoke through water. The result is a smooth and refreshing hit. According to Medicali, it works best with 2 inches of water in the base and 0.5 inches of water in the top chamber. Make sure it has the Medicali hologram sticker, which proves its authenticity.
Medicali bongs warrant consideration because of the quality and smoothness of pulls with every one of its products.
The 18-inch straight tube bong with an ice catcher is another simple yet effective offering from the brand. It is a straight piece design with no percolator (yet still rewards users with ultra-smooth hits). It comes with a 14mm hourglass bowl and a 5" Showerhead downstem. It works best with 4 inches of water.
Verdict: 8.5 /10
Medicali bongs warrant consideration because of the quality and smoothness of pulls with every one of its products. The brand also creates a litany of goodies, including beakers, rigs, and accessories such as carb caps. It truly is a one-stop-shop for weed and bong lovers everywhere.
The Best Glass Bong Brands: Final Thoughts
When you see glass bongs for sale, it is probably worth investing in one. It will reward you with a milder, richer, and cooler smoke than any other weed device. Even cheap glass bongs tend to intensify the marijuana smoking experience. With careful use, you could benefit from smooth and pleasant sessions for years.
If you have used any of the brands on this list, let us know in the comments section!