Overview
Palm Organix is a CBD company committed to the manufacture of lab-tested and high-quality products. They believe in providing clean, rich phytocannabinoids and terpenes. Their proprietary methods ensure consumers can create a balanced lifestyle while optimizing health and wellness.
Ingredients
● Broad Spectrum PCR Rich CBD Hemp Oil, Medium Chain Triglycerides (MCT) Oil, Peppermint Oil, and Stevia (Mint Flavor)
● Fractionated Coconut Oil (MCT Oil), Phytocannabinoid-Rich Hemp Extract, Orange Oil (Orange Flavor)

Recommended use
Place drops under the tongue for approximately 60 seconds before swallowing.
Extraction process
Patent Pending Extraction Process
Medical benefits
● Promotes sleep
● Chronic pain relief
● Stress reduction
● Increases appetite

*All the data provided is for oil products only
Palm Organix CBD: Quick Summary
PROS
CBD products made from organic hemp extract.
Items contain potent plant cannabinoids and terpenes.
Proudly crafted with high-grade American hemp.
Products are THC-free.
All products are third-party tested by renowned labs.
CONS
Limited selection of tincture flavors.
Products are somewhat expensive.
Palm Organix CBD Review
Palm Organix CBD is a first-in-class CBD company that combines the science of safe, proprietary extraction methods with top-shelf CBD-rich hemp plants. They expertly craft their CBD using only the best phytochemicals, essential oils and compounds that nature offers.
They provide a diverse array of products, including:
CBD tinctures
Topicals and skincare items
Gummies
Infused-energy drinks
Soft gels
Pet-friendly CBD treats and drops
Their extensive selection presents consumers with a variety of options that can fit different CBD needs.
Palm Organix stresses wellness, balance, and reliability. Their processes provide customers with transparency, trust, and critical accountability. They offer unparalleled customer service along with optimal shipping options to many destinations across the U.S.

20% coupon code: cbd20life
What Products Did We Review?
When consumers look at the Palm Organix site, some will notice their wide range of products, and ease of use. Their website is clean and intuitive, allowing for a no-hassle shopping experience that many CBD fans will love.
Many like that this dynamic company adheres to a high standard. They never deviate from quality goals or assurance. They create their products with simple ingredients and skip the complicated chemicals that some brands utilize.
Palm Organix employs state of the art nanoemulsion technology that allows for higher bioavailability. Bioavailability means that some substances may not all be available to have an impact. Only a fraction of it may elicit a response due to the consumption method. However, a higher bioavailability means a higher level of a compound in the body, making it more effective.
Palm Organix utilizes this cutting-edge technology in a variety of its products. In this review, we'll look at the specifics of their entire product line, including capsules, tinctures, pet products, topicals, and gummies.
Palm Organix CBD: The Product Line
Palm Organix CBD manufactures some of the finest CBD on the market. They offer a variety of choices that align well with any lifestyle. Their focus is on creating an array of CBD-infused items that can balance out a busy schedule. This means that customers won't have to lug around any special equipment or change their routines. Instead, they have products many can use anywhere and any time of day.
We love that they provide options that people can take on the go. This includes their line of CBD soft gels, tinctures, skincare items, and more. CBD fans that are searching for a premium supplier of CBD products can rest easy with Palm Organix. Consumers can take a look at their lab tests to ensure top of the line quality.
Furthermore, Palm Organix employs a knowledgeable team of people who provide answers, address any concerns, and take critical feedback. The result is a responsive company that continually improves and innovates. Some essential aspects of their products are listed below.
Palm Organix Gummies
Palm Organix currently offers a great line of fruit-flavored gummies. Each bottle comes packed with 200 mg of top-shelf CBD with flavors like lemon, grape, and orange. Unlike some infused gummies on the market, these don't come with artificial colors, flavorings or sweeteners. Consumers can take their gummies on the go for a fast CBD pick me up or add it to an existing routine.
The gummies are THC-free. They also contain broad-spectrum CBD with a host of cannabinoids and terpenes. The brand also offers a few money-saving gummy bundles. This is especially helpful for those looking to stock up.
Palm Organix CBD Tinctures
Although they don't have a wide selection of tinctures, what they do offer is exceptional quality. Their Mint and Orange flavored varieties are a good option for those that don't enjoy the taste of natural hemp. Each bottle comes with a host of cannabinoids and a dropper. The dropper is an excellent addition and makes CBD consumption less messy and more accurate.
Their tinctures all have lab-tested contents. They also contain MCT oil, natural flavorings, and phytocannabinoid-rich extract. Their materials produce substantial effects and may assist consumers with a wide range of symptoms. If customers are looking to save, they can purchase a 500mg orange-flavored bundle.
Palm Organix CBD Softgels
Palm Organix softgels represent the perfect blend. They're an excellent option for those who don't like the taste of hemp while offering outstanding CBD quality. Consumers won't have to alter their routines or schedules by adding this to their daily activities. Instead, they can take a 10mg or 25mg soft gel with a swig of water, juice, or other beverage.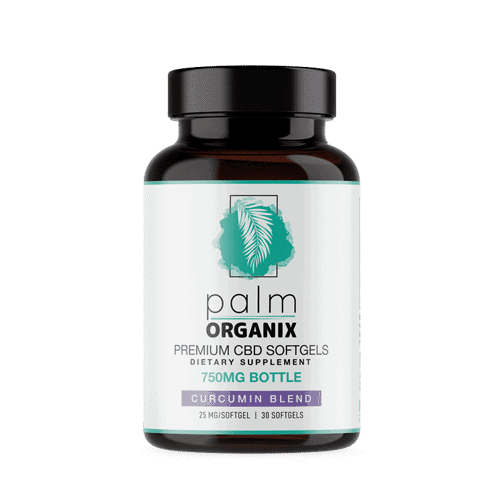 Each soft gel contains a host of essential cannabinoids, phytochemicals, and terpenes. Each bottle has 30 soft gels. They are water-soluble for easy digestion and absorption and feature a smooth casing for swallowing.
Palm Organix CBD for Pets
Palm Organix hasn't left out pet lovers. They offer 250mg CBD pet tinctures. Owners can give their four-legged companions the benefit of THC free, broad-spectrum, lab-tested CBD. Palm Organix also provides a safe and veterinarian-certified formulation.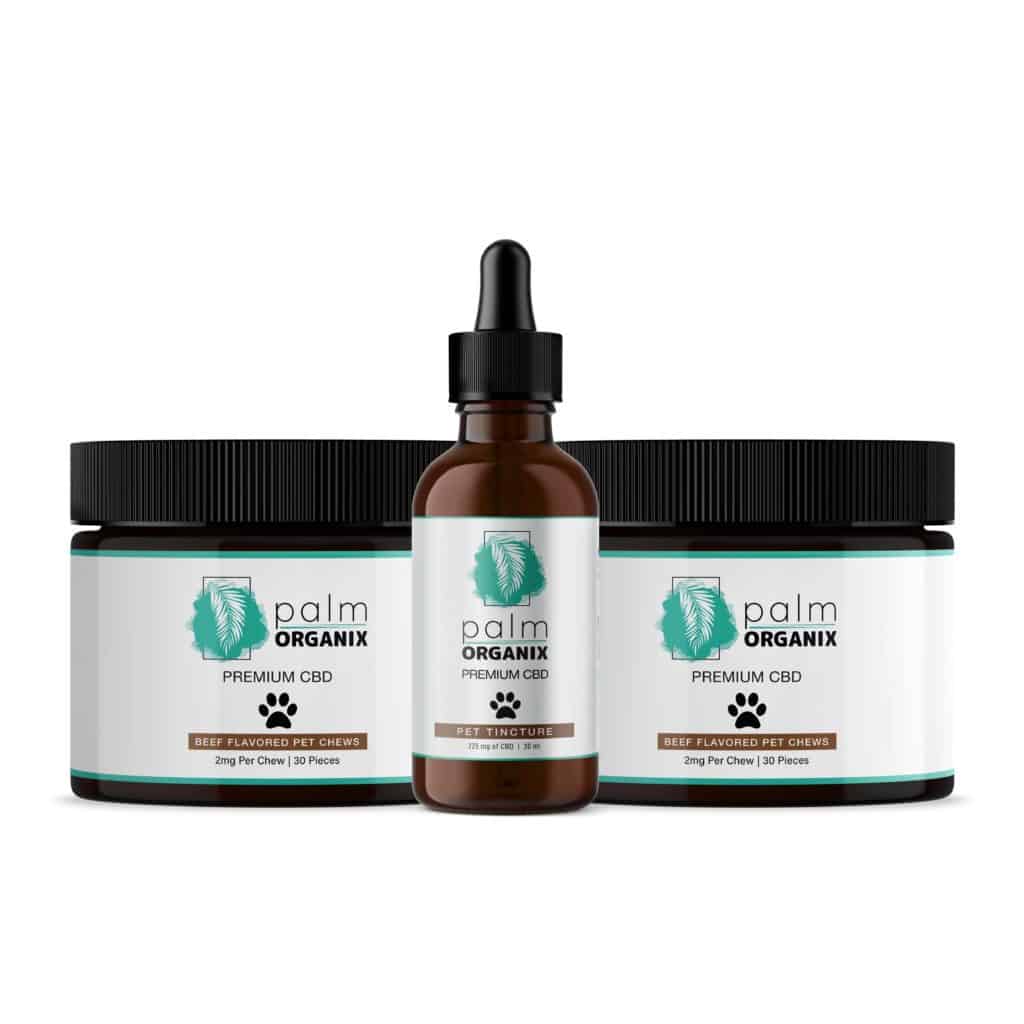 Palm Organix also offers 2mg pet treats made with high-grade water-soluble CBD. They are beef-flavored and will thrill and soothe pets. Each tub contains 30 pet treats. Palm Organix also offers bundles that combine tinctures and treats for a money-saving deal.
Palm Organix Energy Drinks
The Palm Organix's line of energy drinks comes packed with rich phytochemicals, antioxidants, and vitamins. For those looking for a fitness and energy boost, this may be the option. Each box contains five packets of berry-flavored water-soluble powder with premium THC free CBD. All powders are also zero calories, and each serving packet contains 12.5mg of CBD.
Consumers can take these powders anywhere. They are simple to transport, and users can dissolve them in various drinks, including water, juice, smoothies, or even tea.
Palm Organix Topicals & Skincare Line
Palm Organix boasts a line of CBD-infused topicals and skincare products. Their CBD face mask has quickly become one of their most popular items. It is a cellulose mask infused with 10mg of PCR hemp. This mask contains no harsh chemicals or additives and is safe for the face. This mask allows for easy breathing and acts as an effective barrier against day-to-day pollutants and particles.
Palm Organix CBD features a cooling CBD roll-on gel. This gel contains 150mg of CBD per bottle and provides soothing relief directly onto the skin. They also sell CBD-infused lotion with 147.5 mg of CBD per tube. Each tube has emollients and organic ingredients that hydrate the skin. For those that need a calming boost of CBD, they offer a camphor lotion with essential oils and 400mg of CBD.
Their Lavender Blend CBD salve is an excellent way to relax sore, stiff muscles after a hard day of work or exercise. Each jar contains a whopping 500mg of vibrant CBD. CBD shoppers can get a CBD lotion and roll-on in one affordable bundle as well.
What Else Should I Know About Palm Organix CBD?
All products come from American grown hemp.
They employ nanoemulsion technology for easy absorption.
Palm Organix CBD ships for free to many destinations in the U.S.
They offer a 30-day money-back guarantee for all products.
They produce informative podcasts about hemp and the CBD industry.
Palm Organix Review: Summary & Where to Buy
Palm Organix has a lot to offer. They've placed a lot of effort into refining and selecting their hemp. Their hard work, and attention to product detail shows. Their products are potent, work well with a variety of issues, and have ease of use.
The brand's commitment to transparency gives consumers peace of mind when they purchase. Their third-party lab tests and knowledgeable customer service teams allow people to know and understand their standards, processes, and procedures. Knowing these things makes CBD much more straightforward.
Palm Organix boasts a wide range of dependable products that blend well into any kind of lifestyle or set of health goals. Their tinctures, line of topicals, and pet products align with their philosophy of value and top-shelf sourcing.
Although this brand can be pricey, they exhibit superior overall quality. They have several retail CBD locations consumers can locate on their site. They also ship to many areas of the U.S.
Official Site: palmorganix.com
20% Coupon Code: CBD20LIFE