Overview
Hara is a CBD brand with its headquarters in Santa Cruz. Founded by people with a real love of CBD, it specializes in vape pens. It uses CO2 extraction to get the CBD from the USA-grown hemp it uses. Its EVA-Deluxe vape pen is arguably the highlight of the brand. It provides three temperature settings and is a high-quality pen for a low price. However, Hara needs to provide customers with a greater choice of products to make its mark in the industry.
Ingredients
Full-spectrum CBD, organic MCT oil, organic peppermint oil
Recommended use
Place the oil beneath the tongue for 30-60 seconds before swallowing
Extraction process
CO2 Extraction
Medical benefits
Positive effects on the digestive system. the calming aroma of peppermint oil, and the CBD, could help relax the GI tract's muscles*.
*All the data provided is for oil products only
Hara Quick Summary
Pros
Uses American-grown hemp.
Utilizes CO2 extraction.
Provides COAs with its products.
Nice range of vape pen options.
Cons
It only provides two CBD tincture concentration options.
A relative lack of products and options compared to other top brands.
Read on to learn more about Hara CBD, or view some of our top vape brands by following the link below.
Hara Complete Review
Unlike too many CBD oil brands, Hara is quite open about its origins and ambitions. The official website's 'About Us' page offers significantly more information than most, which is refreshing. Three individuals are heavily involved in the running of the company. Brody Shemansky is the CEO, Sarah Drake is the CMO & Creative Director, and Tate Howe is the COO. Hara is based in Santa Cruz, California.
Shemansky and Drake co-founded the organization. They were both high-level athletes and competed in the Big Ten Conference in the NCAA. Shemansky was cruelly cut down in his prime after a Non-Hodgkin's Lymphoma diagnosis in his twenties. He discovered CBD while attempting to train and work during chemotherapy treatment. He credits cannabidiol and cannabis with helping him do something doctors said was impossible.
Thankfully, Shemansky is in remission. He feels healthy and ready to bring the Hara brand to the next level. The company sources its hemp from organic farms. You can see the Certificates of Analysis (COA) on the website. Hara believes in a holistic approach and suggests that CBD acts on glands in the body where chakras are located. These glands enable the body to maintain a sense of balance.
Hara projects a rapid 150% year-on-year growth, and claims it has a remarkable 70% repeat customer rate. Within 14 months, the brand already earned $354,000 in revenue, with an investment of just $30,000. It recently closed the door on new investors and is confident of major success. Let's see if its products warrant such a mindset.
Hara CBD Tinctures
Hara only uses organic hemp grown in the United States to produce its CBD oils. It utilizes CO2 extraction, so its tinctures contain no solvents or pesticides, and are non-GMO. At the time of writing, the brand offers two CBD concentrations, 500mg and 1,000mg. Hara calls them 'Healixer' tinctures.
Both are full-spectrum, and also include MCT oil and organic peppermint oil. What's odd is that Hara suggests the products are full-spectrum, but the tincture doesn't contain THC. Surely, this means the CBD oil is 'broad-spectrum?' There is a 1ml dropper with both options, and each bottle contains 30ml of liquid.
The flavoring comes from organic peppermint oil, and Hara claims it, along with the CBD, can relax muscles in the GI tract. It uses MCT oil as the 'carrier,' so the tincture is easily digested and sent to the liver. The 1,000mg bottle offers a reasonable concentration of 33.33mg of CBD per ml.
To use, place a few drops beneath your tongue for up to 60 seconds. Once you swallow, the body absorbs the cannabinoids and terpenes via the sublingual gland.
Sizes & Prices
Hara CBD oil is available in a limited range of sizes. However, the brand also stocks a variety of other products:
CBD Oil
One of our only complaints about Hara is its small range of CBD oils. It offers just two different size options:
CBD Content
Price
Hara CBD Capsules
The brand strips things down even more by offering just one CBD capsules option. Its Hemp Gems contain a variety of ingredients designed to help improve cognitive functioning and mood. Aside from the hemp-derived CBD, the gems include:
5-HTP
Choline
Forskolin
Alpha GPC
Artichoke Extract
Acetyl-l-carnitine
Each ingredient is specially chosen to provide a potential benefit. For example, choline apparently helps the brain produce acetylcholine, a powerful neurotransmitter. It could help with mental focus and learning. Forskolin could improve blood flow to the brain, clarity, mood, and memory.
Research into most of these ingredients and their benefits is relatively limited. Nonetheless, Hara thoroughly believes that it has assembled a gold standard of nootropics. In case you didn't know, a nootropic is a substance that potentially improves cognitive function. It is especially useful for those looking to boost creativity, motivation, or memory. There are 30 capsules in a bottle, and each contains 20mg of CBD.
CBD Content
600mg (30 x 20mg CBD Capsules)
Price
Hara CBD Gummies
The Hara range of gummies provides customers with two options. The vegan CBD gummy bears contain 10mg of CBD per piece. You can purchase a 10-pack or a 30-pack. Unlike some of its other products, the gummies contain trace amounts of THC, usually no more than 0.06%.
We were happy to see that there wasn't an enormous raft of ingredients. The gummies come in apple, carrot, and grape flavors, each of which comes from organic concentrate. There is also pectin, citric acid, organic cane sugar, and organic glucose syrup, which contains wheat. What's great is the lack of artificial coloring and flavoring.
The brand suggests that users can take the gummies to manage daily stress levels, manage pain, recover faster, or reduce anxiety.
The vegan CBD sour drops contain the same CBD concentration options as the gummy bears. The key difference is that you get a sour taste instead of a sweet one. The sour drops also contain artificial flavors and colors, so bear that in mind before buying.
CBD Content
100mg (10 x 10mg of CBD)
300mg (30 x 10mg of CBD)
Price
Hara CBD Vape Pens
It is this section where Hara seems to excel. It offers more products than in the rest of its categories combined! The brand recommends that you vape CBD using its devices at a temperature of 210 degrees Celsius (408 degrees Fahrenheit). It claims that this is the optimal heat for cannabinoid vaporization. However, the burning off point for CBD is potentially a lot lower.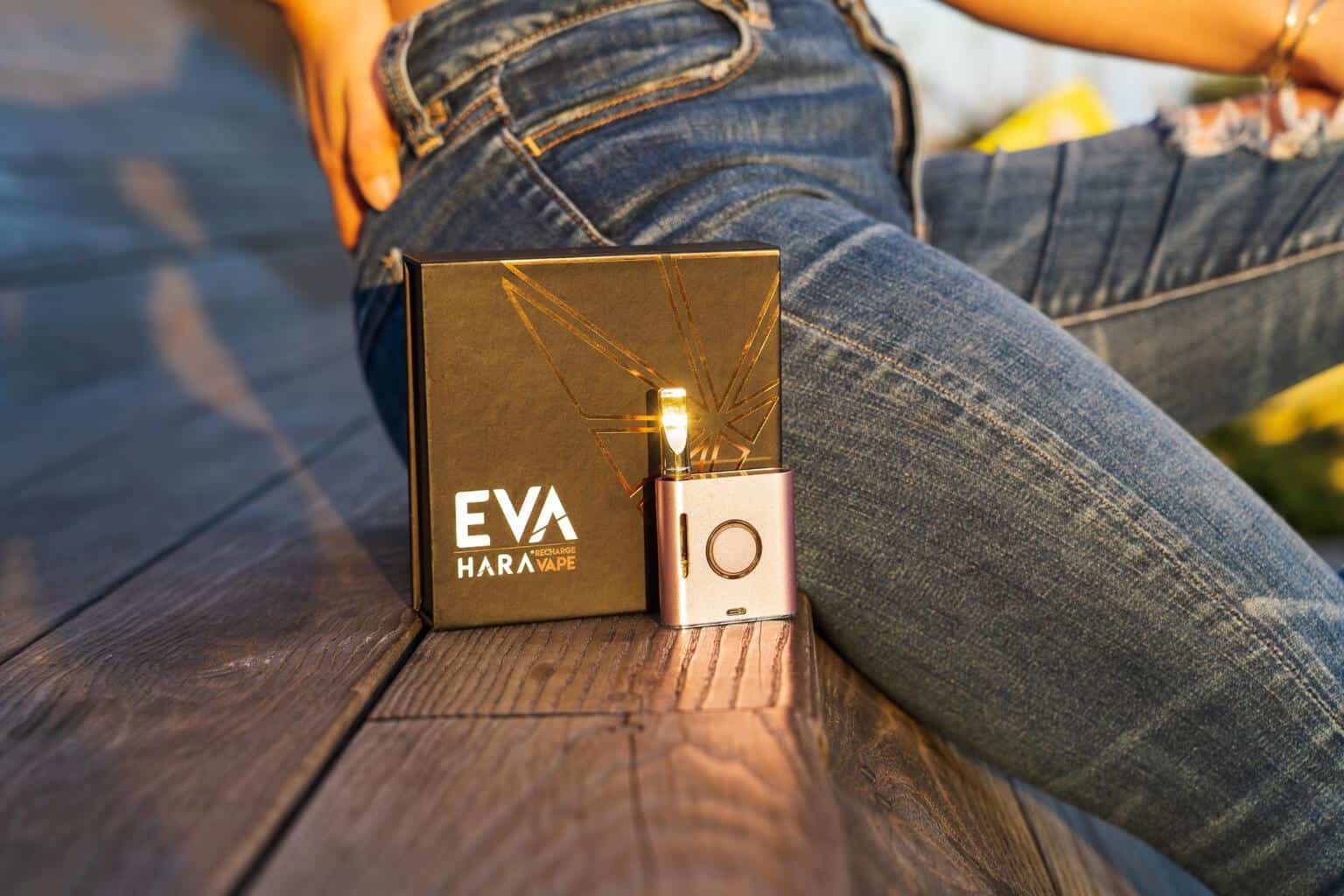 All of Hara's pods and cartridges include large ceramic coils. It claims that their coils heat evenly and produce a smooth vaping experience. The vaping oils in its products contain botanical terpenes, organic MCT oil, and full-spectrum CBD, but with no THC! Hara is against the practice of using vegetable glycerin (VG) and propylene glycol (PG). Here's a brief look at the product range.
EVA – Deluxe CBD Vape
This sophisticated vape pen is the most expensive option on the site. It has a massive 900 mAH battery and three adjustable heat settings. Switching it on requires five taps of the power button, and you need three taps to change heat settings. The pen has a sleep mode and is available in pink and black colors.
In addition, you receive a full-gram cartridge, and have five flavor options:
Big Stick
Blue Razzz
Bubble Gum
Pina Colada
Indigo Chill
Woke Rechargeable Pen
This is a less powerful pen with a 350 mAH battery. It has a standard 510-thread and no buttons. You also get 1,000mg of juice, which contains 400mg of CBD and 600mg of MCT oil. It has a USB charging port.
Full Gram Silver Bullet Cartridge
This has a steel body and a handy mouthpiece. Like the Woke version, it contains 1,000mg of juice and 400mg of CBD. The cartridge has 510 threading, so it should prove compatible with many vape pens.
Full Gram Woke Pod
These cartridges are compatible with the Woke Rechargeable Pen only. They include a dual airflow hole and an anti-leaking feature. Again, you get 1,000mg of juice, which contains 400mg of CBD, and there are five flavors.
Super Nova Pod
This is a limited-edition offering with the standard 1,000mg of juice and at least 400mg of CBD. You can only use these pods with the Woke Rechargeable Pen. Choose between Menthol and Blue Razzz flavors.
Sizes & Prices
The sizes and prices of Hara's vape products are as follows:
EVA-Deluxe CBD Vape
CBD Content – N/A
Price – $89.99
Woke Rechargeable Pen
CBD Content – 400mg
Price – $75
Full Gram Silver Bullet Cartridge
CBD Content – 400mg
Price – $49.99
Full Gram Woke Pod
CBD Content – 400mg
Price – $39.99
Limited Edition Super Nova Pod
CBD Content – 400+mg
Price – $39.99
Where Can I Buy Hara CBD Oil?
Make your way to the official Hara website to check out its list of products. The brand says customers generally receive orders within seven business days. However, they use USPS Priority 2-3 Day Business Mail. Hara also ships internationally, though such orders take 10-15 business days on average.
The company has a 30-day money-back guarantee in place. However, you must return the products unused and in their original condition. Its EVA Deluxe pen has a 3-month warranty.
Final Thoughts on Hara CBD Oil
Overall, Hara is a brand that is doing its best to muscle in on an already crowded marketplace. A group of individuals with a genuine belief in holistic therapy founded the company. We believe they are actual advocates of CBD, rather than a firm hoping to make a quick buck.
There is no question that the CBD products it sells are of the highest quality. It has also received a myriad of positive reviews. The founders have big plans for the organization, but they need to increase the range of products to facilitate any such expansion. At present, Hara specializes in vape pens, but it needs more items to make a permanent dent in the market.
Overall Verdict: 8.5/10
Want to learn more? Here's our complete guide to vaping CBD.
Official Site: haraflow.com