OG Sherbet Strain Overview
The OG Sherbet strain is a tantalizing flavor adventure with hints of sweet candy, citrus and berry. It boasts a high that's smooth, powerful and relaxing.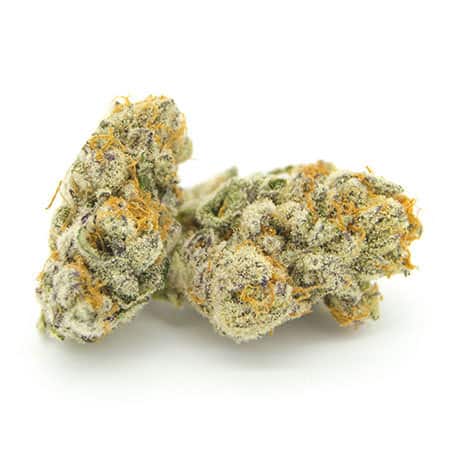 Flavors
Candy
Citrus
Earthy
Fruity
Herb
Sweet
Common usage
Anxiety
Chronic pain
Depression
Sleep
Stress
Effects
Calming
Euphoria
Happy
Relaxation
Uplifting
Growing info
Flowering period is about 8-9 weeks. It is grown both indoors and outdoors. BUY SEEDS FOR THIS STRAIN AT OUR #1 RATED
ONLINE SEED STORE: HOMEGROWN
The OG Sherbet strain takes no prisoners with its vibrant, powerful high. But while it comes on hard, it isn't harsh. Many users enjoy its heady buzz and love its ability to calm, relax, and de-stress. It is an indica-leaning hybrid with an exotic lineage. Its ancestors include the likes of OG Kush, Durban Poison, and the infamously named Pink Panties.
It has some fantastic effects that waylay chronic pain and delivers a burst of euphoria and contentment. Users of this strain may experience total physical relief, euphoric and uplifting thoughts, and release of tension. This strain also has an array of flavors; consumers may find hints of berry hidden alongside notes of tangy candy and dank skunk.
While some equally potent strains exhibit a jarring type of high with an abrupt letdown, OG Sherbet is silky and smooth. It gives consumers an exhilarating edge without the intense couch-lock. Some users contend they feel a bit energized afterward, allowing them to complete light tasks or watch tv.
Try Legal THCA Flower
Want to experience the qualities of THC-A flower? The amazing brand Premium Jane just launched their new line, including strains like OG Kush, Purple Cream, and Blue Dream Pie. Averaging 23% THC-A, there's so much to love with these flowers. Try them today to get 20% off using WayofLeaf's exclusive coupon code: THCAWOL
What Is the OG Sherbet Strain?
OG Sherbet weed is an indica-leaning blend with a distinguished background. It comes from several famous, potent strains. Many of its predecessors have both indica and sativa origins, resulting in a distinctive and potent mix. OG Sherbet shares several traits in common with its forebears in terms of its effects and flavor profile. However, it has a unique character all of its own. It can soothe and relax without tying consumers to the couch.
Its dual nature makes it the perfect choice for those looking to unwind. Due to its slightly energizing effects and ability to uplift mood, this strain is excellent for a lazy Sunday or time spent with friends.
As a social strain, it can facilitate ease of mind and help create a conversational flow. Its initial lift pushes away worrisome inclinations and allows the body to sink into a state of bliss. However, users should be aware that this strain may cause hunger, so snacks should be nearby.
Consumers utilize this strain for various purposes, including treating symptoms of several conditions. Many of these conditions include mood disorders, depression, anxiety, stress, and chronic aches and pains.
Headache sufferers may find their pain dulled and possibly resolved altogether. Although many users don't report feeling sleepy after this strain, it may allow individuals to relax enough to get a good night's sleep.
Fans of this strain compare its effects to lazy days spent in the sun and whittling away the hours. Others indicate that it is an excellent strain to release pent up creative frustration, allowing for the venting of artistic endeavors.
This brand is often confused with its close relative, Sunset Sherbet. They share several similarities. However, OG Sherbet has some powerful Kush effects, including some complex herbal aromas that round out its fragrance.
Aroma
The OG Sherbet strain has a delightful, pleasant, and intriguing aroma. Users highly rate this strain's complex and full-bodied fragrance. Upon the first inhale, there is a burst of tangy, fresh pine. Users may also detect subtle hints of sandalwood and herb. Still, others may smell a small hint of floral bouquet and delectable touches of citrus and sweet. An undercurrent of dankness and skunk pervades, though it isn't unpleasant.
Flavor
The OG Sherbet strain features a flavor profile that is as exciting as its aroma. While its fragrance promises an adventure, the flavor delivers. On the inhale, there is a wondrous splash of citrus and pine. The citrus is fresh and tart and has the ripe taste of lemons. A floral bouquet sings throughout, along with tinges of sweet candy, earth, and warm herb.
Appearance
The OG Sherbet strain has numerous densely packed buds that come in an eye-catching array of colors. Deep vivid plums and purples are intertwined with spots of bright orange pistils, golden yellows, and a plethora of greens. A layer of frosty, sugary trichomes is also interspersed with ribbons of amber.
OG Sherbet Strain Grow Info
OG Sherbet seeds grow well both indoors and outdoors. However, it tends to be a finicky grower and may prove a problematic fit for newbies. This particular strain is typically grown from clippings as seeds are hard to come by. Home growers may have to adjust for its love of sunlight and air with plenty of trimming a proper circulation.
It does respond well to nutritious soil, and some cultivators prefer a SCROG approach that works tremendously with this strain. While growers won't have to worry too much about space, there should be ample room for the plants to stretch. If grown outdoors, growers should try a warm and dry climate with a temperature range between 75 and 80 degrees Fahrenheit. Some growers utilize greenhouses for the best results.
Although it may seem like a picky plant, it stands up well to mildew and mold and can thrive against pests. However, growers should be aware that while it has a hardy nature, it thrives best in low humidity. Despite its moderately difficult growth level, it has a quick turnaround of about 8-9 weeks. Growers can expect a yield of 8-9 ounces per square meter indoors, while outdoor growers may expect more than 10 ounces.
THC Content – Highest Test
This strain has an average THC level of 19%.
CBD Content – Highest Test
The highest content test for CBD is 1%.
Medical Benefits of the OG Sherbet Strain
The OG Sherbet strain may alleviate a wide variety of symptoms. Many of these symptoms relate to conditions such as depression; users indicate that it can reduce a wide range of symptoms for those suffering from depression and anxiety. Users report that it decreases stress and tension. Its indica-leaning qualities also include enhancing mood and silencing many of the symptoms associated with PTSD and ADD/ADHD symptoms.
The OG Sherbet strain also supports better sleeping patterns by soothing worrying thoughts and inducing a state of relaxation. Those experiencing panic disorders may find some relief. This strain also assists with chronic pain, migraines, and other physical symptoms. It may help with a lack of focus and inattentiveness.
Possible Side Effects of the OG Sherbet Strain
Although most individuals don't report any issues, a small percentage of people may experience adverse reactions. These effects may include dry mouth, dizziness, dry eyes, and in some instances, paranoia.
Final Thoughts on the OG Sherbet Strain
Many cannabis fans enjoy the OG Sherbet strain. Its indica-leaning nature has some incredible benefits. Many of these benefits include mood enhancement, relaxation, and stress reduction. Individuals that use this strain love its calming effects and its mellow letdown.
While it is quite soothing, it lacks much of the harsh couch lock of some other potent strains. Individuals can partake in its slightly energizing edge and feel ease to chronic pain and aches.
Although it may not induce sleep in many people, it is an excellent way to address stress and worry. These often act as factors in sleep-related issues such as insomnia. People living with insomnia may find that OG Sherbet may help them relax enough to get a good night's sleep.
While it has many great qualities, some home growers may find it a bit difficult. It thrives best in a warm, dry climate. Although it can easily overwhelm someone not familiar with its growth, some would view this as well worth the trouble. It has a quick turn around of up to 8-9 weeks indoors.
The plant is robust and can undergo a litany of adverse conditions such as mold, mildew, and common pests. It responds well to specific methods of growth, including SCROG and trimming. Users typically report they enjoy its sweet candy, piney, and citrusy flavor. This strain doesn't have intense sedative effects. Despite its effects, people should take this strain in the evenings.
Try Legal THCA Flower
Want to experience the qualities of THC-A flower? The amazing brand Premium Jane just launched their new line, including strains like OG Kush, Purple Cream, and Blue Dream Pie. Averaging 23% THC-A, there's so much to love with these flowers. Try them today to get 20% off using WayofLeaf's exclusive coupon code: THCAWOL