Sometimes you may be looking for cannabis strains to relax the mind and improve focus. Other times, you may be wanting to feel buzzy and alive. There are many strains to choose from when it comes to inducing euphoria.
Hybrids, indicas, and sativas are all capable of producing euphoric effects, so it's all about personal preference.
Euphoria is possibly the most desirable effect when it comes to cannabis, and that's completely understandable. There is no better feeling than elation and well-being that allows us to forget about all our stresses and just be happy, productive, and content.
Try Legal THCA Flower
Want to experience the qualities of THC-A flower? The amazing brand Premium Jane just launched their new line, including strains like OG Kush, Purple Cream, and Blue Dream Pie. Averaging 23% THC-A, there's so much to love with these flowers. Try them today to get 20% off using WayofLeaf's exclusive coupon code: THCAWOL
5 Best Strains with Euphoric Effects
Typically, the best uplifting and euphoric cannabis strains have sativa-dominant properties. Although most strains have a positive effect on the mood, some cultivators deliver the perfect phytochemicals to support euphoria. And we're not talking about a mild boost in optimism or fits of giggles; Euphoria is defined as being in a state of intense excitement and happiness.
If you find yourself feeling a little down or in need of a bit of a pick-me-up, read on. Here's our list of the five best cannabis strains for euphoria to make you feel like you're on cloud nine.
Pineapple Express
Thanks to Seth Rogan and James Franco, who made a movie about this strain, Pineapple Express is one of the most popular strains in the United States. It's a well-balanced, sativa-dominant hybrid that is famed for its uplifting and energizing effects.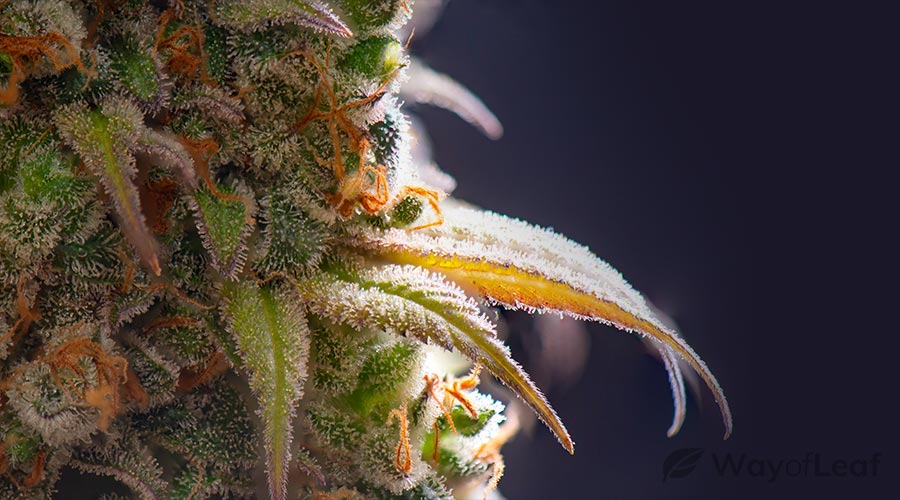 Pineapple Express is reminiscent of mango, pine, and fresh apples. It offers a long-lasting, euphoric high that inspires creativity, energy, and productivity. It delivers around 19% THC and patients often use it to treat anxiety, stress, fatigue, and pain.
This strain is not nearly as strong as the movie depicts, so you don't have to worry about it leaving you dysfunctional or acting plain stupid. But the buzz is powerful in its own right, and you will be floating through the air in no time.
White Diesel
The White Diesel strain features some of the best genetics from NYC Diesel and White Widow. The result is a sativa-dominant strain that has a reputation for providing euphoric highs. White Diesel is extremely euphoric and is famous for taking effect without delay, meaning you will start feeling uplifted almost immediately.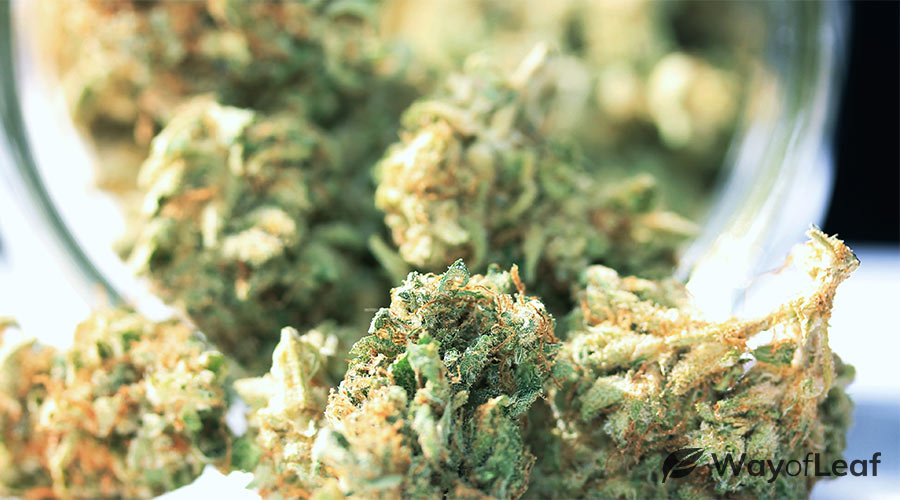 This strain also inspires some feeling of physical relaxation but is mostly known for its cerebral effects. It's a popular option for medical patients who have depression and anxiety. This also makes it a great choice for recreational users who are looking for an uplifting experience.
White Diesel boasts an impressive THC level of about 22%, giving it a consistently strong bang for your buck. Vibrant and euphoric, this strain is considered a good evening strain as it will warm you from head to toe, giving the body a sedative-like chill.
Euphoria
How could we possibly leave this one off our list of the best cannabis strains with euphoric effects? Euphoria is an indica-dominant, award-winning strain that was bred from two popular skunk strains, and users praise its upbeat, energetic effects. A cross between Great White Shark and Royal Medic, Euphoria is especially popular for its THC:CBD ratio.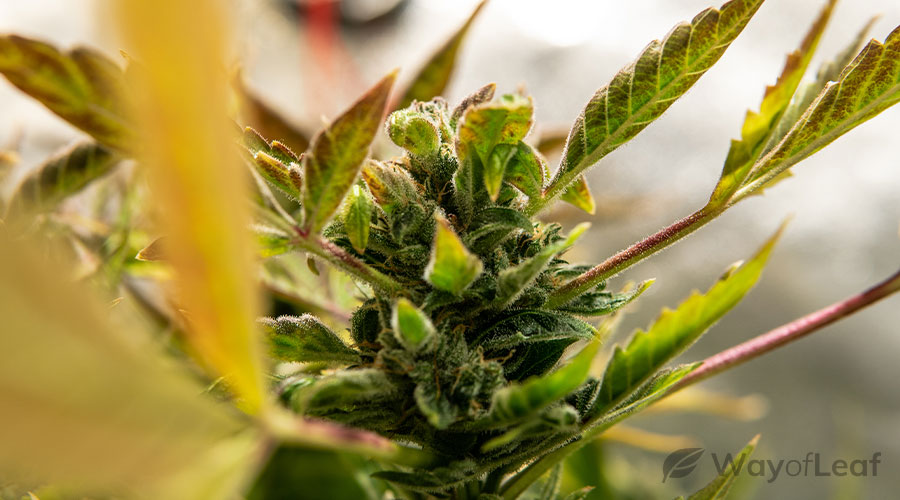 The effects of Euphoria are subtle. It clocks in at around 9-10% THC, with higher levels of CBD, making it a great medical strain. As the name suggests, the effects are very euphoric, leaving users filled with energy and motivation throughout the day. This makes it a great option for daytime use or anytime when you want to enjoy cannabis without becoming lazy, lethargic, and unproductive.
Euphoria will put you in a sociable and talkative state, reducing anxiety and nervousness almost instantly. She's a great option just before a social gathering or big event to put you in the mood for connecting with people.
Chemdawg
With a near-even balance between indica and sativa properties, Chemdawg delivers on both fronts. The happy strain induces a strong relaxing effect, calming the mind and filling you with a light but distinctly happy feeling.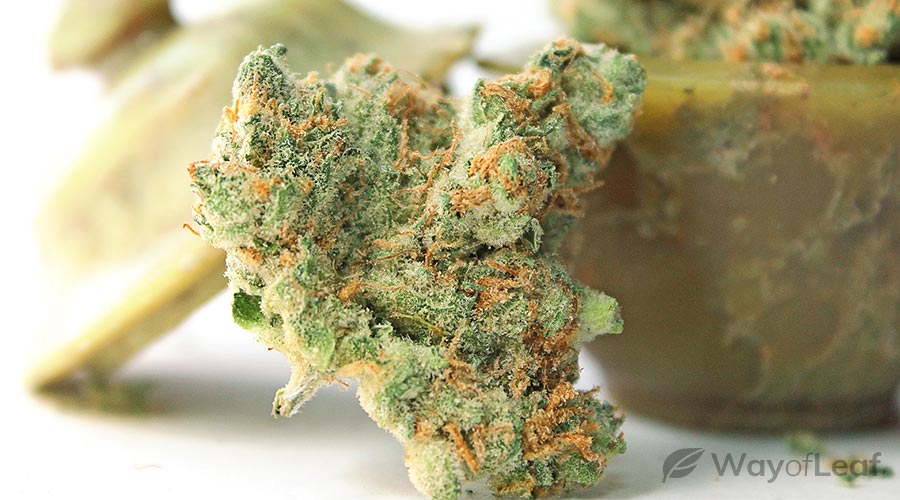 Novice smokers should be aware that Chemdawg is an especially potent strain. It has high THC levels (18-26%) and is sure to induce a heavy-bodied, intensely cerebral high that is vividly enjoyable and wildly euphoric.
Chemdawg is a great option for those who work in the creative field because it can send them on an intensely inspired creativity streak. A few tokes are enough to induce a case of the uncontrollable giggles. And although the high isn't described as extreme, it's known to be quite intense.
Tangerine Haze
Tangerine Haze is a sativa-dominant hybrid strain that users love for its distinct citrus taste and smell, as well as its happy, uplifted, euphoric effects. Users often report that they feel their stress melt away, and it's replaced with energy soon after the zesty taste has passed their lips.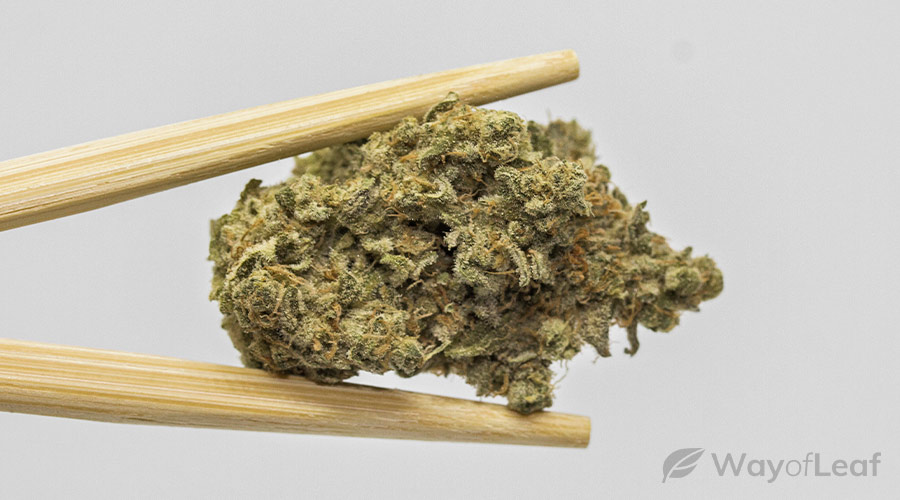 With THC levels that reach 21%, Tangerine Haze is a potent strain with a powerful, cerebral head high, especially at the onset. It makes users feel uplifted and happy more than anything else. The general happiness that users feel, along with a boost in energy level, makes Tangerine Haze a great option for recreational use with friends.
Tangerine Haze is an excellent strain for daytime use as it refreshes and energizes consumers. It features a powerful but very calming high and is great for alleviating stress as it soothes the body and mind.
Final Thoughts on the Best Cannabis Strains with Euphoric Effects
With so many interesting strains to choose from and a wide range of effects, it's almost impossible to get bored using cannabis.
There isn't anything quite like coming home after a long day and taking a few tokes of one of your favorite cannabis strains to make you laugh.
Perhaps, even better than that is the feeling of getting to just the right state of euphoria, where the giggles flow out in fits of happiness, and the stresses of the day just melt away. If you're looking for a cannabis strain to make you feel motivated, energized, and uplifted throughout the day, be sure to try one of the strains from this list.
Try Legal THCA Flower
Want to experience the qualities of THC-A flower? The amazing brand Premium Jane just launched their new line, including strains like OG Kush, Purple Cream, and Blue Dream Pie. Averaging 23% THC-A, there's so much to love with these flowers. Try them today to get 20% off using WayofLeaf's exclusive coupon code: THCAWOL