This California-based brand began selling CBD products but has expanded into the world of rare and highly intoxicating cannabinoids. Binoid remains a reputable seller of cannabidiol but stands apart from the competition with its exceptional range of hard-to-find cannabinoids such as HHC and THC-P. It's time to find out if Binoid deserves its place in the big leagues.
Pros
Outstanding range of rare cannabinoids
Immense product selection, including items from other brands
An exceptional 4.9-star rating on Trustpilot
Fast and reliable shipping
A wide variety of consumption methods
Cons
The site layout could confuse some customers
Outdated lab reports
Binoid Coupon Code: 20LIFE
Who Is Binoid?
Elan Lipin co-founded Binoid in Los Angeles in December 2018. He was impressed by how CBD helped his grandmother's back pain after she suffered a fall at home. Lipin named the company Binoid because it is short for "cannabinoid." He says he created the brand because he saw a gap in legitimacy, knowledge, and trustworthiness in the CBD sphere.
From there, he started using data analytics, research studies, and lab testing to determine the best brands to collaborate with. Lipin claims to have spent significant time studying how CBD works to understand it better.
In recent times, Binoid started branching out as so-called minor cannabinoids became in vogue. Now, the brand offers a host of products featuring intoxicating cannabinoids, including THC-V, THC-P, HHC, and THC-O. Please note that while these compounds aren't strictly illegal in a federal sense, they are banned in certain states. Therefore, you must check your local and state laws before considering a purchase.
Now, let's check out what the company offers in this exclusive Binoid review.
Binoid Overall Score
| | |
| --- | --- |
| WayofLeaf's Online Review Rating | |
| WayofLeaf's Reliability Factor | |
| WayofLeaf's Lab Report Verification | |
| Product Potency Factor | |
| Price Range | $ – $$$$ |
| Locally grown / sourced | |
| Current promotions/coupons | |
| Free Shipping: | |
| Types of products offered | CBD oils, water-soluble drops, topicals, gummies, capsules, pet products, live resin, delta 8, delta 9, delta 10, HHC, HHC-O, THC-H, THC-O, THC-P, THCV |
WayofLeaf's Top 3 Favorite Binoid Products
Although Binoid has an outstanding range of products featuring interesting cannabinoids, our reviewers focused on the brand's CBD offerings. This is primarily for legal reasons as some of our team live in states where some of these compounds are banned. Therefore, we could only get our hands on cannabidiol products.
---
1 – Binoid Good Night CBD Oil – Sleep Blend (1000mg)
Summary:
Binoid has a seriously impressive selection of CBD oils ranging from 500mg to 4,000mg. However, only a handful comes from the brand itself. It sells CBD oil from other companies, including Medterra, CBDfx, and CBDistillery.
Besides its standard offering, Binoid also sells water-soluble CBD drops, which the brand claims absorb faster into the body. The outcome is faster results and a higher rate of bioavailability. Visitors are spoiled for choice with flavors including Lemon, Ginger, and Peppermint.
Ultimately, we opted to test its Good Night Sleep Blend CBD oil (1000mg). It is a broad-spectrum product, meaning it is free from THC. With added ingredients, including CBN and lemon essential oil, it is designed to assist you in your quest to have a good night's sleep.
Our tester followed the instructions outlined by Binoid, which include taking the drops about 60 minutes before bedtime. They went about their usual nighttime routine and didn't even remember getting to sleep, which is probably a good sign! Our tester used the product regularly for a couple of weeks and was impressed by its efficacy. Incidentally, he also said the lemon essential oil gives the product a nice citrus taste.
The lab report comes from DB Labs and shows 1280mg of CBD in the bottle, almost 30% higher than what the label claims. It also outlines high levels of limonene and about 25mg of CBN. The report shows that the CBD oil passed tests for pesticides, microbials, mycotoxins, heavy metals, solvents, and foreign matter without going into detail. Also, the lab report is dated October 2020, which means it requires an update.
What We Loved About This Product:
Pleasant aftertaste
Natural ingredients designed to help you sleep
Seems to be pretty effective
What We Didn't Love:
The lab report is outdated and requires more detail
| | |
| --- | --- |
| Mg CBD: | 1000mg |
| Mg THC: | 0mg |
| Extract type | Broad-spectrum |
| Potency: | |
| Product Price | $34.99 ($0.03/mg) |
| Type of lab report | COA (DB Labs/Confident Cannabis) (Sample 2009DBL0297.9058) |
| Best used for? | Sleep, Relaxation, Stress/Anxiety |
| Product source | Hemp (Oregon, USA) |
| Terpenes/aroma | Citrus, Floral |
| Taste | Sweet, Earthy |
---
2 – Binoid CBD Gummies – Mango (300mg)
Summary:
Once again, the brand stocks CBD products from other companies. On this occasion, though, you can only purchase CBDfx gummies. Alternatively, you can try Binoid CBD gummies which come in Sour Strawberry, Mango, and Mixed Berry flavors.
Binoid's offering is broad-spectrum, with 30 gummies in each container. However, each piece has a disappointing 10mg of CBD, well below what we perceive as the industry standard, which is 20-25mg. The relatively low cannabidiol content means you really need to consume two to get the best effects.
Our tester opted for the mango-flavored CBD gummies to help him relax in the afternoon. He occasionally feels stressed after busy morning meetings and routinely suffers from caffeine crashes! While skipping the coffee is obviously the best option, he claims that CBD gummies take the edge off.
He took two of the gummies and loved the taste, which he said titillated the tongue without being excessively sweet. Overall, the gummies seemed to have the desired effect, though the downside is that a single container lasts just 15 days if you eat two a day.
The lab report on this occasion comes from Encore Labs, which shows 391mg of CBD per container, or 13mg per gummy. With 30% more than what the label advertises, you might feel as if you're getting better value for money. However, it is a little concerning that there's such a gap between the claims and the reality.
It is a one-page report that doesn't mention testing for microbials, mycotoxins, etc. Indeed, it seemingly only looked at the cannabinoid content. Furthermore, it is dated from May 2020. We would like to see Binoid perform more detailed testing on this particular product and also update the COA.
What We Loved About This Product:
Fantastic tropical taste
Convenient
Offers relaxation
What We Didn't Love:
The lack of detail in the report
Fairly low CBD concentration
| | |
| --- | --- |
| Mg CBD: | 300mg |
| Mg THC: | 0mg |
| Extract type | Broad-spectrum |
| Potency: | |
| Product Price | $29.99 ($0.10/mg) |
| Type of lab report | COA (Encore Labs) (Sample ID: 2005ENC1830_496) |
| Best used for? | Relaxation, Stress/Anxiety |
| Product source | Hemp (Oregon, USA) |
| Terpenes/aroma | Citrus |
| Taste | Sweet, tropical, fruity |
---
3 – Binoid Healing Cream – Extra Strength (500mg)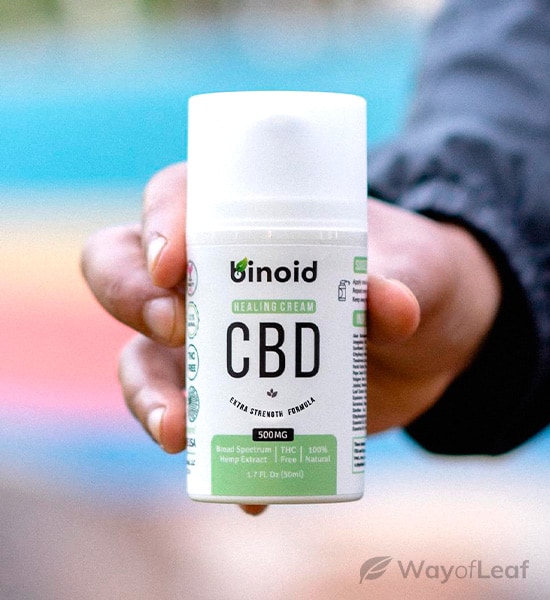 Muscle/joint Soreness
8.5/10
Summary:
Binoid sells CBD topicals from Medterra and CBDfx. However, it also sells Healing Cream, which comes in high-strength (250mg) and extra-strength (500mg) concentrations.
When you call a product "healing cream," you set the bar pretty high. It contains a wide range of ingredients, such as jojoba oil, camphor & menthol, avocado oil,  and green tea extract. All of the above have pain-relieving and anti-inflammatory benefits backed by science. Perhaps this is why Binoid feels comfortable using the "healing" term. Of course, the brand doesn't make any medical claims, instead saying the cream "may create a synergy of body relief, aromatherapy, and potential skin healing to give you the most complete experience."
Our tester tried the extra strength cream, which contains 500mg of CBD in 50ml of cream. She massaged it into an area where she felt pain and said she experienced a tingling sensation. This is to be expected since the product contains menthol.
Overall, she said it offered a pleasant feeling and was effective in providing short-term relief. However, she needed to reapply every few hours per Binoid's instructions.
The COA came from Encore Labs again and showed a disappointing 448mg of CBD in the bottle. Since Binoid generally has more CBD in its products, we believe it is a rarity rather than the norm. The lab report only covered the cannabinoid content and was dated May 2020.
What We Loved About This Product:
A lovely soothing sensation when applied to the skin
Offers a pleasing, subtle aroma
Easy to apply
What We Didn't Love:
Outdated lab report (again)
Lower CBD content than stated on the label
| | |
| --- | --- |
| Mg CBD: | 500mg |
| Mg THC: | 0mg |
| Extract type | Broad-spectrum |
| Potency: | |
| Product Price | $39.99 ($0.08/mg) |
| Type of lab report | COA (Encore Labs) (Sample ID: 2005ENC1830_4938) |
| Best used for? | Pain relief, muscle soreness |
| Product source | Hemp (Oregon, USA) |
| Terpenes/aroma | Menthol |
| Taste | N/A |
---
Binoid Q + A: What Our Readers Wanted to Know
Given the lack of regulation in the industry, it is essential to learn as much as possible about any CBD brand before making a purchase. Below, we answer FAQs regarding Binoid to help you better understand what the brand is all about.
Where Does Binoid Get Its Hemp?
The brand says it gets its hemp from Oregon. It uses the plant matter to create its wide range of products, which are processed at Binoid's cGMP and ISO 9001:2015 Certified manufacturing facility. For the record, it uses a standard CO2 extraction process to take the CBD and other cannabinoids from the hemp.
Which Lab Does Binoid Use to Test Its Products?
The brand tests each product internally five times before sending it to third-party labs. Binoid uses the services of several laboratories, which gives it a high level of credibility, in our opinion. These labs include TXPharmLabs, DB Labs, and Encore Labs, all of which are reputable organizations.
However, the lab reports shown by Binoid on its official site aren't particularly detailed, as they only show one page in many cases. Also, several reports are from up to two years ago, meaning widescale updates are necessary.
What Is Water-Soluble CBD?
It is a type of CBD that goes through a special process designed to make the cannabinoid easier to absorb by breaking it into smaller molecules. Water-soluble CBD is supposed to offer a higher rate of bioavailability than other forms of the cannabinoid. Therefore, you should get more bang for your buck. Some brands claim that water-soluble CBD is up to five times more effective than the standard version, although there isn't much clinical evidence to back up such assertions.
There is also a belief that water-soluble CBD works faster than the normal version because it makes it to the bloodstream quicker.
Is It Legal to Buy Binoid's Range of Intoxicating Cannabinoids?
That depends on where you live! A ruling by the Ninth Circuit Court of Appeals in May 2022 placed hemp-derived delta 8 THC within the definition of "hemp" as per the 2018 Farm Bill. Therefore, Binoid delta 8 and other cannabinoids sold by the brand, such as delta 10 THC and HHC, are not strictly controlled substances.
However, there are growing calls to ban these cannabinoids due to a lack of regulation in the industry. At present, delta 8 is banned or restricted in a significant number of states, with more sure to follow. It is also likely that other cannabinoids will fall foul of state legislators. Therefore, we urge you to check the laws in your state and locality before buying anything other than CBD from Binoid.
Does Binoid Have a Rewards Program?
Yes! Binoid believes in rewarding loyal customers and has a standard loyalty program. You receive a point for every $1 you spend, and 100 points equal a $10 discount. It is also possible to earn additional points for leaving reviews and following the brand on Instagram. Binoid gets the ball rolling with a 50-point reward for signing up and offers a 100-point birthday bonus.
How to Choose the Right Binoid Product
It remains illegal for CBD sellers to make medical claims. Those that make this mistake quickly feel the wrath of the FDA. Therefore, Binoid can't suggest that any of its products can "treat," "cure," "prevent," or "diagnose" any medical condition. Nonetheless, many people use CBD to help them manage the symptoms of various conditions. Here are a few reasons why people use cannabidiol, along with suitable Binoid products.
Pain Relief: CBD's interaction with the CB receptors in the body's endocannabinoid system (ECS) means it could have some merit as an analgesic. Research suggests CBD could affect CB receptor activity, leading to a reduction in inflammation. Binoid CBD cream might prove useful if you're looking to target a specific area.
Insomnia Relief: There is research that outlines the potential for CBD to improve the duration and quality of sleep. The cannabinoid may even help people relax and get to sleep faster than normal. The Good Night Binoid CBD oil we reviewed is designed to help you have a better night's sleep. It combines CBD with skullcap, valerian root, lemon essential oil, and CBN.
Alleviating Anxiety: If you're hoping to combat anxiety without the use of prescription medication, CBD could help. There is data available that shows the anti-anxiety benefits of cannabidiol. It could help you feel calmer and more relaxed without worrying about an intoxicating high. You could choose any Binoid product for this purpose. However, its CBD gummies might prove the best option if you're hoping for longer-lasting effects.
What Do Other Customers Have to Say?
Binoid has earned rave reviews from the vast majority of online consumers. It enjoys a Trustpilot rating of 4.9 stars from well over 800 reviews. Remarkably, just 3% of Binoid reviews saw the brand receive less than four stars, which speaks volumes about the company's reputation. Customers love the wide selection of products, the high standard of customer service, and the excellent shipping.
Here's a taster of what your fellow consumers think of Binoid.
Verified
a day ago
I've always had a good experience with Binoid. Their website is easy to navigate and they keep it updated with their current stock. Their ordering process is quick and easy. They ship their products quickly. They have great prices and their products deliver. I would definitely recommend Binoid.
Verified
a day ago
The shipping is really fast and the products are awesome! It's pretty affordable for the quality of their products and definitely recommend them. Got a 2 gram thc-p disposable for $20 with all their discounts!!
Verified
a day ago
I love this company, their products are amazing and the customer service is awesome!
Verified
a day ago
This site is by far the best. We have been trying to find a reliable company with decent products and reasonable prices. After trying many products by Binoid through the past year, I wouldn't recommend going anywhere else! And their customer service is amazing. Definitely give them a try!
Additional Binoid Products
To call Binoid's range of products impressive is an understatement. It sells a wide variety from its own catalog and adds items from other brands. In terms of CBD, Binoid unquestionably has something for virtually everyone, but it doesn't stop there. While it began as a CBD brand, it has expanded into the minor cannabinoid sphere with products that can cause intoxication.
Here's a very brief overview of what you can expect to see on Binoid's official website.
CBD for Pets: You can buy pet tinctures ranging from 250mg to 1000mg of CBD from CBDistillery and CBDfx. There is a growing trend toward giving cannabidiol to pets since they have an endocannabinoid system (ECS) just like humans.
CBD Capsules: This is a convenient way to dose CBD, and you can buy capsules from CBDfx and Medterra.
CBG Oils: Known as the "mother of all cannabinoids," cannabigerol (CBG) is linked with a wide range of benefits, including reducing intraocular pressure, stimulating appetite, and offering anti-inflammatory properties.
Live Resin: These products combine cannabis terpenes and pure distillate. Available options include several intoxicating cannabinoids and Binoid sells them in vape form.
Delta 8 THC: Binoid delta 8 is synthetically produced by the brand. It has 50% of the potency of delta 9 THC found in marijuana. You can buy delta 8 gummies, vapes, tinctures, dabs, and capsules.
Delta 9 THC: This is the famed cannabinoid associated with the intoxicating high one gets from marijuana. Binoid sells D9 gummies and chocolate.
Delta 10 THC: Still a rarity in the industry, delta 10 THC has the potential to cause intoxication, albeit not at the same level as D9. It is available in vape and tincture forms.
THC-O: This is the cannabinoid for people with an extremely high THC tolerance! It is believed to be three times more potent than delta 9. You can purchase Binoid THC-O gummies and vape juice. The gummies have up to 25mg of the cannabinoid apiece, so it is wise to consume only a fraction of one at first.
HHC-O: HHC is stronger than delta 8 but less potent than delta 9. Binoid also sells HHC-O acetate, which is 50% stronger than HHC. Therefore, it is slightly more potent than D9, so use it sparingly and sensibly! You can get Binoid HHC and HHC-O tinctures, live resin, vapes, and gummies.
THC-P: This cannabinoid is potentially several times more potent than delta 9 and was discovered by accident only a few years ago! You can buy it in tincture, dab, gummy, and vape form. There are also THC-H products. This is a new cannabinoid that is extremely hard to find.
THC-V: Finally, you can buy THC-V vapes. This cannabinoid has numerous potential benefits and is found in a handful of selected marijuana strains.
Binoid Review: Final Summary
| | |
| --- | --- |
| WayofLeaf's Overall Value Rating | |
| WayofLeaf's Customer Service Rating | |
| Ships outside the USA? | |
| Available for online ordering? | |
| Available in retail stores? | No |
| Military/veteran's discount available? | No |
| Money back guarantee? | Yes (30 days) |
| Shipping/returns policy | The brand ships orders within 1-2 business days of receiving and accepting them. There are also VIP tiers with point multipliers available for individuals who spend more. California residents tend to receive orders within a day since Binoid's HQ is in Los Angeles. Customers on the East Coast can expect to get their products in 3-7 business days. Binoid does have a 30-day money-back guarantee, but only if the product is unopened. It will not accept any returns that have been opened and used. |
| Link to buy | binoidcbd.com |
Wrap-Up: Our Final Thoughts
Binoid began as a CBD company and continues to offer a substantial range of products, including items from other brands. Its cannabidiol products remain at a fairly high level, although we wish it would update its lab reports.
However, where Binoid has made its name is as a seller of rare cannabinoids. We believe it is the undisputed #1 in this department, so if you want products that cause an intoxicating high and live in a place where it is legal to buy them, check out Binoid's online store today!