Sales of marijuana edibles grew exponentially during the global pandemic. A growing number of people turned to THC to help cope with the stress, anxiety, and depression they suffered. A growing number of first-time users wanted to try cannabis but didn't want to start smoking. The recent epidemic of vaping-related illnesses has also turned a lot of people off that form of consumption.
Cannabis edibles are perceived as a straightforward, healthier, and tastier way to use THC.
Cannabis edibles are perceived as a straightforward, healthier, and tastier way to use THC. A possible downside is an often-prohibitive cost. However, for many users, it is worth paying a little extra for convenience. In this article, we check out five of the best marijuana snacks on the market, regardless of price.
1 – Ripple QuickSticks
Brought to you by Stillwater Brands, Ripple QuickSticks is a THC-infused version of Pixy Stix. It is an updated version of the Ripple powder, which you can pour into a drink to dissolve. The old version is a great idea, but it can make your drink taste too chalky.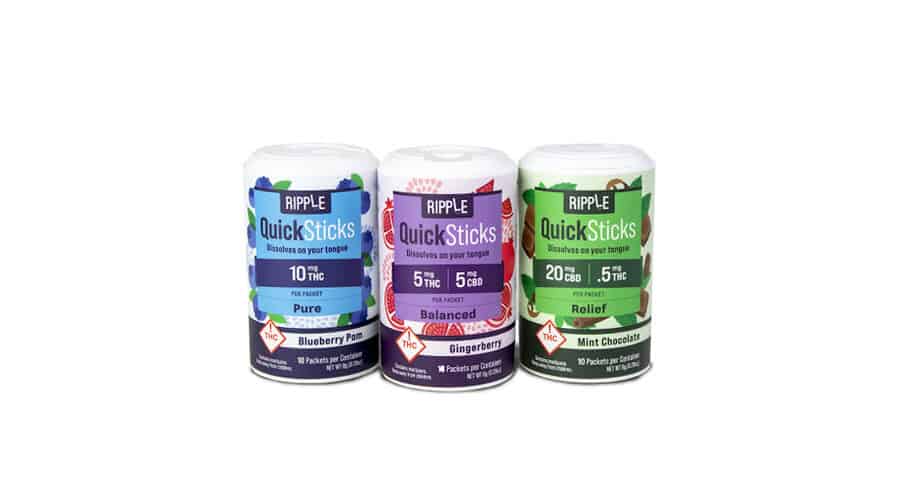 In contrast, you pour QuickSticks powder onto your tongue directly. The powder is a combination of cannabis extracts, citric acid, MCT oil, sugar, natural flavors, and sorbitol. It quickly dissolves in your mouth and leads to rapid intoxication. There are three options:
Blueberry Pom: 10mg THC per packet.
Gingerberry: 5mg THC and 5mg CBD.
Mint Chocolate: 5mg THC and 20mg CBD.
The Blueberry Pom sachet is the one to try if your goal is to get stoned. Not everyone is a fan of the flavors. Some users suggest they are overly sickly. However, most people enjoy the effects and love the fact that intoxication happens so quickly.
2 – Mint Kudu Cookies
If you like Thin Mint Girl Scout Cookies (the snack, not the cannabis), you will love Mint Kudu Cookies. They are effectively a combination of cookies and weed and come from a company based in Denver.
There are ten cookies per bag, and each one contains 10mg of THC. By far the biggest issue here is limiting yourself to a single cookie. Succumbing to the temptation to eat four or five could lead to a very unpleasant experience. The ingredients include dark chocolate, milk chocolate, and sugar.
You can generally expect to feel the effects around an hour after consumption, though it could take longer. Most users warn that Mint Kudu Cookies are extremely potent and could even send you to sleep.
3 – Dutch Girl Strawberry Stroopwafels
A Stroopwafel is a Dutch wafer cookie made from two thin baked dough layers joined together by a caramel filling. This cannabis edibles version brings forth the sweet delights of this gorgeous dessert and gets you stoned in the process. These are fantastic by themselves but taste even better with extra ice cream.
You can purchase a 'recreational' box containing 10 x 10mg THC waffles or a 'medical' option with 10 x 25mg THC waffles. Although you get the slight taste of marijuana, it isn't overpowering. Instead, you'll focus on the gooey, tasty treat. Incidentally, adding a scoop of vanilla ice cream between two stroopwafels takes the naughtiness factor to an entirely new level.
According to some users, this marijuana snack's effects are noticeable fairly quickly. Within 20 minutes, you'll notice that something is happening. After another 20, you could be wholly intoxicated. You can expect the high to last around four hours, though this varies according to the user.
4 – Coda Signature Caramel & Corn White Chocolate Bar
This particular cannabis snack is something you could bring into a movie theater if only it weren't illegal to do so! It comes in a nicely packaged box consisting of 10 x 10mg THC squares of chocolate.
The packaging gives the impression that you're getting a high-end product, and it certainly tastes that way. The brand ethically sources its cacao from certain regions of South America. It is a lovely combination of white chocolate, THC, and sea salt. The company also utilizes CO2 extraction, so you know there's no danger of any residual solvent. It actually tastes akin to chewing popcorn, salt, and caramel.
When the high hits, it begins with cerebral intoxication. Some users suggest that it helps with pain immensely.
5 – Legal
We decided to conclude the list with a THC-infused drink. Legal Sparkling Beverages enjoys a sterling reputation as one of the top-rated brands in the industry. You can choose between the following five flavors:
Lemon Ginger (Indica)
Pomegranate (Sativa)
Rainier Cherry (Hybrid)
Cranberry (CBD + THC)
Espresso Mocha (Sativa)
These are fantastic drinks for anyone who loves cannabis and also has a sweet-tooth. However, the high sugar content means Legal's drinks should only be an occasional treat. Four of the flavors have at least 30 grams of sugar per 11.5-ounce bottle. There is an incredible 59 grams in the Pomegranate option.
According to some innovative cannabis users, you should consider freezing these drinks to make ice pops. However, please don't freeze them while they remain in their glass bottles!
If you're feeling especially bold, you can add vodka to one of these drinks. However, bear in mind that THC and alcohol don't always mix well.
Final Thoughts on the Best Marijuana Snacks on the Market
The cannabis-infused food and drink market is here to stay. A survey from Technavio showed that over 50% of cannabis-using respondents would consider trying a THC snack, packaged food, or candy. With more states legalizing marijuana, there is huge scope for the edible market's growth. However, the laws surrounding edibles vary from state to state.
With more states legalizing marijuana, there is huge scope for the edible market's growth.
If you live in a location where cannabis edible use is permitted, check out our list of the best snacks on the market. All of them offer a tasty way to try THC. Remember, go low and slow because it takes much longer to feel the effects of edibles than smoking marijuana.