Dabbing is a marijuana consumption method that has grown in popularity over the years. Marijuana users indeed prefer to stick with the better-known ways of getting high. However, more seasoned cannabis users have taken to dabbing as a more effective way to get fast-acting results.
Whether you are a regular dabber or not, you will likely realize that you need a decent torch. Today we are going to take you through five of our go-to dabbing torches for 2022.
What Is Cannabis Dabbing?
When dabbing, you can benefit from a hard-hitting high that is ideal for patients looking to medicate with marijuana. There are, of course, risks associated with marijuana dabbing. Therefore, anyone considering it should only use clean, tested products.
So, what exactly is dabbing? It is the act of consuming concentrated doses of marijuana, or 'dabs.' By going through the process of extraction, THC and other beneficial cannabinoids become sticky oils, also referred to as wax or shatter. Usually, the extraction process involves the use of butane or carbon dioxide.
To consume cannabis concentrate, you need something scorching to inhale the mixture, which is usually a nail. To reach the necessary temperature, you need a torch!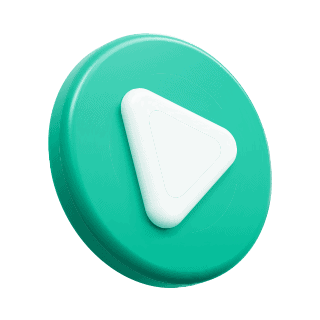 Gummies 3x Stronger Than THC… For FREE??
Are you one of the millions of Americans that doesn't have access to legal cannabis? If so, you need to check out the new award-winning 'alternative' THC products from leading U.S. brands like PureKana, Premium Jane, Binoid, and more. Under legal guidelines of the Hemp Farming Act, these companies are making and shipping potent, organic cannabis products (NOT CBD products) to residents of all 50 states. Browse the collection and shop securely online using coupon codes that will get you up to 50% off sitewide:

Is a Torch Necessary to Dab?
You are probably thinking: 'Why can't I use a lighter to heat my nail?' The short answer is you can, but it's less safe, less enjoyable, and much less effective. You must get the temperature of your nail to over 350 degrees Fahrenheit at a minimum. Therefore, a lighter will undoubtedly fall short of the mark and leave you with a cramped-up hand while you're at it!
Using a good torch can allow you to hit the desired temperature with ease. It also enables you to become more specific with your heating process. The result is a relaxed, safe, and enjoyable experience.
Also, when you learn to control the temperature of your nail, you waste fewer concentrates and taste more terpenes. You can also invest in an e-nail that offers a pre-set temperature. A good torch allows you to get more out of your concentrate. Remember, different dabs require varying heats.
In general, viscous dabs require a higher level of heat to vaporize fully. Here is a quick temperature range for your nail depending on the type of dab:
Wax or Crumble: 400 to 500 degrees Fahrenheit
PHO or BHO: 500 to 700 degrees
Shatter or Oil: 700 to 800 degrees
What to Look for in a Good Dabbing Torch
Each person will likely want something different. As is the case with many things, picking the perfect torch is down to personal preference.
However, there are a few things that stand out, so look for the following when choosing a dabbing torch.
Safety Features & Precautions
While dabbing is a clean method of using marijuana, there are risks involved because many torches use butane. You can reduce the risk of accidents by ensuring the plug and nozzle fit tightly to avoid gas leakage. Flammable materials must remain away from the torch for obvious reasons.
There are now dab torches that have an automatic locking feature. However, narrow-based lights can get knocked out, a process that may cause a fire. We also recommend purging your torch before dabbing. A new torch could contain oxygen. Also, don't fill up the chamber when using the torch for the first time. If it isn't purged, it could extinguish the flame, or else it won't allow the butane to flame up as it should.
Temperature Control
As we mentioned above, controlling the temperature means you can determine the type of aroma and taste you get. A low-temperature dab helps you get more flavor from the concentrate. As a bonus, you also benefit from smoother and longer hits. Alas, the vapor produced in this instance isn't particularly thick or dense. It has milder effects and may also leave a little concentrate behind.
A high-temperature dab provides far more satisfying clouds of vapor, and it uses practically all of the concentrate. However, it also results in a decreased flavor intensity. Unless you have a nail that heats itself, the process is manual. As a result, focus on the things you can control, such as how long to heat the nail, and how long to cool it. You should also use a timer to help you arrive at the right temperature for your needs.
Suitability for Dabbing Type
In general, it is best to choose a torch that heats the nail quickly. However, proponents of the 'low and slow' approach argue that you don't need a powerful torch. You only need the nail to reach a temperature of between 350 and 450 degrees in many cases. The result is a smoother, more flavorful pull. It is arguably easier on the lungs than other methods as well.
If you are all about the vapor, then you'll likely prefer a more powerful torch capable of quickly heating the nail to 700+ degrees. Of course, this process will ensure that some of your concentrate is getting left behind.
Yet another form of dabbing is the cold-start method. Typically, you will achieve a low-temperature dab by pre-heating the nail and adding the concentrates. With the cold-start or reverse process, you place the material on a cold nail. If you go down this route, you are better off investing in a banger.
You may want a more powerful flame to get the nail to the right temperature ASAP. It is possible to heat the nail to a point where the concentrate bubbles and turns into vapor within 10 seconds. However, this method wastes a lot of concentrate, and you're unlikely to get more than a single dab in a session. On the plus side, it is ideal if you are stuck for time.
Gas Type
In general, torches use butane or propane. Most experts believe that butane is the best option because it doesn't impact marijuana's taste or aroma. Also, propane torches are more prone to burning too hot, which makes them a more dangerous option. If you use propane, titanium dioxide is produced when the nail burns. Inhaling it can irritate the nose and throat at high temperatures, and it is also a possible carcinogen.
Size
In the early days of dabbing, it was common to see people on YouTube using enormous propane tanks. The large flames produced by such torches were eye-opening. Eventually, common sense prevailed, and people realized that they don't need a flamethrower. Once dabbers started sampling the delights of 'low and slow,' the gigantic torch was tossed on the scrapheap.
In reality, a 3-4-inch torch is more than enough for most users. It is best to have a torch you can bring with you on the move. You may need a 6-inch version if you have a big rig. One benefit of a larger torch is that the chamber of a butane option has more capacity, so there is less need to refill it.
Flame Jets
For the most part, you won't need more than a single flame jet. However, a lot depends on the type of nail your rig has. A small torch with one flame jet is usually sufficient for a titanium nail. However, the popular quartz banger comes in numerous thicknesses. The 2mm option is thin enough to work well with a single jet. You will heat this nail quickly, and it is easier to do so evenly. Use a 2mm if you like the low and slow approach.
The 4mm is the most popular quartz banger thickness. At this point, you need a flame jet of at least 0.25 inches in diameter and two inches in length. You will likely need a larger dab torch with a stand to get the best out of a 4mm banger. Once you reach 6mm, you need more than one flame jet.
Our Top Five Dabbing Torches for 2022!
Now, let's check out the five best dabbing torches for 2022.
#1 – Blazer Big Buddy Butane Torch – $49.99
This is unquestionably one of the best dabbing torches on the market. It provides a fantastic 2,500-degree Fahrenheit flame and a superb 60 minutes of continuous burn time. It is an easy to use, all-in-one torch that is also portable. The flame height adjuster allows you to tailor your dabbing sessions.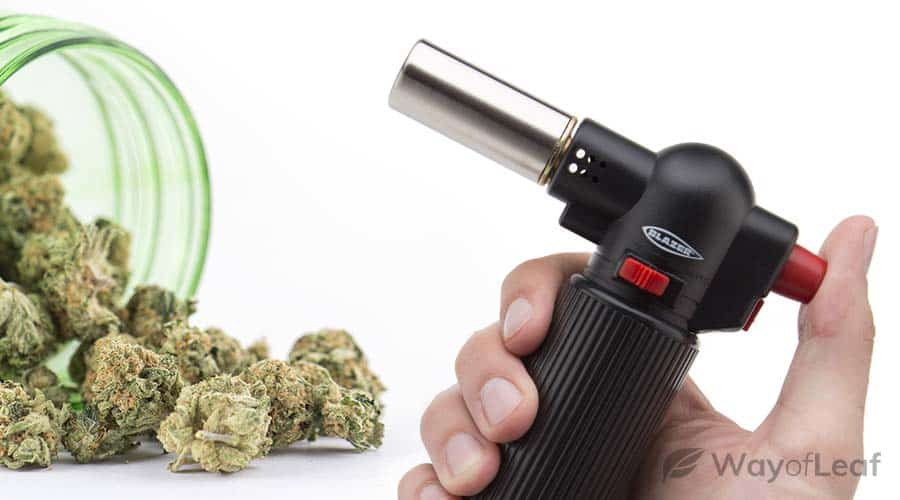 You can switch between high temperatures and lower flames for more flavor. Adjusting the temperature is as easy as sliding the button.
The Blazer Big Buddy Butane Torch comes with a rapid-fire igniter button, so it will ignite automatically when you employ it. Once you are finished, set the child-proof safety lock to prevent the torch from igniting accidentally, even when you drop it. When you are not using it, place the torch on its detachable stand. There are few torches on the market with a larger nozzle or butane capacity.
#2 – ErrlyBird Torch Art – $29
This particular torch is available in a host of cool designs. You can get Space Porn, Sloth on a Bong, Puff Puff Pass, and more than a dozen others. These are limited editions prints of original artwork, so you can admire this torch when it is not in use. The ErrlyBird Torch Art range also offers fantastic value for money. It reaches a maximum temperature of 2,700 degrees Fahrenheit and also has a three-month limited warranty.
It is portable enough for you to carry anywhere, and is made from high-quality materials. The 'Quik-Fire' ignition system enables you to use the torch with one hand. Lock the flame in place, and adjust its size by using the levers on the side. The easy-fill butane reservoir means you don't need to worry about spilling a drop.
#3 – Special Blue 'Terminator' Butane Dab Torch – $35
In truth, customers use this torch for a variety of reasons, including firing up the BBQ and baking! However, it is an excellent option if you need a reliable and affordable dabbing torch. Like other top-rated torches, the Terminator has automatic ignition, so you benefit from a rapid fire-up time.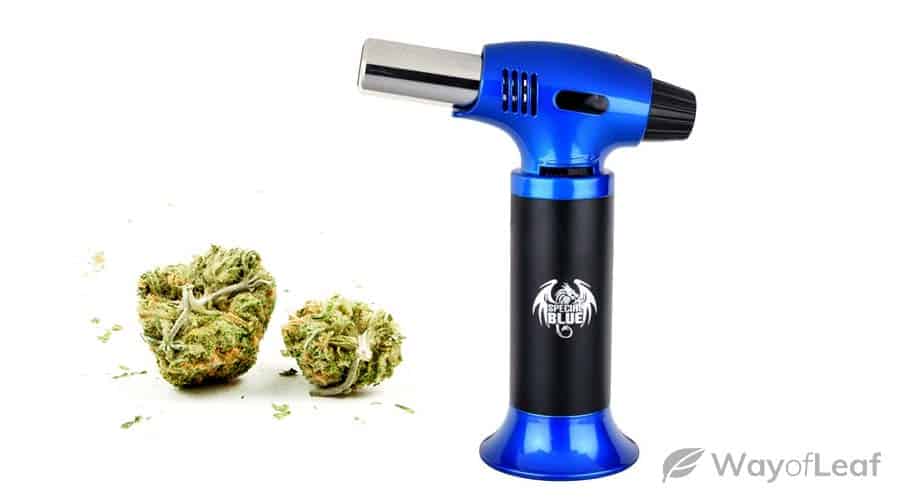 Aside from having an adjustable flame, this torch's 90-degree adjustable head works from any angle. It is a relatively large torch at seven inches high and 2.25 inches wide. However, it is cordless and lightweight, so easy to transport. It also comes with a 4.25-inch wide base.
#4 – Blazer GT8000 Big Shot Butane Torch – $59.99
The second entry for the Blazer brand sees the slightly pricey Big Shot torch take center stage. It is a favorite of seasoned dabbers and is easy to refill. Like the other Blazer option on the list, the GT8000 offers a turbo flame that reaches a temperature of 2,500 degrees Fahrenheit.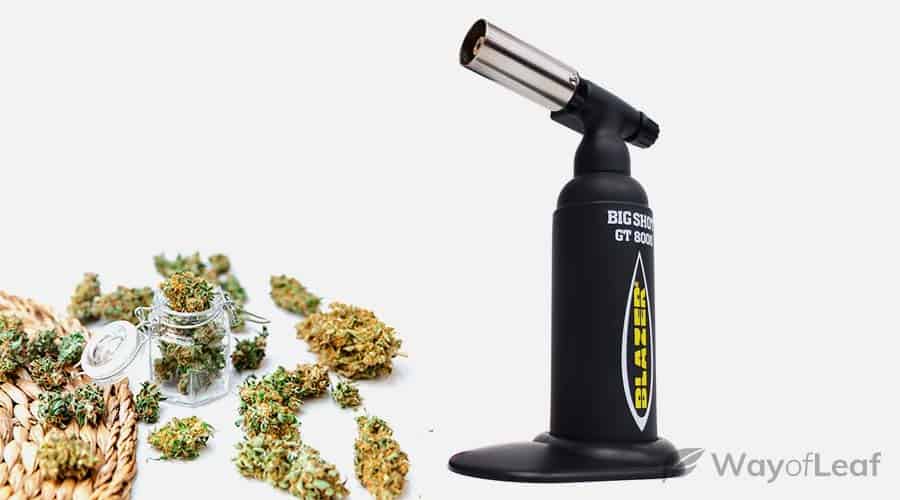 You can rely on this torch to produce up to 60 minutes of continuous flame. It also has a detachable base and comes in three color options. Though its flame heats to the same temperature as the Big Buddy, the Big Shot does so less aggressively. However, it is more comfortable to hold, and users with wrist or grip issues tend to choose the Big Buddy.
#5 – Newport Medium Torch – $44.95
The Newport brand is one of the most respected in the industry, so we felt the need to include it here. While this is a 'medium' option, you can also buy a mini dab torch or a larger version. It comes in pink, silver, or tye-dye colors.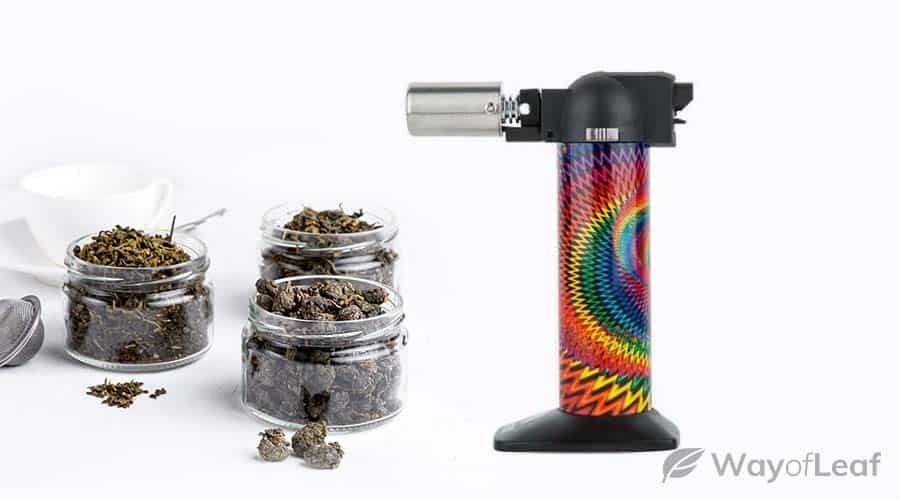 In general, it has a large capacity and is relatively easy to use. Users are also happy with how easy it is to refill the Newport range.
It has an adjustable flame, is comfortable to hold, works at any angle, and is self-igniting. It is a premium-grade torch available at an excellent price.
Final Thoughts: What's Your Go-To Torch for 2022?
When it comes to finding the best products in the market, we always tend to trust our readers. Let us know if you have tried any of the above torches and give us your opinion. Also, add a comment if you have discovered even better flames, not to mention ones that customers should steer clear of!