Overview
Arkansas joins many other states in offering medical marijuana cards. Some residents suffering from debilitating and chronic illnesses may qualify. Patients must also meet specific requirements. Read our article to find out if you may be eligible.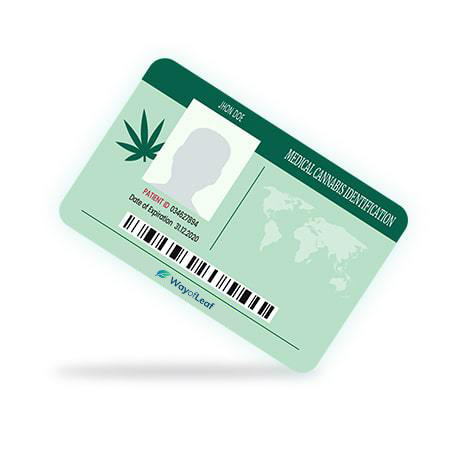 State Program
Approved on
NOVEMBER 8, 2016
CONSULTATION FEE RANGE
$120 – $250
POSSIBLE $100 FOLLOW-UP FEE WITH CERTAIN PROVIDERS
MMJ PURCHASING LIMITS
UP TO 2.5 OUNCES FROM A LICENSED DISPENSARY EVERY 14 DAYS
HOME CULTIVATION?
MINIMUM AGE LIMIT
Marijuana became illegal in the state of Arkansas in 1923. It joined other states in ensuring the plant became outlawed across the United States.
However, the state's attitude towards cannabis has softened over the years. In Eureka Springs (2006) and Fayetteville (2008), citizens voted to make adult possession of marijuana the lowest police priority. Residents of Arkansas were invited to vote on the state's Medical Marijuana Act in 2012. However, it was defeated by less than 3%.
Finally, in November 2016, Arkansas legalized medical marijuana when 53% of residents voted "yes" on Issue 6. Though it is an established program, not everyone knows how to get an AR medical card. This guide gives you the details. Before we proceed, however, let's find out more about the state's weed laws.
Arkansas Medical Marijuana Laws
Arkansas has not legalized adult-use marijuana, nor has it decriminalized the substance. At present, the possession of under four ounces of cannabis is a misdemeanor. The punishment is a possible one-year jail term and a maximum fine of $2,500. A subsequent offense (1-4 ounces) is a Class D felony that could lead to six years in prison. The first-time possession of four or more ounces is also a felony.
The delivery of up to half an ounce of weed is a misdemeanor and carries a possible one-year jail term if convicted. If you deliver more than half an ounce, it is a felony offense, and you could spend up to six years behind bars.
As prison time is likely for the illegal possession of weed, it makes sense to apply for an MMJ card in Arkansas if you want to use the substance for medical purposes. Here is how to get it.
How to Get a Medical Marijuana Card in Arkansas
The Medical Marijuana Act didn't take effect for several months after legalization. In June 2017, the state began accepting registrations for MMJ ID cards via the Arkansas Department of Health (ADH).
Step 1 – Get in Touch with an AR Healthcare Provider
You can't get an Arkansas MMJ card without written certification from a licensed physician. The physician in question must meet the following criteria:
A doctor of medicine or osteopathy licensed in Arkansas
In good standing to practice medicine in the state
Have a bona fide physician-patient relationship with you
Initially, finding a physician ready to approve MMJ in Arkansas was challenging. This changed in October 2019 when the Arkansas Marijuana Card clinic opened in Fayetteville. It became the first specialty medical marijuana card provider in Arkansas.
The organization has since opened similar clinics in various locations across the state. Typically, patients bring their medical records to the clinic as evidence of a qualifying condition. However, the clinic has a medical records team to help patients track their information without documents.
Step 2 – Schedule a Consultation
Before you visit the physician, print out the blank patient certification form. Once at the doctor's office, hand over the form, and you will undergo a physical examination.
Then, the doctor will decide if you are eligible for an MMJ card. It is only necessary for the physician to certify that you have one qualifying condition. Some patients claim the appointment doesn't last more than 15 minutes. You must find a marijuana-friendly physician yourself because the ADH does not maintain a special list.
Step 3 – Sign up for an Arkansas State Government Account
The certification you receive from the doctor is only valid for 30 days, so you must submit your application as soon as possible. If you fail to do it within the allotted time frame, you must get new certification. Go to the ADH website to complete the online form. You also can download the form and send it via regular mail.
The application is rather straightforward, and all requirements are clearly laid out. Along with the Physician Written Certification, you need a state ID or driver's license photocopy.
The Arkansas MMJ program also allows you to mail your application, although the ADH specifies that it prefers online applications. However, here's the mailing address:
Arkansas Department of Health
Medical Marijuana Section
4815 West Markham Slot 50
Little Rock, AR 72205
Step 4 – Visit a Dispensary
At this point, all you can do is wait! The Department of Health does not issue temporary cards, so you can't buy MMJ from a dispensary until you receive your card in the mail.
Who Can Apply for a Medical Marijuana Card in AR?
You must be a state resident to apply for a medical marijuana card in AR. It is also necessary to be 18+ and have one of the qualifying conditions we outline below.
Cost of MMJ Card in AR
The medical marijuana card cost in AR includes a $50 application fee. You can also expect to pay up to $250 for an in-person consultation. However, several organizations charge less than $150 for an online consultation.
AR MMJ Card Qualifying Conditions
Here is an overview of the current AK medical marijuana card qualifying conditions:
If you don't have one of the above medical conditions, you are still potentially eligible. You need to petition the ADH for consideration of your illness. The department will have a hearing and decide whether they will approve or deny your petition within 120 days of submission.
How Long Does It Take to Get a Medical Marijuana Card in AR?
The ADH says you should allow up to 14 business days to process applications.
How to Renew My Arkansas Medical Card?
It costs $50 to renew your card, and you should do so at least 30 days before it expires, although you can begin the process 60 days before the expiry date. In Arkansas, an MMJ card is valid for a year or the length of time designated by the doctor.
Other Information on the AR Medical Marijuana License Process
The above information should provide everything you need to apply for medical marijuana in Arkansas. However, there are a few additional rules and regulations you must know. Each state has unique MMJ program quirks, and Arkansas is no different.
What Types of Cannabis Can I Purchase in AR?
MMJ patients in Arkansas have plenty of choices. Dispensaries in the state sell marijuana flower, concentrates, vape pens, edibles, and topicals.
How to Get a Medical Marijuana Card in AR Online
Currently, it appears that MMJ patients can use telemedicine to complete an online consultation with a licensed physician. Several organizations enable you to book a virtual appointment. However, there is opposition to the use of telemedicine for MMJ certifications in Arkansas, so there's a possibility that the practice will become outlawed.
Can I Register My Child for Medical Marijuana in AR?
Yes, the state's MMJ program allows minors to apply. However, a parent or legal guardian must register as a caregiver.
Where Can I Purchase MMJ in Arkansas?
As part of the Medical Marijuana Act, a list of 32 dispensaries located in eight zones became available in February 2019. Suite 443 had the honor of becoming the first dispensary approved to operate in Arkansas. It opened in May 2019. The state's MMJ law caps the maximum number of dispensaries at 40. At present, this figure has yet to be reached.
How Much Cannabis Can I Buy & Possess?
You can buy up to 2.5 ounces from a licensed dispensary every 14 days.
Can You Grow Marijuana in Arkansas with a Medical Marijuana Card?
Registered patients and their caregivers cannot grow their cannabis in Arkansas. However, there is a little-known provision to consider. You can apply to the Department of Health for a Hardship Cultivation Certificate. With this certificate, you can grow up to ten marijuana plants in Arkansas. However, you must also live more than 20 miles from a non-profit marijuana care center.
Where Can I Use My MMJ?
Arkansas lawmakers passed a bill prohibiting you from using medical cannabis anywhere tobacco is banned. You are not allowed to smoke cannabis if under the age of 21. Also, you cannot knowingly smoke marijuana in the presence of a pregnant woman or anyone under the age of 14.
As a result, the use of medical marijuana is banned in the following locations:
On the grounds of preschools
Primary or secondary schools
On a school bus
In any motor vehicle
In a correctional facility
Inside private residences licensed to provide childcare
Any public place
Can Out-of-State MMJ Cardholders Buy Medical Marijuana in Arkansas?
Yes! If you are a registered patient in another state with a valid MMJ card, you can obtain cannabis from a licensed dispensary when visiting Arkansas. The fee for visiting patients is $50. It is non-refundable and enables you to buy MMJ in the state for 90 days.
Bear in mind that you must have your MMJ card on your person at all times. Once the card expires, you lose your legal protection. Therefore, make sure you reapply well before the deadline, so there isn't a coverage gap. Also, an Arkansas medical card is valid in states with reciprocity in their MMJ programs.
What Are the Caregiver Rules?
An MMJ patient can choose a caregiver to possess cannabis, purchase from a licensed dispensary, dispense, and aid the patient in consuming medical marijuana even for foreingners. Caregivers must apply for a registry card and can buy and possess up to 2.5 ounces of cannabis on behalf of the patient.
Arkansas employers can't refuse to hire or decide to terminate a contract based on that person's past or present status as a caregiver.
Caregivers in Arkansas can serve more than one patient with a qualifying condition. For the record, employers in the state cannot discriminate against an individual for being a caregiver. It means they can't refuse to hire or decide to terminate a contract based on that person's past or present status as a caregiver.
Caregivers must pay $37 for a background check. This fee is waived if the caregiver is the legal guardian or parent of an MMJ patient aged 17 or younger.
What If I Lose My Medical Card in Arkansas?
If you lose your MMJ card, contact the Arkansas Department of Health's office to request a new card.
When Did Medical Marijuana in Arkansas Become Legal?
In November 2016, Arkansas legalized medical marijuana when 53% of residents voted "yes" on Issue 6. And there is potentially more exciting news on the horizon for AR residents. A recreational marijuana initiative is on the November 2022 ballot. If approved, it will allow the possession of up to an ounce of marijuana if you're an adult aged 21+. The initiative will also permit the legal sale of weed at state-licensed dispensaries.
How to Get a Medical Marijuana Card in Little Rock
In 2021, the Little Rock Board of Directors voted for adult misdemeanor weed offenses to be considered the lowest law enforcement and prosecutorial priority when the amount of marijuana is classified as being for personal use. However, purchasing recreational cannabis in Little Rock remains illegal, so applying for an MMJ card is important if you plan on using the substance for medical reasons.
Little Rock residents should find it easy to locate a physician willing to provide certification. Also, the city has MMJ dispensaries at Kanis Road and South Rodney Parham Road.
MMJ Card for Veterans in AR
Unfortunately, Arkansas veterans can't use the VA hospital to get MMJ certifications because weed remains a federally illegal substance. However, PTSD and intractable pain are qualifying conditions, so veterans can earn a medical marijuana card via the standard route. Also, several providers offer free MMJ evaluations to veterans, particularly on Veterans Day.
Final Thoughts on Getting an Arkansas Medical Marijuana Card
The Arkansas medical marijuana program is well-established. You can apply online after receiving certification from a licensed physician in the state. The purchasing limit is relatively generous by the standards of MMJ programs. However, the medical marijuana law doesn't allow more than 40 dispensaries to operate in the state. Depending on where you live, it may require a lengthy drive to get your medicine.