Overview
Getting a medical marijuana card in Nevada is relatively easy. Medical patients that fit certain criteria may apply. Though recreational cannabis is also legal in the state, medical marijuana patients may derive some extra benefits. Find out more with our MMJ guide.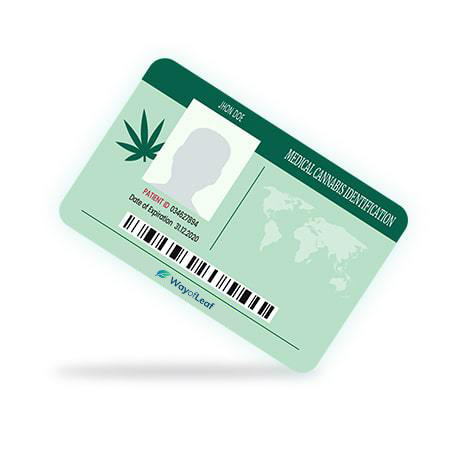 State Program
Approved on
October 1, 2001
In July 2017, Nevada became just the sixth state in the U.S. to legalize the recreational use of marijuana for adults over the age of 21. The initial legislation actually passed back in November 2016. However, it took the state several months to get their licensed dispensaries up and running.
Now, just like neighboring Oregon and California, residents of Nevada can legally walk into a marijuana dispensary and purchase high-THC products. As a result, they don't require a medical marijuana card.
However, valid MMJ cardholders can receive price cuts and tax breaks (in addition to a broader selection of cannabis products). As a result, many people in the state still wonder how to apply for medical marijuana in Nevada.
Is it worth it to apply, even though weed is now fully legal in the state? How much does the application cost? What medical condition(s) do you need to qualify? These are questions we get asked all too often. Therefore, in this quick guide, we discuss everything you need to know about how to get MMJ in Nevada.
How to Get a Medical Marijuana Card in Nevada
Even though MMJ was legal in Nevada in 2001, licensed dispensaries didn't become operational in the state until 2015! Therefore, the program was in a state of "inactive limbo" for well over a decade.
Now that everything is running smoothly, however, we can outline the process for applying for an MMJ card with relative ease. First and foremost, you must be a resident of Nevada to apply through the usual process. You must also have one of the qualifying conditions, which we list later on. Given the fact that adult-use cannabis is legal in Nevada, it is hardly a surprise that the MMJ application process is straightforward.
Step 1 – Schedule an Appointment with a Healthcare Provider
If you suffer from a qualifying condition, schedule an appointment with a licensed health care provider. They will review your records, fill out, and sign the mandatory Attending Healthcare Provider Statement.
Nevada does not provide a list of healthcare providers who recommend MMJ. Fortunately, "420 clinics" are relatively common in Nevada, so it isn't much of an issue.
Physician Assistants and Advanced Registered Nurse Practitioners (ARNP) can also complete the Attending Healthcare Provider Statement for you.
In the consultation, the doctor will ask you a few questions about your medical history. The goal is to see if you are a suitable candidate for MMJ. By all accounts, Nevada physicians are not particularly strict. If you are honest about your situation, they are likely to be understanding.
If you have trouble finding a clinic, feel free to contact us through our Facebook page, and we can offer some recommendations.
Step 2 – Register with the State of Nevada
Hopefully, the doctor will approve you for medical cannabis. When you receive their documentation, you must generate an application packet. Go to the Nevada MMJ program website and register for an account as a 'Cardholder.' Scan the form into your phone or computer so you can submit it in the online application.
In most instances, the 420 clinic that provides you with your recommendation will do this for you. If they don't, you'll need to scan the signed form yourself. Once you create your account, you can upload and submit the signed form as part of your patient application.
You also need to scan and upload a copy of the 'back-side' of your driver's license into the online application. When signing into the program, the login information is your driver's license number and a password of your choosing.
If you prefer to print and mail your application rather than doing it online, you can do so by mailing the appropriate materials (including a photocopy of your valid Nevada driver's license) to:
Nevada Division of Public and Behavioral Health
ATTN: Medical Marijuana Division
4150 Technology Way, Suite 101
Carson City, Nevada 89706
Step 3 – Pay the Fee and Submit the Online Application
The next step is to complete and submit the remainder of the application online. In Nevada, you have the option of a one-year or two-year MMJ card. Once all documents are uploaded and you pay the fee, click 'Submit.'
These days, there are companies such as NuggMD that can do most of the application process for you. If you live in Nevada, the NuggMD process is as follows:
You upload basic personal health information, and a valid U.S. issued I.D.
You get an online consultation with a doctor licensed in the state of Nevada.
You receive approval and instructions on obtaining your application. Forward it to the doctor for the signature, fill it out, and submit it to the MMJ program in Nevada.
You should receive your Nevada MMJ card shortly after receiving this letter. On average, the state processes applications in 24-72 hours. If all documentation is correct, you should receive an email with a temporary copy of your MMJ card. You can expect the real card to arrive within two weeks.
What Are the Nevada Medical Marijuana Costs?
It costs $50 for a one-year card and $100 for a two-year card. The cost of a consultation varies massively and is up to $200 in some places. The NuggMD service in Nevada costs $79 for a one-year recommendation and $99 for a two-year option.
What Conditions Qualify for a Medical Marijuana Card in Nevada?
In the state of Nevada, individuals must be diagnosed with one of the following conditions:
HIV/AIDS
Cachexia (wasting syndrome)
Cancer
Glaucoma
Post-traumatic stress disorder (PTSD)
Persistent muscle spasms or seizures
Severe nausea or pain
Any other medical condition classified as 'debilitating' or 'chronic' and approved by the Department of Health and Human Services
Other Information on the Nevada Medical Marijuana License Process
Here are the answers to some of the most common questions regarding medical marijuana in Nevada:
My Card Expired. How Do I Get a Renewal?
To renew your medical marijuana card in Nevada, you'll need to go through the entire process again. If you believe you need MMJ for a considerable period, it is worth paying for the two-year card to save yourself the hassle.
I'm From out of State, How Do I Buy Medical Marijuana in Nevada?
It is important to note that not all Nevada dispensaries will honor an out-of-state MMJ card. Should you wish to purchase medical marijuana with an out-of-state card, you must complete a state-mandated Nonresident Cardholder Affidavit Form. You must also show your MMJ card (as well as a driver's license or state ID) from the state where it was issued.
It is also best to contact your preferred dispensary to understand their exact requirements before heading over. One Nevada dispensary that honors other state's cards is The Grove. Of course, since marijuana is now legal recreationally in Nevada, anyone over the age of 21 can buy without an MMJ card.
How Much Medical Marijuana Can I Purchase in Nevada?
MMJ patients are allowed to purchase up to 2.5 ounces of cannabis every 14 days with a valid MMJ Card.
Can I Grow Marijuana in Nevada with an MMJ Card?
Home cultivation is allowed in the state of Nevada with a valid MMJ card. However, you must NOT live within 25 miles of an operating, state-licensed dispensary. If you meet the requirements for home cultivation, you are allowed to grow up to 12 marijuana plants at any one time.
Can I Take My Meds to a Different State?
No, traveling out of state with your medicine is not allowed.
Who Can Apply for and Use Medical Marijuana in Nevada?
Currently, the online application for medical marijuana in Nevada is only available for adult patients aged 18 and older. If you are the parent or legal guardian of a minor and wish to apply for medical marijuana, you must call the Medical Marijuana Registry at 775-687-7594.
Can I Use Medical Marijuana Anywhere in Nevada?
Even though marijuana is legal for recreational use in Nevada, it is still illegal to consume it in any public place. Also, it is illegal to buy cannabis products from anywhere other than a state-licensed Nevada dispensary.
Can I Drive Around with (or Use) Marijuana in My Car?
You may transport your medical marijuana in your car, as long as you aren't consuming it. You must also remain within the state's possession laws. Consuming any form of marijuana while operating a vehicle, or driving under the influence of cannabis, is illegal.
Am I Allowed to Have a Caregiver?
Yes, you can assign one caregiver to assist you in buying and using MMJ. Only individuals aged 18+ that are permanent residents of Nevada are allowed to become caregivers. They can only help one patient at a time. They are permitted to pick up your MMJ from the designated dispensary, and possess, transport, and administer it on your behalf.
Where Can I Buy MMJ in Nevada?
The state maintains a list of legal MMJ dispensaries. Currently, there were over 130 dispensaries in operation in Nevada, a large number given the state's relatively low population.
Should you have any other questions, feel free to contact us through our Facebook page.
Found this post informative? Help us get it in front of people who need the information by SHARING it!
Published on:
26 Jul, 2018