As one of the first states to legalize recreational marijuana, Colorado sits at the forefront of cannabis rights and weed legalization. It exceeded the billion-dollar mark in cannabis sales in 2016. This mountain-covered state has always served as an example of the good that marijuana legalization can do for a state's economy and population.
Filled with amazing marijuana products and mind-blowing dispensaries, discover five fascinating locations in this guide. Of course, you may not live close to one of our choices. Therefore, we provide you with quick tips for locating the best cannabis dispensaries in your area.
How to Find the Best Dispensaries in Colorado
With over 1,000 licensed marijuana dispensaries in Colorado, you should never find yourself far away from one! However, there's unquestionably a gap in quality between the best and the rest. Save yourself time and frustration by following these quick tips when searching for a cannabis dispensary in Colorado.
Check that the dispensary submits all of its products to full third-party testing and has the certificates of analysis to prove it.
Read online customer reviews, focusing on the standard of service. No matter how cheap the weed is, feeling like a valued customer is arguably more important.
Investigate the quality of the dispensary's specials and see how frequently they get offered. There's no need to pay full price when you don't need to!
Is the dispensary located somewhere that's easy to get to? Consider when you're most likely to travel there and take into account traffic and how busy the store is at that time. When it comes to buying weed in Colorado, convenience is king!
Look for dispensaries that offer a wide range of products.
Focus on companies with a seed-to-sale operation. These enterprises control every facet of their marijuana production and sale, meaning they should know about any issues and fix them before products reach the store.
General cost. There are so many options that you can afford to shop around for the best deals on the products you love.
What payment methods does the dispensary accept? Cash isn't always convenient, so you might want to find stores that also accept cards.
The Top 5 Marijuana Dispensaries in Colorado
Let's investigate our list of world-class Colorado weed dispensaries without further ado. Each location has earned a high customer rating online due to excellent customer service, high-quality products, and a rich selection of items.
1 – Medicine Man Aurora Dispensary: 1901 S. Havana St, Aurora, CO.
Established in 2009 by Pete and Andy Williams, Medicine Man is one of the best-known sellers of marijuana in Colorado. The brand claims to provide among the largest varieties of marijuana strains in the state, and it only sells its own bud.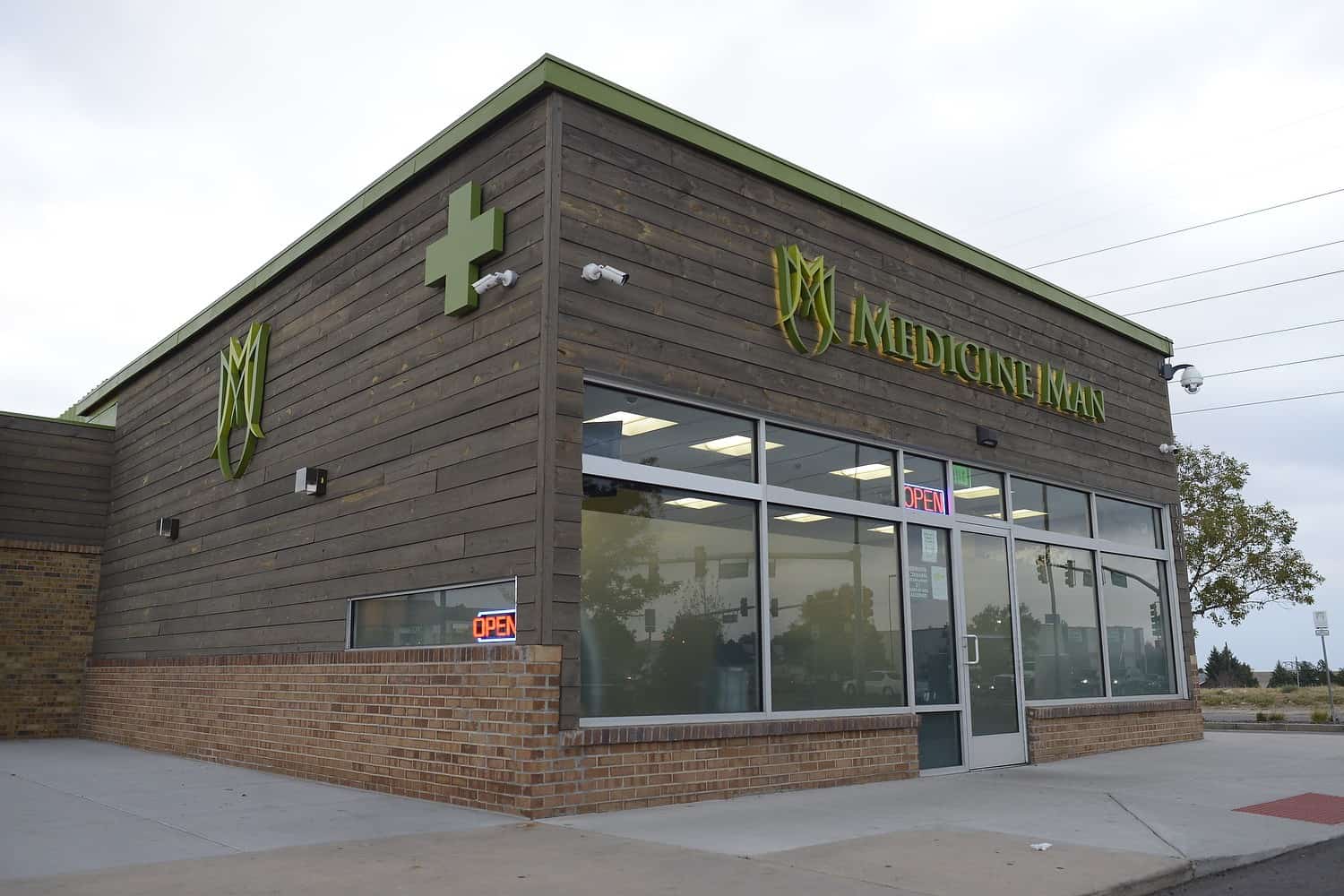 Aside from presenting the finest quality marijuana, Medicine Man's top priority is its patients. It offers the finest edibles, topicals, concentrates, and flower. A family-run business, this dispensary has grown its success from the roots up, keeping the product and the patient in mind at all times.
Highlights
Four convenient locations: Aurora, Denver, Longmont, and Thornton
Special deals seven days a week
Hundreds of top-grade strains to choose from
A convenient online menu that lets you know what is offered before purchasing
Recent Deals
Eighths of marijuana flower for $24 out-the-door
Ounces of flower for $140
6-pack of pre-rolled top-shelf joints for $20
Everyday discount; 20% off pods, vapes, edibles, select concentrates, tinctures, and topicals for an entire month
Monthly deals on wax and shatter
Verdict
Not many cannabis shops make the buying experience as personalized and special as Medicine Man does. This boutique-style dispensary truly focuses on the patient's needs, making it convenient to receive your medicine.
Its online menu is incredibly detailed, even providing pictures of what your product will look like. Plus, if you are nervous about walking into their dispensary, you can take a virtual tour to see how welcoming and friendly the place is.
Read our Complete Medicine Man Review to learn more.
2 – LivWell Enlightened Health Marijuana Dispensary: 900 N. College Ave, Fort Collins, CO.
Founded in 2009, LivWell has grown exponentially as a brand to the point where it now has over 20 retail stores in Colorado alone. Its passion is to provide customers with exceptional products that enable them to live the way they choose.
Apart from offering a huge array of marijuana strains, LivWell provides a full section of glass and accessories. It has friendly and knowledgeable budtenders at all of its locations, and its store in Fort Collins is no exception. LivWell is a seed-to-sale operation, meaning it has full control over every aspect of production and sale.
Highlights
Its team of farmers and scientists cultivate over 40 marijuana strains
LivWell has a team of culinary artists and extraction experts who create remarkable infused products
All strains are hand-grown to incredibly high standards
Recent Deals
Daily discounts on pre-weight flower
Loyalty program where you receive $5 credit for every 100 points earned
Birthday present of $10 rewards credit
Verdict
For many marijuana users, LivWell sets the standard that other dispensaries must follow. It remains a trusted source of weed and offers an immense range of products. While LivWell might not offer as many flashy sales as other dispensaries, it provides a consistently high level of service at reasonable prices.
3 – The Joint by Cannabis – 4735 W. 38th Ave, Denver, CO.
The Joint in Denver offers a massive selection of edibles, buds, cannabis-infused products, and accessories to individuals all over the Colorado area. Featuring some of the lowest prices in CO, many committed patients won't go anywhere else.

Offering mind-blowing daily deals, caring and educated budtenders, and even some unique and unlikely strains to try out, this location is seen as one of Colorado's premier dispensaries. Indeed, it has been rated as the #1 dispensary in the whole of CO by many leading marijuana publications.
Highlights
Known by some as Denver's best cannabis dispensary!
An immense range of products
Convenient location within Denver's Highlands neighborhood
Offers among the best value for money weed in Colorado
Recent Deals
Monday, Wednesday, and Saturday: 10% off your entire order from 8 AM to 10 AM
Tuesday: 5 Verde joints for $25 out-the-door
Thursday: A premium eighth for $29 out-the-door
Friday: 10% off all edibles and topicals
Sunday: $5 off all cartridges and concentrates
Verdict
You'll struggle to find high-quality marijuana priced any better. The Joint constantly runs discounts and daily deals. Indeed, it seems as if you'll never have to pay full price if you can time your visits well enough!
4 – Lightshade Rec Dispensary: 16821 E. Iliff Avenue, Aurora, CO.
Taking its roots in Denver in 2011, Lightshade has grown greatly since that time, expanding across Colorado. Known for its top-quality cannabis genetics, Lightshade operates its own state-of-the-art growing facilities.

The brand cultivates insanely potent and pure marijuana, which is then sent to labs and professionally tested for accurate THC levels. With exceedingly high-THC strains available, it's no wonder that cannabis connoisseurs fall in love with this reputable home-grown style dispensary.
Highlights
10 convenient locations across Denver
Farm-to-shelf style dispensary, with some of the best cannabis genetics in Colorado
Winner of multiple awards from publications such as Westword and Rooster
Recent Deals
1000mg all-in-one vapes, buy one, get one for $1
25% off Lightshade cured concentrates
1-gram joints for $5 pre-tax (recreational users) and $3.50 (medical users)
Eighths for $12.99 pre-tax on selected flower
15% discounts for veterans and seniors
Verdict
Some dispensaries don't grow anything themselves, especially not marijuana that is lab tested with such ridiculously high levels of THC. It's nice to see such a premium-grade farm-to-table style operation.
The staff and storefront of the Iliff location are especially pleasant, and with a focus on recreational and MMJ patients, this brand provides all your legal marijuana needs.
5 – Callie's Cannabis Shoppe RiNo: 3054 Larimer St, Denver, CO.
Previously, Botanico operated at this address. However, the brand ran into some difficulties, and Callie's Cannabis Shoppe RiNO now operates former Botanico locations at 3054 Larimer Street and 777 Canosa Court. Callie's has quickly established a reputation for excellent customer service.
It is a family-owned business and has the following on its "About Us" page: "Our mom sells your mom weed." Callie's made the Best of Denver awards in Westword in 2021, another sign of its growing reputation.
Its menu neatly divides purchasing options into different categories, and it provides nice images of each product, not to mention its THC content!
Highlights
Locations at Larimer Street and Canosa Court in Denver, and Northglenn
An impressive menu that allows visitors to try something new regularly
Recent Deals
Tasty Tuesday: Buy one edible, get another for half price
Wax Wednesday: $19 out-the-door on all 1-gram wax products
Thrifty Thursday: 15% off vapes and $5 off live products
Shake Sunday: $80 out-the-door for an ounce of shake
Veterans and Colorado MMJ patients receive 15% off
Verdict
You can tell from the moment you walk into Callie's how passionate the staff and owners are. It offers plenty of unique and strange strains, so you're sure to pick up something odd and delicious every time you go for a visit.
Final Thoughts on the Best Dispensaries in Colorado
Next time you are in the Colorado area, find out what the Centennial State offers in terms of marijuana. Recreational weed has been available for a long time in CO, which helps explain the phenomenal number of dispensaries.
Colorado residents and visitors alike are utterly spoiled for choice in terms of the quantity of dispensaries and quality of available products. Prices are insanely competitive to the point where few states offer better value for money marijuana.
Feel free to browse online to determine the most convenient dispensaries for you in Colorado. However, the five we recommend are well worth visiting if you're ever in their respective locations.