One of the first states to legalize recreational marijuana, Colorado sits at the forefront of cannabis rights and weed legalization. Already topping $1 billion in cannabis sales during 2016, this mountain covered state has always served as an example of what weed legalization can do to a state's economy and population. Filled with amazing ganja and mind-blowing dispensaries, discover the most fascinating locations:
Colorado's 5 Best Marijuana Dispensaries:
1. Medicine Man-Aurora: 1901 S. Havana St, Aurora, CO.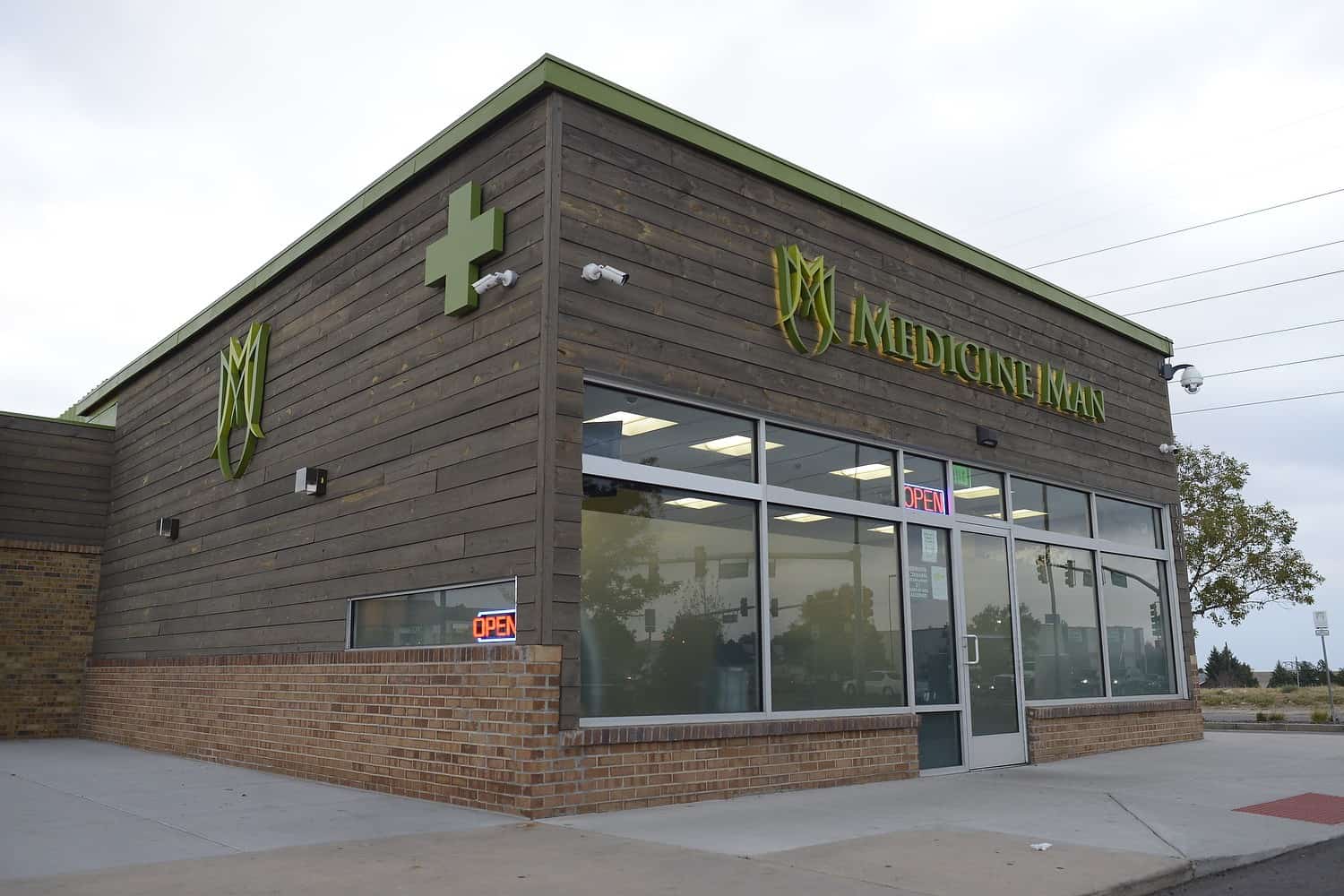 About:
Medicine Man located in Aurora, Colorado provides both recreational and medical marijuana services to 420-lovers throughout the CO area and those who are visiting from other states or abroad. Aside from presenting only the finest quality marijuana, Medicine Man's top priority is their patients, they care about them more than anything. Offering the finest edibles, topicals, concentrates and flower, whatever your heart desires, MM can provide you with. A family run business, this dispensary has grown its success from the roots up, keeping the product as well as the patient in mind at all times.
Highlights:
2 convenient locations: Denver and Aurora
Special deals on ganja 7 days a week
Hundreds of various top-grade strains to choose from
A convenient online menu that lets you know what is offered before purchasing
Recent Deals:
Mondays: Buy 1 edible, get one 50% off
Tuesdays: Any top shelf Ounce for only $130
Wednesdays: $45 Quarters for all top shelf flower
Thursdays: $25 Eighths of flower
Fridays: $35 top shelf Eighths
Saturdays: $45 grams of Shatters, or 2 grams for $60
Sundays: $35 private stock Eighths of flower
Our View:
Not many cannabis shops make the buying experience as personalized and special as Medicine Man does. This boutique style dispensary truly focuses in on the patient's needs, making it convenient to receive your medicine. Their online menu is incredibly detailed, even providing pictures of what your product will look like. Plus, in case you are nervous about walking into their dispensary, you can take a virtual tour, so you can see just how welcoming and friendly the place really is.
Read the Complete Medicine Man Review
2. Infinite Wellness Center: 900 N. College Ave, Fort Collins, CO.

About:
Offering the largest selections of flower, concentrates and edibles in Northern Colorado, Infinite Wellness Center provides patients with the most competitive pricing that they could possibly discover in the area. Featuring a convenient and spacious parking lot, incredibly knowledgable and friendly budtenders and staff, marijuana consultants who can assist you with any questions, 13 registers to get you in and out fast and a massive selection with added in daily specials, there's really nothing to not love about this top of the line recreational shop and medical cannabis dispensary.
Highlights:
Incredible recreational VIP loyalty program
Rated within the top 10 Dispensaries in CO on Leafly for an entire year
Separation of medical from recreational, providing specific sites and services for both categories
Accept Credit/Debit cards, not a cash only store
Recent Deals:
$160 Ounce of shake
Flux by Infinite Concentrates, buy 2 and get 1 for $1
4 IWC oil syringes for $50
Our View:
Finally, a dispensary that doesn't accept only cash and then make you pay insane ATM fees in-store. Infinite Wellness Center is just overall convenient. Located in Fort Collins Colorado, IWC outstandingly services all its 420-loving patients in Northern Colorado, providing them with the most competitive prices they could discover in the area. This has to be one of our favorite dispensaries in Northern CO.
3. The Joint-Denver: 4735 W. 38th Ave, Denver, CO.

About:
The Joint in Denver offers a massive selection of edibles, bud, cannabis-infused products and accessories to individuals all over the Colorado area. Featuring some of the lowest prices in CO, many committed patients are sworn to only receive their top quality ganja from The Joint. Offering mind-blowing daily deals, caring and educated budtenders and even some unique and unlikely strains to try out, this location is seen as one of Colorado's premiere dispensaries, even having been rated #1 in CO by Leafly themselves.
Highlights:
Serving both recreational (21+) and medical patients
Known as Denver's premiere cannabis dispensary!
Signature strain offered; known as Voodoo
Convenient location within Denver's Highlands neighborhood
One of the cheapest priced dispensaries in Colorado
Recent Deals:
Medical only, $99 top shelf Ounce
$40 top shelf Fourth
Our View:
We truly haven't discovered any cheaper prices in Colorado, plus we give this dispensary mad brownie points for its clever and punny name. The Joint is constantly running discounts and daily deals, it seems like every time anyone is in the shop, they get a massive discount on some of the dankest weed in CO. Be sure to try their Voodoo, it's a rich sativa that gives you a really pure and earthy high.
4. Lightshade-Iliff: 16821 E. Iliff Avenue, Aurora, CO.

About:
Taking its roots in Denver in 2011, Lightshade has grown greatly since that time, expanding into 6 locations conveniently located across Denver, some specialized to servicing recreational customers, some to medical patients and some to both. Known for their top quality cannabis genetics, Lightshade operates their own state-of-the-art growing facilities, where they cultivate some of their insanely potent and pure marijuana, which are then sent to labs and professionally tested for accurate THC levels. Coming back with the results of some of the highest THC levels of any strains in Colorado, it's a no-brainer why cannabis connoisseurs and first-time ganja users all fall in love with this caring and reputable home-grown style dispensary.
Highlights:
This location serves only recreational patients (21+)
6 convenient locations across Denver
Farm-to-shelf style dispensary, with some of the best cannabis genetics in Colorado
Our View:
Most dispensaries don't actually grow anything themselves, especially not marijuana that is lab tested with such ridiculously high levels of THC. It's nice to still see a farm to table style operation, where not only do they know where their product is coming from, they ARE where their product is coming from. The staff and storefront of the Iliff location are especially pleasant, and it's great in many ways that this location only tailors to recreational patients, because it keeps the service more focused on the customers.
5. Botanico: 3054 Larimer St, Denver, CO.
About:
With constant exclusive sales being offered to patients, Botanico is dedicated to serving the customers that have been so loyal to them. With an immense menu that is constantly changing, this dispensary's organized website offers a page for the daily strains available, letting you know what's there and what's not. Additionally, their menu isn't just built up of the typical strains you would expect at some weed shop, they involve unique and sativa or indica dominant flowers into their mix, so you can try something you never have before. With a friendly staff and a passion for caring service, Botanico has gained massive popularity in Denver as a leading green medicine provider.
Highlights:
Recreational only dispensary (21+)
Massive daily menu, constantly rotating so you can always try something new
Recent Deals:
Spend $100 or more and save 10%
Write a review, receive a %10 discount
Early Bird Specials: Sunday (10AM-12PM), Monday thru Thursday (9AM-11AM): wax and shatter $25 per gram, Nug Run wax and shatter $30 per gram, live resin $45 per gram
Our View:
You can tell from the moment you walk into Botanico just how passionate the staff and owners are. Their goal is to keep things local and simple, which is exactly what they do. Offering plenty of unique and strange strains, every time we go for a visit, we're sure to pick up something odd and delicious.
Final Thoughts:
Next time you are in the Colorado area, find out what this state covered with herb and trees has to offer at one of these fine dispensaries, and smoke yourself the good stuff with competitive prices so you can always afford to enjoy even more.
It's important to remember that the consumption of cannabis is the sole responsibility of the user and discretion should be taken. In addition, please check each dispensary's menu and deals for the latest updates. Deals tend to change based on inventory.