Salves, oils, tinctures, creams, butters, balms, lotions, and moisturizers. In the world of CBD, there are endless terminologies. What is a salve, anyway? And what's the difference between a CBD salve and a CBD oil? Or the difference between a salve and a cream?
These are all honest and valid questions. We understand the confusion surrounding topical cannabis options and understand that the bevy of products available both online and in dispensaries can be overwhelming.
In this article, we explain everything you need to know about CBD salves. We'll talk about what they're used for, how they're made, and what kinds of conditions people use them for. We will also explore how salves differ from other CBD products like oils and creams.
Learning the lingo and differentiating between all the cannabis-related products can be a daunting task. But with a little knowledge and a bit of self-informing, it doesn't have to be.

What Is a CBD Salve?
In the general sense of function, there is no real distinguishing between a salve, a balm, and an ointment. One can use all three terms more or less interchangeably.
The Miller-Keane Encyclopedia and Dictionary of Medicine, Nursing, and Allied Health officially defines an ointment as: "a semisolid preparation for external application to the skin or mucous membranes … [that] consists of medicinal substances incorporated in suitable vehicles. (Called also salves and unguents)."
In less clinical, easier-to-understand terms, a salve (or balm or ointment) is a medicine-infused concoction wherein one applies the medicine (in this case CBD) directly to the skin.
Salves are typically made with a fatty base such as beeswax, coconut oil, or Candelilla wax.
Regarding CBD creams and CBD lotions, the only real difference between them and salves/balms/ointments is that creams and lotions use a bit of water and moisturizing agents in their bases. Salves and balms only use fatty oils and wax as a base, with no water.
This accounts for a difference in texture more than anything else. The real functional differences, which we'll talk about in just a moment, lie more in the specific ingredients used and the amount of CBD present in the salve.
CBD Salves: How are they made?
Salves are super-simple concoctions, even though companies can make them with various ingredients. Do a little online searching, in fact, and you can find dozens of 'DIY CBD salve' instructions out there. Most of them, though, are similar in that they include the following three ingredients:
A natural wax (most commonly beeswax)
A fatty oil base (this is the "vehicle" responsible for carrying the medicine)
A medicinal or therapeutic compound
For the wax portion of the base, natural (non-enriched) beeswax is a common choice. If you've never handled beeswax before, it's a sticky, dense, hard material that one has to melt down in order to garner usability.
Vegetable waxes like Candelilla wax (which comes from the leaves of the Mexico-native Candelilla plant) also work well. However, Candelilla is mostly for vegan salves. Generally, pure beeswax is the better option.
Why Are Oils Used in CBD Salves?
The oil portion of the base is the part that's responsible for "carrying" the medicine in the salve. There are several different oils that are effective for making CBD salves, but many consider coconut oil to be the best option. This is because of its high content of fatty acids. (Fatty acids are the molecular devices responsible for carrying the CBD compound).
Generally, the more fatty acids an oil has, the more CBD it can carry. But don't worry; for those of you that are sensitive to coconut oil, there are other options available.
To infuse an oil with CBD, a cannabis plant (of which there are certain CBD-specific kinds that we'll talk about later) is ground down into fine particles. The ground flower is then steeped for several hours at 200+ degrees Fahrenheit in the oil. The heat decarboxylates the cannabidiol into its active molecular form. This is the point at which the fatty acids in the oil latch onto the CBD.
After the heating process, the oil is then simply mixed with melted-down wax to create the topical CBD salve. Other essential oils, like lavender and peppermint, are often added as well. Fat-soluble vitamins such as vitamins E, A, and D can be added too.
Check the label!
Any good CBD salve should have a full list of ingredients on the tub it comes in. When browsing around for options, keep an eye out for the wax that was used, as well as the oil base and other ingredients.
If you're unsure of where the CBD is coming from, be sure to get in touch with the manufacturer. Most brands use hemp as the cannabidiol source (industrial hemp is legal and contains CBD), but some others use marijuana strains with a higher THC content. These are illegal in some parts of the U.S. without a medical marijuana card.
CBD Salves: How Do They Function?
It's easy to visualize the absorption process of something like oral CBD oil or a CBD gummy. You swallow it, then it dissolves into the digestive gut and eventually makes its way into the bloodstream. With topicals, it is harder to visualize how the CBD ends up functioning at the cellular level.
In reality, the skin is an incredibly active and functional organ. In fact, it's the largest organ in the human body. And while it does act as a barrier to potentially harmful substances, it also acts as a useful molecular passageway. It is quick, for instance, to absorb lipid-based oils (such as the ones that comprise CBD salves).
When you apply a CBD salve topically, the lipids in the oil base transport phytochemicals across skin cell membranes. At this point, the CBD can initiate its physiological mechanisms on surrounding cell and tissue layers.
This is why salves are a good choice for things like joint pain and skin-specific conditions. The CBD activity directly targets acute regions and starts therapy right at the source of pain or discomfort.
More on the Functionality of CBD Salves
On a physiological level, CBD functions by interacting with the body's endocannabinoid system, or ECS. The ECS consists of a network of naturally occurring cannabinoids and receptors. While the complete functions of these receptors are not yet known, some suggest they may help regulate things like:
Pain
Inflammation
Appetite
Memory
Immune response
Many studies report on the interaction of CBD with natural receptors in the ECS. This interaction may help improve various internal processes relating to homeostasis.
Regarding the specific presence of the ECS in skin cells, Dr. Tamas Biro, Director of Immunology at the University of Debrecen in Hungary, claims that the skin is "[indeed] capable of producing endocannabinoids." He points out the likelihood that "most, if not all, skin functions are controlled to a certain extent by the local skin endocannabinoid system."
Likewise, Folium Bioscience's Dr. Raj Gupta reiterates this same notion. He claims in an article for LNEOnline.com that "…because the skin has its own endocannabinoid system, just the superficial application of CBD by itself [can be] extremely helpful."
Potential Medical Benefits of CBD Salves
To be clear, there are no specific clinical studies on the use of CBD salves. That said, we do know that transdermal CBD is effective for arthritis joint pain and inflammation (at least in animal models). It also might help with pain and inflammation from skin conditions like psoriasis and eczema.
For other potentially CBD-treatable conditions like anxiety, depression, and chronic pain management, orally-ingested forms are probably more appropriate than a salve.
In fact, this particular study showcases the inflammation-reducing and pain-alleviating capabilities of transdermal (through the skin) CBD applications that were specifically -targeted for arthritic joint pain. Researchers explained that the results of their study indicated:
"Topical CBD application has therapeutic potential for relief of arthritis pain-related behaviours and inflammation, without evident side-effects." – European Journal of Pain, 2016
The University of Debrecen's Dr. Biro also praises the effects of cannabinoids on "skincentric sensory functions." This includes, among other things, functions that associate with general pain and itch.
According to results of a CBD-administration study on human skin cells, Dr. Biro points out the possibility of the ECS actually regulating skin inflammation: "[It appears that when] an inflammatory or irritation challenge assaults the skin," Dr says, "the endocannabinoid system fights against it."
What's the Difference Between CBD Salves and CBD Oils?
In terms of CBD salves vs. CBD oils, the key difference is that one consumes an oil by placing drops under the tongue. Salves, on the other hand, are applied topically by rubbing directly onto the desired area.
Some users claim that salves work quicker than CBD oils. Of course, there is no real quantifiable evidence for this. It does make sense, however, being that one applies a CBD salve directly at the source (the phytochemicals don't have to travel through the digestive system or go through multiple stages of absorption).
In fact, some notice the effects of CBD salves almost immediately. Generally, oral CBD oils can take up to an hour to kick in.
Where to Find the Best CBD Salves
One important thing to remember about CBD salves (or any kind of hemp-based CBD product) is that they won't get you high – or even slightly buzzed.
Most CBD-containing products come from industrial hemp – not marijuana. Though the two plants both belong to the same biological genus and species (Cannabis sativa), hemp is a CBD-heavy strain of cannabis that contains very little THC. THC, of course, is the psychoactive component of the plant. It is responsible for the euphoric, mind-altering highs.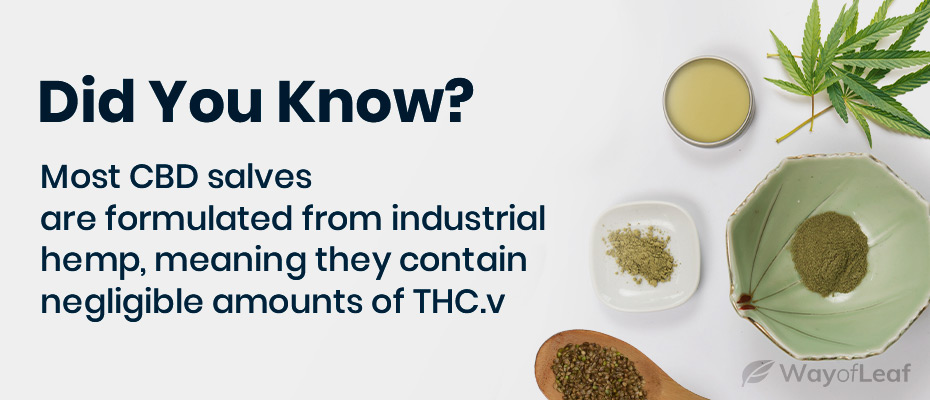 So if you've been skeptical about using hemp or other CBD-related products because you don't want to get stoned or become a "pothead", you've got nothing to worry about in that regard.
CBD Salves: Final Things to Consider
Also, keep in mind that while CBD salves work well for thousands of individuals, they don't have the same effect on everyone. It's important to do your own research, try out different products, and explore various natural ingredients in order to find a salve that's suitable for you and your needs.
Lastly, be wary of the specific product you're buying if or when you do decide to try a CBD salve or other topical CBD product. While there are some very well-made products out there, there are plenty of poor-quality ones as well.
Just last year, in fact, the FDA issued warning letters to several companies for manufacturing CBD products with inaccurately labeled bottles. As  Dr. Adam Friedman (Assistant Professor of Dermatology at George Washington University) puts it, "Cannabinoids haven't really emerged [yet] within mainstream dermatology, but there's going to be an exponential increase in the [amount of] attention paid to them…"
Do your homework, spend some time researching quality brands, and read plenty of reviews (like those below) before you go and buy CBD salve – whether it's online or in a store.
Published on:
21 Mar, 2019