Overview
Provacan is a UK-based CBD company that specializes in high-quality full-spectrum CBD oils. All of their hemp is 100% organic and produced on farms that follow strict EU agricultural guidelines. They extract their CBD using low temperatures and low pressure, for maximum cannabinoid preservation.
Ingredients
Olea Europaea, Hemp plant extract
Recommended use
Take 3-4 drops under the tongue as a starting point, which can be taken up to 3 times daily.
Extraction process
CO2 Extraction
Medical benefits
Products are not evaluated by the FDA. Not intended to diagnose, treat, cure, or prevent any disease
*All the data provided is for oil products only
If you've spent any amount of time researching or shopping for CBD oils online in the UK, you'll know how much of a nightmare it can be trying to find a safe, well-made, reliable, effective product amidst all the junk. Given the limited regulations in the current CBD industry, companies in the UK largely have free range to market and label their products with little regulatory oversight.
As the flagship brand of Israeli cannabis biotech company CiiTECH, however, Provacan CBD brings a breath of fresh air to the market in terms of authenticity. CiiTECH has deep affiliations with research teams out of the Hebrew University of Jerusalem, which is actually where Dr. Raphael Mechoulam first isolated the chemical structure of CBD back in 1963. In other words, Provacan is a legit CBD company that manufactures authentic, cannabinoid-rich products – a far cry from many other UK brands on the present market.
Provacan is an authentic CBD label that brings a breath of fresh air to the over-saturated UK market.
CiiTECH has also sponsored multiple research studies in Israel in the past (for example studies on the use of CBD for asthma and obesity), so it's likely that the Provacan formulation is one of the highest-quality medicinal grade CBD oils currently available.
In this updated Provacan CBD oil review, we go over the brand's currently available products, how you can buy them online, and why they differ so much in terms of quality from many competing UK brands on the market.
Don't feel like reading the whole review? Jump right to the official Provacan website and start browsing the brand's range of CBD products (available in the UK, EU, and other countries globally):
Provacan CBD Oil: Current Products
One of the key characteristics of Provacan CBD oils is that they incorporate active hemp compounds – aside from CBD – into their tinctures. The idea behind this is based on a relatively recent scientific discovery known as the entourage effect, which states that CBD is more effective when administered along with other naturally-extracted hemp compounds (i.e. terpenes, flavonoids, phytocannabinoids), rather than by itself as an isolate.
Provacan CBD oils are made with a boosted terpene profile, and also include natural, non-psychoactive hemp phytocannabinoids such as CBG, CBDv, and CBC (you can see the complete range of terpenes and cannabinoids via the labsheet on each Provacan product page).
Here is the complete range of Provacan CBD oil products, which are available only through the official Provacan online store (see link above or below for an exclusive coupon code).
Provacan CBD Oil: Full-Spectrum Hemp Extract Tinctures
This is more or less Provacan's flagship line of products. When administered sublingually (under the tongue), the full-spectrum CBD oil is absorbed via capillary beds and saliva glands, allowing for optimal CBD delivery. Metabolic breakdown in the digestive system is largely bypassed using the sublingual method, thereby allowing the CBD to enter the bloodstream more directly.
Currently, Provacan offers their full-spectrum range of CBD tinctures in four different potencies (all of which come in 10 mL dropper bottles:
300mg (3% CBD / 1.5mg CBD per drop) | £24.99
600mg (6% CBD / 3mg CBD per drop) | £39.99
1,200mg (12% CBD / 6mg CBD per drop) | £69.99
2,400mg (24% CBD / 12mg CBD per drop) | £119.99
They also offer a high-potency 2500mg CBD paste, which comes in a pre-calibrated syringe for daily use:
2,500mg CBD Paste | £129.99
Provacan CBD Topical Creams
Provacan also offers an extensive collection of CBD topicals. These products are infused with the same authentic hemp extract as the brand's CBD oil tinctures, meaning the same level of quality can be expected, albeit in a different form of use.
Generally, topicals are used to target pain and soreness in specific areas of the body – most often in the joints and muscles. For example Provacan's infused Beeswax Balm contains 300mg of CBD, and is formulated for direct application to sore muscles and joints. It is a popular UK product for those affected by arthritis-induced inflammation.
Likewise, the Provacan 20mL Deep Tissue Massage Oil – which contains 100mg of CBD – is also a great choice for light to moderate muscle soreness. This is also a good option for whole-body skin health and rejuvenation, as one of the known properties of cannabinoids are their role as antioxidants – ridding the body of potentially dangerous free radicals and revitalizing cells back to a state of health and homeostasis.
Here is the current/complete range of Provacan CBD topicals for sale:
300mg CBD Balm | £39.99
100mg CBD Massage Oil | £19.99
900mg Cocoa Butter CBD Balm | £74.99
10mg CBD Bath Salts | £9.99
CBD Age Control Eye Cream | £24.99
CBD Blemish Control Gel | £22.99
SPF30 CBD Sun Cream | £28.99
200mg Anti-Oxidant CBD Shampoo | £24.99
100mg CBD Babysoft Cream | £29.99
50mg CBD After Sun Gel (w/ Aloe Vera) | £25.99
CBD Lip Balm | £9.99
Provacan CBD eLiquid & CBD Vape Oil
It's a little surprising that a research-oriented firm like CiiTECH would dip their hands into the CBD vape market, given the fact that so much is still unknown about the long-term health effects of vaping.
However, it is assumed that Provacan's goal is to be able to offer a safe, reliable, effective alternative to all the dangerous and potentially toxic eLiquids currently on the market.
In any event, many regard Provacan CBD eLiquids and CBD VapePods as the UK's highest-quality option for CBD vaping. Vaping is also thought to be an extremely effective and fast-acting option that delivers inhaled CBD almost instantaneously to the body's bloodstream via the lungs.
The current Provacan eLiquid range consists of three different vape-specific formulas:
30mg CBD E-liquid (w/ terpenes) | £8.99
300mg CBD E-liquid (unflavoured) | £24.99
600mg CBD E-liquid | £39.99
Provacan also offers a line of vape cartridges/pods that are specific for day and nighttime use. The pods are compatible with the brand's CBD VapePod device, which features haptic integration and a CCEL porous core for precision, even heating.
CBD VapePod (device only) | £99.99
55% Day Terpene CBD VapePod (for use with the VapePod device) | £49.99
55% Night Terpene CBD VapePod (for use with the VapePod device) | £49.99
Additional Provacan CBD Products
The above products make up Provacan's core selection of precision-made CBD products. However, the brand also offers additional selections based on the varying needs of their broad UK and EU customer base.
Gummies
Gummies are fantastic when taken before bed, or for those that are looking for calm and relaxation without having to bother with dosing something like a full-spectrum CBD oil. Provacan's selections come in two different sizes, both of which contain 10mg of CBD per gummy.
100mg CBD Gummies (10mg each, 10-count) | £12.99
500mg CBD Gummies (10mg each, 50-count) | £49.99
Capsules
CBD capsules are very similar to full-spectrum tinctures in terms of the general therapeutic effects that are offered. They're essentially the same formula, albeit in a softgel encapsulation rather than liquid form. They are super simple to take; just swallow a capsule whole with a drink of water, and you're done.
The only real disadvantage with capsules is that, since they're swallowed like food, the CBD is exposed to metabolic and digestive processes in the gut. This means that some of the CBD will likely be lost during normal digestion. In other words, they lack the bioavailability of something like a sublingual CBD oil.
Provacan oral CBD capsules are made from a full-spectrum hemp extract formula, and are available in three different potencies:
180mg CBD Capsules (30-count) | £19.99
720mg CBD Capsules (30-count) | £49.99
2880mg CBD Capsules (30-count) | £149.99
Edibles
Provacan also offers a unique selection of edibles in the form of CBD-infused oral lozenges. These are designed to be sucked on (they can last for up to 45 minutes at a time), while a continuous release of active CBD is absorbed via salivary glands and blood vessels in the mouth.
These are also extremely delicious, and come in a variety of unique, naturally inspired flavour options:
Provacan Oral CBD Lozenges (2mg/lozenge, available in several flavours) | £19.99
Isolates
Lastly, Provacan offers authentic CBD isolate that comes in two different potencies: 1000mg and 5000mg. Unlike the full-spectrum oral tinctures, these isolates contain nothing but the pure CBD compound. They do not offer the entourage effect, but they are useful for those interested in cooking with CBD, or for those looking to make their own CBD oil at home.
Also, isolates can be useful for those that may be subject to cannabis drug testing. Full-spectrum CBD products often contain trace amounts of THC (typically less than 0.2%), but even these fractional amounts have been known to show up positive on drug screenings. CBD isolates, on the other hand, are 100% THC-free, meaning they shouldn't cause any complications with drug screenings.
1000mg Provacan CBD Isolate | £24.99
5000mg Provacan CBD Isolate | £89.99
Bulk EU/UK Ordering Options With Provacan CBD
For those looking to save money on their monthly CBD expenses, Provacan is also one of the few brands in the UK to offer wholesale bulk ordering options. This can be an extremely beneficial option, especially for those who take CBD multiple times throughout the day, or for couples or families that use the same type of CBD products.
Not all Provacan CBD products are available for bulk purchase, but they do offer the most popular products, such as their range of full-spectrum tinctures, and CBD Hand Sanitisers. For a complete selection of bulk ordering options, visit the official Provacan site via the link below.
Provacan CBD Oil Review: How Did Our Review Team Do It?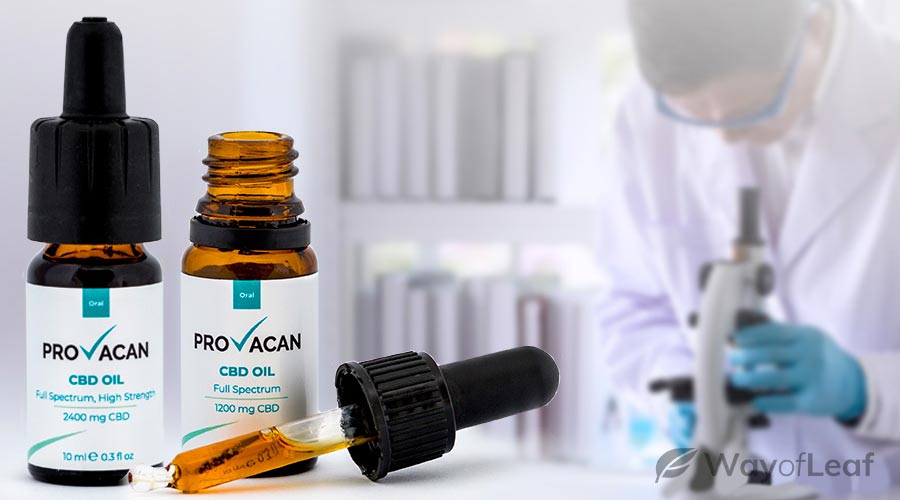 For this specific Provacan review, the WOL "review team" consisted of two individuals. One of the reviewers used six drops of oil three times a day after meals (morning, afternoon, and evening). She noticed an obvious improvement on her levels of stress, claiming that the impact was "subtle, but definitely relaxing and calming while not at all sedative." (For reference, three doses a day at four drops per dose would be 12mg x 12mg x 12mg = 36mg total CBD daily dose for the Provacan 600mg tincture).
The effects [of Provacan CBD] were subtle, but definitely relaxing and calming — not at all sedative.
The other reviewer used a 600mg Provacan CBD oil for his onset migraines. He suffered four migraines over a period of three weeks, and took 15 drops of oil (15 drops = 45mg CBD dose) each time he felt one coming on. He claimed that while the effects weren't quite as potent as he was hoping, they were "absolutely therapeutic, and relieved the splitting pain by about 70%."
Wondering Where to Buy Provacan CBD Oil?
As we mentioned earlier, Provacan CBD oil products are currently available for sale via the brand's official online store. They ship to all parts of the UK, as well as most parts of the EU and other countries.
In terms of price, we won't lie – Provacan CBD products are on the expensive side. Of course, this is to be expected for products that have been produced under such professional standards, and with such a high pedigree. All in all, it is important to understand that with Provacan, you are paying for quality. It's really as simple as that.
Provacan CBD Oil Review: Final Thoughts
As we mentioned earlier, it's likely that Provacan CBD oil is currently one of the world's finest CBD manufacturers. When you have a CBD formulation that's been inspired by some of the most highly-regarded cannabis researchers in the world, you're going to be hard-pressed to find a better tincture anywhere on earth. There are a lot of amazing CBD oils being made both in the USA and the UK, but Provacan's formula might just surpass them all.
A lot of amazing CBD oils are being made in the USA and the UK, but the Provacan formula might just surpass them all.
The statements made in this Provacan CBD oil review have not been monitored by the FDA, or any other authority. It is important to understand that no products mentioned herein are designed to treat, cure, or diagnose any medical condition. When possible, speak with a physician or other clinical professional about how to best incorporate CBD oil into your treatment regimen.