Overview
Aura CBD forms part of the Elite California brand. Elite California builds effective and innovative cannabis products that improve lives. Aura CBD is an extension of the company and was founded on the principle that all people can create their own wellbeing, naturally.
Ingredients
Full-spectrum CBD extracts, Terpenes, Fatty acids, Flavonoids, Fiber, Essential vitamins and minerals, Chlorophyll.
Recommended use
Place 2-4 drops under the tongue up to four times a day. Hold the oil under the tongue for one to two minutes prior to swallowing
Extraction process
CO2 Extraction
Medical benefits
Not intended as a medicine and should be taken as part of a varied diet and healthy lifestyle
*All the data provided is for oil products only
Aura CBD Quick Summary
Pros
Products contain various levels of CBD and THC
Contains no pesticides or harmful chemicals
Part of the established brand Elite California
Cons
Limited product range only includes vape oil
Lack of information on the brand's website
Read on for our full Aura CBD review, or check out some of our top CBD vape products below:
Aura CBD Complete Review
One of the most fascinating aspects of recent marijuana research is the uncovering of the 'entourage effect.' It seems as if the cannabinoids in cannabis are more effective when they are taken together. While this isn't great news for sellers of CBD isolates, it makes sense that THC, CBD, CBN, and the other 110+ cannabinoids in weed provide better medicinal effects together.
The relationship between THC and CBD, in particular, is an interesting one. This is why breeders are busy creating new strains such as Harlequin, which contains a significant amount of both cannabinoids. It seems as if the presence of CBD somewhat counteracts the psychoactive properties of THC. As a result, you enjoy healing without getting high. Aura CBD is one organization that understands the importance of the entourage effect, as you will see in their product line.
Who Are Aura CBD?
First of all, it is important that you don't get this firm confused with the UK version. In this review, we are discussing Aura CBD, a company that forms part of the Elite California brand. Elite California consists of CEO, Michael Burns, Science Officer, Dave BonVillian, Head of Operations, Mazz Keegan, and President, Inger Airheart.
According to the brand's website, Elite California builds effective and innovative cannabis products that improve lives.
It states that it makes all products in California, and they are free of pesticides and other harmful chemicals. It is interesting that Elite California elected to create a separate website for its Aura CBD brand, but the site itself is rather bare barring a homepage that offers three products for sale, and a link to the Elite California website.
For the record, all three products are cartridges containing a cannabinoid-rich liquid for use with a vaping device.
Review of Aura CBD Ascend 1:1
If you are looking for a slightly psychoactive experience, Ascend 1:1 is the best of the three products. As you can guess from the name, Ascend offers CBD and THC in a ratio of 1:1. Each cartridge contains 250mg of CBD and the same amount of THC.
Overall, each cartridge contains 0.5ml of liquid, and it consists of 35.08% THC and 31.59% CBD; not precisely 1:1 but close enough. According to experts, the sacred 1:1 ratio offers the best combination of therapeutic relief from various medical issues, along with relaxation.
We certainly experienced both when we used Ascend. It took perhaps 30 minutes to feel a touch light-headed. We're not novices, but we believe that new users would probably experience a degree of euphoria. Ascend provided a pleasant sensation and enabled us to relax for the whole evening. We wouldn't recommend it if you were about to go to work, however.
Review of Aura CBD Glow 3:1
Next up is Glow, a cartridge that contains three times as much CBD as THC. There is the same amount of cannabinoids per 0.5ml cartridge, 500mg, but this time, there is 375mg of CBD and 125mg of THC per cartridge. This equates to 18.94% THC and 45.32% CBD.
As expected, Glow provided a far different effect to Ascend. While there is admittedly a slight psychoactive sensation, the main feeling we experienced was that of relaxation. However, it is the kind of relaxation that still allows you to operate at full capacity. Aura claims that Glow provides an energy boost, and while we didn't experience it, some of us did feel more alert.
Review of Aura CBD Essential 24:1
The final offering contains a whopping 480mg of CBD against just 20mg of THC. The cartridge contains 61% CBD against just 2.2% CBD. A feature of this cartridge is the ceramic core wick which ensures you get a consistently smooth hit. Aside from the pleasant vapor, the Essential cartridge provided us with zero psychoactive effects whatsoever.
You can use the Essential CBD oil at any time of the day. We found that it offered a nice early morning boost, but it was especially useful for combatting one of our reviewer's restless legs syndrome; a condition that tends to rob him of 3-4 night's worth of sleep each week. It took almost a week, but the equivalent of 40mg of CBD a day reduced the number of bad nights considerably.
There is also a capsule version of Essential 24:1. Each one contains 25 mg of CBD and is also infused into coconut oil.
Where Can I Purchase Aura CBD Products?
We were going to say you can find out more on the Aura CBD website but in reality, there is nothing new on a site that is effectively little more than a sales page. When you click on the 'buy now' tab for each product, you are taken to a page on eaze.com, and you have to make your purchase there.
Final Thoughts on Aura CBD
Overall, the Aura CBD brand is backed by a reputable provider in the shape of Elite California. If you are looking to experiment at the higher end of the THC scale, without getting completely wasted, the Ascend 1:1 cartridge is by far your best option. With 250mg of THC per cartridge, we recommend treading carefully.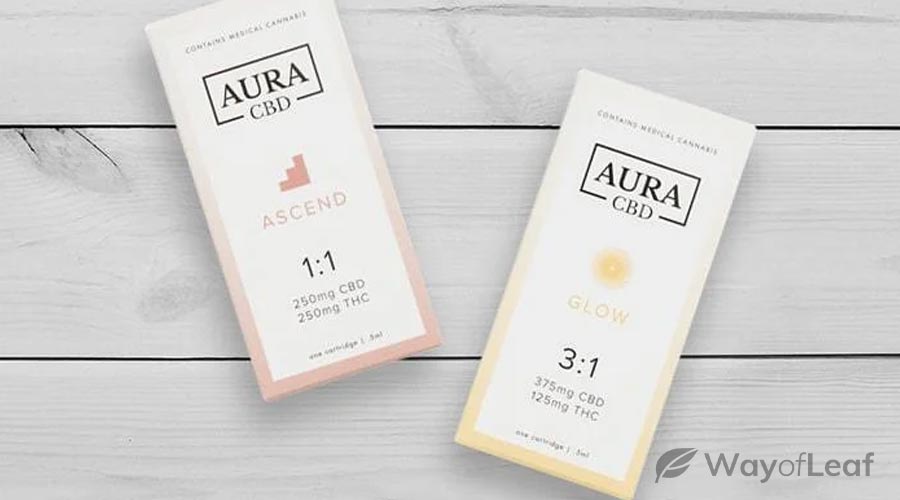 If you want to get a mild buzz, consider the Glow 3:1 range. It still contains enough THC to provide a mild psychoactive experience, but you are still clear-minded enough to perform daily tasks. The essential 24:1 option is if you need an early morning kick-start.
Ultimately, we felt that Ascend 1:1 provided the best medicinal effects, but the fact it is best used late in the evening only is a negative. While there is no question as to the quality of the products, the lack of other CBD or THC items is puzzling. We hope that Aura CBD add edibles and topicals to the range in the near future.
Final Verdict – 7/10
Want to learn more about combining cannabinoids for enhanced effects? Read our complete guide to the entourage effect.