Sour Diesel Strain Overview
Sour Diesel strain has a reputation for being one of the most pungent strains of all time, and for good reason. It emanates an extremely strong odor of skunk, gasoline, and lemon. It may not be one of the tastiest strains (unless you love dank marijuana), but it packs a punch. Sour Diesel has the potential to energize and uplift, making it a solid choice for those living with mood disorders like depression.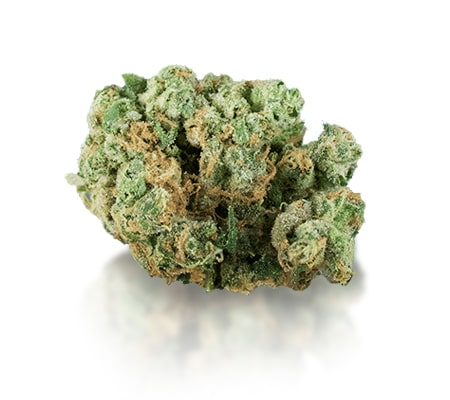 Flavors
Citrus
Diesel
Lemon
Sour
Skunk
Common usage
Anxiety
Chronic pain
Depression
Stress
Effects
Creativity
Energy
Uplifting
Growing info
YOU CAN GROW THIS STRAIN INDOORS OR OUTDOORS. ITS AVERAGE FLOWERING TIME INDOORS IS APPROXIMATELY 9-10 WEEKS. SOUR DIESEL IS READY FOR HARVEST IN EARLY NOVEMBER IF GROWN OUTDOORS. BUY SEEDS FOR THIS STRAIN AT OUR #1 RATED
ONLINE SEED STORE: HOMEGROWN
Users of Sour Diesel suggest that this strain offers an energetic effect similar to caffeine. It also has a strong and sour aroma that displays hints of citrus notes. Also known as Sour D, this strain has achieved legendary status, so read on to learn more about it.
Try Legal THCA Flower
Want to experience the qualities of THC-A flower? The amazing brand Premium Jane just launched their new line, including strains like OG Kush, Purple Cream, and Blue Dream Pie. Averaging 23% THC-A, there's so much to love with these flowers. Try them today to get 20% off using WayofLeaf's exclusive coupon code: THCAWOL
What Is the Sour Diesel Marijuana Strain?
Sour Diesel weed is a strongly sativa marijuana strain. Developed in the 1990s, Sour Diesel's genetic lineage is officially unknown. However, it likely descended from Chemdawg 91 and Super Skunk, two extremely potent strains.
Sour Diesel is not a good option if you want a marijuana strain that will provide couch-locking, body-melting relaxation. Instead, expect to feel immediately revitalized after consuming it. This makes Sour D a great candidate for a wake n' bake strain as it could help you feel energized and ready to take on the day. Indeed, some users suggest that it takes the place of their morning coffee.
You can also try it as an afternoon pick-me-up if you experience low energy or exhaustion and need something to restore you.
Sour-Diesel can cause a creative and mind-altering high that has little effect on the body and won't drag your energy levels down. This is one of the many reasons why it is such a favorite among medical marijuana patients and recreational users.
Aroma
Sour Diesel has one of the most intense aromas of any marijuana strain. The smell of fuel is immediately apparent, although it also offers hints of sour lemon with subtle herbal notes. Expect its scent to linger a while, even after you are finished smoking it. Keep this in mind if you are trying to be discreet with your consumption.
Flavor
Not only is its aroma pungent and skunky, but you can also expect notes of lemon zest and other citrus fruits hidden in the flavor. Nonetheless, you can expect Sour Diesel's skunky and pungent nature to overwhelm the other elements of its taste.
Appearance
Sour Diesel is known for its classic marijuana look, with leafy green sugar leaves and slightly pinkish-orange pistils that bring some color and life to the plant. The nuggets are often frosty, covered with many tiny shining crystals that signify the extreme potency of Sour D.
Sour Diesel Grow Info
Growing the Sour Diesel strain is challenging and certainly not something a novice should attempt. On the plus side, you can cultivate it indoors or outdoors. However, please note that this strain prefers a warm and sunny climate. A lack of sunshine can cause problems with the plant's development, possibly sparking an early flowering period which will diminish the potency of the buds.
No matter where you grow it, expect a strong aroma. Therefore, those participating in guerrilla grows (which we do NOT recommend) will find it hard to keep their endeavors clandestine.
Indoor growers might find that a hydroponics setup gets excellent results. Also, you should know that Sour Diesel grows tall, so take this into account when growing it indoors.
Sour D can produce up to 18 ounces of bud per square meter when cultivated indoors and has a flowering time of 9-10 weeks. If you cultivate it outdoors, expect a yield of 20-25 ounces per plant with your crop harvest-ready by early November, assuming you live in a warm and sunny climate.
THC Content – Highest Test
Sour Diesel's THC content varies significantly from 18% to 26%. However, its average THC content is approximately 22%.
CBD Content – Highest Test
There is minimal CBD in Sour Diesel. Generally speaking, you can expect a CBD content of around 0.2%. However, there is a special Sour Diesel CBD strain on the market that contains approximately 20% of the non-intoxicating cannabinoid.
Medical Benefits of the Sour Diesel Strain
Sour Diesel could help individuals with various mental disorders such as depression, anxiety, and stress. However, it is best to use relatively small amounts of the strain in this instance, as over-consumption can exacerbate certain conditions.
Additionally, Sour Diesel is a replenishing marijuana strain. Therefore, you might find it useful in a battle against fatigue, particularly early in the day.
There are also anecdotal reports of this strain helping to reduce the effect of headaches and chronic pain. In this instance, users occasionally like to vape or dab a Sour Diesel concentrate due to the fast-acting effects. However, if you try such products, remember to take care because they are incredibly potent. Some concentrates have up to 90% THC, so you only need a minuscule amount.
Possible Side Effects of the Sour Diesel Strain
As mentioned above, using too much Sour Diesel could increase your existing levels of anxiety, stress, or paranoia. It is important to know your limits and take it easy at first, especially if you are new to consuming marijuana.
The most commonly reported side effects from consuming Sour Diesel are dry mouth and dry eyes. These are adverse effects associated with virtually every high-THC marijuana strain.
Final Thoughts on the Sour Diesel Strain
The Sour Diesel strain is one of the best known in the marijuana world. Considered a classic, it emits a powerful odor noticeable long after use.
With a fairly heavy THC content and a potent high, Sour D is not for novices! Even experienced users should use it sparingly. Furthermore, this strain is best used in the morning or early afternoon due to its energizing effects.
Sour Diesel is also a tough strain to grow, so it is best only to tackle it once you have a few successful harvests under your belt.
Try Legal THCA Flower
Want to experience the qualities of THC-A flower? The amazing brand Premium Jane just launched their new line, including strains like OG Kush, Purple Cream, and Blue Dream Pie. Averaging 23% THC-A, there's so much to love with these flowers. Try them today to get 20% off using WayofLeaf's exclusive coupon code: THCAWOL