Creme Rose Strain Overview
The Crème Rose strain is one with mysterious origins. What we know is that it's a strain which helps elevate mood. Its intoxicating high is something of a creeper, and Crème Rose's potency could prove problematic for novices. MMJ users use it to help with stress, depression, and chronic pain.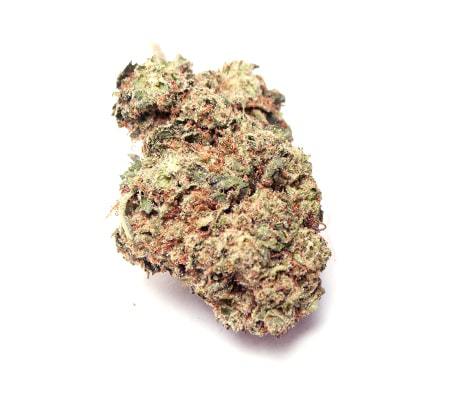 Flavors
Citrus
Earthy
Flowery
Herb
Sweet
Common usage
Anxiety
Chronic pain
Depression
Fatigue
Sleep
Stress
Effects
Calming
Energy
Euphoria
Relaxation
Growing info
You can grow the Crème Rose strain indoors or outdoors. Indoors, it has a flowering time of 7-8 weeks. When cultivated outdoors, this strain is ready for harvest by the end of September. BUY SEEDS FOR THIS STRAIN AT OUR #1 RATED
ONLINE SEED STORE: HOMEGROWN
Despite all the information online about marijuana, there are still plenty of strains with unknown origins. As it is the Internet, there are usually several unsubstantiated theories about where strains come from. This is the case with the Crème Rose strain, which is also extremely tough to find.

Try Legal THCA Flower
Want to experience the qualities of THC-A flower? The amazing brand Premium Jane just launched their new line, including strains like OG Kush, Purple Cream, and Blue Dream Pie. Averaging 23% THC-A, there's so much to love with these flowers. Try them today to get 20% off using WayofLeaf's exclusive coupon code: THCAWOL
What is the Crème Rose Strain?
No one is quite sure about Crème Rose's genetics. There is a version by Aficionado Seeds, a cross of Ghost OG, Crème Brulee, and Rose Especial. However, the breeder has discontinued the sale of these seeds. We have also seen a strain called Crème Rose #2 online, and it has the same genetic makeup as the Aficionado Seeds version.
It seems as if Crème Rose is a strongly sativa-dominant hybrid. Those who have tried it say that the intoxicating high creeps up on them. Before they realize what is happening, they feel tranquil yet uplifted. You can expect a smile to form across your face as the euphoria hits.
After a while, the body high takes hold, and the indica dominance of this strain becomes apparent. Before long, the only thing you want to do is shut your eyes and drift gently to sleep.
Aroma
Initially, you might experience a slight earthiness when you first open the bag containing Crème Rose. Once you grind the buds, this scent becomes more powerful. You also get floral hints, with roses unsurprisingly taking center stage. Some users say they also smell hints of citrus.
Flavor
For most users, the tangy-sweet taste is extremely pleasant and moreish. The fruitiness becomes more noticeable on the exhale.
Appearance
There is nothing remarkable about the Crème Rose strain's appearance. It has standard-shaped buds with mottled green leaves and orange pistils. You may occasionally notice slight purple flecks, though this is a rarity. When harvest time approaches, this strain shows an average number of trichomes.
Crème Rose Cannabis Strain Grow Info
As mentioned earlier, getting Crème Rose cannabis seeds is almost impossible these days. We were unable to find any reputable seed bank selling this strain. Moreover, it is even challenging to find cuttings from mature plants to create clones.
Those who have cultivated Crème Rose said they had no problems growing it indoors or outdoors.
In the past, those who have cultivated Crème Rose said they had no problems growing it indoors or outdoors. If you choose to grow it outside, it is best to expose the plant to a warm and sunny climate with moderate humidity. Outdoor grown Crème Rose is often ready for harvest by the end of September, providing an average yield.
Growing Crème Rose indoors enables you to have control over feeding and climate. It is a plant with a lot of lateral growth, and it can become bushy. Therefore, you should look to trim it occasionally to ensure all parts of the plant are exposed to light. It is a hungry plant, so feed it plenty of nitrogen during the vegetative stage. Its flowering time is 7-8 weeks, and it produces a moderate yield by all accounts.
THC Content – Highest Test
The Crème Rose strain has a fairly high THC content of around 20%.
CBD Content – Highest Test
There is minimal CBD in Crème Rose, probably less than 0.1%.
Medical Benefits of the Crème Rose Strain
This is a strain worth considering if you have anxiety or stress. After a few puffs, you're likely to feel completely relaxed and at ease with yourself. You may even forget whatever is bothering you for a while. Individuals with depression may discover feelings of happiness they haven't had for a long time.
Crème Rose is potent enough to potentially have analgesic properties. Individuals with conditions such as back pain and arthritis may find it useful. As this strain is capable of sedating individuals, it is also worth considering if you have insomnia.
Possible Side Effects of the Crème Rose Strain
For the most part, Crème Rose causes the typical adverse effects of cannabis amongst users, such as dry eyes and dry mouth. The high can take a while to have an impact. As such, some people overuse it due to frustration about the seeming lack of a high. In this scenario, users could suffer from anxiety, dizziness, and headaches.
Final Thoughts on the Crème Rose Strain
The Crème Rose strain is an unremarkable-looking plant. However, it provides an extremely pleasant taste to go along with its subtle scent. MMJ users often try it to improve their mood, reduce the impact of pain, or help get to sleep. It is tough to get hold of Crème Rose cuttings, let alone seeds. If you do, you'll find that it is a relatively easy plant to cultivate.
Try Legal THCA Flower
Want to experience the qualities of THC-A flower? The amazing brand Premium Jane just launched their new line, including strains like OG Kush, Purple Cream, and Blue Dream Pie. Averaging 23% THC-A, there's so much to love with these flowers. Try them today to get 20% off using WayofLeaf's exclusive coupon code: THCAWOL