The laws surrounding marijuana can be quite confusing. It seems counterintuitive that a naturally occurring plant would be legislatively prohibited, and yet, marijuana has been the subject of tense debate over the last few years.
While proponents share the sentiment that it should be legalized, opponents fear its widespread use. Either way, this state of affairs has resulted in a Hodge-Podge of laws that at many times seem at odds with one another.
The fact is, marijuana is still defined as a Schedule I drug, making it an illegal federal substance. However, each state has been given leeway in determining how marijuana can be used, grown and distributed.
The passage of the Farm Bill in 2018 made CBD derived from hemp federally legal. The status of whole plant marijuana is another issue altogether when it comes to each state. In some states, marijuana is completely legal, while in others it is restricted.
Still, some, like the state of Iowa, criminalize marijuana use for both medicinal and recreational purposes but allow individuals to use and purchase CBD oils. In some U.S. territories like Guam, it has only been recently approved for recreational use (it was approved for medicinal usage back in 2015).
Despite these laws, the federal government could theoretically burst into a California dispensary and arrest everyone on sight, though this is incredibly unlikely – especially based on statements in recent years that have reassured users that MMJ programs will not be tampered with.
Regardless, everything is still a little confusing. You can currently buy weed openly in one state for fun, use it for a medical condition in another (with a valid MMJ card), or have no chance of smoking it legally at all in some states.
With such a bizarre list of cannabis laws that vary in every single state, it is hardly a surprise that would-be marijuana growers don't know what the hell is going on.
In this state-by-state guide, we aim to make the waters less muddy and outline the states where you can grow weed and the maximum amount of plants you can cultivate.
[Please note that only in some states it is legal to grow marijuana – even in some states with medical marijuana programs, personal cultivation may be prohibited. None of the information in this article should be used for unlawful growing purposes.]
The State-By-State Breakdown to Growing Marijuana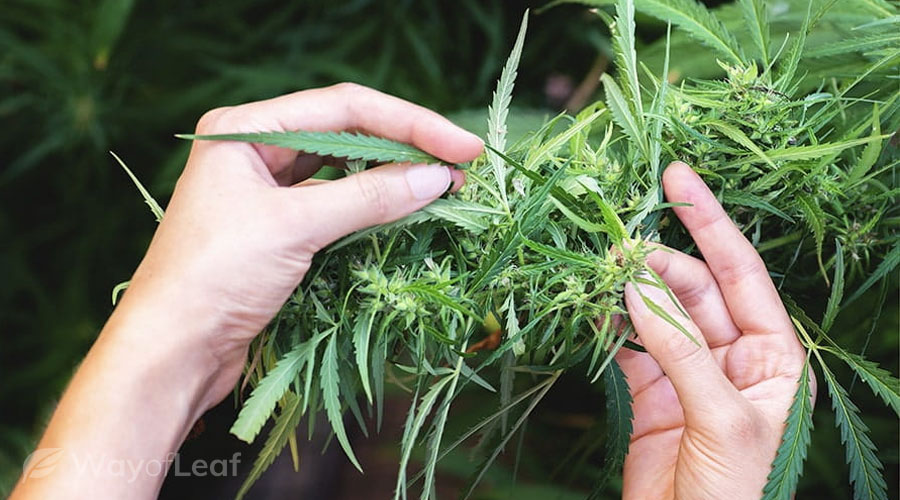 Knowing the laws of every state is SUPER confusing, so we hope the following guide can serve as a useful resource if you intend to cultivate cannabis in a specific state or are simply curious about the laws.
Growing Marijuana: Alaska
Weed is legal in Alaska for both medical and recreational purposes. However, users cannot consume marijuana in public spaces. According to new state laws, adults aged 21 and older may possess, grow and gift up to six marijuana plants. Be aware, however, that only three of these plants can be mature and flowering at any given time.
No more than 12 marijuana plants are allowed on the premises, regardless of how many adults who are 21 and over reside there. The law also explicitly states that only six or less can be mature and flowering.
Growing Marijuana: Arkansas
Although Arkansas has some pretty stiff penalties regarding recreational or personal use (possessing just one ounce for personal use can land you in jail for up to one year and a fine of up to $2,500).
Marijuana for medicinal purposes became legal for sale in May of 2019. Patients and designated caregivers must apply for and be approved for MMJ cards. There are currently a little over 30 dispensaries in this state. As legalization across the country looms, this number may increase.
Growing Marijuana: Arizona
Those interested in cultivating marijuana can only do so for medical purposes and must be a qualifying patient or caregiver. Marijuana can be grown on the patient's or caregiver's premises but must be kept in an enclosed and locked space. Recently, during the amendment of HB 2537, the number of plants that could be grown on any given premises went from 12 to 6.
Growing Marijuana: California
Today California law allows for the cultivation of up to six plants for recreational adult use. The law also allows for up to 100 square feet of area per residence to be dedicated to the cultivation of medical marijuana. There are no limits to the number of plants that can be grown for medicinal purposes[1].
Growing Marijuana: Colorado
Colorado was the second state to legalize weed for recreational use via Amendment 64, which came into effect in December of 2012. Adults over the age of 21 are allowed to grow up to six plants with three mature and flowering at any given time. Medical marijuana growers must adhere to the same law although a caregiver can claim up to 5 patients and grow up to 36 plants.
Growing Marijuana: Connecticut
Recreational or personal use of marijuana is not legal in Connecticut, though it has been somewhat decriminalized. Those found guilty of possession of unauthorized marijuana could find themselves facing fines and fees, though no jail time if it is under half an ounce. If you have more than that, you could be facing a year in jail and a fine of at least $2000 or even both.
Individuals who are using marijuana for medical purposes can do so legally if they meet certain requirements. Once they have applied for a state MMJ card or get one as a caregiver, they can go to a dispensary of their choosing.
However, marijuana cannot be consumed in public spaces. Medical marijuana patients can have up to 2.5 ounces on their persons without breaking state law. Medical patients cannot cultivate their own.
Growing Marijuana: Delaware
Qualifying patients and their caregivers are allowed to purchase weed from a dispensary. They are excluded from the growing of any marijuana for either medical or personal use. Patients can have up to three ounces on their person but no more within a two-week period.
Growing Marijuana: Hawaii
A qualifying patient or caregiver with a "329" card is allowed to grow a maximum of ten mature plants and must be an MMJ cardholder. The area where the plants are grown must also be registered with the Hawaii Department of Health. Cardholders can also have up to 4 oz. of cannabis in their possession at any given time.
Those seeking to use marijuana recreationally can do so and have it on their person if it is not over an ounce. Hawaiians can grow up to six marijuana plants (three or fewer can be mature and flowering) and are not subject to arrest or fine.
Growing Marijuana: Illinois
Legal recreational marijuana is a reality in Illinois as of January 2020 due to the passage of HB 1438. At the time of this article, qualifying medical patients and recreational consumers can purchase marijuana at any legal dispensary.
However, cultivation is reserved for those that have been designated as "cultivation center agents," or someone that is employed or does business on behalf of a legalized dispensary center.
Growing Marijuana: Louisiana
Medical marijuana was officially legalized on August 1, 2019. However, unlike many states that boast a loose network of dispensaries that are licensed according to certain guidelines, the Louisiana Department of Agriculture and Forestry (LDAF) will be responsible for overseeing the production and processing of medical marijuana.
The marijuana will then be dispensed to patients through state-sanctioned entities for sale. Only designated Louisiana State University and Southern University departments can grow medical marijuana.
Growing Marijuana: Maine
Cannabis has had a rich and varied history in the state of Maine. It was one of the first to prohibit the herb in 1913 but was also one of the first to decriminalize it in the modern era in 1976. Marijuana was legalized for medicinal use in 1999, and then in 2016, it became legal for recreational use after Question I passed.
Individuals 21 years of age or older can cultivate up to six mature, flowering plants. They can also have up to 2.5 ounces of cannabis in their possession. In 2018, lawmakers in Maine passed LD 238 which allows for third-party extraction of medical marijuana.
LD 1539 added the provision that any patient can use medical cannabis if they have a doctor's recommendation. These amendments also eliminated the need to name a caregiver or dispensary as their sole source of medical marijuana, giving patients more options. However, patients can choose to grow their own marijuana, but it must be less than three plants.
Growing Marijuana: Maryland
Qualifying patients and caregivers can apply to receive an MMJ card (there can be up to two designated caregivers per patient). Approved patients and caregivers can only purchase marijuana from state-approved dispensaries. Unfortunately, patients and caregivers cannot grow their own marijuana [2].
Growing Marijuana: Massachusetts
Marijuana was legalized in Massachusetts in 2016 when Question 4 passed with 54% of the vote. Each household is permitted to grow six plants, but the maximum increases to 12 if there is more than one adult in the house.
However, your plants cannot be visible from the street. You can store up to ten ounces of dry herb at home. If you have more than 1 oz. in your home, it must be contained in a locked place.
Growing Marijuana: Michigan
Marijuana was legalized in Michigan in 2008 for medical purposes, but it is only available to acute and terminally ill patients. In 2018, however, cannabis was recreationally legalized in Michigan. You can have up to 2.5 oz in your possession and up to 10 oz in the home.
You can grow up to 12 plants in a private and enclosed space if you are 21 years or older; your caregiver is also legally allowed to cultivate if you are unable to grow them yourself and are a medical marijuana patient.
Growing Marijuana: Missouri
Marijuana consumption is legal for medical use. Patients and caregivers are allowed up to 4 oz. every 30 days. After paying a fee, you can grow up to six plants that are mature and flowering. However, the space must be enclosed, locked and secure.
Growing Marijuana: Montana
Weed was legalized for medicinal use in Montana in 2004. If you are a registered cardholder, you are allowed to grow a maximum of 4 mature plants, including four seedlings. You are allowed to have in your possession up to 1 oz. of marijuana, eight grams of cannabis concentrate and up to eight vape cartridges.
If two people are living together and both are approved cardholders, they can have up to 8 mature plants and 8 seedlings on the premises. If you're cultivating in Montana, you have to report the location of the plants and seedlings in your home to the Department of Public Health.
Growing Marijuana: Nevada
Cannabis was legalized for medicinal use in November 2000, and Nevada pulled the trigger and allowed it to become legal for recreational use in November 2016 when Question 2 passed with 54% of the vote. Adults are allowed to grow marijuana for personal use as long as they live more than 25 miles away from a dispensary.
If the above criteria have been met, you can have up to 6 plants per person and it is capped at 12 plants a household. The plants must be kept in an enclosed, locked and secure place. Also, you must have the permission of the property owner or own the property to cultivate weed.
Growing Marijuana: New Hampshire
New Hampshire recently decriminalized personal marijuana use. If you are 18 and older and are caught with less than three-quarters of an ounce of marijuana, you may be guilty of a violation and subject to a fine of up to $100. For further offenses, the fines increase.
Although personal use may still be somewhat illegal, if you're living in New Hampshire and have a medical condition, you can apply for an MMJ card and meet certain qualifying conditions. You can purchase at any dispensary.
Recently HB 364 was passed and allows for patients and caregivers to grow their own plants (3 mature and 3 immature plants, and 12 seedlings). The plants must be kept in a locked and secure place and cannot be spotted from the street or any public space.
Growing Marijuana: New Mexico
Marijuana has been legalized in New Mexico for medicinal use since April 2007. If you have an MMJ card, you or your caregiver can grow up to 16 plants at a time; including a maximum of four mature plants.
Growing Marijuana: New York
Marijuana for medical use is legal in New York. Users must obtain a valid MMJ card, and can only purchase weed through a registered dispensary. It is not yet legal to grow weed for medical purposes or otherwise in the state of New York.
Growing Marijuana: North Dakota
SB 2344 allows for marijuana use for medical purposes. However, patients and caregivers are only allowed to purchase no more than two and a half ounces and can't possess more than three ounces at any given time. There are no laws that allow for cultivation for medical or recreational purposes.
Growing Marijuana: Oklahoma
Oklahoma is one of the more recent states to legalize weed for medical use. Oklahomans can get marijuana through a dispensary for medical purposes by obtaining an MMJ card.
Growing Marijuana: Oregon
Marijuana has been legal recreationally in Oregon since 2014 when Measure 91 was approved. From July 2015, residents of the state were able to grow up to four marijuana plants at home, but you have to be aged 21 or over. If you are a caregiver, you can grow for no more than 8 patients at a time and no more than 6 mature plants for each patient.
Growing Marijuana: Rhode Island
Although weed has been legal for medical use in Rhode Island since 2006, it is only available to patients who suffer from one of a specific list of conditions including HIV/AIDS and glaucoma. Qualifying medical patients are allowed to grow a maximum of 12 plants and 12 seedlings. It is also legal for caregivers to cultivate. All marijuana plants must be grown indoors.
Growing Marijuana: Vermont
Medical marijuana was legalized in Vermont after Senate Bill 76 passed in May 2004. It became the first state legislature to legalize weed for recreational use in January 2018, with the law taking effect from July 2018. Residents of Vermont are now allowed to grow a maximum of nine marijuana plants; only two of which can be mature.
Growing Marijuana: Washington
Washington has the distinction of being one of the first states to legalize marijuana recreationally. Washington Initiative 502 made it possible, and the law came into effect on December 6, 2012, just four days ahead of Colorado. However, only medical patients and designated entities are allowed to cultivate weed.
You have to be entered in Washington state's voluntary patient database to grow a maximum of six plants. You can possess a maximum of eight ounces of useable cannabis that comes from these plants.
Growing Marijuana: Washington D.C.
Weed became legal for recreational use in D.C. in 2014 via Initiative 71. Adults aged 21+ are allowed to grow six cannabis plants at home, but you can't sell them for profit. Many instead can "gift" marijuana along with the purchase of something else, like a t-shirt or sunglasses (although officials don't endorse this practice).
If there is more than one adult in a household, a maximum of 12 plants can be grown. This includes six plants per adult with no more than three being mature.
Final Thoughts: State-by-State Laws for Growing Marijuana
You can only legally grow marijuana plants at home in some of the states listed above. If you attempt to grow weed in states where it is against the law, expect severe penalties.
This is also the case if you illegally try to grow cannabis plants in states where only MMJ cardholders are allowed to do so.
Take Georgia for example. Marijuana is entirely illegal, even for medicinal use. Even though weed has been decriminalized, it doesn't mean you won't get in trouble. For example, if you are caught growing a pound of weed, you could receive a prison sentence of up to 10 years and a $5000 fine. If you cultivate more than 10 pounds, the maximum sentence rises to 30 years!
Lastly, although growing marijuana at home is convenient and fun, please check your state's laws before you even think about proceeding. It isn't worth ruining your life for the thrill of trying to grow four or five plants in your basement apartment.