With legal medicinal marijuana now available in 33 American states and D.C., the industry is set for a golden age. In fact, there are so many commercial cultivators that states such as Oregon have a massive surplus. In 2017, the global legal marijuana industry was worth around $9.5 billion per annum; the United States accounted for 90% of it!
According to Grand View Research, the global market could grow to over $146 billion per year by 2025. The legalization of weed in Canada means that America will no longer have such a huge market share, but the industry will grow to unprecedented levels in the near future.
The Cannabis Business Plan website suggests that the average commercial operation has costs of $830,000 per annum! When you add in the heavy taxes on weed businesses, and difficulties finding a bank that will do business with you, cannabis-based businesses will find it tough to make their fortune.
If you live in a state where it is legal to grow weed at home, you don't have such worries. What you need to determine is if your weed usage warrants a home grow. In this guide, we take a brief look at the cost of setting up an indoor marijuana grow room at home.
Building Your Grow Room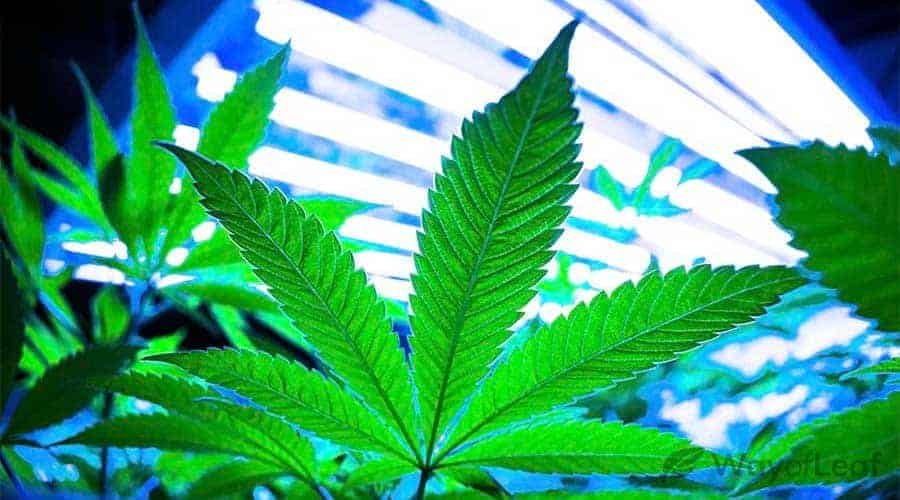 Seeds
When it comes to setting up an indoor grow, it is best to keep it simple. It should go without saying that you must purchase feminized seeds, or use cuttings from a female 'mother' plant. If you purchase regular seeds, half of them will become male plants. While male plants have their uses, they will not grow the resinous, cannabinoid-rich buds that you want.
You can purchase seeds online for anywhere between $10 and $20 apiece. There should also be options to purchase 3-packs, 5-packs, and 10-packs at least. A 10-pack should cost 20% or so less per seed. A 5-pack is the most popular option (most states only allow you to grow a maximum of six plants) and will probably cost approximately $60.
Grow Tent
The simplest way to grow weed at home is to invest in a grow tent. They are designed specifically for growing marijuana, are easy to assemble, and will cause no damage to your property. A two by two-foot (2' x 2') tent will cost approximately $120 and can house a maximum of three plants.
A 3' x 3' tent houses up to four plants and could cost more than $200. Larger tents may cost over $300.
Hydroponics
If you use a hydroponics setup, you must purchase an inert growing medium such as coco coir or rockwool, and are also responsible for ensuring that your crop gets all the nutrients it needs. The cost of the system itself depends on the 'type' you choose. For instance, a 12-plant watering system could cost over $500, but there are cheaper options for under $200.
Nutrients
A super soil mix can cost between $20 and $50, while there are also nutrient kits on the market for $80+. There is a school of thought that professional soil and nutrient mixes are a better option than natural plant soil because of fewer contaminants.
Lighting & Electricity
As your plants don't get the benefit of sunlight when growing indoors, it is your responsibility to ensure they get all the light they need. During the vegetative stage, your plants should be exposed to at least 18 hours of light per day. It drops to 12 hours during blooming. There is a variety of grow light options which vary in price and power.
Compact Fluorescent Lights (CFLs) for example, are the weakest but are useful for small grow rooms and available from as little as $50 for 200 Watts, depending on the spectrum. HID and LED lights are more expensive but provide far more light. For example, a 140-Watt light could cost over $300, but is far more 'energy efficient' than CFLs.
When you add in extra costs such as a hood and ballast, a 1000-Watt setup could cost up to $600. Hopefully, you can produce a gram per watt. This would equate to just under 36 ounces.
Electricity costs are harder to calculate because the cost varies across the United States. The national average is approximately $0.13 per kWh. A 320-Watt LED grow light probably uses almost 6-kilowatt hours per day during the vegetative stage. In flowering, the same light uses almost 4-kilowatt hours a day. Overall, the cost of electricity for this single grow light is approximately $4 per week. For three lights and a 10-week grow, your electricity cost is $120.
Carbon Filters
Filters aren't a necessity, but they clean the air and eliminate the smell of weed. Typically, you can expect to pay over $100 for a filter and duct fan combination. You also need clip fans to keep your grow tent closed and circulate the air inside; they cost approx. $30.
Other Equipment
If you are using soil, it is also necessary to purchase different sized pots. When your plant grows, you have to transport it to a larger pot. You also have to purchase soil. There is also the option to buy hardware such as stakes, zip ties, anda screen if you are going to attempt the Screen of Green (SCROG) or Sea of Green (SOG) growing methods.
We also recommend purchasing a pH testing kit. If your crop's growing medium is outside the 6.0 to 6.8 range (5.5 to 6.5 for hydroponics), the ability of the plants to absorb nutrients will be compromised. There are decent pH testing kits for just $20. You should also invest in a digital timer for around $25. They ensure that your plants are growing on the right lighting schedule.
As temperature and humidity play such a crucial role in growing marijuana, purchase a thermometer and hygrometer, or an all-in-one device. They are available for just $10. If you live in an area where the water isn't suitable for weed, consider buying a reverse osmosis system to purify the water. The cost ranges from $150 to thousands of dollars.
Labor Costs
How long do you spend tending to your marijuana plants? Compare it to how much you are paid for working per hour. Even if it works out at around $20 a day, that equates to $1,400 during a 10-week grow.
Final Thoughts on Setting Up a Grow Room
If you choose the most basic of setups, you can begin growing marijuana at home indoors for under $2,000. The main benefit is that you can enjoy several harvests each year, and most of the equipment you purchase can be used over and over again. Smaller setups might produce 200 grams which works out at around $10 a gram.
Although it depends on the strain, you should be able to find weed for that price or less at a dispensary. It is when you grow cannabis on a larger scale (within the limits of the law) that you see the real benefits. Let's say you spend $4,000 on your setup during the year but produce approximately 1,000 grams of marijuana. At $4 a gram, you are definitely winning, especially if you need weed for medicinal purposes.
Incidentally, Canadian companies are selling 'starter kits' for under $500. They consist of a 2' x 2' grow tent, nutrients, pH drops, a digital timer, clip fan, adjustable hangers, lighting, and CO2 bags. You also have to factor in the cost of electricity, but that is an exceptional deal.
There are more complex kits on the market from $1,000+. If you grow marijuana, you get to learn so much more about the plant than if you only ever buy from a dispensary. You will 'feel' closer to the cannabis, and of course, it is a great story to tell your friends!