Overview
Medical marijuana is a possibility for some in Louisiana. If you are a medical patient living in this state, you may qualify for an MMJ card. MMJ cards provide access to medical marijuana for several conditions and disorders. To see if you may qualify, take a look at our comprehensive guide. Patients must meet certain conditions and requirements.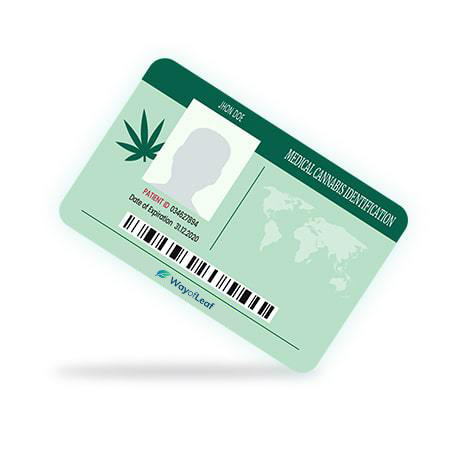 State Program
Approved on
JUNE 30, 2015
CONSULTATION FEE RANGE
MMJ PURCHASING LIMITS
UP TO 2.5 OUNCES OF MARIJUANA FLOWER EVERY 14 DAYS
HOME CULTIVATION?
MINIMUM AGE LIMIT
If you're wondering how to get an LA medical card, you'll be pleased to learn that the process has become easier. The state has one of the simplest, most straightforward recommendation processes. Recent changes to the law have also increased the number of doctors available to provide certifications.
This article discusses everything you need to know about getting a Louisiana medical marijuana card, with information on how to apply and what you must do to get approved.
Louisiana Medical Marijuana Card Laws
Until recently, there were legal ramifications for possessing a small amount of marijuana in Louisiana. Fortunately, Governor Edwards signed HB 652 into law, decriminalizing the possession of up to 14 grams. Now, this "crime" is classified as a misdemeanor with a $100 fine and no possibility of jail time.
However, if caught in possession of over half an ounce, you could spend up to six months in prison. The possession of marijuana in Louisiana only becomes a felony if you're found with over 2.5 pounds of it.
The law is significantly stricter regarding the distribution or cultivation of marijuana. Indeed, distributing or growing any amount are felonies with a mandatory minimum prison sentence of five years.
How to Get a Medical Marijuana Card in Louisiana
Please note that as of August 1, 2022, the Louisiana Department of Health (LDH) has regulatory authority over the state's MMJ program. The LDH says there will be some changes to how the program is administered, and we'll do our best to update our information as and when necessary.
An MMJ card in Louisiana gives you legal protection against a fine or potentially a prison term. Keep reading to find out how to get your card.
Step 1 – Get in Touch with an LA Healthcare Provider
You can only get an MMJ card with a recommendation from a physician. At one time, finding a medical marijuana doctor in Louisiana was challenging. Physicians had to complete an online program to earn a Therapeutic Marijuana Registration permit. Only doctors with this qualification were allowed to provide certification.
Fortunately, this changed when Governor Edwards signed HB 819 into law in August 2020. This piece of legislation allows all licensed Louisiana doctors in good standing to recommend marijuana to qualifying patients. These days, you can easily find a doctor willing to provide a certification for medical marijuana in Louisiana.
Step 2 – Schedule a Consultation
At this point, you will need to provide medical records indicating that you have a qualifying condition. Make sure you arrive for your appointment a few minutes early and bring your state-issued photo ID. Typically, the consultation lasts for approximately 15 minutes. During that time, the doctor will evaluate your condition. You also have the opportunity to ask questions about medical marijuana.
If the physician decides you are eligible, they will fill out a recommendation form. It is proof that you are entitled to medical marijuana in Louisiana. Please note that you must also provide proof of residency.
Step 3 – Sign up for a Louisiana State Government Account
Unlike other states, there is no state-specific MMJ program. The Louisiana Department of Agriculture and Forestry (LDAF) oversees grower permits. However, there is no online application process as with other programs.
Once a doctor enters you into the Louisiana Medical Marijuana Registry, you may buy, possess, and use therapeutic cannabis.
Once the physician gives you a recommendation, they will access the Board of Pharmacy's Medical Cannabis Registry. There, they can add and remove patients as they see fit. Once the doctor enters you into the Louisiana Medical Marijuana Registry, you may buy, possess, and use various forms of therapeutic cannabis.
Step 4 – Visit a Dispensary
You must bring your doctor's recommendation when you visit an MMJ pharmacy. Its staff will check the Prescription Monitoring Program Database to verify your prescription.
By now, you may have noticed that we are not using the term "dispensary." This is quite deliberate, as, in Louisiana, marijuana is distributed through "pharmacies." They must operate similarly to traditional pharmacies that provide prescriptions. One upside is that Louisiana's pharmacy employees display a higher level of knowledge of MMJ than dispensary workers in other states.
Who Can Apply for a Medical Marijuana Card in LA?
To apply for a medical marijuana card in LA, you must be a state resident aged 18+. Furthermore, you must have one of the program's qualifying conditions to receive a certification.
Cost of MMJ Card in LA
Part of the medical marijuana card cost in AL is the $75 state registration free, and the cost of a consultation is $200 on average.
LA MMJ Card Qualifying Conditions
The list of LA medical marijuana card qualifying conditions includes, but is not limited to:
Cancer
HIV/AIDS
Cachexia (wasting syndrome)
Spasticity (including severe muscle spasms)
Intractable pain
Specific symptoms of autism spectrum disorder
Spastic quadriplegia
*The program recently expanded to include any condition that "a physician, in his medical opinion, considers debilitating to an individual patient and is qualified through his medical education and training to treat."
How Long Does It Take to Get a Medical Marijuana Card in LA?
Louisiana doesn't have a standard MMJ system. Once approved for MMJ by a licensed physician, you get to choose one of the available licensed pharmacies. Then, the doctor contacts the business to confirm that you're a registered patient. This means you don't have to wait for a medical marijuana card to arrive in the mail.
How to Renew My Louisiana Medical Card?
Your MMJ protection in Louisiana lasts for a year. Although there is no need to go through a lengthy application process, renewing before your card expires is important. Fortunately, all you need to do is schedule another consultation with a physician and receive approval again.
Other Information on the LA Medical Marijuana License Process
Here is some more useful information relevant to the MMJ program in Louisiana:
What Types of Cannabis Can I Purchase in LA?
When MMJ sales first began, cardholders could buy the following:
Therapeutic oils and tinctures
Liquids
Topicals (creams, lotions, etc.)
Gummies (gelatin-based)
MMJ patients received a further boost with the signing of HB 391 on June 22, 2021. This House Bill removed the prohibition on smokable and raw/crude cannabis products, with the law coming into effect on January 1, 2022.
Now MMJ cardholders in Louisiana are free to purchase up to 2.5 ounces of marijuana flower every 14 days. The introduction of flower is likely to boost MMJ sales in LA significantly.
How to Get a Medical Marijuana Card in LA Online
Companies such as Veriheal and Leafwell offer online consultations. If you use one of these providers, you could be connected with a licensed physician in a matter of minutes. Once you receive approval from a doctor, you're free to visit the pharmacy of your choice.
Can I Register My Child for Medical Marijuana in LA?
Yes. Applicants aged 17 or younger can apply but must assign a caregiver, who must be a parent or legal guardian. A pediatrician or pediatric subspecialist must sign off on the recommendation if a minor with autism is applying for an MMJ certification.
Where Can I Purchase MMJ in Louisiana?
MMJ in Louisiana is something of a closed shop. There are nine pharmacies in total. They can only sell marijuana procured from Southern University or Louisiana State University. Wellcana is the grower with LSU, whereas Illera is with Southern University.
The state's MMJ law has divided Louisiana into nine regions, each with one pharmacy. Therefore, depending on where you live, you may face a lengthy drive to get medical marijuana.
Here is the list of pharmacies, their locations, and the regions in brackets:
Governor Edwards has signed the amended House Bill 697, which allows for a tenth retail license. The region with the highest population density will benefit from the new pharmacy.
Also, the Louisiana Board of Pharmacy has decided to allow each of the nine (soon to be ten) companies to open two more satellite dispensaries in the region they currently operate in. A pharmacy in LA becomes eligible to open a second location as soon as it reaches the 3,500 registered patient mark. Several pharmacies have already reached this milestone.
How Much Cannabis Can I Buy & Possess?
Please note that you must refill your prescription every 90 days; the maximum purchasing limit is a 30-day supply. If you're purchasing marijuana flower, you're permitted to buy up to 2.5 ounces per 14-day period. The recommended doses and the amount you buy are recorded and monitored in the Louisiana Medical Marijuana Tracking System.
Can You Grow Marijuana in Louisiana with a Medical Marijuana Card?
No, and there are no plans to allow cultivation any time soon.
Where Can I Use My MMJ?
In Louisiana, it is illegal to use it in a public place. You can only consume cannabis in a private residence.
Does Louisiana Accept Out-of-State MMJ Cards?
No. The state doesn't have a reciprocity program in place. Only Louisiana residents with an MMJ card may buy and use cannabis. However, House Bill 137 does provide immunity from criminal prosecution to out-of-state MMJ cardholders.
What Are the Caregiver Rules?
Currently, state law only allows caregivers to purchase cannabis for minors diagnosed with an autism spectrum disorder. Also, the caregiver must be the patient's parent or legal guardian, a Louisiana resident, and aged 21+.
What If I Lose My Certification of Recommendation in Louisiana?
If you lose your certificate, get in touch with the physician to get a new one. Most providers don't request a fee for this service.
When Did Medical Marijuana in Louisiana Become Legal?
On June 30, 2015, Governor Bobby Jindal signed SB 143. It set the framework for a medical marijuana program in Louisiana. SB 143 permitted Louisiana physicians to prescribe MMJ following DEA and FDA guidelines. However, as these guidelines didn't exist, there was no way to implement a program!
Everything changed in 2016 when Governor John Bel Edwards signed SB 271 into law. It made provisions for a comprehensive medical marijuana program in the state. Despite further additions to the law, MMJ patients in Louisiana had to wait. The first pharmacy finally opened on August 6, 2019.
How to Get a Medical Marijuana Card in New Orleans
Marijuana was decriminalized in New Orleans before it became a statewide policy. From September 2021, residents of the Big Easy no longer had to worry about serious penalties for minor cannabis offenses. Individuals found with small amounts of weed receive a "prospective pardon" and no fine.
Even so, if you want to possess and use marijuana legally, you must get an MMJ certification from a doctor. Fortunately, New Orleans is filled with licensed physicians willing to certify eligible patients. The H & W Drug Store is the MMJ pharmacy in the city, located at 7240 Crowder Blvd.
MMJ Card for Veterans in LA
Veterans living in Louisiana may find they are eligible for an MMJ certification, and some providers offer military discounts. There are also social media groups, such as Louisiana Veterans for Medical Cannabis, that advocate for safe marijuana access for veterans and civilians alike.
Final Thoughts on Getting a Louisiana Medical Marijuana Card
Thankfully, the Louisiana medical marijuana program is in the process of expansion. Apart from easier access to MMJ-friendly physicians, there are many qualifying conditions. Best of all, marijuana flower is now available. Applying for a Louisiana medical marijuana card is simple, and services such as Veriheal and Leafwell make it all the easier.
The state passed a raft of pro-marijuana laws in 2022. These include preventing employees from being discriminated against solely on the grounds of a positive drug test for weed if they are registered MMJ patients. The number of licensed pharmacies could increase to 30 in the future, a necessary development given the rapid rise of qualifying MMJ patients in Louisiana.
As there is still the threat of imprisonment for possessing over half an ounce of marijuana, getting an MMJ certification in LA is important to ensure you can legally use the substance. Furthermore, an attempt to legalize recreational marijuana, House Bill 24, failed in April 2023. Therefore, it could be some time before Louisiana fully legalizes the substance.