Veganism is a dietary practice where products derived from animals are not consumed. Such products include milk, cheese, yogurt, meat, poultry, eggs, fish, and honey. It is sometimes challenging for those who follow veganism to purchase suitable tasty, pre-made edibles at dispensaries or recreational pot shops.
That's why at times, it is easier to make them yourself. However, cannabis edibles don't relate solely to baked goods. You can consume medically beneficial marijuana at any time of the day with just about every meal–even in a drink! Best of all, there are dozens of vegan-friendly cannabis-infused recipes. This article narrows it down to 10 of the best.
Making Healthy Weed Edibles: The Cannabis Infused Foundations for Each Recipe
Each of the recipes below requires a foundational ingredient produced with marijuana. If you are accustomed to cooking with cannabis, you might already have them on-hand and ready for use.
For the following recipes, you'll need one of the following:
Cannamilk (find our cannamilk recipe at the bottom of this article)
Once you've got these essential ingredients ready and on hand, it's time to pick your recipe and start creating delicious vegan cannabis products.
1. Vegan Cannabis Chia Seed Pudding
This yummy breakfast is so delicious; you'll feel as if you're eating dessert without the added guilt. Additionally, it is a wonderful way to start your day, bringing you nutritious energy and healthy calories. It is completely vegan and quick to produce, especially overnight. Therefore, you can prepare it early and ensure it is ready to eat the following morning.
Serves about 2-4 people.
Ingredients You'll Need
1 cup of cannamilk (made with a non-dairy alternative)
1 cup of unsweetened almond, soy, or coconut milk
½ cup of chia seeds
1-2 tablespoons of maple syrup (to taste)
2 tablespoons of vanilla extract
Fruits and other toppings (optional)
The Process
Mix your cannamilk, unsweetened non-dairy milk, chia seeds, maple syrup, and vanilla extract in a large bowl.
Place the mix into separate jars, or leave it in the bowl if you don't mind not having the blend portioned out.
Shake the container well or stir before covering it and placing it in the fridge. If convenient, stir the mix every 1-2 hours, at least for the first few hours. The mix is generally ready in six hours, and you can store it in your fridge for up to six days.
A brilliant idea is to shake the container right before bed. Then, when you wake up, the pudding is ready to eat in the fridge.
Serve your chia seed pudding either by itself or with some additional fruits or other toppings. Some ideas include berries, citrus, pineapple, bananas, granola, nuts, granola, muesli, and coconut flakes.
2. Avocados Stuffed with Cannabis Cashew Cream
Avocados are known for their multitude of health benefits. These include being packed full of omega-3 and omega-6 acids and other healthy fatty oils, and numerous vitamins/minerals. This delectable recipe puts a slight twist on eating a basic avocado by adding in velvety cashew cream that is a 100% vegan alternative to other dairy-based products.
Serves 4 people.
Ingredients You'll Need
2 large avocados
½ cup of purified water
1-2 tablespoons of cannabis oil
1 cup of cashews that have been soaked for 4 hours and rinsed
1 tablespoon of nutritional yeast
¼ clove of garlic
2 teaspoons of lemon juice
1 teaspoon of tamari
1 teaspoon apple cider vinegar
⅛-¼ teaspoon of sea salt
Optional Garnishes:
Chopped cloves
Chopped cherry tomatoes
Finely ground brazil nuts
Olive oil or balsamic vinegar drizzle
The Process
Begin by preparing your avocados. Cut them into halves, remove the pits, and remove the flesh from the skin in a single piece with one big scoop. Set these aside on a plate for future use.
In a high-speed blender, combine the purified water, cannabis oil, soaked cashews, nutritional yeast, garlic, lemon juice, tamari, apple cider vinegar, and sea salt. Blend until a smooth texture is obtained.
Using a spoon, fill the avocado halves you prepared earlier with the cashew cream blend. Top them off by making them gorgeously presentable with optional garnishes such as chopped cloves, ground brazil nuts, chopped tomatoes, or an olive oil/balsamic vinegar drizzle.
Serve and enjoy!
3. Vegan Vietnamese Rice Noodle Salad Infused with Marijuana
This quintessential mid-day meal is a vegan-friendly Vietnamese classic with a large amount of marijuana. Preparing this salad doesn't require any further cooking if your noodles are precooked.
Serves about 2-3 people. 25 minutes of prep time.
Ingredients You'll Need
For the dish:
150 mg of rice vermicelli noodles
1 sliced long English cucumber
2 large, thinly sliced carrots
A wedge of finely chopped cabbage, green or red
2 thinly sliced spring onions
10 grams of rehydrated seaweed, wakame (optional)
20 grams of thinly sliced pickled ginger (optional)
Black or white sesame seeds, for garnish (optional)
For the dressing:
6 tablespoons of white sesame seeds
1 tablespoon of sesame seed oil
1-2 tablespoons of cannabis oil
1 tablespoon of maple syrup
2 teaspoons of rice vinegar
2 teaspoons of lime juice
4 tablespoons of gluten-free tamari or soy sauce
3-4 teaspoons of hot chili paste (optional)
The Process
Begin by boiling your rice noodles in a large pot following the package instructions. These noodles usually cook quickly once your water is brought to a boil. Next, strain the noodles, rinse them with cold water, and set them aside.
In a small frying pan, dry roast the white sesame seeds. Once they are removed from heat, use a pestle and mortar or another grinding device to process the seeds into a fine powder.
In a medium-sized mixing bowl, combine the sesame powder, sesame seed oil, cannabis oil, maple syrup, rice vinegar, lime juice, tamari/soy sauce, and hot chili paste. Adjust each ingredient to your taste and preference.
Now it is time to assemble the salad. Rinse the noodles once more with cold water to ensure they are cool. In a large salad bowl, combine the cold rice noodles, sliced English cucumber, thinly sliced carrots, finely chopped cabbage, thinly sliced spring onions, re-hydrated wakame, thinly sliced pickled ginger, and sesame seeds for garnish together. Using tongs, toss the salad in the bowl and pour the sauce over. Give the salad one more big toss. Separate the portions into bowls, serve, eat and enjoy.
4. Vegan Peanut Butter Ganja Fudge
This rich recipe involves 100% vegan peanut butter. Most of all, it is really simple and does not require excellent cooking skills.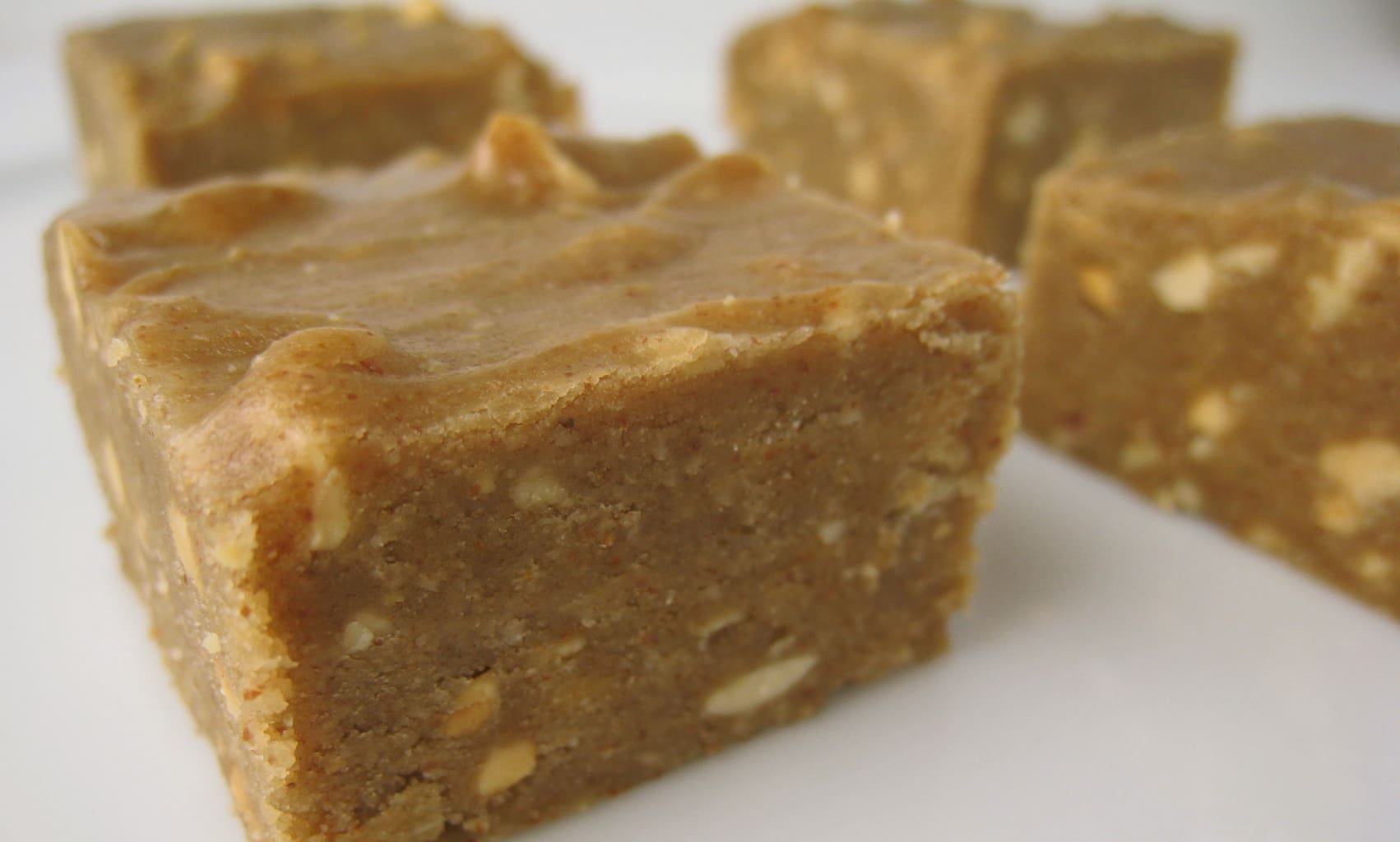 Serves 16.
Ingredients You'll Need
1 cup of vegan cannabutter (made from coconut oil)
3 ½ cups of powdered sugar
1 cup of peanut butter (room temperature)
1 cup of cocoa
1 teaspoon of vanilla extract
The Process
Begin by lightly greasing a baking dish with coconut oil or another mild-tasting cooking oil.
In a medium to large saucepan on low to medium heat, gently heat your coconut cannabutter. Next, stir in the powdered sugar using a spatula until the two ingredients have completely combined. This could take a few minutes, so just keep stirring. Next, while still keeping the flame at low heat, stir in the cocoa. Finally, stir in the peanut butter and the vanilla extract.
Distribute the mixture evenly into the baking dish you greased and set aside earlier. Place the mixture in the refrigerator for cooling. Remove once the dish's contents are completely firm.
Cut the fudge into consumable squares, eat and enjoy!
5. Zesty and Weedy Vegan Fettuccine Alfredo
This completely vegan recipe lives up to its creamy and mouth-watering expectations. It is an incredible way to spice up your palate with an edible that feels like a regular dinner but has an outlandish twist. This fettuccine alfredo recipe is simple to create and serves as a splendid addition to a dinner party or perhaps a cozy night in.
Serves about 4 people. 35 minutes cook/prep time.
Ingredients You'll Need
12 ounces of egg-free fettuccine pasta
1 cup of cannamilk (made with a non-dairy alternative)
1 cup of unsweetened non-dairy milk (soy, almond, coconut, etc.)
4 ounces of non-dairy cream cheese
1-2 teaspoons of lemon zest
3 tablespoons of nutritional yeast
3 tablespoons of sliced and blanched almonds
1-2 tablespoons of cannabis oil (or olive oil if you don't want the extra cannabis)
½ cup of chopped fresh parsley
3 cloves of garlic finely chopped
Sea salt and freshly ground black pepper (to taste)
The Process
Bring a large pot of water to a boil, adding in the egg-free fettuccine pasta. Cook the pasta as per the package directions. Once finished, strain the pasta, but set aside 1-2 cups of the hot pasta water.
Mix the non-dairy milk, cannamilk, non-dairy cream cheese, almonds, lemon zest, nutritional yeast, sea salt, and black pepper in a blender. Blend until smooth.
Add the cannabis oil (or olive oil) and the chopped garlic in a large skillet over medium heat. Stir the garlic until it turns soft and begins to brown and sizzle ever so slightly. In this same skillet, add the non-dairy cream sauce mixture you just blended and stir. Also, add ½ cup of the pasta water you set aside earlier. Stir again and bring to a simmer. The sauce should be thick and creamy (5-10 minutes is usually sufficient cooking time).
Once the sauce is ready, add the previously cooked pasta. If desired, top off with one more tablespoon of cannabis oil. If the sauce is too thick, stir in some more of the pasta water. Serve the tossed pasta into separate bowls and top off with some sea salt, cracked black pepper, and/or nutritional yeast.
6. Pancakes with a Splash of Pumpkin
These pancakes are healthy and infused with all the goodness of cannabinoids, along with a bit of fall festiveness.
Ingredients You'll Need
Olive oil or coconut oil
One cup of vanilla almond or soy-milk
One tablespoon of freshly squeezed lemon or orange juice
2.5 cups of infused oil
Two tablespoons of agave nectar sweetener
Three overripe bananas
One teaspoon of vanilla extract
One cup of white whole-wheat flour
5 cups of all-purpose flour
One teaspoon of baking powder
One teaspoon of baking soda
One teaspoon of pumpkin spice
5 teaspoons of cinnamon
5 teaspoons of salt
One banana (set aside)
The Process
In a mixing bowl, blend the milk and citrus juice. Let the mixture sit for five to six minutes.
In another bowl, add the flours, baking powder, and baking soda, along with all the spices. Once fully combined, set aside for later.
Peel the bananas. Mash the insides with a fork in a large mixing bowl until relatively smooth with very few lumps. Add the infused oil, agave nectar, vanilla extract, and soy milk and juice mixture. Combine thoroughly.
Slowly add the flour mixture to the bananas and wet ingredients. Try to beat out any lumps.
Place the olive or coconut oil onto a skillet over medium heat. Once the oil is thoroughly heated, pour or spoon the batter onto the skillet. Let the mixture cook until the sides bubble, then turn over. Reduce the heat if necessary.
Continue cooking until the mixture is depleted. After the pancakes are done, top with sliced bananas and maple syrup.
7. Power Protein Shake
This recipe has all the things you're looking for in a protein shake. It has healthy fresh fruit, as well as the winning cannabis punch.
Ingredients You'll Need
A few ice cubes
One cup of almond or soy-milk
One cup of frozen peeled bananas
One cup of frozen strawberries
Two-thirds of a cup of walnuts (optional)
Two-thirds of a cup of frozen raspberries
One-third of a cup of frozen grapes
0.5 teaspoons of raw honey (optional)
One tbsp of cannabis-infused oil
0.5 tsp of sea salt
One tsp of hemp protein
The Process
Place all of the ingredients into a blender. Add some ice cubes and blend until smooth. Pour into a glass and enjoy!
Enjoy!
8. Vegan Spicy Ganja Guacamole
This guac is packed full of flavor and includes terpenes, flavonoids, and phytochemicals. Check out the recipe below.
Ingredients You'll Need
Four ripe, peeled, and pitted avocados
One large onion (diced)
5 cups of chopped green onions
5 cups of chopped cherry tomatoes
Two limes (juiced)
One jalapeno pepper
Two cloves of garlic
Sea salt (to taste)
1 ounce of cannabis-infused oil
Tortilla chips to serve
The Process
Place all the ingredients in a blender or food processor, barring the salt.
Blend the mixture until smooth. Next, add the salt to taste.
Blend again until the mixture is nice and smooth.
Put the finished guac into a bowl, and enjoy with tortilla chips. Refrigerate the leftovers to use later.
9. Creamy Cannabis-Infused Potato Soup
If you're looking for a great lunch idea for a cold day, a hot bowl of soup is a fantastic option. This vegan soup is unbelievably creamy with filling potatoes and the potent effects of cannabis. Eat this soup on a cool, wintry, or autumn day. However, your taste buds will love this even if it's summer.
Ingredients You'll Need
Three tablespoons cannabis oil
One large onion, chopped
Four cloves of garlic, minced
Three medium carrots, peeled and sliced
Three pounds of peeled and chopped potatoes
5 teaspoons of dried thyme
Three cups of vegetable broth
A 15-ounce can of full-fat coconut milk
Sea salt, to taste
The Process
Add a few tablespoons of canna oil to the pot on medium heat.
Next, place the onions and garlic into the pot and sauté until the onions are translucent. Stir with a wooden spoon continuously to ensure the mixture doesn't burn. Turn down the heat if necessary.
Add the potatoes, carrots, thyme, and broth.
Cook until the potatoes are tender. Once this occurs, place the mixture into the blender.
Blend until the consistency is smooth and there are no lumps.
Pour in the coconut milk and blend a little more.
Once everything is evenly blended, add sea salt to taste.
10. Vegan Cannamilk
Also known as cannabis-infused non-dairy milk, cannamilk is an excellent method of infusing cannabis into a baked good. Remember to use high-fat milk with at least three grams of fat per serving. Cannabinoids such as CBD and THC are fat-soluble. This means you must eat edibles with fats to ensure these cannabinoids are readily available to your body.
Ingredients You'll Need
3 cups of soy milk or a non-dairy alternative
Up to nine grams of cannabis
The Process
 The first step towards making cannabis-infused milk is to decarboxylate your cannabis.
 Next, place the milk in a saucepan and place it on medium heat. Add your decarbed marijuana and allow the mixture to simmer for an hour. Whisk the liquid occasionally, but please ensure you don't bring it to the boil. Allowing the temperature to go beyond 250 degrees Fahrenheit will degrade the THC in the marijuana.
 Using a strainer or cheesecloth, strain the mixture to remove the plant material. Place the cannamilk in a glass bottle or jar, and store it in the fridge.
Having vegan cannamilk to hand can help you quickly create even more recipes. It is also a cool and refreshing drink on a warm summer's day.
Final Thoughts on Vegan Edibles Recipes to Make at Home
Vegans looking to enjoy dishes infused with cannabis should find these 10 recipes to their taste. They include breakfast, lunch, dinner, and dessert ideas, so you can go vegan and enjoy marijuana all day. If you have any other great vegan marijuana recipes, let us know in the comments!